Editor Rating

Rated 4 stars

Excellent
---
Reviewed by:

Published on:

Last modified:
---
Our Top Ranked #1 Web Host

Note: This website ReviewPlan.com is hosted on SiteGround
Latest Uptime Stats (Real Records):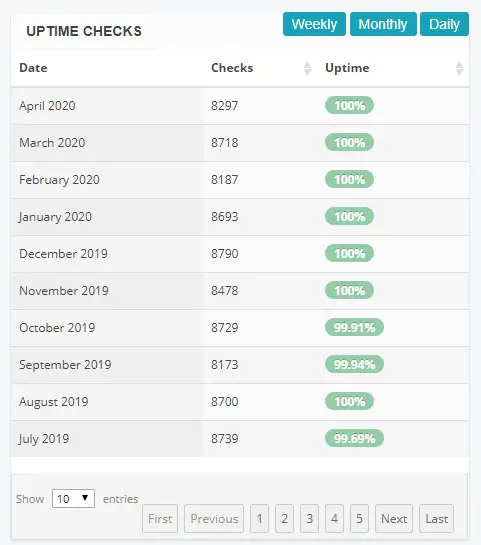 Server Response Speed Test Scored A+: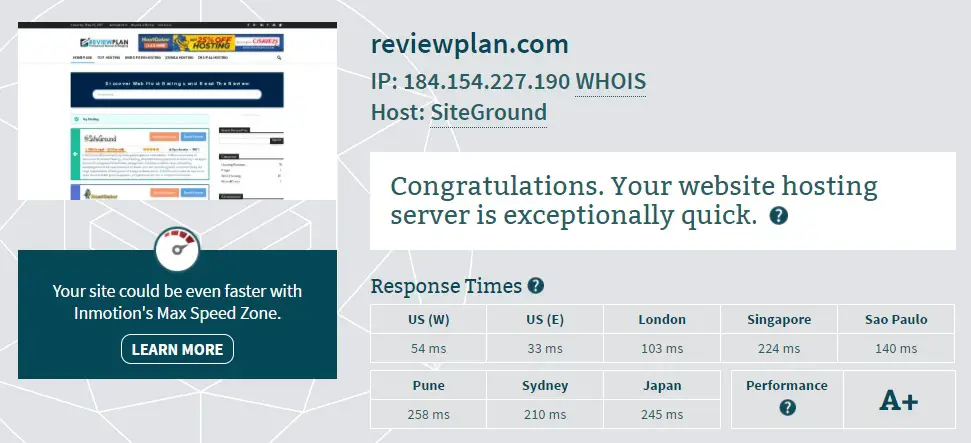 What is 100TB Hosting?
100TB is one of the largest providers of enterprise-grade web hosting services. The company is part of the UK2 group. Established in 2008, the company rose to prominence on its promise of offering high monthly transfer bandwidth to each of its clients. More than a one-hit wonder, the company pulled off a similar promise when in 2010 when it started offering 100 TB of monthly transfer bandwidth on each server.
Needless to say, 100TB has definitely made its mark in the industry. As one of the foremost entities in enterprise-grade hosting services, expectations are higher than most with 100TB. Does it deliver? Find out after the full review.
100TB Hosting Reviews on Hosting Plans and Services
100TB is decidedly at the premium end of the web hosting. The company offers high performance hosting performance to the most demanding users and enterprise clients where utmost reliability and bleeding edge performance is essential.
If that does not sound like you, 100TB is probably not for you. However, its plans start off surprisingly affordable. The company's hosting infrastructure is developed with the very latest in Cisco networking hardware and intelligent routing algorithms from Noction. The company operates seven data centres globally.
100TB Hosting Reviews on VPS Hosting Plan
100TB's offerings start off with cloud hosting plans and virtual private servers. VPS hosting plans offer the perfect combination of high performance and scalability. With the ability to change resource allocations almost instantly at the click of a button, VPS hosting plans are perfect for scenarios with unpredictable traffic loads or simply if you are not certain about your particular resource requirements.
VPS hosting plans run on full solid state drive technology, guaranteeing the best in both performance and reliability. Additionally, users are billed hourly, offering even more flexibility. Plans start of at USD 5 per month for 512 MB of memory, 1 processing core, 25 GB of storage space, and 2 TB of monthly transfer bandwidth.
The plan goes all the way up to USD 720 per month for 128 GB of memory, 20 processing cores, 900 GB of storage space, and 20 TB of monthly transfer bandwidth. You can also choose to have your VPS to be configured to your exact specifications.
100TB Hosting Reviews on Dedicated Hosting Plan
If you choose to go the old school route, dedicated server plans from 100TB are at your service. Dedicated servers were and continue to be the most efficient way to deliver high performance hosting without compromising on reliability. Dedicated server systems also offer immense security and configurability down to the last megabyte. This efficiency, however, comes at the cost of flexibility.
While you can scale up your resource allocations instantaneously on a VPS hosting platform, because dedicated servers run actual hardware, your resource allocations remain fixed at least until server personnel physically add in more memory or compute power. However, for mature users who are already aware of their requirements, dedicated servers are definitely the way to go if high-performance hosting is what you are after.
The platform is fully automated and utilises the Enterprise SuperMicro hardware platform for true data isolation and sandboxing. Plans start off at USD 139 per month for a quad-core Intel Xeon E3 1231 v3 CPU, 4 GB of memory, 1 TB of hard drive based storage, and 2 TB of monthly transfer bandwidth over a 1 Gbps port throughput.
The plan goes up to USD 799.15 per month for a hex core Intel Xeon E5 2620 v3 CPU, 32 GB of memory,  and 100TB of monthly transfer bandwidth over a 10 Gbps port throughput.
100tb dedicated hosting plan
100TB Hosting Reviews on Private Cloud Hosting Plan
We are also glad to see private cloud plans available with 100TB. The demand for private cloud compute and data archival resources have grown significantly over the past few years.
The private cloud platform from 100TB is your own personal data centre and yours to customise as per your needs. The platform is powered by OnApp, the industry-leading fully automated orchestration platform, and multiple hypervisor systems like VMWare, Xen, KVM, and Citrix.
Supporting a wide range of operating systems and the industry beating 100TB API, the private cloud from 100TB is one of the best offerings in this segment.
100TB Hosting Reviews on WordPress Hosting
100TB offers professional web hosting solutions; holding the hands of new users and web hosting beginners is not part of its mission statement. Therefore it comes as no surprise that the company does not offer any kind of dedicated WordPress hosting plan. W
ordPress as a CMS is certainly supported on all of the company's offerings but you will have to do your own homework when it comes to site development, deployment, and maintenance.
100TB Hosting Reviews on Support and Customer Service
100TB made its name by promising its customers guaranteed resources and then delivering on it. Suffice to say that maintaining the trust of its customers is one of the top priorities at the company. Customer service is some of the best we have ever experienced and that is no exaggeration.
Technical support too is similarly exceptional. All support personnel are highly trained and delivers solutions to any issue under the sun. This is what customer service should look like everywhere.
100TB Hosting Reviews on Uptime Performance and Server Status
100TB maintains 7 fully featured data centres in Europe and the United States. The company's entire hosting infrastructure is built around multiple layers of redundancies, which absolutely eliminates server downtime. Performance and speeds remain consistent irrespective of varying traffic loads. Server uptime is up there with the best in the business.
Good and Bad of 100TB Hosting
Good
Excellent performance
Supreme reliability
Plans across a wide range of budgets
Cheapest plan costs USD 5, well within the reach of many small businesses and individuals
Extreme value for money
Bad
Not beginner friendly
No dedicated WordPress hosting plans
Summary of 100TB Hosting
100TB delivers some of the highest quality hosting services out there. Its plans range from the very affordable to the very high end but its services never falter.
Compare 100TB Hosting With Our Top Ranked Web Hosts!
SiteGround vs HostGator vs 100TB Hosting

SiteGround

HostGator

100TB Hosting
Rating

Rated 5 stars

Rated 4.5 stars

Rated 4 stars

Price

$3.95/month

$3.95/month

$5/month

Criteria