Editor Rating

Rated 4 stars

Excellent
---
Reviewed by:

Published on:

Last modified:
---
DISCLOSURE: This post may contain affiliate links, meaning when you click the links and make a purchase, we receive a commission.
Our Top Ranked #1 Web Host

Ideal for WordPress, Joomla, Drupal and eCommerce
What is 1and1 Web Hosting?
Every day new web hosting service providers are coming out claiming to be the best. Of course, each one has something they specialized on. Some of these sites have ridiculously low prices to attract new customers and charge them heavily when it's time to renew their hosting.
Low prices should not be the only factor in determining which company to host your website. You should also look at other factors such as server reliability, customer support, page load speed, and security. In this 1and1 reviews, we will take a holistic look at 1and1 web hosting company and see how they stack against other web hosting companies.
1and1 was established in 1988 by Ralph Dommermuth but not as a web hosting company. It was first built as a reseller of technology products including early online services. However, the company now provides web hosting services for private users and small-to-medium-sized business.
The company combines cost-effectiveness with robust functionality. They have affordable hosting packages including unlimited bandwidth and web space. 1and1 hosting services stand out among its competitors due to their security and a low hosting price they offer to customers.
1and1 General Information
Website: http://www.1and1.com
Address: 701 Lee Road, Suite 300, Chesterbrook, PA 19087
Phone: (844) 501-2631
Email: [email protected]
Details
 
Founded
1988
Server Location

Chicago
London
New York
Washington
Metro Kansas
Paris
Amsterdam
Metro Karlsruhe
Metro Frankfurt
Munich

Services

Web Hosting
VPS Hosting
Cloud Hosting
Dedicated Hosting
Ecommerce Hosting
WordPress Hosting
Domain Names
Website Builder
Email & Office
Online Marketing
Web Security

Unlimited Website
Available with Web Hosting Unlimited Plus and Unlimited Pro Plans
Unlimited Storage and Bandwidth
Available with Shared Hosting Plan
Domain Hosting
Yes
Linux Hosting
Yes
Windows Hosting
Yes
WordPress
Optimized
Joomla
Optimized
Drupal
Optimized
Magento
Optimized
PHP Hosting
Yes
e-Commerce Hosting
Yes
Email Hosting
Yes
SSL Support

Available with Web Hosting all Plans(Free)
GeoTrust Dedicated SSL Certificate Available at $49/Yr(Optional)

Dedicated IP
Available
Free Site Migration
Available
Free Domain
One Free Domain Available With Web Hosting all Plans
Domain Privacy Protected
Yes, Free
Money Back Guarantee
30 Days
24/7 Support
Control Panel
1and1 Control Panel
One-Click Installation
Yes
Website Builder
Yes, Available Starting at $0.99/mo
Automated Backup
Yes On Daily Basis
Content Delivery Network (CDN)
Yes
Security Features

SiteLock Basic Available at $0.99/mo
SiteLock Premium Available at $4.99/mo
DDoS Protection
Geo Redundancy
Anti-Spam and Anti-Phishing
SSL Certificates

Payment Methods

PayPal
Visa
MasterCard
American Express
Discover

Endurance International Group Network (EIG)
No
Social Profile
1and1 Reviews on Hosting Plans and Services
1and1 just like SiteGround and HostGator has one of the most amazing and affordable hosting plans. Have a look at the hosting plans below.
1and1 offers three types of shared hosting plan, namely Basic, Unlimited Plus and Unlimited Pro.
Unlimited (0.99 first 12 months, then $7.99/month)
 Security with SSL Certificate
100 GB Webspace
1 Website
25 Databases
 1 Free Domain Included
 24/7 Support
Up to 2.5 GB RAM
Over 120 Click and Build and The Web Apps
Unlimited Plus ($4.99 first 12 months, then $9.99/month)
Security with SSL Certificate
Unlimited Webspace
Unlimited websites
Unlimited Databases (1GB on SSD)
1 Free Domain Included
24/7 Support
Up to 6 GB RAM
Over 120 Click and Build and The Web Apps
Unlimited PRO ($8.99 first 12 months, then $14.99/month)
Security with SSL Certificate
Unlimited Webspace
Unlimited Websites
Unlimited Databases
(1 GB on SSD)
1 FREE Domain Included
INCLUDED
24/7 Support
9 GB RAM Guaranteed
Over 120 Click&Build and Web Apps
1&1 Sitelock Basic
1&1 CDN with Railgun
1&1 App Expert Support
One unique thing about 1and1 Shared Hosting Packages is that they offer "low rates". Besides, their basic plan cost only $0.99 per month for first 12 months. This price is very affordable, and many will take this opportunity to try the service. You will get sufficient space at a very reasonable price. They also allow you to make monthly subscriptions.

1and1 Reviews on VPS Hosting Plan
1and1 VPS hosting provides you with an essential tool for building a website that can better handle more traffic requirement. They offer you an option to choose between Linux and Windows-based services with RAM that ranges from 512 MB to 8 GB. The price for their VPS hosting starts from $4.99/month.
The highest hosting plan known as Virtual Server XXL comes with 4 vCores, 8 GB RAM, 160 GB HDD, optional SSD and unlimited traffic CPU. It cost just $29.99/month for the first year.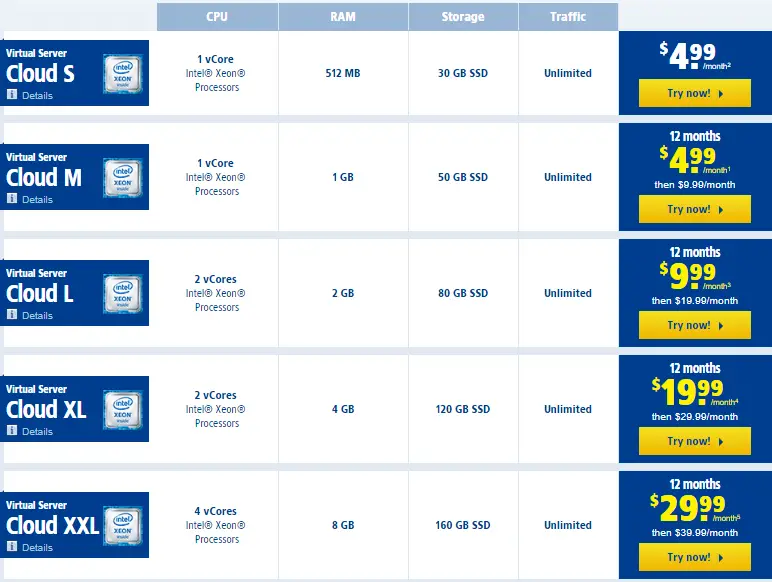 1and1 Reviews on Cloud Hosting
1and1 also offers scalable cloud hosting service. The hosting is powered by Intel cloud technology. You may configure the cloud server for your own needs. Each extra vCores will cost you additional $7.20 per month.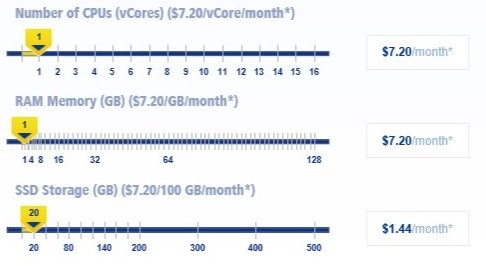 1and1 Reviews on Dedicated Hosting Plan
1and1 provides a variety of high-performance servers for medium and large size projects to serve both low-cost developer and high-end professional. Their dedicated servers have Linux or Windows-based dedicated hosting tiers: Entry-Level, Performance, and Business Line. The Entry-level Servers starts from $39.99 and comes with Intel Quad-Core Processor, 4 cores x3.1 GHz speed, 12 GB RAM, 1000 GB hard disk space and Software RAID 1.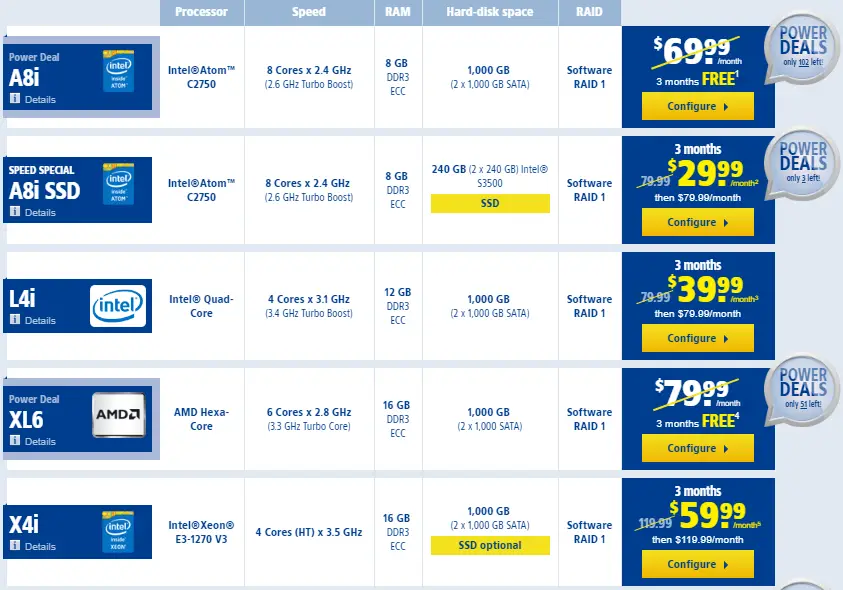 1and1 Reviews on E-commerce Hosting Plan
If you intend to sell online, 1and1 lets you build your e-commerce store on their server. They provide their customers with several layouts, designs, and features. Their e-commerce hosting package comes as an add-on to the services offered by 1and1. Building your commerce site with 1and1 site builder involves lots of drag and drop.
The system will prompt you to enter your seller's ID, add products, delivery methods and methods of accepting payments. Their e-commerce hosting starts from $4.99/month.
1and1 Website Builder
1and1 website builder allows those without any experience to create their site in minutes. It comes with templates you can customize to your needs. Each plan has a 30-day trial. The basic plan for website builder cost $2.99/month and comes with SSL certificate, website editor, domain, email and 200 mobile optimized design templates. Other plans come with more attractive features.
1and1 Reviews on WordPress Hosting
1and1 is among the web hosting companies that offer exclusive WordPress hosting services. The company claims that their WordPress installation can be easily done with the setup wizard. This is not surprising as many popular hosts also offer one-click installation. The site manager plugin that comes with 1and1 Managed WordPress plans allow your WordPress to be automatically updated.
They also provide 24/7 support from a team of WordPress experts. When using 1and1 Managed WordPress hosting, you will have the option to either install your WordPress in Safe mode or Free mode. There are two notable features that you will see in 1and1 WordPress hosting which includes:
• The 1&1 Content Delivery Network for faster site loading
• Added SiteLock Basic for website security
There is no doubt that 1and1 WordPress hosting has lots of impressive features and comes at affordable price. They are not as good as SiteGround or Bluehost WordPress Hosting, but they still perform well and come at great price. This platform is best suited for those who want to switch to a WordPress platform.

1and1 Email Marketing Manager
1and1 provides their customer with a dedicated 1and1 Email Marketing Manager. With this tool, a customer can see an overview of their traffic, distribution information, address management and lots more. Their Email Marketing Manager comes with your hosting package, and you can use it to blast emails to up to hundred recipients.
You can also upgrade to one of their premium Email Marketing Manager Packages that starts from $9.99/month so that you can send emails to more recipients at a time.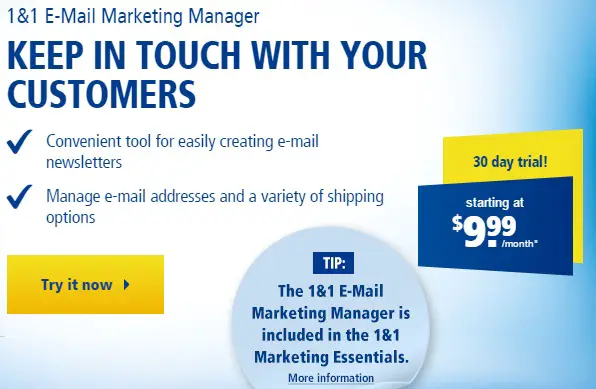 1and1 Reviews on Support and Customer Service
When choosing a web host for your website, one of the important criteria to consider is the performance of their customer service. We found 1and1 customer service at moderate level. This means there are something they need to improve.
1and1 has telephone, live chat and email support for any technical problem you are encountering. We also found 1and1 social media to be very active.
Recently, they created billing department which is available 24/7 ready to tackle all billing related problems. This department only used to be available on weekdays from 9 a.m to 5 p.m EST. You can still look for help through their blog and knowledge base which contains answers to most of the problems customers usually encounter.

#Trial 1 Moderate Live Chat Support
I wanted to test the customer support of 1and1 so I contacted their live chat support which appeared on the right side when I visited their official website. Their customer support staff responded my first query in just 04.64 seconds which was outstanding.
After that, I kept on asking questions from them and the representative who communicated with me always asked for some time to check the details for me. Even their representative was unaware of the general information regarding their hosting plans. There was always a delay in answer so I rated their live chat service 6 out of 10.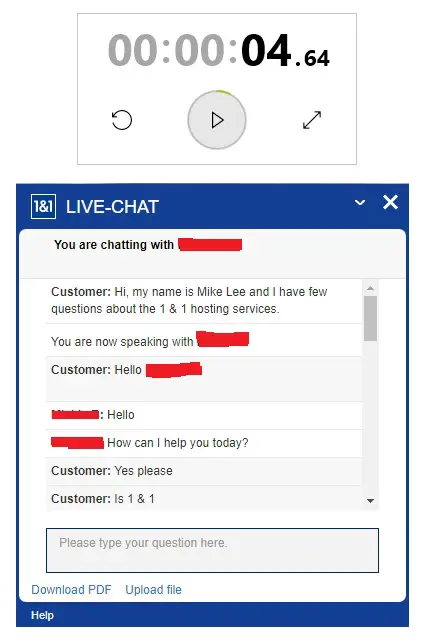 Here is the full conversation:
Mike Lee: Hi, my name is Mike Lee and I have few questions about the 1 & 1 hosting services.
You are now speaking with our representative
Mike Lee: Hello representative
Representative: Hello
Representative: How can I help you today?
Mike Lee: Yes, please.
Mike Lee: Is 1 & 1 Hosting provides free SSL service? How about paid SSL solutions?
Representative: Yes, you will get a free SSL certificate with one domain name. Any other SSL certificate pricing can be found here:
Representative: https://www.1and1.com/ssl-certificate?ar=1&otk=Zyujwje5ii1bk8o6v30pc7wcauf48a54im1ux9tbg8tqmipt
Mike Lee: Is 1 & 1 Hosting offers Dedicated IP solution?
Representative: Yes, we do offer dedicated servers. (Actually I was asking about the dedicated IP)
Mike Lee: May I know the cost?
Representative: Because we have so many options, please look at this page:
Representative: https://www.1and1.com/dedicated-server#server-packages
Mike Lee: Is there any Free Site Migration Service?
Representative: Yes.
Mike Lee: How about Domain Privacy Protected Service? 
Representative: Yes we do have private registration for your domain name, and it is free.
Mike Lee: Sounds good 🙂
Representative: Is there anything else I can assist you with today?
Mike Lee: What type of control panel is being used by Windows and Linux Hosting?
Representative: One moment, please. Let me check for you.
Representative: We use a proprietary panel for both platforms, developed by us. We do not, however, use a cPanel.
Representative:  For more information please go to : https://community.1and1.com/a-brief-introduction-to-the-11-control-panel/
Mike Lee: Is 1 & 1 Hosting part of Endurance International Group (EIG)?
Representative: One moment please
Representative: Sorry, we are not a part of EIG.
Mike Lee: Alright. Does 1 & 1 offer a Content Delivery Network (CDN)?
Representative: One moment, please.
Representative: Yes, we do offer CDN.
Mike Lee: What platform 1 & 1 is using to support One-Click installation? Softaculous?
Representative: We offer one-Click installation, but if you'd like to try our product we do have a 30-day money back guarantee on all our products.
Mike Lee: Are space and bandwidth unlimited on 1 & 1 shared hosting plans?
Representative: One moment, please.
Representative: It's not unlimited, but you can find out that specific information here: https://www.1and1.com/web-hosting
Mike Lee: Noted with thanks.
Representative: You're Welcome
1and1 Reviews on Uptime and Server Status
Uptime Stats
Our testing shows that 1and1 has good uptime recently. This is one of the most important factor to consider when getting a hosting service. A bad or unreliable uptime can ruin your site. 1and1 claims they have independently verified 99.9% uptime, which is the industry standard. When using 1and1, you can count on it to be a rock-solid foundation of your website or blog.

Uptime Stats – Target: 99.90%
August 2017 – 99.99%
July 2017 – 99.99%
June 2017 – 99.99%
May 2017 – 99.99%
April 2017 – 99.83%
March 2017 – 99.88%
February 2017 – 100%
January 2017 – 100%
December 2016 – 99.89%
November 2016 – 100%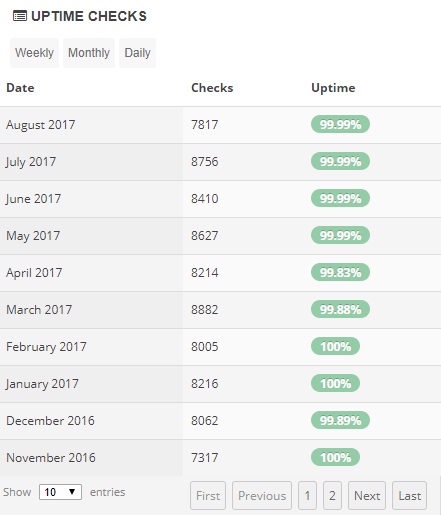 1 and 1 company claims to offer 99.9% uptime guarantee to all their all clients. hence, I decided to check their uptime for assuring myself whether they are fulfilling their claim.
I gathered their uptime stats of the past 10 months including August 2017. I am also uploaded the images of both uptime stats and chart to help all those who wanted to know about their uptime performance.
1 and 1 company achieved their claimed target in 7 months and in remaining 3 months this company didn't accomplish its target. The overall average of 1 and 1 uptime performance is 99.95%. One important improvement I can see is that they performed really well recently.
Note: For latest and complete performance of 1 and 1 uptime stats, visitors can bookmark our site.
Server Response Speed Test
When choosing a good hosting company for your site, it is important to gather the details about their uptime performance and server speed. This speed test will be helpful for all those who wanted to know about the 1and1 server response speed.
I pinged one of the website hosted on 1and1 and tested the server response speed of that website through 8 different localities. This company offers a good server response speed as you can see in the attached image below. 1and1 server response speed comes with a good rating of A.

Good and Bad of 1and1
Good
Incredibly low-priced domain name for first timers
Affordable hosting services
Good uptime performance recently
Offers Linux and Windows based servers
Provides both basic and advanced hosting packages
Free domains
Bad
Live chat support need improvements
Takes long time to refund
Summary and Conclusion: Is 1and1 worth the money?
1and1 offers cheap domain name and hosting, domain transfers, easy email setup and managed WordPress hosting. All their hosting packages have rich features and excellent security. Overall, the company provides reliable and efficient web hosting services. They provide their customers all the necessary tools to get a site up and running.
One of the strongest incentives is their extensive offering in every package and their strong security. If you want to host your website with a web host that offers good values at an affordable price, you can try 1and1.
Compare 1and1 With Our Top Ranked Web Hosts !
1and1 vs SiteGround vs HostGator

SiteGround

HostGator

1and1
Rating

Rated 4.5 stars

Rated 4.5 stars

Rated 4 stars

Price

$3.95/month

$3.95/month

$0.99/month

Criteria