Editor Rating

Rated 4 stars

Excellent
---
Reviewed by:

Published on:

Last modified:
---
Our Top Ranked #1 Web Host

Note: This website ReviewPlan.com is hosted on SiteGround
Latest Uptime Stats (Real Records):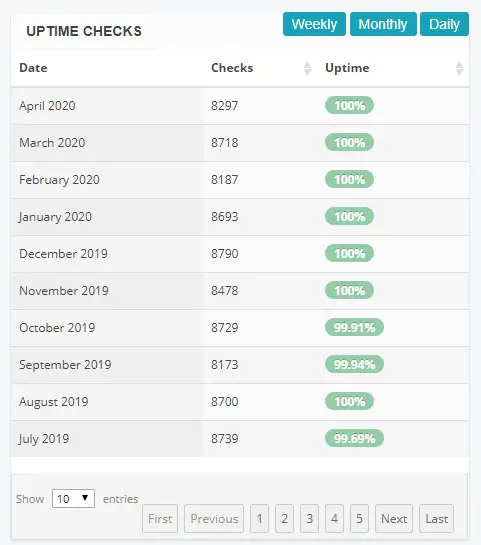 Server Response Speed Test Scored A+: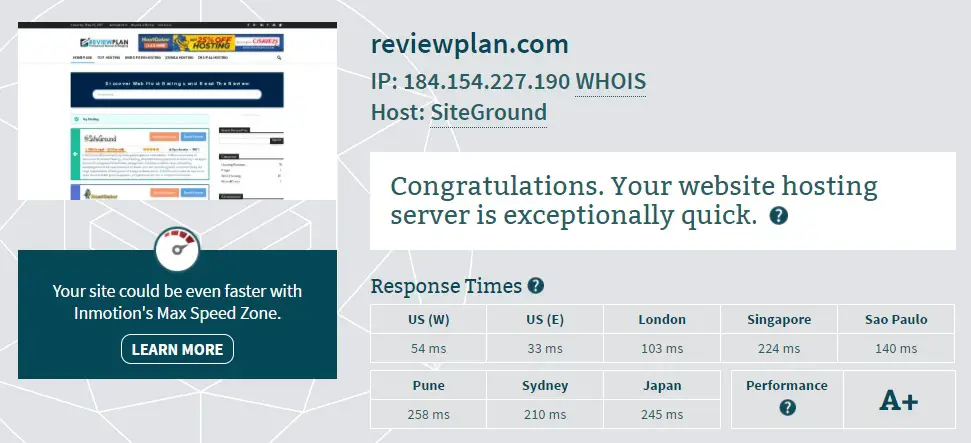 What is 247-Host?
247-Host is an all-purpose hosting services provider. Established in Canada in 2004, the company has been delivering cutting edge hosting solutions to individuals and corporations for more than a decade. Built on the foundations of high-performance hosting service and quality customer service, you can rest assured that any hosting solution from 247-Host will always be up to your expectations.
Whatever your web venture might be intended for, be it a personal blog, small business operation, web hosting reselling, or e-commerce, 247-Host is a good destination for your money. Should you be on the lookout for something better? Read on for the full review.
247-Host Reviews on Hosting Plans and Services
Shared hosting offerings by 247-Host are some of the most competitively priced offerings in the market. Those rates come in the form of 24-month block pricing, a necessary evil to keep costs low.
The basic plan starts at USD 2.99 per month and comes with 100 GB of storage space, 1 domain, and unlimited monthly bandwidth while the top tier Gold plan cost USD 6.99 per month for unlimited resources.
All shared hosting plans are powered by 1 processing core, cPanel control panel interface, LiteSpeed, RV Site Builder tool for simple drag and drop website design, CloudFlare CDN, SEO and marketing tools courtesy of Attracta, and the Softaculous one click installation software.
Providing such an expansive suite of software tools at the budget end of the spectrum is definitely a good sign that the company is not just looking to make a quick buck off its customers. The CloudLinux operating system ensures stable and reliable operation throughout a variety of load situations.
There is also a step up option for shared hosting customers who might not necessarily agree with a big increase in price. The modest step up will be acceptable. Their business hosting plans offer full SSD based storage that eliminates performance bottlenecks and greatly improves server performance.
These plans also come with an included SSL certificate, crucial if your website involves the transfer of sensitive or personal information such as login details or bank credentials. Plans start at USD 9.99 per month and go up to USD 39.99 per month.
247-Host Reviews on VPS Hosting Plan
For the step up option in performance and reliability, 247-Host has its award winning VPS hosting options. Cloud based hosting solutions offer the performance and reliability of a dedicated server solution with the flexibility and scalability that the cloud platform guarantees.
All VPS hosting plans come with CentOS Linux with full root access out of the box and preloaded NGINX, OPcache, Memcache, and eAccelerator installs included.
Plans start at USD 31.99 per month for 25 GB of storage space, unlimited transfer bandwidth, 1 processing core, 1 GB of guaranteed RAM, and 1 dedicated IP address. The plan goes all the way up to USD 119.99 per month for 200 GB of storage space, unlimited transfer bandwidth, 10 processing cores, 6 GB of guaranteed RAM, and 2 dedicated IP addresses.
All of these plans are fully managed by the on site engineers, technicians and come with Web Host Manager, Virtualizor panel for error free resource allocation, private SSL, Softaculous one click installer, CloudFlare CDN, and much more.
247-Host Reviews on Dedicated Hosting Plan
If VPS hosting is not up to snuff, then the dedicated server plans will definitely do the job for you. With fully managed servers and choice of having your website hosted in either a US based or Europe based data center, 247-Host offers you unparalleled services and flexibility well beyond any competing services.
Plans start at USD 139 per month for a quad core Intel Xeon E3 1220 processor at 3.1 GHz, 8 GB of DDR memory, 1000 GB of primary hard drive storage, 1000 GB of secondary hard drive storage, 12 TB of monthly transfer bandwidth, 100 Mbps of port uplink speed, and 5 IP addresses.
The plan goes up to USD 299 per month for a quad core Intel Xeon E3 1241 V3 processor at 3.5 GHz, 32 GB of memory, 2000 GB of primary hard drive storage, 2000 GB of secondary hard drive storage, 20 TB of monthly transfer bandwidth, 1 Gbps port uplink speed, and 5 IP addresses.
Introductory rates of 50% off are applicable for the first month if you subscribe to any dedicated server plan. cPanel control panel interface and Web Host Manager are offered free of cost with all plans. If you want full SSD based storage for the good hosting performance, the plans range from USD 159 per month for a total of 240 GB of storage to USD 399 for 1600 GB of storage.
247-Host Reviews on WordPress Hosting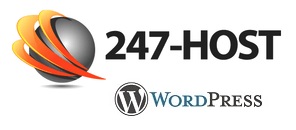 247-Host is a full featured hosting services provider. However, it does not offer a special WordPress hosting plan. That is not a bad thing. Not offering such plans means that the company focuses and cares more about offering quality and high performance hosting plans and not making a quick buck by advertising customer baiting plans. Anyway, WordPress is still fully compatible on their server environment.
247-Host Reviews on Support and Customer Service
247-Host ranks high on customer satisfaction. The company has invested heavily in forging and maintaining a good relationship with its customers. Offering high-performance services count for nothing if you are not there when customers need you in case of problem. Besides, the technical support is also top notch.
247-Host Reviews on Uptime Performance and Server Status
Server uptime of 247-Host is on the par, with very few down time and speeds consistently at the advertised rates. This translates into superbly reliable performance over long durations. Guaranteed uptime via SLA also puts your mind in peace.
Good and Bad of 247-Host
Good 
Great range of hosting offerings
Prices at both affordable as well business ends of the spectrum
 Reliable servers
 High-performance plans
 Excellent customer service
Bad
No dedicated WordPress plan
High end dedicated hosting plans cannot compete with the best out ther
Old style and lousy website design
Summary of 247-Host
247-Host offers excellent hosting plans at every price point. It is safe to say that as long as you do not need help getting your website built in the first place, 247-Host is a good choice for you. It might fit the bill at the very high end, but for everything else in between, it is just right.
Compare 247-Host With Our Top Ranked Web Hosts!
SiteGround vs HostGator vs 247-Host

SiteGround

HostGator

247-Host
Rating

Rated 5 stars

Rated 4.5 stars

Rated 4 stars

Price

$3.95/month

$3.95/month

$2.99/month

Criteria