Editor Rating

Rated 3 stars

Good
---
Reviewed by:

Published on:

Last modified:
---
Our Top Ranked #1 Web Host

Note: This website ReviewPlan.com is hosted on SiteGround
Latest Uptime Stats (Real Records):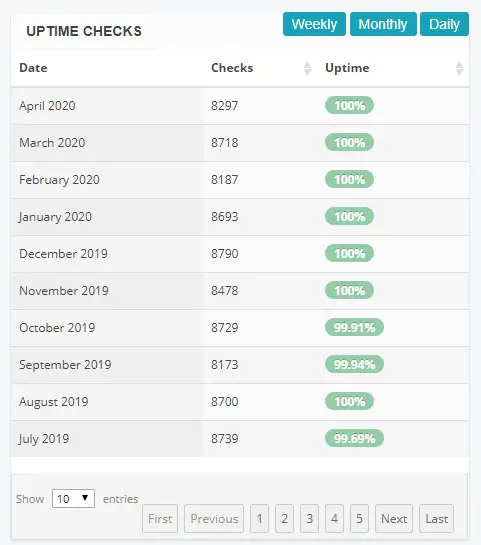 Server Response Speed Test Scored A+: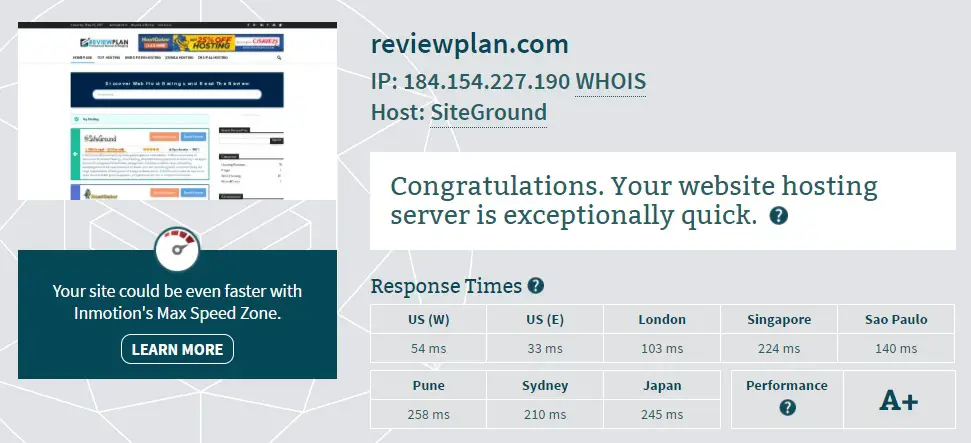 What is Active24 Hosting?
If you are looking for a place to get your brand new website up and running without burning a hole in your pocket, you should definitely check out the budget web hosting services provided by Active24.
It is a company based in the United Kingdom that specializes in providing great hosting services at extremely affordable prices. The company's hosting offerings are especially geared towards new users and internet novices who want a website but might not necessarily be aware of the different things that go into maintaining a website online.
Active24 has one click hosting services that make creating your own website simple. If it is your first web venture, the company offers excellent and professional advice on everything from design to various data services. Sounds interesting? Then let's jump into the full review.
Active24 Reviews on Hosting Plans and Services
Active24 offers affordable shared hosting plans on both Windows and Linux based platforms. So if you do have an existing website that is pre-configured the way you like it, you can rest assured that it will work just as it used to with Active24 hosting.
The company's "Complete" plan costs GBP 1.49 per month for unlimited storage space, a 5 GB email mailbox storage, support for unlimited MySQL or MSSQL databases as well as FTP access, and daily backups for assured reliability and protection against data loss.
The higher end "Expert" plan costs GBP 7.49 and comes with all the bells and whistles of the "Complete" plan but offers more resources in the form of support for 10 hosted websites (where the "Complete" plan supports only one) and 50 GB email mailbox capacity.
The company supports all popular web hosting backends and content management systems like WordPress and Joomla and also throws in a free SSL certificate on the Linux platform. Like most budget hosting providers though, unlimited storage is not actually unlimited.
Resources are scarce and storage provided goes up to a maximum of 20 GB with the provision of a 10 GB increase once a month if needed. This is similar to most budget hosting services, and Active24 actually offers a better deal than most here.
Thanks to the one click installer that comes bundled with all Active24 hosting plans, you can get ready to build your website from the get go, with support for WordPress, Drupal, and Joomla CMS.
You can also add forum and e-commerce packages to your hosting plans directly from the Customer Centre interface, and Active24 scores major points for making this such a hassle free experience.
Active24 Reviews on VPS Hosting Plan
For users who have greater resource demands though, Active24 also has the virtual private server or VPS hosting plans as well as Virtual Managed Servers and Application Servers.
VPS hosting plans come with both Windows and Linux platform. Linux based plans start at GBP14.99 for a 30 GB hard drive for storage, 2 GB of RAM, and 1 CPU core. The premium plan comes in at GBP 44.99 per month and comes with a 120 GB hard drive for storage, 8 GB of RAM, and 4 CPU cores.
Prices are identical for VPS hosting plans on the Windows platform. All VPS hosting plans come with a generous free trial of 14 days so that you can try out if Active24 hosting suits your needs.
The company also offers some great and affordable VMS plans for customers whose requirements exceed the scope of shared hosting. VMS hosting allows you to set individual parameters to your exact specifications and come with unlimited data traffic between the boundaries of SIX and NIX systems.
High-performance VMS systems are available from GBP 14.99 per month to GBP 51.99 per month on Linux as well as Windows. As with the company's VPS hosting plans, a free 14-day trial is also offered here.
One great offering from Active24 hosting that is not found very often among budget hosting companies is APS or Application Server plans. These servers are dedicated to run third party software, usually on the Windows platform, for ready access from anywhere over the internet.
If you have ever used a cloud accounting software service, it probably runs on APS. With plans ranging from GBP 29.99 per month for 2 CPU cores, 3 GB RAM, and 40 GB hard drive storage.
The plan goes up to GBP 85.49 per month for 8 CPU cores, at least 8 GB of RAM, and 120 GB of hard drive storage, Active24 certainly hit the target on the mark.
What distinguishes Active24 hosting from its competitors is not noticeable superior performance or features but a structure of plans that seem to have been designed with the end users in mind.
Active24 is targeted firmly at the low to mid-range hosting customers and it really shows. Because the company is not trying to woo enterprise clients with huge resource demands, it can focus on offering the best services to the largest amount of users.
Active24 Reviews on WordPress Hosting Plan
Since WordPress definitely counts as one of the most popular content management systems on the internet and powers some of the biggest and most highly trafficked websites, having a dedicated WordPress plan definitely makes sense for any hosting service provider.
Active24 hosting does have a dedicated WordPress plan on its shared hosting platform. With the company's powerful one click installer, you can get your WordPress site up and run in mere minutes.
Active24 Reviews on Support and Customer Service
Being a budget hosting service provider, customer support definitely takes a backseat to hosting services for Active24. Which is not to say that customer service is lacking or ineffective; it is just not up to the mark if you compare it with the competition. In person, customer support is available only on weekdays from 9 AM to 4 PM. It is a compromise that is understandable.
Active24 Reviews on Uptime Performance and Server Status
Active24 has achieved a decent service uptime status over the years. While its hosting service remains uninterrupted, the company's backend systems have seen a few outages due to software updates and hardware upgrades. If you were expecting enterprise grade reliability and uptime, Active24 is not for you. However, down time are minimal and service speeds remain usable throughout.
Good and Bad of Active24
Good
• Budget friendly hosting plans
• Prices same for both Linux and Windows platforms
• Dedicated application server plans on a budget
• Robust VPS services
• Strong CMS support including WordPress
Bad
• No 24-hour customer service
• Uptime record is behind the competition
Summary of Active24
If budget-hosting services are what you are looking for, Active24 is a place to start. However, if you have concerns with reliability and lack of 24-customer service, there are plenty of alternatives as well.
Compare Active24 With Our Top Ranked Web Hosts!
SiteGround vs HostGator vs Active24

SiteGround

HostGator

Active24
Rating

Rated 5 stars

Rated 4.5 stars

Rated 3 stars

Price

$3.95/month

$3.95/month

£2.99/month

Criteria