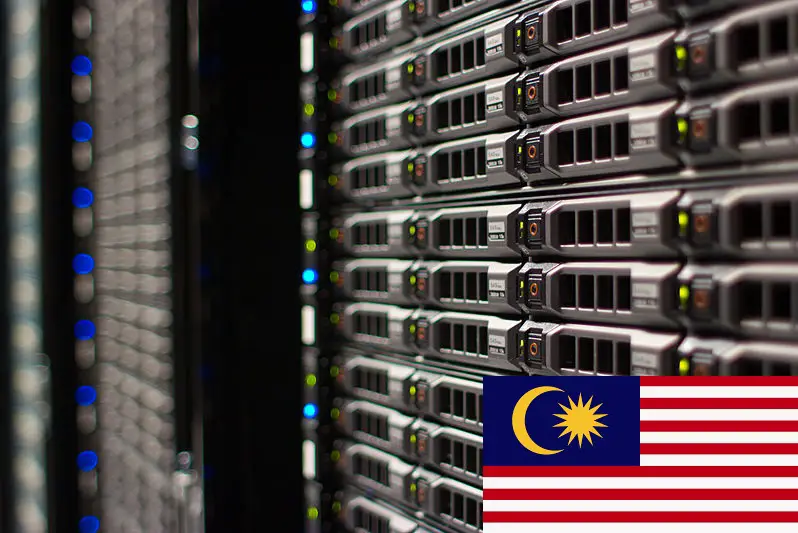 There comes a time, when the simple shared hosting account isn't enough for your website. If the rate of visitors increases on your website, then you need to upgrade your web hosting plan. It's great to have an increased amount of website visitors. At the same time, it can be a hassle for you to choose the next web hosting plan.
If your current shared/cloud/VPS web hosting account can't handle the number of visitors your website is receiving then it might be the time for getting a dedicated hosting account. So, if you are from Malaysia and searching to learn about dedicated hosting services all around the world. You are in the perfect place.
In this post, we have compiled a list of 10 best dedicated web hosting services for Malaysian readers. So, if you are up for it, let's get straight down to business.
Best Dedicated Web Hosting Malaysia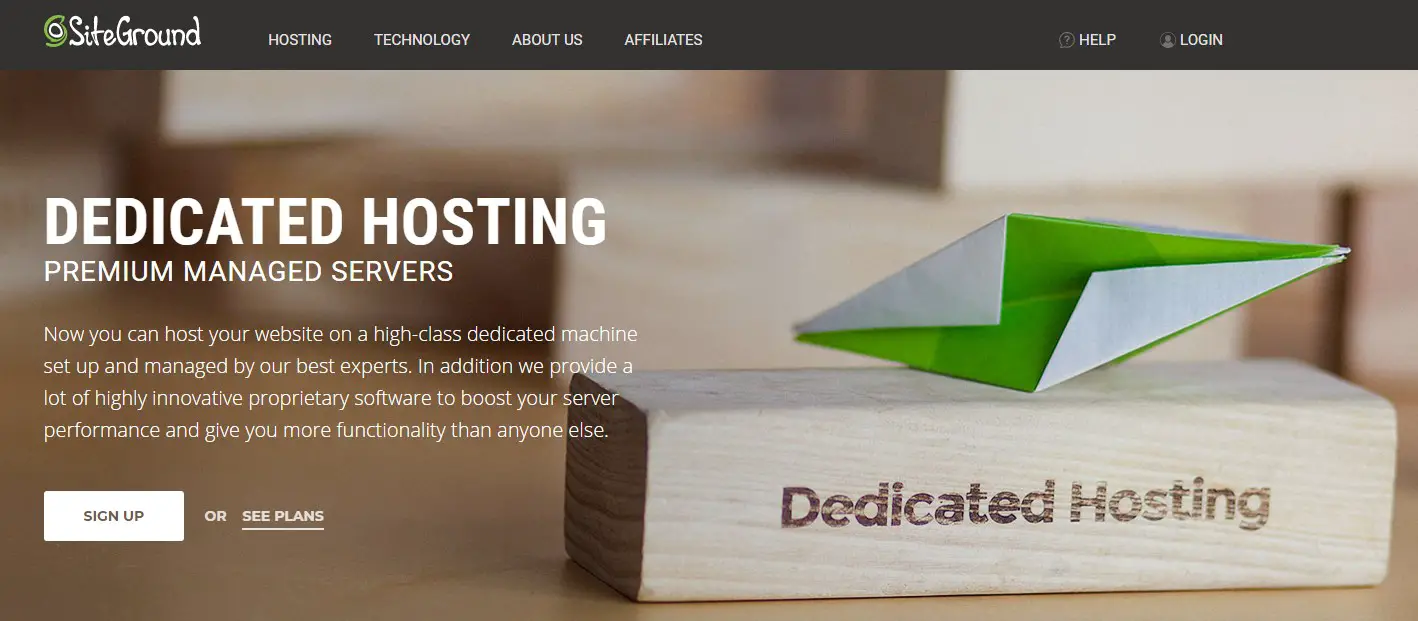 SiteGround may not be the pioneer of web hosting but they are now one of the best on providing web hosting service. There are various web hosting services from SiteGround. Among them, their dedicated web hosting is one of the most powerful ones.
There are 3 dedicated web hosting plans of SiteGround which are Entry Server, Power Server, and Super Power Server respectively. That's not all. With SiteGround, you can choose your preferred data center location from 3 locations such as the United States, Europe, and Asia-Pacific. It is a unique feature of SiteGround. It will help you to improve your website's performance to the specific region of your selected data center.
However, the prices of the plans are also vary depending on the location of the data center. For instance, the price of the plan regarding the Asia-Pacific data center is higher than the prices of the USA and Europe servers. If you receive visitors from within Malaysia, then it will be perfect for you if you go with the Asia-Pacific data center.
With every dedicated web hosting plans you are getting 10 TB data transfer, Intel Xeon multi-core processors, 16-64 GB RAM etc. You will also get the unprecedented uptime of SiteGround. They are marinating a 99.99% uptime for a long time. You can see their uptime statistics in the image below for more information.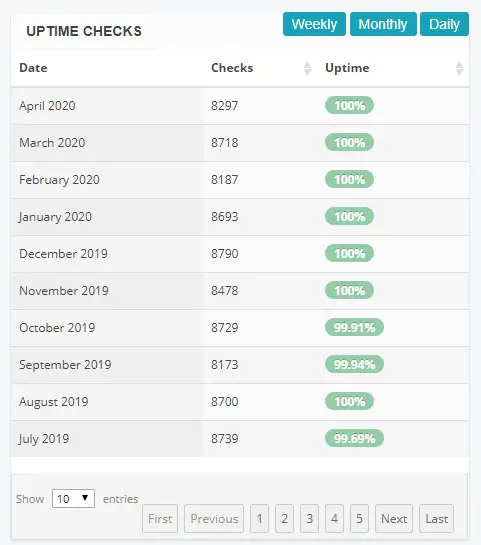 When it comes to dedicated hosting, you might need assistance on managing your web servers. Fortunately, SiteGround will take care of everything server sided by themselves. And, even after that, if you face any difficulties they have their dedicated customer support team. You can get to communicate with them 24/7 from all around the world. So, there won't be a problem if you are from Malaysia because they are available, always.
We also use SiteGround to host our website RevewPlan.com. And, we have to tell you that our experience with them is very good. We are very satisfied with their service. So, we hope you will also like SiteGround.
Exabytes is one of the most popular local web hosting services in Malaysia. They are doing their job perfectly for a long time. For their awesome service, they are growing in numbers day by day. If you are looking for a local web hosting provider to get your web hosting services, then Exabytes is the one you are looking for.
They have two types of dedicated hosting. For instance, they are offering Linux and Windows-based dedicated web hosting plans. In total, there are 8 dedicated web hosting plans. Among them, four are Linux OS based which are named as Economy, Value, Deluxe, and Ultimate. And the other 4 are also named similarly but they are based on Windows OS.
Except for the Ultimate dedicate web hosting plan, they will take just 4 hours to set your web hosting account up for the first time. In the case of the Ultimate dedicated hosting plan, you will have to wait 7-14 working days. The prices of these plans are very reasonable compared to others. There are no set up fee. Another amazing thing, if you buy 2 dedicated hosting account you will get another 1 for free of cost.
They have 3 data centers to choose from which are located in Singapore, Indonesia, and the USA respectively. Their customer support team is also available 24/7/365. You will get high-quality performance using the servers of Exabytes. Everything ranging from security, maintenance, backup, update etc. will be taken care of by the Exabytes team.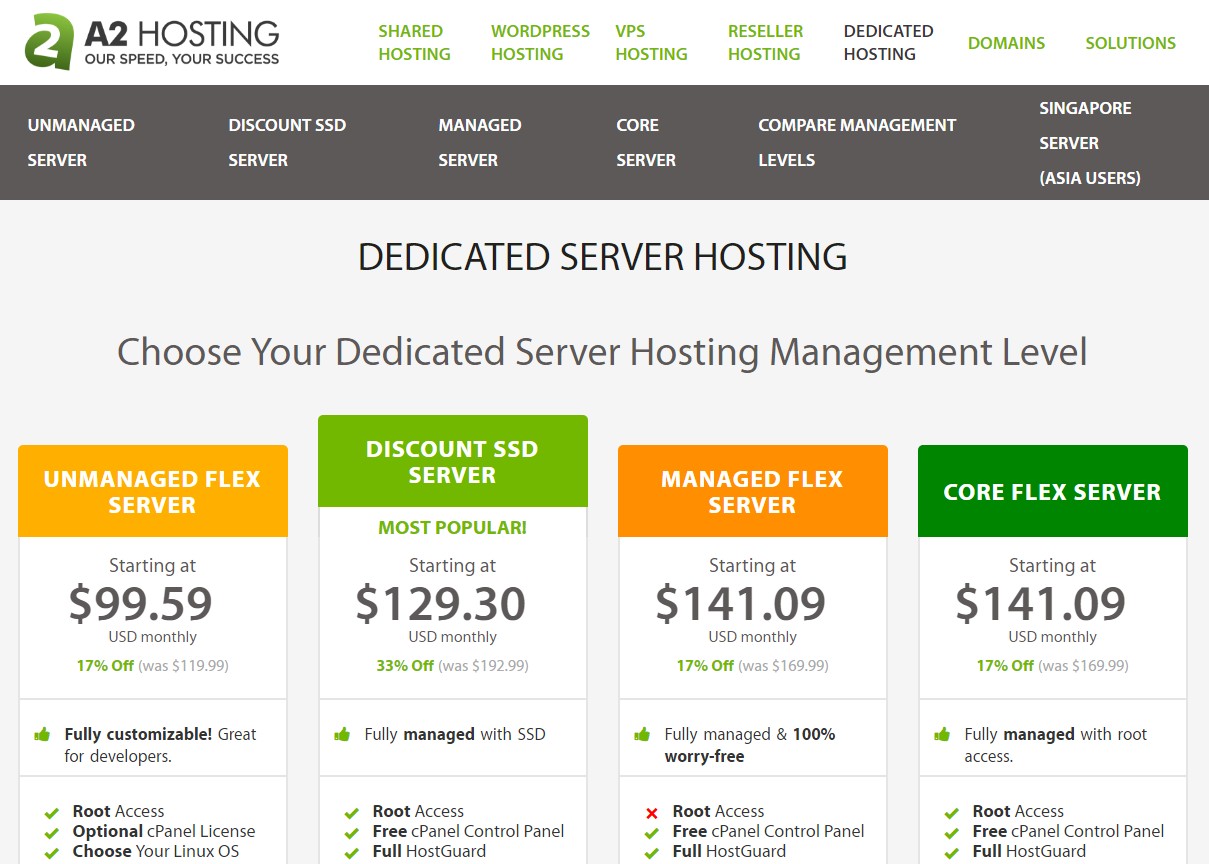 If you love variations, then you will like A2 Hosting. Primarily, they have 3 types of dedicated web hosting plans depending on the management level. They are Core Servers, Managed Servers, and Unmanaged Servers. The Core servers are managed servers with Root access. The Managed servers are without root access but managed by A2 Hosting. And, the Unmanaged servers are best for developers as they are totally unmanaged but with root access.
Again, these types of hosting plans are also divided depending on the OS (Linux and Windows). Their main dedicated web hosting plans are named as Unmanaged Flex Servers, Discount SSD servers, Managed Flex Servers, and Core Flex Servers respectively. And, each of these plans is again divided into 3 web hosting plans. So, you can see that they have a lot of dedicated web hosting plans. You can learn more about them in our article about A2 Hosting's dedicated web hosting.
Their customer support team is also very helpful. They are also available 24/7. So, for our Malaysian readers, you can be worry-free regarding the time zone difference between the USA and Malaysia. You can get in touch with them whenever you need any type of assistance. The uptime record of their servers is also amazing. You can rely on them if you want to get a dedicated hosting with them.
Another internationally recognized web hosting provider is HostGator. They are quite the opposite of A2 Hosting. They have kept their web hosting plans as simple as possible. So, if you like simplicity, then HostGator can be a great choice. There are 3 dedicated web hosting plans named as Values Server, Power Server, and Enterprise Server respectively.
Their dedicated servers are consist of Intel Xeon processors, 8-30 GB RAM, HDD/SSD media storage, unmetered bandwidth etc. You also have the option to choose between Linux and Windows OS web hosting plans. Their uptime record is also great. They also have data centers residing in Asia. So, if the maximum amount of your visitors come from Malaysia, it will be perfect to host your site with HostGator.
Their customer support team is also world class. You can get them 24/7365. Added to that, if you are confused about their dedicated web hosting plans, you can directly call them or request a call back (free) from them. This is actually a very interesting aspect of HostGator. The data centers are strictly protected. So, you won't have to worry about losing your website.
Bluehost is famous for its free domain name feature. That means, if you get any web hosting plans with them you will get a chance to register a domain name for free for the first year. So, if you are searching for this type of offers then you have got a winner here.
They have 3 dedicated web hosting plans such as Standard, Enhanced, and Premium. The prices of their plans are also very reasonable. The plans come with all the necessary web hosting features and more advanced hosting features. For instance, you will get free RAID storage, Fast provision, Root Access, Multi-server management etc.
All of their dedicated web hosting servers are built, designed and maintained by Bluehost. So, if there is any problem arises, they know what to do at the very exact moment. Their uptime is also super. They have been maintenance almost 99.99% uptime on their web servers. Their customer support team is also highly knowledgeable and professional. You will love using Bluehost.

Another local web hosting provider from Malaysia. They have their data centers within Malaysia. So, it is also looking good for our Malaysian readers. There are 4 dedicated web hosting plans from ServerFreak. The names of these plans are Smart Server, Value Server, Power Server, and Enterprise Server respectively.
You can pay them suing Malaysian currency instead of dollars or Euros. Also, they have a local customer support team so that you can be able to communicate with them using your native language. Depending on the server management level, you can choose from 3 types of plans. For example, you have the self-managed lite, Managed, and fully managed server management level.
Here, the Managed Lite option is free. But the other two management levels are paid. Overall, it is a good deal if you go with managed web hosting plans. It will save you a lot of time as everything server sided will be taken care for by the ServerFreak team.
Shinjiru has been serving as a prominent web hosting provider for about 20+ years. They are also from Malaysia. So, if you prefer a local web hosting provider, then you can give them a try. They have both Window's and Linux OS based dedicated web hosting plans.
There are 6 dedicated web hosting plans of Shinjiru which are E3 Value, E3 Premium, E3 Ultimate, E5 Value, E5 Premium, and E5 Ultimate respectively. All these dedicated plans are available both in Windows and Linux. As it is a Malaysia based web hosting provider, you can pay using Malaysian currency and also you will be able to communicate with the customer support team of Shinjiru using your native language.
Their customer service team is available 24/7 all around the year. You can even find them via WhatsApp. This is a unique approach by Shinjiru to provide fast customer service. Along with that, you have the other common methods to contact them as well. They also guarantee 99.99% uptime. They have teamed up with Dell for building and managing their dedicated servers. So, you can expect a super performance from Shinjiru.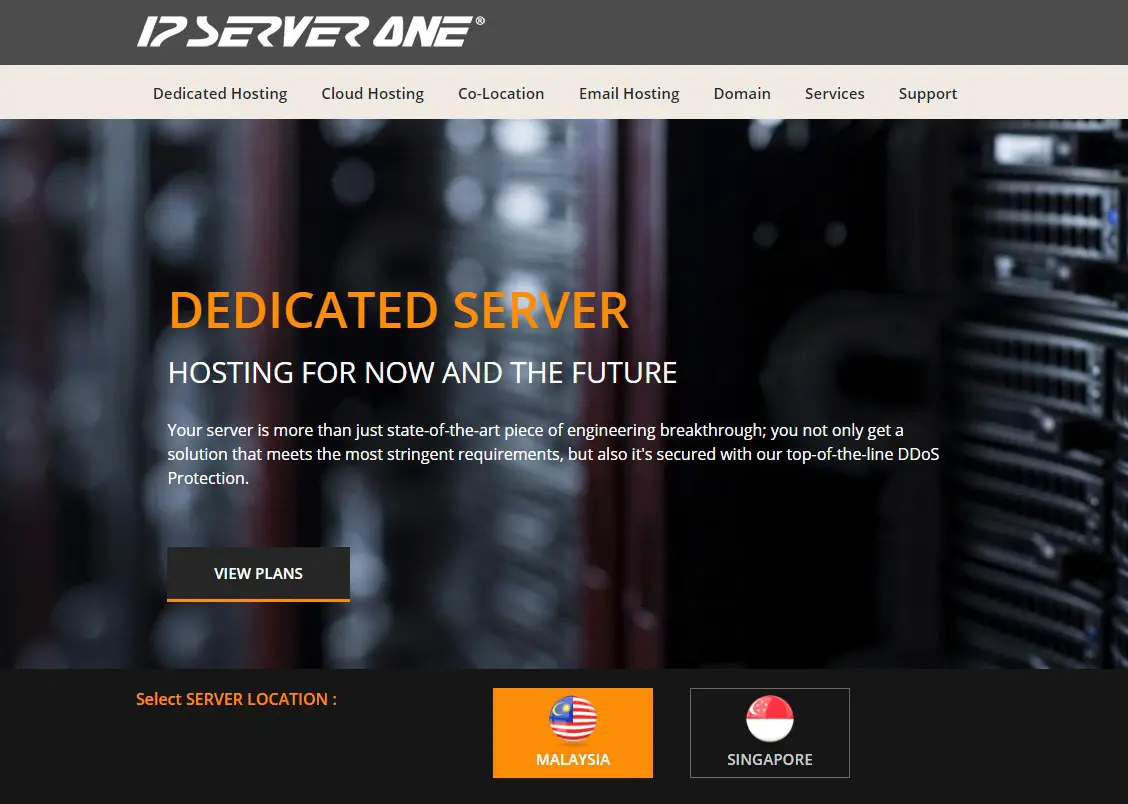 They are another popular local web hosting company in Malaysia. IP ServerOne started back in 2003 as a small web hosting company in Malaysia. But, since then, they have become one of the best-known web hosting providers in Malaysia.
Right now, they are offering dedicated web hosting plans based on the location of the data center. There are 2 data centers of them which are located in Malaysia and Singapore. If you choose the Malaysia data center then you have 5 dedicated web hosting plans to choose from. They are named as StartUp, Premier, Exclusive, Professional, and Ultimate respectively.
But for the Singapore data center, there are only 2 dedicated web hosting plans which are Premier and Exclusive. All of their dedicated servers are powered by Intel Xeon CPUs, Hardware RAID1, 8-64 GB RAM etc. All of the servers are under active monitoring so that they are safe from any type of vulnerabilities.
They also have a 24/7 constant customer support facility. However, they don't have a live chat option. Rather, they have a hotline number and email address which is always open. You can contact them via their hotline number whenever you want to. If you are from Malaysia, you can even use your native language to talk to them about your issue. All in all, IP ServerOne is a very reliable web hosting provider.
This is another Malaysian web hosting company. But, they are not the new kid on the block when it comes to web hosting related services. They are in this business from 1999. Right now, they have their customers in over 70 countries all over the world.
They have two data centers within Malaysia. They are offering free dedicated server set up. There are 3 dedicated web hosting plans of WebServer MY. They are Start Up, DevOps, and BigData. Among them, unfortunately, the Start-Up plan is already sold out.
You can get the other two plans though. With the DevOps plan, you are entitled to get a mystery discount while you purchase your hosting plan. And, the BigData plan is also upgradable at any stage. So, if you have a large website which might need bigger web servers in the future, you can choose the BigData dedicated hosting plan.
They also offer 24/7 customer support. You can contact them via phone call, live chat, email etc. 'WebServer MY' has teamed up with Intel to provide their customers with reliable web hosting services. So, we can say that going with 'WebServer MY' is not a bad idea at all.
They have begun their journey in web hosting business back in 2004. Nowadays, they are offering a lot of web hosting related services as well. For instance, you can get assistance with web design, domain registration, site building, and mobile app developing etc. services as well.
Regarding dedicated web hosting, they have 6 types of web hosting plans. These dedicated web hosting plans depend on the type of CPU you are going to get on your dedicated server. The options of CPUs are Intel Core i3, Intel Core i5, Intel Xeon 4C, Xeon 4Cx2, Xeon 6Cx2, and Intel Core 2 Duo/ Intel Pentium Dual Core.
You can pay for the plans using the Malaysian currency. Also, they have a professional customer service team which is available 24/7 throughout the year. However, there is no live chat option. In contrast, you can get them via email and hotline number.
Another thing, if you want to upgrade your current web hosting plan, then you can do that easily for a little upgrade fee. So, you won't have to worry if you need a bigger web server anytime soon. Internet-Webhosting.com has your back.
Our Last Words:
Choosing a great dedicated hosting provider is a very critical task. Because most of the dedicated web hosting plans are very expensive. And you don't want to spend your hard earned money on a mediocre web hosting provider. Thus, we have created this article for our Malaysian readers so that you can get a clear idea about different types of dedicated web hosting providers.
Depending on your requirements, we would suggest you go with an international web hosting company. And, if you ask to choose one from the list above, then we have to pick SiteGround without a single doubt. They are one of the top performers in the web hosting industry.
Nevertheless, if you want to go with a local hosting provider instead, then you can go with Exabytes. They are local yet they are globally known for their professional services. We hope this post will help you to choose the perfect dedicated web hosting provider for you.