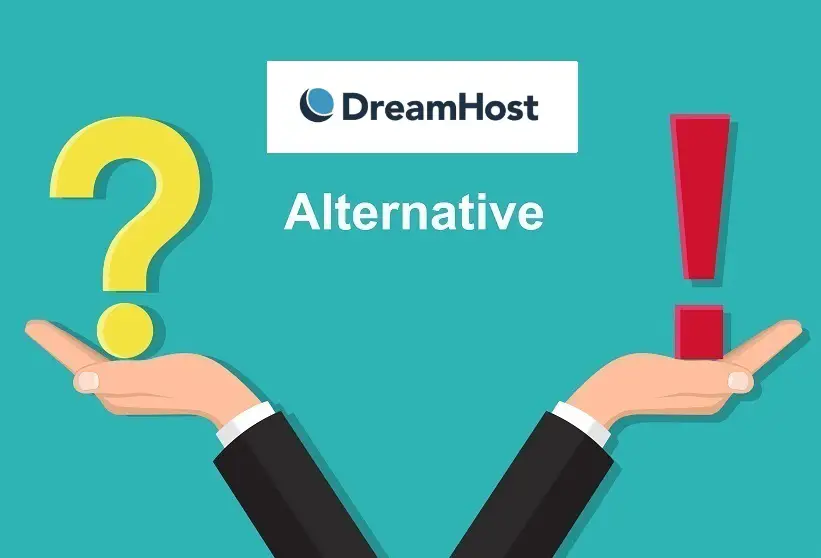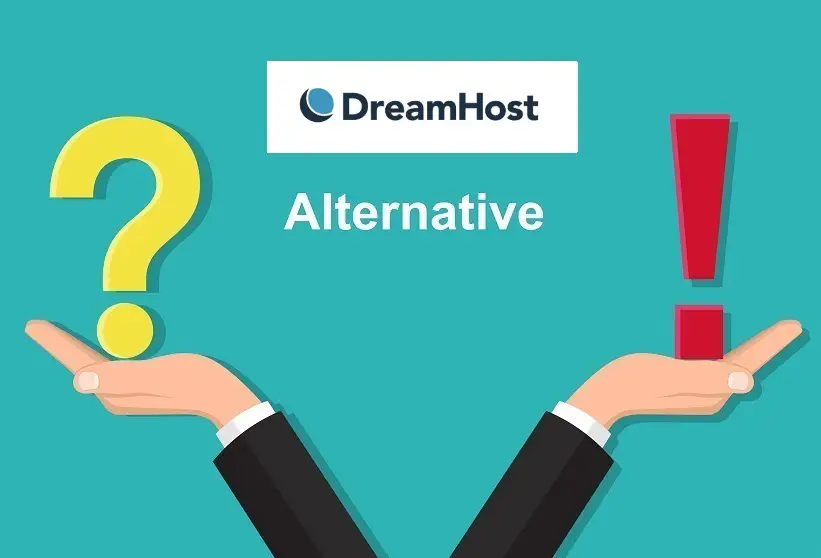 DISCLOSURE: This post may contain affiliate links, meaning when you click the links and make a purchase, we receive a commission.
DreamHost has been around for over 20 years. With time, they have become bigger and better. They are famous for providing top-notch web hosting services to their customers. You can get almost all types of popular hosting packages from DreamHost.
The prices of those web hosting packages are also very reasonable. Even then, you might be looking for an alternative. Because it is always better to compare multiple web hosting services before finalizing the decision. Lucky for you, we are here with just not only 1 but 10 DreamHost alternatives.
Best DreamHost Alternatives
So, if you were looking for a list like this, you can keep on reading this post. Here, we will give a brief review of the top 10 best DreamHost alternative web hosting services. So, here we go…
1. SiteGround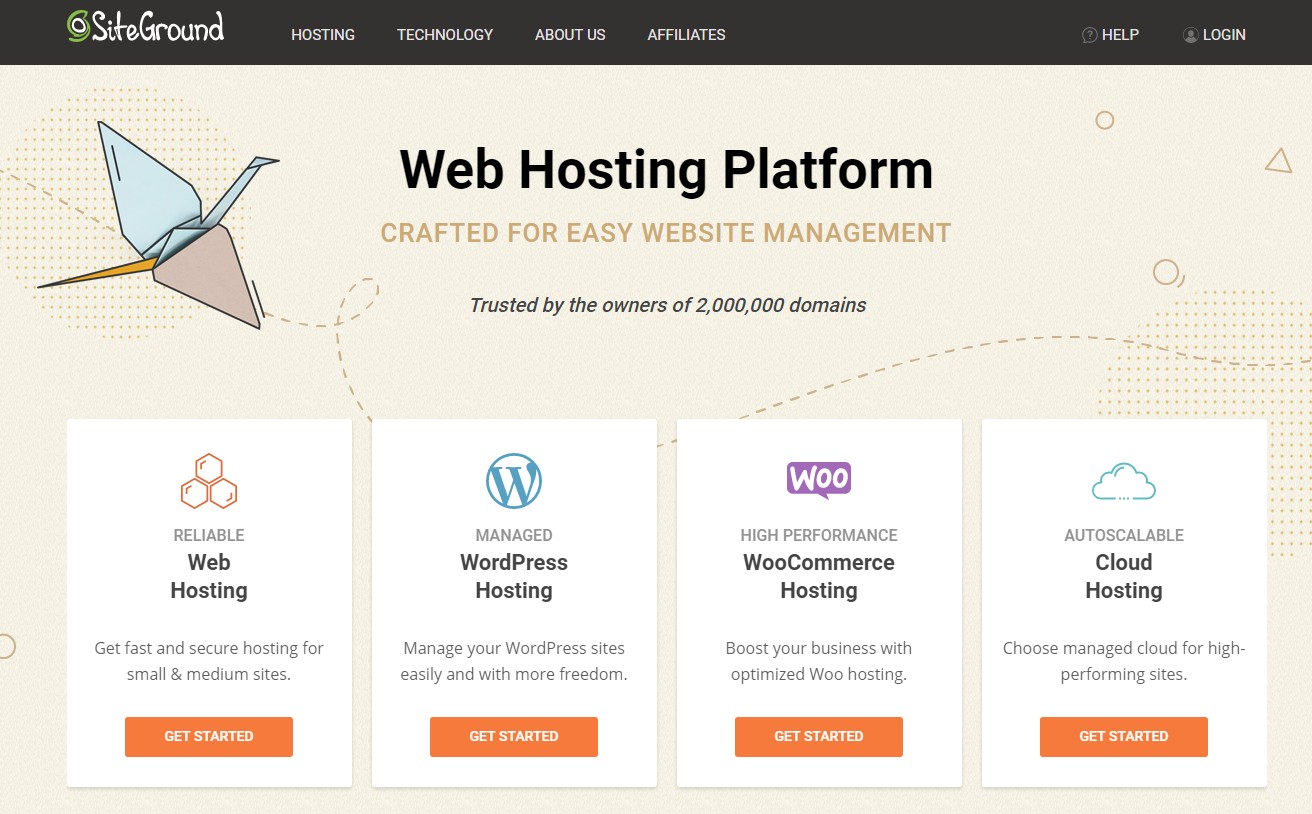 SiteGround is one of the most well-known web hosting company in the world at this moment. They have started as a small private hosting company in Sofia — the capital city of Bulgaria. Yes, it was just a local web hosting provider. But, along with time, they have become popular all over the world.
The reason for their popularity is their world-class service. They have various kinds of web hosting plans. These are very affordable as well. Even we use SiteGround to host our website (ReviewPlan.com).
If you are searching for a hosting provider with great service, fast webservers, top-notch uptime, then SiteGround can be a good choice. From our firsthand experience, we will definitely recommend them to any of our readers.
Main Features:
24/7 expert customer support
SSD based webserver
They have 4 physical data centers all over the world
99%+ uptime
Free SSL certificates and free website transfer
Continuous security monitoring
Free site builder
2. HostGator
If you are in a tight budget then your best bet would be HostGator. Because HostGator offers some cheap yet reliable web hosting packages. There are various kinds of web hosting packages form them such as shared, dedicated, reseller, VPS, WordPress and so on.
All kinds of web hosting packages are available at a cheaper rate. They also offer a free website builder. So, if you are new to this, you will be able to use that to build your website with ease.  It is a drag and drop website builder. So, you won't have to be a professional at website designing.
HostGator also provides 24/7 customer support. You can contact them using different methods such as live chat (fastest), email, submitting tickets, and even direct phone call. They also have a huge collection of free tutorials and how-to videos on their official site and YouTube channel. These will come in handy whether you are a newbie or a previous website owner.
Main Features:
Free website migration
9% uptime guarantee
Free support all around the year 24/7
Free SSL certificates included
45 days money-back guarantee
Cheap web hosting packages
3. Bluehost
If you liked HostGator, then you will like Bluehost as well. Because they are from the same company which is EIG (Endurance International Group). At first, Bluehost was a privately held company. Later, EIG has acquired this hosting provider. And, now, they are one of the most talked-about web hosting companies in the world.
Bluehost also offers similar types of web hosting packages for cheap rates. However, they are more inclined to offering great WordPress web hosting service. Along with all the typical web hosting packages, they offer 2 types of WordPress packages. Added to that, they are one of the recommended web hosting services by WordPress.org themselves.
You will be able to get in touch with Bluehost customer care service 24/7. They are very friendly and know their stuff. So, if you are going to launch a WordPress website, you can check Bluehost out. They are also a great option for other types of web hosting plans as well.
Main Features:
Free SSD based servers
Free SSL certificates
Comes with custom yet easy to use cPanel
Industry-standard uptime
30 days money-back guarantee
4. A2 Hosting
If you need Windows hosting, then A2 Hosting is the best option out there. They offer Linux web hosting too. And, the prices of the hosting plans are also very reasonable. The most interesting thing about A2 Hosting is that they offer numerous kinds of hosting packages. So, you will definitely find one which will suit you. Let's see some of the key features of A2 Hosting down below.
Main Features:
They offer various types of web hosting packages
You can get either Windows or Linux web hosting
SSD based server
Free automatic backups
Anytime money-back guarantee
99% sever uptime commitment
Free SSL certificates
Free site transfer
All the packages come with Turbo servers
5. Cloudways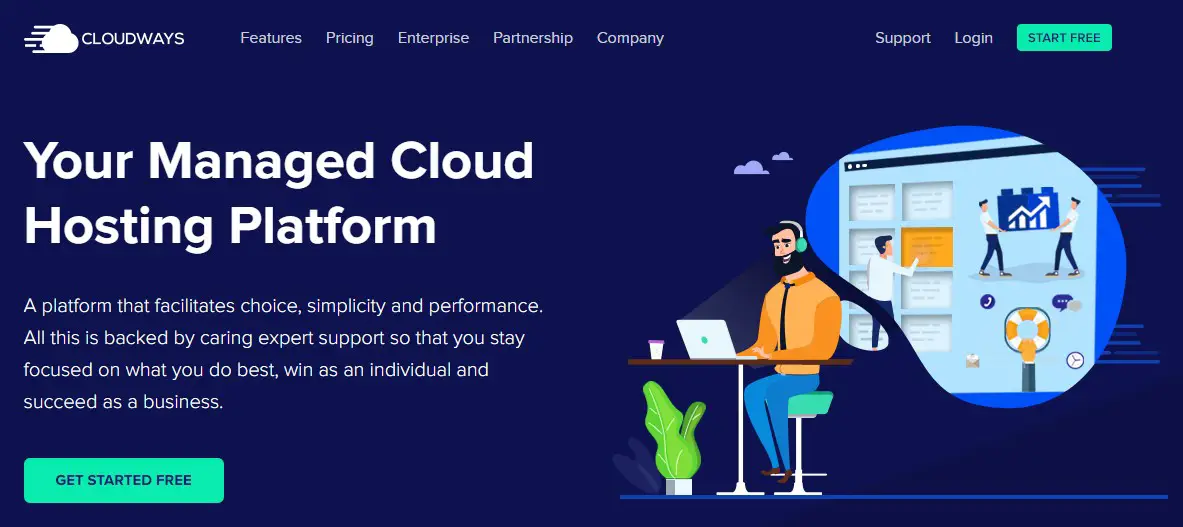 If you want to host your site with a cloud hosting plan, then Cloudways might be the best option. As the name suggests, they offer only cloud web hosting plans. They provide web hosting packages from 5 cloud providers. Those are DigitalOcean, Linode, Vultr, AWS, and Google Cloud Platform. Depending on the platform, the price of these web hosting plans will also vary.
Main Features:
Managed cloud hosting provider
They offer 3 days of free trial on any of the web hosting packages (no need of credit card)
They bill you hourly
Offers hosting packages from 5 cloud providers
You can choose your desired data center from 60+ data centers
Free Cloudways CDN service
Free SSD based servers
Comes with Cloudways bot which is a smart AI assistant
Constant server and app monitoring
6. Kinsta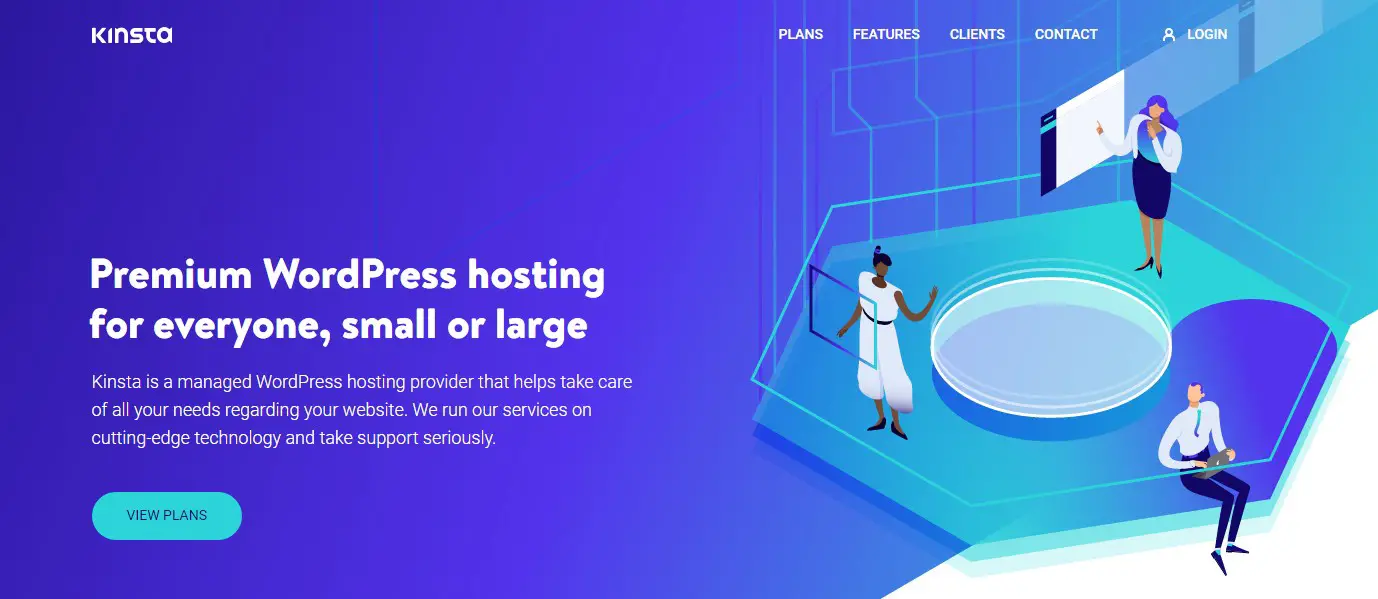 Kinsta is a WordPress only web hosting provider. So, if you are going to use any CMS other than WordPress, this is not for you. Kinsta offers 6 hosting plans which are Starter, Pro, Business 1, Business 2, Business 3, and Business 4. The 'Starter' pack is the lowest priced one which starts at $30/monthly.
And, the highest-priced pack is the 'Business 4' which will cost you about $400 per month. You can see that they charge very high compared to other ordinary web hosting services. However, a lot of people are already using their service and reported that the price is justifiable.
Main Features:
Fully managed web hosting plans
Offers free website migrating service
Integrated with Google Cloud Platform
Daily Backups
Comes with MyKinsta which is a powerful and reliable WordPress hosting tool
Comes with 30 days money-back guarantee
If you choose to pay the yearly payment, you will get 2 months free
Comes with staging environment features
7. InterServer
Frankly, InterServer is not that famous worldwide. So, you might be hearing their name for the first time from us. Nevertheless, we can assure you that they are a very good web hosting provider. They offer shared, VPS, cloud, dedicated etc. hosting plans. Their hosting plans start at $4 per month. The price varies based upon the type of the web hosting package.
Main Features:
Comes with a free beginner-friendly website builder
Resourceful data center
24/7/365 customer support
99%+ uptime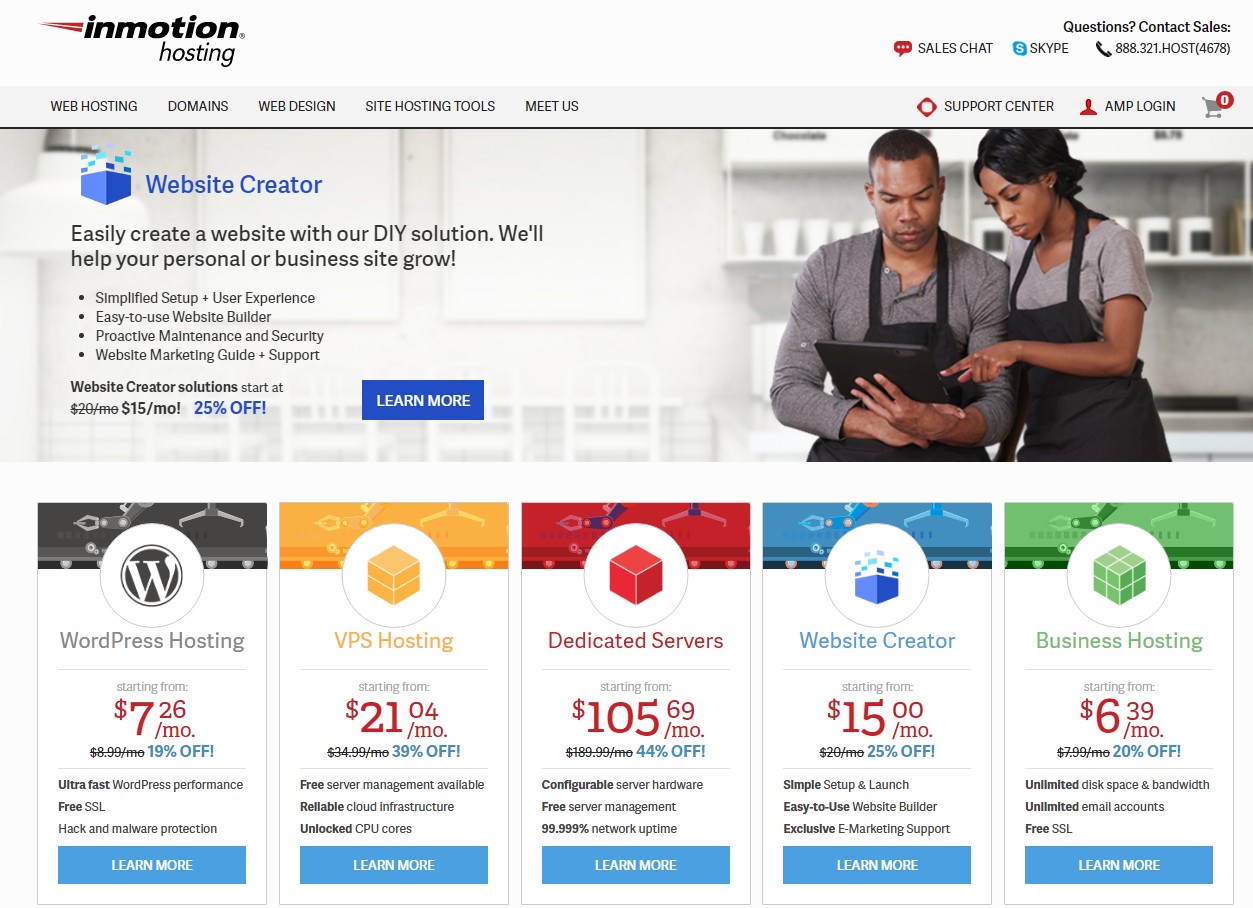 InMotion Hosting is another good alternative to DreamHost. They also have all the typical web hosting plans. But, their web hosting plans are a bit pricier than the other normal web hosting providers. They offer 5 types of hosting plans. Among them, one is a unique one.
It is called the 'Website Creator' plan. With this, they will provide you with a simple to use website builder. You can create your own website using that website builder without any issues. And they will take care of the security and the maintenance of the servers. Everything from their customer support to server uptime is top-notch.
Main Features:
Free website transfer offer
24/7 customer support standby
Free SSD based web hosting service
They offer website creator hosting plan
Comes with various web hosting tools
High-speed servers
9. GreenGeeks
There are many reasons to include GreenGeeks in this list. But, one of the main reasons is their eco-friendly hosting infrastructure. Yes, you have heard it right. They are the only web hosting provider in this list which is environment-friendly. Plus, their hosting plans are not that expensive. So, if you want to support their movement as well as enjoy cheap web hosting packages, then GreenGeeks could be a great choice.
Main Features:
Environment-friendly web hosting service
1-month money-back guarantee
Free SSD based web hosting provider
Super server uptime
Free SSL certificates
10. iPage
iPage has the lowest priced web hosting plans of them all. For instance, you can get a shared hosting account from them for just $1.99/month. But, that doesn't mean that they offer bad service. In fact, iPage is popular to a lot of users because of their super support, service, and affordable pricing. So, if you are looking for a budget-friendly web hosting provider, then iPage could be the one for you.
Main Features:
Free domain migration facility
1 Free domain registration for 1 year
Ultra-fast web servers
99%+ uptime commitment
1 free domain for the 1st year
Over thousands of free website templates
Free SSL certificates
Very cheap web hosting packages
There you have it. These are the 10 best DreamHost alternative web hosting services available right now. Go and check one by one to find out the best fit for you.