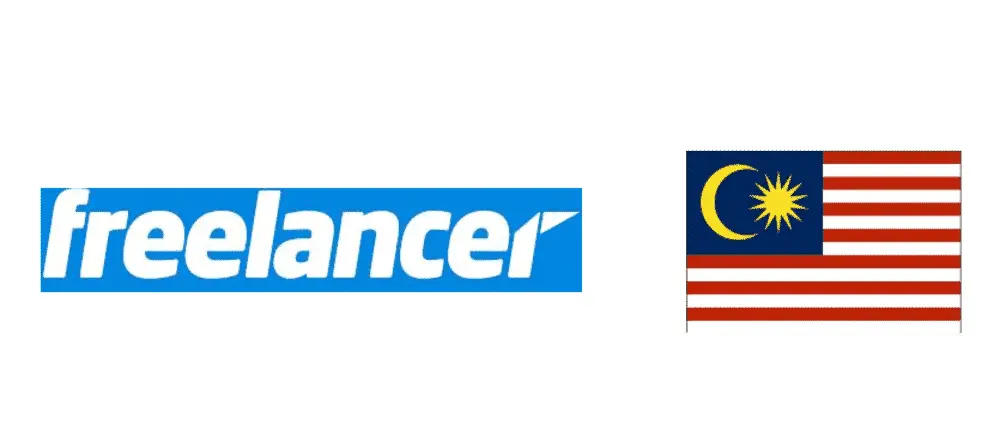 Freelancing is a greatly increasing profession in current times and it is anticipated to grow exponentially in years to come. The most important thing about Freelancing is how you pitch your skills to potential customers and you need a website to expand your outreach.
Web hosting is an essential service for you to get your website on the internet, but being a freelancer you are usually short on funds and a budget. These are some of the top web hosting services for freelancers in Malaysia that you must consider if you are looking for a reliable option
5 Best Malaysia Web Hosting for Freelancers Review:
1) SiteGround
SiteGround makes the most of your hosting experience with their reliable and easy to use web hosting interface. They are offering you managed WordPress Hosting solutions in addition to High-Performance WooCommerce hosting so you can leave all the leg work for them and focus on working. Being a freelancer in Malaysia is not easy, but SiteGround takes all the burden off your shoulders when it comes to a reliable hosting server.
SiteGround has a data center located in Singapore that is not so far from Malaysia and you can experience some truly amazing speed with optimal connectivity, making them a top choice for web hosting service for freelancers in Malaysia.
With SiteGround you get the options to build websites easily with their full-scale website builder tool and easy website transfer options that will allow you a seamless WordPress Migration to their servers. They have Google Cloud powered platform that provides optimal speed and security and makes it possible for SiteGround to provide you an Ultra-fast network.
SiteGround for Malaysia Hosting (Top Ranked)
Note: This website ReviewPlan.com is hosted on SiteGround
Server Response Speed Test Scored A+
Latest Uptime Stats (Real Records)
2) A2hosting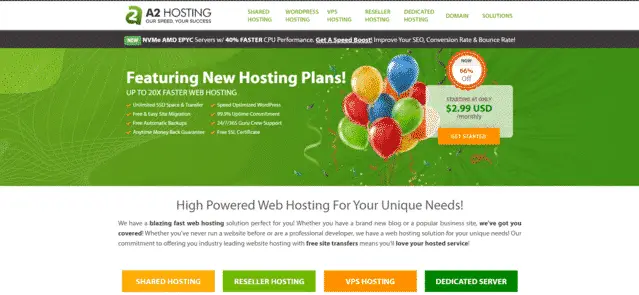 If you are a freelancer in Malaysia and looking for a web hosting solution that does not break your bank and is equally good with their services, you must consider A2hosting. They have a specially optimized server with turbo servers so you get 40% faster speeds optimized with your website.
Not only that, but they are also offering unlimited SSD space & data transfer so you can modify your website as many times as you want to.  There are also some pretty cool features offered by A2hosting like Free SSL Certificate and Free domain registration that will save you lots of costs as a freelancer in Malaysia.
They offer a wide range of services like Shared Hosting, WordPress Hosting, VPS hosting, Reseller Hosting, Dedicated Hosting, and more. On A2hosting, you get support for WordPress, Drupal, Joomla, Magento, OpenCart and more famous platforms so you can optimize your website and migrate it to A2hosting conveniently. This is simply one of the best web hosting for freelancers in Malaysia.
3) HostGator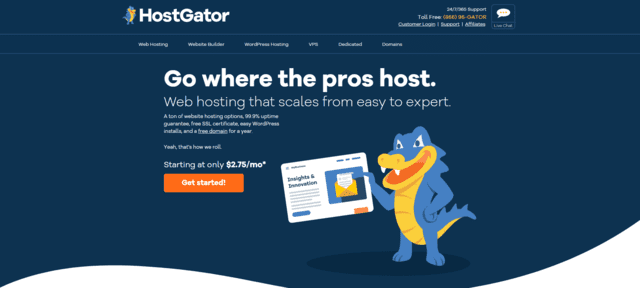 As a freelancer, you might be cool with your field but website development and management is a whole another story. HostGator provides you an interactive tool having thousands of templates so you can build a super-cool website with simple drag and drop features.
This way, you have the ease of use with all the important features that you might be looking for from a web-hosting service. HostGator covers a wide range of services for Freelancers in Malaysia including Webs hosting, WordPress hosting, VPS hosting, Dedicated Hosting, and a lot more.
You get a guarantee of 99.9% uptime with HostGator that will ensure that you have virtually no possibility of losing any potential clients. You also get a free domain registration with them that will save you lots of costs. This might be the best solution for you to consider if you are a freelancer in Malaysia and looking for a reliable and fast web hosting solution.
4) BlueHost
Sometimes as a freelancer, you don't need many extensive features. All you require is a basic web-hosting that gets the job done and never fails you. Bluehost is one such web hosting service provider that offers you access to all the basic features with great feasibility and at a fraction of price. They might not have tons of features and options but what they are providing with hosting and domain services is certainly impeccable in every possible manner.
Bluehost is one of the top choices for you to consider if you are a Malaysian freelancer looking for a web hosting service. They are offering some of the most affordable packages that are unbelievable. The best thing is that you get Free domain registration and Free SSL certification with them.
You have nothing to lose with their 30-days money-back guarantee. There is a one-click setup for WordPress installation in the Bluehost interface that makes the installation process super-convenient for you. You also get round the clock chat, phone and email support to help you with any sort of issues you might face so you have no problems with the service.
5) Exabytes
As a freelancer in Malaysia, you might be running short on options and you don't have time to fish around for multiple service providers for every different service. Exabytes got your back covered with their ability to provide all the solutions under one umbrella. With Exabytes, you get top-notch Domain registration service, in addition to some commendable Website marketing services that will be all the assistance you need to get more clients as a freelancer.
They also have CRM integration, WordPress compatibility, Hosting and Email services for you so you can have a complete package that can help you get more clients as a freelancer in Malaysia. You can also get assistance from them on WhatsApp and enjoy a mobile app experience that is not available with any other service provider. To top it all, Exabytes is a Malaysian website that charges you in local currency so no extra fees.
Choosing The Best Malaysia Web Hosting for Freelancers
Being a freelancer is not an easy task and you need to get all the right services to hit it big. These are some of the top hosting services in Malaysia that you can use as a freelancer to get the right web hosting. These web hosting service providers will truly change the way you see at web hosting services in Malaysia.