Editor Rating

Rated 4 stars

Excellent
---
Reviewed by:

Published on:

Last modified:
---
DISCLOSURE: This post may contain affiliate links, meaning when you click the links and make a purchase, we receive a commission.
Our Top Ranked #1 Web Host

Ideal for WordPress, Joomla, Drupal and eCommerce
Presentation of BigRock Review
Infographic of BigRock Review

[button color="blue" size="large" type="square" target="_blank" link="https://www.bigrock.com/"]Visit BigRock[/button]
Continue read on for the full review, uptime stats, server response speed test and customer support requests I have conducted.
An Overview of BigRock Services
BigRock is a leading provider of domain services. The company has extensive experience in web hosting. DNS management and premium domain sales are the additional services offered by the company. BigRock proudly offers different kinds of hosting, website building and domain registration services. The service caters for most hosting requirements. Linux and Windows users are offered plans that may easily fit their budgets.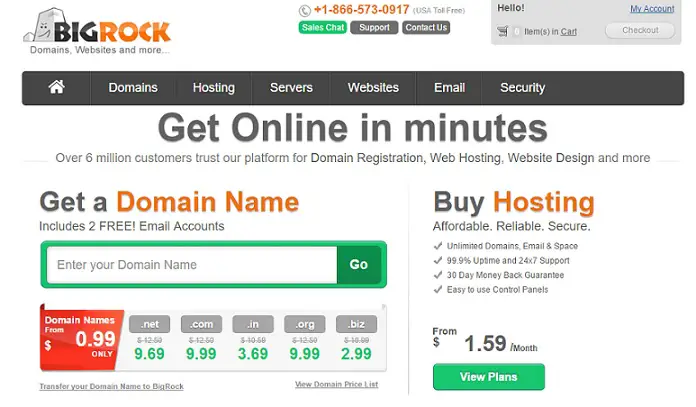 BigRock Information and Features (Table)
Details
 
Founded
More Than 10 Years
Server Location
Services
Unlimited Website
Available With Selected Hosting Plans
Unlimited Storage and Bandwidth
Available With Selected Hosting Plans
Domain Hosting
Yes
Linux Hosting
Yes
Windows Hosting
Yes
WordPress
Optimized
Joomla
Optimized
Drupal
Optimized
Magento
Optimized
PHP Hosting
Optimized
e-Commerce Hosting
Optimized
Email Hosting

Unlimited Email Accounts With Selected Hosting Plans

SSL Support
Dedicated IP
Yes
Free Site Migration
No
Free Domain
No
Domain Privacy Protected
Yes
Money Back Guarantee
30 Days
24/7 Support
Selected Methods Only

Control Panel
One-Click Installation
Softaculous
Website Builder
Automated Backup
CodeGuard Cloud Backup
Content Delivery Network (CDN)
SiteLock TrueSpeed CDN
Security Features
Payment Methods

Visa
MasterCard
American Express
PayPal

Endurance International Group Network (EIG)
Yes
Social Profile
BigRock Reviews on Hosting Plans and Services
BigRock hosting offers affordable and transparent services. BigRock is a popular name when it comes to domain name providers in the Indian subcontinent. Reviews for BigRock web hosting from existing customers are quite positive, and this gives an idea of the standard of services offered by the company.
The company helps with the transfer and registration process, offers round the clock assistance and helps in checking the availability of the desired domain name. However, they do not provide free site migration service. Anyone who prepares to transfer their website to BigRock is better equipped with basic knowledge on how to transfer the site from another host to BigRock. BigRock possesses extensive experience in website management. A comprehensive range of services is offered by BigRock and the company serves over 200,000 websites.
The hosting services offered include Linux Hosting, WordPress Hosting, Windows Hosting, Joomla Hosting, VPS Hosting, Reseller Hosting and E-commerce Hosting. High performance is provided by the domain hosting services offered by the company. Read this hosting review of BigRock for a more insight into the services offered.
BigRock is known for offering the different type of hosting services, specialized hosting, shared hosting, VPS hosting and reseller hosting. Four levels of services are offered under the BigRock shared hosting category: Busines, Pro, Starter and Advanced plans. Please take note they do not include a free domain in their hosting solutions. You have to purchase for a new domain if you plan to start a new site.
Unlimited disk space is offered under all plans with the exception of the Starter plan. Besides, unlimited bandwidth and email addresses are also offered with all the plans with the exception of the Starter plan where the email addresses are limited to 200. The Business and Pro plans come with a single domain.
The price for one-year Starter package starts at $2.39 per month. You could enjoy more discounts with the longer subscription period.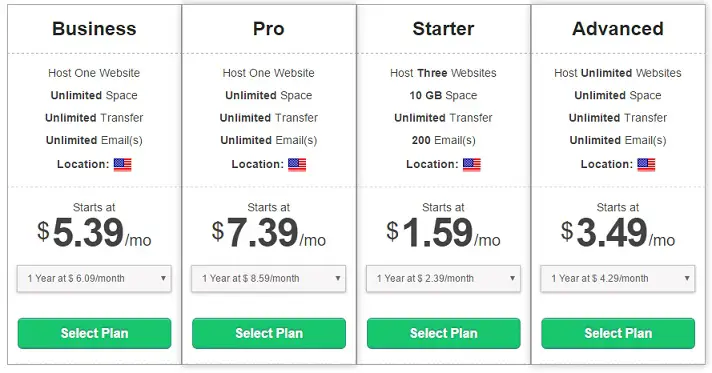 The benefits offered with each plan are different from those offered with the Windows hosting solutions. The plans differ in terms of space, a number of domains and the control panel offered.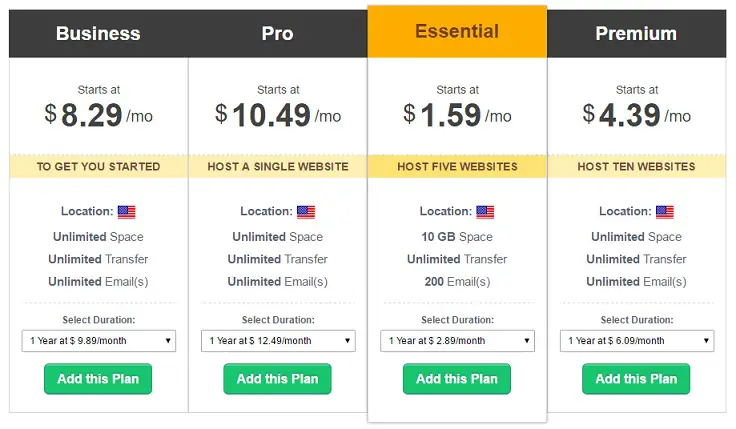 BigRock Reviews on VPS Hosting Plan
The VPS plans offered by BigRock are well structured along with the domain services offered. BigRock understands the requirements for online businesses with regards to the setup of a VPS server. It offers a seamless setup when it comes to VPS hosting and offers access to high standard infrastructure for installation of applications and for building a website. The VPS solution offered by the company is a reliable and efficient option. The VPS hosting solution is backed with Dell servers and NetApp storage technology.

Other BigRock Services
There are more services offered by the BigRock. These include specialized hosting solutions for popular CMS like WordPress, Joomla, and Drupal. Besides, BigRock offers business email hosting and DIY Website builder service.
Specialized Hosting Solutions
Specialized hosting plans are also offered by the company. CMS, e-commerce and WordPress hosting are included under the specialized services offered by BigRock.

BigRock Email Hosting
Many clients utilize the BigRock email hosting services. The company is a reliable provider of personalized email services. The email hosting services allow promotion of business and enable efficient communication. Advanced technological features are employed by BigRock for tackling the issues pertaining to personalized email solutions. Comprehensive support is offered to clients whenever needed. BigRock offers enterprise email solutions with unlimited email accounts to large companies. Anti-spam and anti-virus protection is also offered to clients.
Email Hosting
Unlimited Email Accounts With Selected Hosting Plans
Business Email
Business Email Lite
BigRock Website Builder
BigRock specializes in offering DIY website builder services. The company takes into account that requirements can differ depending on the individual or business in question; therefore it offers an extensive DIY website builder tool to help customers develop a complete website which is of interest to the end-user and includes exceptional features. Although the website builder is included free, there are paid plans offered for the power user.

Opting for this solution allows the user to add a personal touch to the design and setup of the website. Various templates and tools are included with the DIY website builder offering that allows development of a site can be tailored precisely to the needs of the end-user.
BigRock Reviews on WordPress Hosting
BigRock WordPress services are offered under the specialized services category. Its blog hosting service meets the market standard. Unlimited disk space, email, and domains are offered under the category. 24/7 WordPress technical support is offered by the company in addition to a guarantee of 99.9% uptime. The company also offers one-click WordPress Installation with the cPanel and Softaculous platform.

BigRock Reviews on Support and Customer Service
The support services offered by BigRock are acceptable. The company offers access to a knowledge base where users can easily find solutions to the most common issues faced. A live chat option is also provided. Please take note the live chat is not always available and sometimes you might need to contact them via the ticket.
BigRock customer service functions via various methods such as live chat, email, ticket, and telephone. However, only selected methods are available 24/7. The contact details for BigRock have been made available on the website and can be utilized at any time for getting in touch with the support team.
#Trial 1 Fast Customer Support Via The Ticket System
I tried to contact them via the live chat but it was not available at that moment. Hence, I contacted them through the ticket system. Overall, they updated the ticket within few hours and it is considered fast. I sent them many questions and the support staff seems did not want to explain more on each question and left me some unanswered doubts.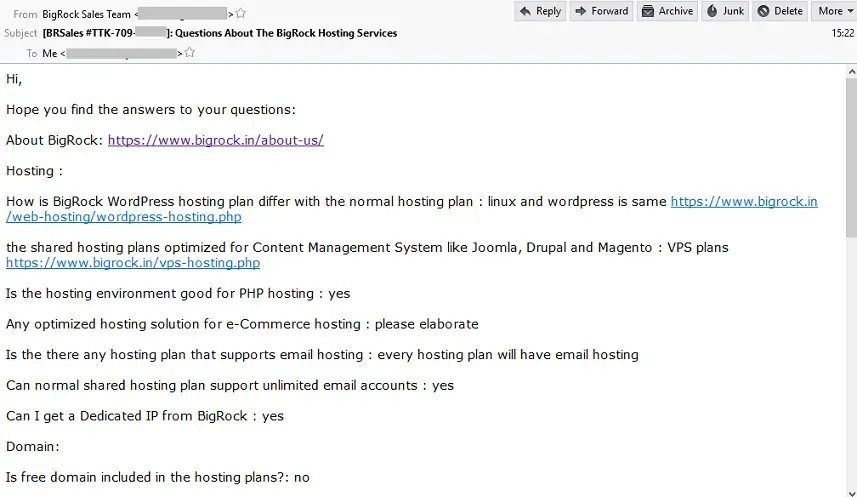 #Trial 2 Fast But Not So Friendly Live Chat Support
In order to clear my doubts, I have contacted the support again via their live chat system. The live chat was available this time and it took only 3.47 seconds to get me entertained. This is a positive aspect I could see from their support. However, during the process of conversation, I could felt that the support staff was not so friendly. I have met many friendly support staffs from other web hosting firms, but not this staff from BigRock. At last, I got my questions answered although the process was not pleasant. I believe this is an individual case where it is unfair to impose the "unfriendly" on all BigRock support staff.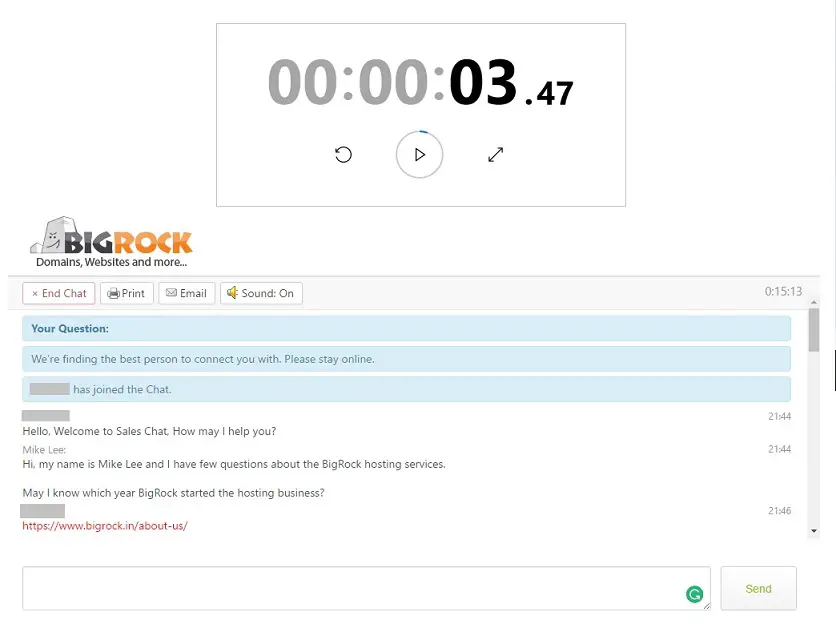 BigRock Reviews on Uptime Performance and Server Response Speed
Uptime Stats
BigRock offers an uptime guarantee of 99.99%. There is no dedicated status page on the BigRock website to check the uptime or downtime of the hosting service, which may disappoint some users. There have been no much issues from the side of this company when it comes to the speed and management of the services offered by BigRock. Below are my uptime checks on a shared hosting server.

Uptime Stats – Target: 99.99%
April 2017 – 99.96%
March 2017 – 99.90%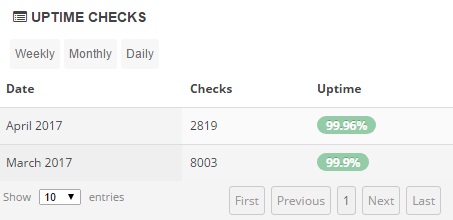 The uptime stats above will be updated regularly to check the BigRock Uptime performance. So far from the records I have, although it did not match the uptime guarantee of 99.99%, it still performs well with uptime performance of 99.90% and above.
Server Response Speed Test
I conducted the server response speed test on a BigRock hosted website. As you can see below, BigRock server speed is excellent. BigRock scored A+ (March 2017), the site pinged from 8 different locations below. Overall, the uptime and server performance of BigRock are quite good.
Server Response Times: A+

Good and Bad of BigRock
Good
Affordable services
A wide range of service plans and pricing structure
Responsive tech support
Money-back guarantee
Linux cPanel and Windows Plesk control panel
Bad
Entry level plans are not of a high standard
The company is based in India which may not be a pro for everybody
No free domain included in the hosting plans
No free site migration service
Summary of BigRock
BigRock offers high-standard hosting facilities with a reasonable pricing structure. BigRock meets the industry standard in terms of affordability when it comes to web hosting solutions. The customer support staff is responsive and offers prompt solutions. Their offerings are beneficial to both individuals and businesses alike. Overall, the services are reliable.
Compare BigRock With Our Top Ranked Web Hosts!
SiteGround vs HostGator vs BigRock

SiteGround

HostGator

BigRock
Rating

Rated 4.5 stars

Rated 4.5 stars

Rated 4 stars

Price

$3.95/month

$3.95/month

$2.39/month

Criteria