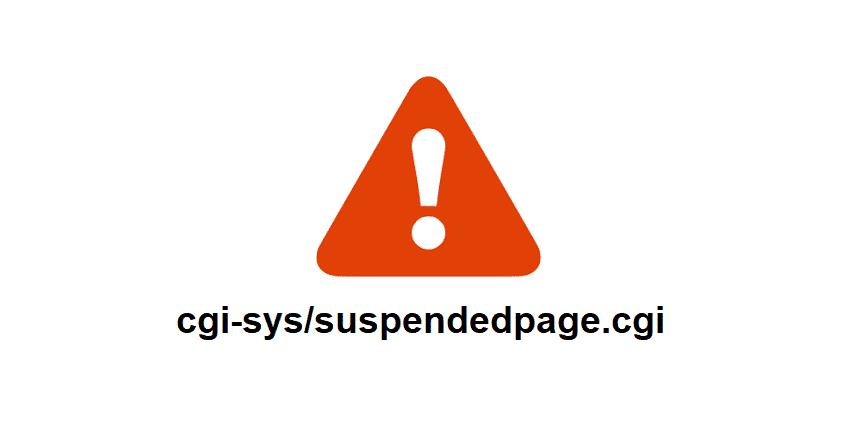 DISCLOSURE: This post may contain affiliate links, meaning when you click the links and make a purchase, we receive a commission.
CGI stands for Computer Generated Imagery and it is usually used for movies and animated stuff for the games. Yet, when you are dealing with the PHP hosting or some other platform for hosting the website on the internet, it is the term that deals with page dynamics and how the page looks for the visitors when they are clicking on your website link.
Dealing with all that hosting is not easy, and if you are getting some sort of error like "CGI-SYS/Suspendpage.cgi" it gets harder to find your way around it at times. A few things that you will need to know about the error message, what it means and how to remove it are:
cgi-sys/suspendedpage.cgi: What Does It Mean?
"CGI-Sys/suspendpage.cgi" means that your account is suspended. That can be quite troublesome, and there might be a number of reasons for this to happen.
Yet, you can never be sure about the actual reason, but you will need to fix it for sure. If your account is suspended, that would mean your hosting is not working and the webpage is down as well.
That is certainly not something that you would like to have and here are a few ways that you can fix this problem up without having to get much worried about it.
If your own server
If you are hosting the domain and website on your own server, it will be pretty easier to fix up the problem for you. All you need to do is make sure that you are logging in Web Host Manager and checking for the details there.
WHM is the Web Host Manager that allows you to control the hosting server and all the resources on it as well. Once you login the server you will be able to see all the cPanel based sites there that you are hosting on the server.
You will need to check for the site that is showing an error message for you and enable the hosting account again for it there. Once you do that, you just need to save the settings and the error message will be gone with your website showing up on the internet without any problems at all.
If some paid hosting
If you are using some paid hosting server from a commercial service provider, that can get a bit troublesome for you to check and make sure that the error message is fixed up properly.
Luckily, most of the commercial hosting servers are providing round the clock so you can take care of all such problems in an optimal manner. So, first of all, you need to make sure that you are choosing the hosting service provider with good support services to fix such issues in a timely manner.
However, cutting to the chase, you will need to contact the hosting service provider support department stating the issue and they will be able to look into the matter for you.
The support department will not only be checking on the reason for this error message and your account suspension but will also be able to fix it for you.