Editor Rating

Rated 4 stars

Excellent
---
Reviewed by:

Published on:

Last modified:
---
Our Top Ranked #1 Web Host

Note: This website ReviewPlan.com is hosted on SiteGround
Latest Uptime Stats (Real Records):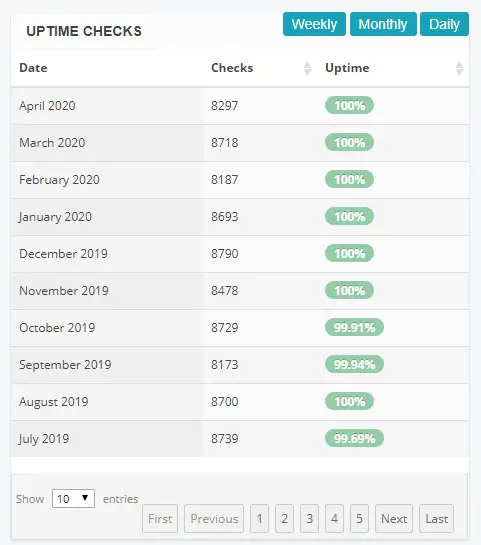 Server Response Speed Test Scored A+: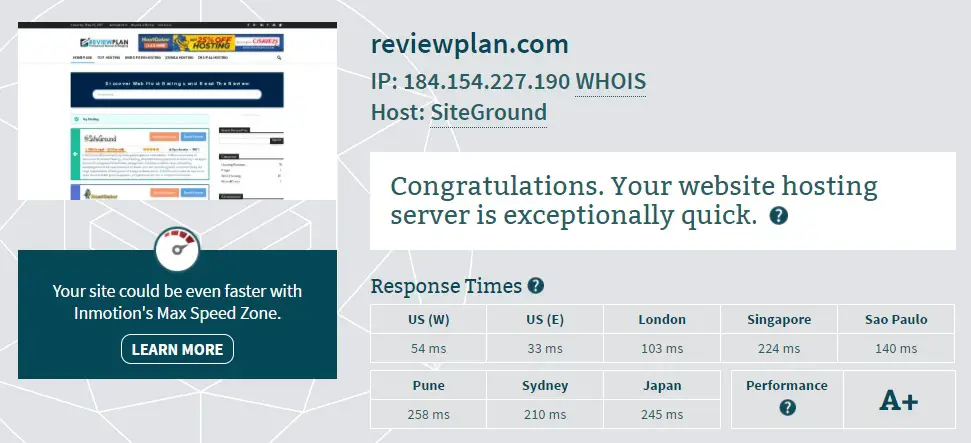 What is CloudieWeb Hosting?
CloudieWeb is a business oriented web hosting service provider based in the US. The company aims to deliver the greatest value for money hosting propositions chiefly for business clients.
CloudieWeb operates two high-performance Tier 4 data centers employing SSAE 16 Type 2 technology for cutting edge performance and reliability at New York and Chicago.
Reliability is guaranteed by a custom developed enterprise grade DDoS protection network powered by RioRey technology, making CloudieWeb hosting one of the most reliable enterprise level hosting services provider in the business.
The company does not utilize any or very few third party systems. They work mostly on custom and in house developed technology, and its services run on tailor made hardware instead of the shelf components, thereby ensuring more performance and greater reliability than its competitors.
Are its hosting plans competitive with the competition?
Find out in the full review.
CloudieWeb Reviews on Hosting Plans and Services
CloudieWeb offers shared hosting plans for users with small operating budgets. The "Copper" plan costs USD 2.95 per month and comes with 5 GB of storage space, 100 GB of bandwidth renewed monthly, unlimited email and FTP hosting, support for an unlimited number of subdomains and one hosted domain.
At the most expensive end, the "Platinum" plan costs USD 14.95 per month and comes with 60 GB of storage space, unlimited bandwidth, support for unlimited email and FTP, support for an unlimited number of subdomains and databases as well as hosting an unlimited number of hosted domains.
All plans except the "Copper" plan also come with a free domain bundled. All shared hosting plans give the customer access to high-speed solid state storage, or SSD storage, which are a lot faster than traditional hard drives at no additional cost.
Additionally, daily backups, cPanel web control interface, support for one click installation of web applications, advanced DDoS protection, and a built in website building tool are also included with shared hosting plans at no extra cost.
CloudieWeb Reviews on Dedicated Hosting
CloudieWeb offers dedicated hosting plans for particularly resource heavy applications that require enterprise grade performance at all times.
Shared hosting plans just do not cut it in these usage scenarios and guaranteed resource allocation is absolutely crucial to ensure that performance does not suffer at the client's end.
Single processor servers start at USD 119.95 per month and come equipped with a quad core Intel Xeon E3-1240 v3 processor clocked at 3.4GHz along with 8 GB of DDR3 RAM memory, 2 TB of storage on SATA hard drives and 20 TB bandwidth at a 1Gbps transfer rate.
The company also has a dual processor offering at USD 234.95 per month that comes equipped with a hex core Intel Xeon E5-2620 v2 processor running at 2.1 GHz along with 32 GB of DDR3 memory, 2 TB of storage on SATA hard drives and 20 TB of bandwidth at a 1Gbps data rate. Dedicated servers are also eligible for DDoS protection up to 20Gbps from RioRey for a fee.
CloudieWeb Reviews on VPS Hosting
CloudieWeb's Virtual Private Server or VPS systems are some of the competitively priced offerings in the hosting industry. The company offers both Linux and VPS hosting offerings.
VPS hosting plans start with the "Starter" plan, costing USD 5.95 per month and offers 1 CPU core, 512 MB of RAM and SWAP space, 12 GB of storage space on high-performance SSDs, and 500 GB of transfer bandwidth.
The most expensive VPS plan "Supernova" costs USD 119.95 and comes with 8 CPU cores, 16 GB of RAM and SWAP space, 384 GB of SSD storage space, and 8 TB of transfer bandwidth.
VPS systems are powered by KVM virtualization technology, which guarantees accurate resource allocation and sustained peak performance in high load scenarios as well. VPS hosting plans can also go online in less than 30 seconds, which allows you to rapidly deploy your hosted website at any time.
In addition to all these services, CloudieWeb offers a 99.9% guaranteed service level agreement or SLA to assure you of any concerns you may have. There are also no fixed term contracts with CloudieWeb plans, allowing you to cancel your subscription any time you want, no questions asked.
CloudieWeb Reviews on WordPress Hosting
WordPress CMS is definitely supported by CloudieWeb hosting systems. WordPress is the foundation for some of the most popular websites in the world and is a proven platform on many high-performance web enterprises have been built.
CloudieWeb Reviews on Support and Customer Service
CloudieWeb makes it easy for you to contact customer service when you need any help with any CloudieWeb service. You can reach out to technical support over IM, email, or good old fashioned telephone, 24 hours a day, 365 days a year.
The advanced ticketing system makes it easy to track your service request and it is custom developed by CloudieWeb. The portal interface allows you granular control over your account and its management. Moreover, there is an extensive Knowledge Base and online documentation for the more technically minded customers.
CloudieWeb Reviews on Uptime Performance and Server Status
CloudieWeb has a very strong server uptime status record with only the rare instances of down time. However, its recent performance is particularly commendable, especially due to the company having installed networking, connectivity, and power redundancies to ensure uninterrupted service come what may.
Good and Bad of CloudieWeb
Good
Strong hosting portfolio
Reliable service and high performance
Good customer service record
Extensive VPS plans
Dedicated hosting plans are more value for money than the competition
Bad
Add on services are individually chargeable
Summary of CloudieWeb
CloudieWeb definitely delivers what it promises. By providing enterprise grade services to its target of business clients, the company has made a well-deserved impact. Thanks to its great hosting plans across a wide range of budgets, CloudieWeb gets a strong recommendation.
Compare CloudieWeb With Our Top Ranked Web Hosts!
SiteGround vs HostGator vs CloudieWeb

SiteGround

HostGator

CloudieWeb
Rating

Rated 5 stars

Rated 4.5 stars

Rated 4 stars

Price

$3.95/month

$3.95/month

$2.95/month

Criteria