Editor Rating

Rated 3 stars

Good
---
Reviewed by:

Published on:

Last modified:
---
Our Top Ranked #1 Web Host

Note: This website ReviewPlan.com is hosted on SiteGround
Latest Uptime Stats (Real Records):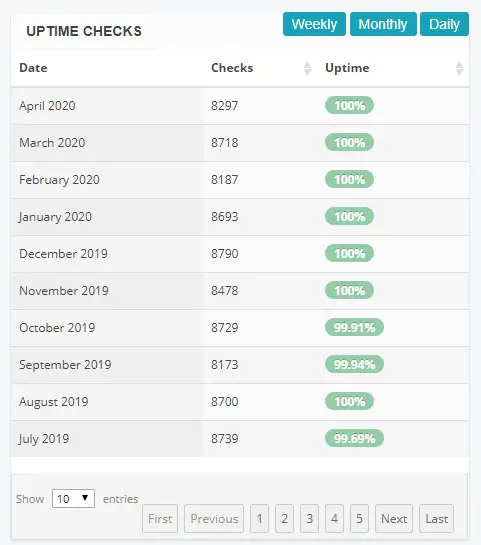 Server Response Speed Test Scored A+: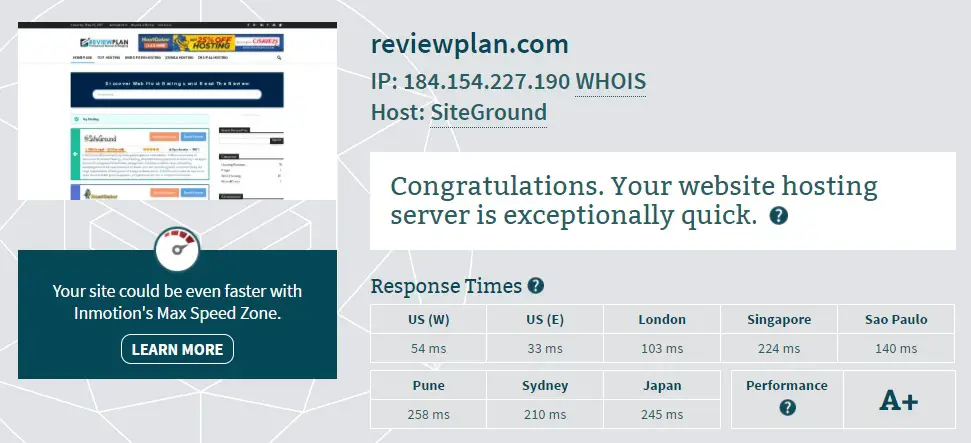 Any webmaster working on his own project is willing to get the reliable hosting provider. The hosting platform reliability influences the reliability of the whole web resource. Also, most users prefer the company that provides many services instead of using the several ones.
DNSExit is one of such universal companies. They provide web hosting, DNS hosting, email hosting, as well as many additional services. Let's review the provided services, prices, other features, and see whether DNSExit is worth using.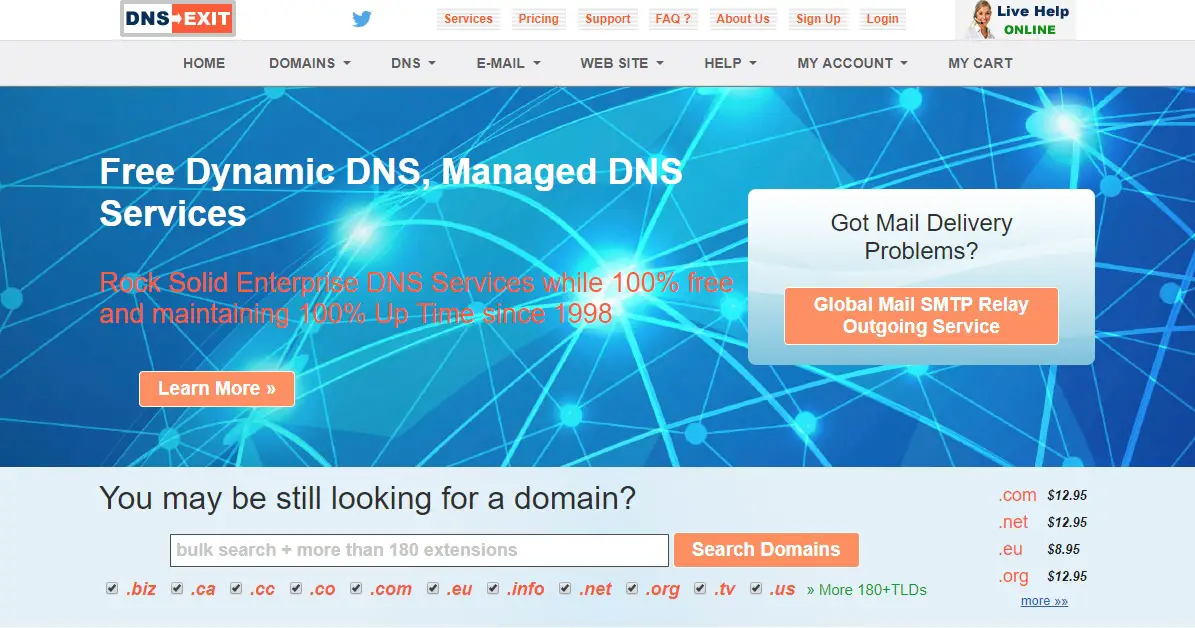 General information
DNSExit was created in August 2001, when the Netdom began providing Dynamic DNS service. Before that, the company was known for its design and consulting services. The headquarters are located in Cincinnati, Ohio. The core feature of the company's business is to offer the best dynamic and custom DNS for free. Also, they give the opportunity to get the web and email hosting. In most cases, the users can avoid working with several companies.
One of the core services of DNSExit is the dynamic DNS server. It is a worldwide trend, went more and more companies use the dynamic addresses with their DNS. With static addresses, in some cases, your website can be unavailable for several days.
Additionally, the company provides web and email hosting, with the variety of the tariff plans. In other words, it is the universal solution for most webmasters.
Services and Features
Domain registration
The company is accredited registrar of web domains. So you will be able to get your domain name and use additional services for your project.
A free domain of the second level
In this case, the website address will look like site.domain.com. For small projects, it's a great feature.
Transfer domain
If you registered the domain in another company, you can transfer it to DNSExit for free.
Manage expired or pending domains
You will not have to remember all the expired domain names and control them manually. The system will send the notification and in this way, it will highly simplify your work.
Dynamic DNS
You will be able to connect your domain names to the DNS servers via the connection of any type. You will be able even to work with the company that does not provide a static IP address.
Manage your enterprise DNS
The intuitive web interface allows controlling all the domain names for free. You will be able to manage the national and special domains including .name, .info, .cc, .tv, .biz, .ws, and .bz.
DNS failover and systems monitoring
When your web platform, service, website or Internet connection out, all the traffic will be redirected to an additional IP address located in another data center automatically. The system will money tour and provide the immediate notification when something critical happens and your service and resources are unavailable. It is a key point of the reliable control.
E-mail relay outbound
In the case, the SMTP ports are blocked by internet service provider (they can be 25, 26, 80, 537, 940, and 2525). In that case, the DNSExit uses a specific SMTP port to solve any issues with email delivery.
E-mail hosting
Reliable email service for any company. Supports all Modern standards including POP3 and IMAP, as well as the excess via the web interface. To protect from viruses and other online threats, the company provides reliable spam and virus filters. Additionally, the user can get an unlimited mailbox.
E-mail backup
For any business, it is important not to lose the communication with the client. However, sometimes the email server can fail and as a result, the user can use all the email. To avoid that, DNSExit provides the email backup. You will be provided with the dedicated server which will work as the backup. If for any reason the main email server will not be available, all the letters will be redirected to the additional one. This additional server will monitor the main one to avoid the situation when you lose the letters.
E-mail forwarding
If you want to get the domain email on your main one, use the email forwarding service. It will let you get the corporate email without additional configurations.
E-mail marketing
Despite the popularity of social media, email marketing is still a very popular way to promote the goods or business in general. DNSExit provides the email marketing services to reach the wider audience. What is more, you are not limited by the number of addresses.
Web hosting with email
You can also get the web hosting with unlimited email addresses. It is available for an affordable price and supports all popular programming languages and databases. You will be also able to install any CMS in a few clicks as well as use the pre-build website templates.
Prices
Static and dynamic DNS: free.
Web hosting — from $2.95 per year.
URL forwarding — 7 days trial, then $6.99 per year.
Email hosting — $19.95 — $569.95 per year.
Mail relay outbound — $1.50 — $77.99 per month.
Mail redirection — 14 days trial, then $24.99 per year.
Mail backup service — 7 days trial, then $19.99 per year.
DNS failover and systems monitoring service — 14 days trial, then $3.99 — $9.99 per host.
Performance
The company is proud of their 100% uptime since 1998. Is that so? In general, DNSExit works fast and reliable and most users will not have any problems with that. However, sometimes the servers are out of service, and they are technical support cannot help with that.
Customer support
The customer support is available via email and online chat. We tried to ask some questions via the live chat, but we didn't always get the answer we want. So, we can say for sure that technical support of DNSExit need to be improved.
Pros and cons
Pros
The variety of services.
Affordable prices.
Free DNS server.
Cons
Outdated website.
Horrible technical support.
Summary of DNSExit
If you need a cheap hosting or dynamic DNS, and you are well familiar with how to setup and configure everything, DNSExit is a good solution for you. If you plan to rely on their tech support, look for something else. The support of DNSExit is the weakest point.