Editor Rating

Rated 3 stars

Good
---
Reviewed by:

Published on:

Last modified:
---
DISCLOSURE: This post may contain affiliate links, meaning when you click the links and make a purchase, we receive a commission.
Our Top Ranked #1 Web Host

Ideal for WordPress, Joomla, Drupal and eCommerce
What is Easily Web Hosting?
Easily is one of the pioneers of low-cost hosting and domain registration in the UK. Part of the NetNames Group, the company was founded way back in 1999, making it a veteran internet services company. Established after consumer internet access came to the mainstream, the company has played a pivotal role in allowing the spread of the internet and services that are based on it.
It was the first company that offered domain names with the .co.uk top level domain at prices under GBP 10 when the going rate for top-level domains were in the neighbourhood of GBP 100. So are its services still cost-effective and revolutionary? Or is it just a legacy company running on fumes and what's left of its accumulated goodwill? Read the review to find out.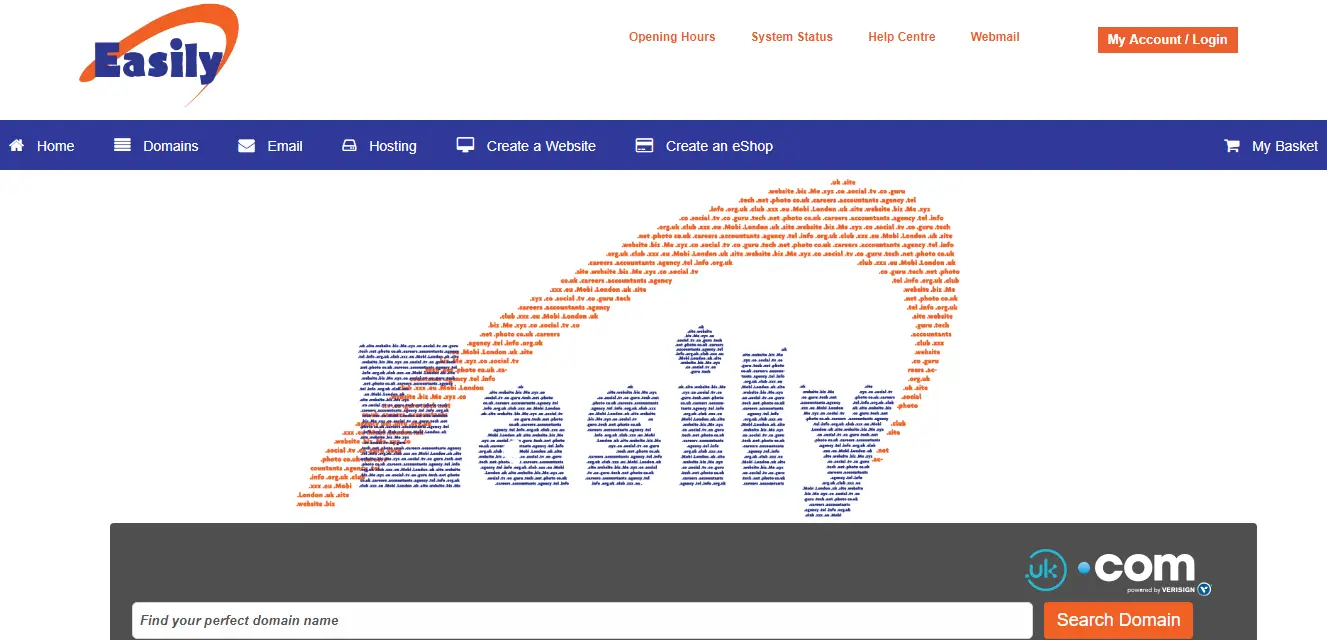 Easily Reviews on Hosting Plans and Services
Easily delivers a large number of internet related services, including a fair spectrum of web hosting plans. Linux based plans start off at GBP 24.99 per year for 1 GB of storage space and 1 MySQL database and go up to GBP 89.99 per year for 20 GB of storage space and 5 MySQL databases while a choice of Windows Server operating system will cost you an additional GBP 10 per year.
While Linux based plans come with 1 click web apps installers that help you install scripts as well as CMSs like WordPress or Drupal, PHP, and Perl support, Windows Server-based plans come with .NET Framework and ASP. There are no hidden fees or set up fees and if you need more or lesser resources, you can change your subscribed plan right from the control panel and you will be billed on a pro-rata basis.
There is also a 30-day money back guarantee in force, which should give you peace of mind and confidence in the company's promised quality of services. All plans come with unlimited transfer bandwidth on both inbound and outbound traffic and unlike some other hosting service providers the company does not keep count of the number of site visitors.
Backups are taken on a daily basis, which ensures protection against data corruption or catastrophic hardware failure. The servers themselves run on highly redundant architecture with multiple layers of protection against service outage or any form of break in connectivity. This is achieved through continuous monitoring by the on-site technical personnel and engineers who keep the servers running at full steam 24 x 7.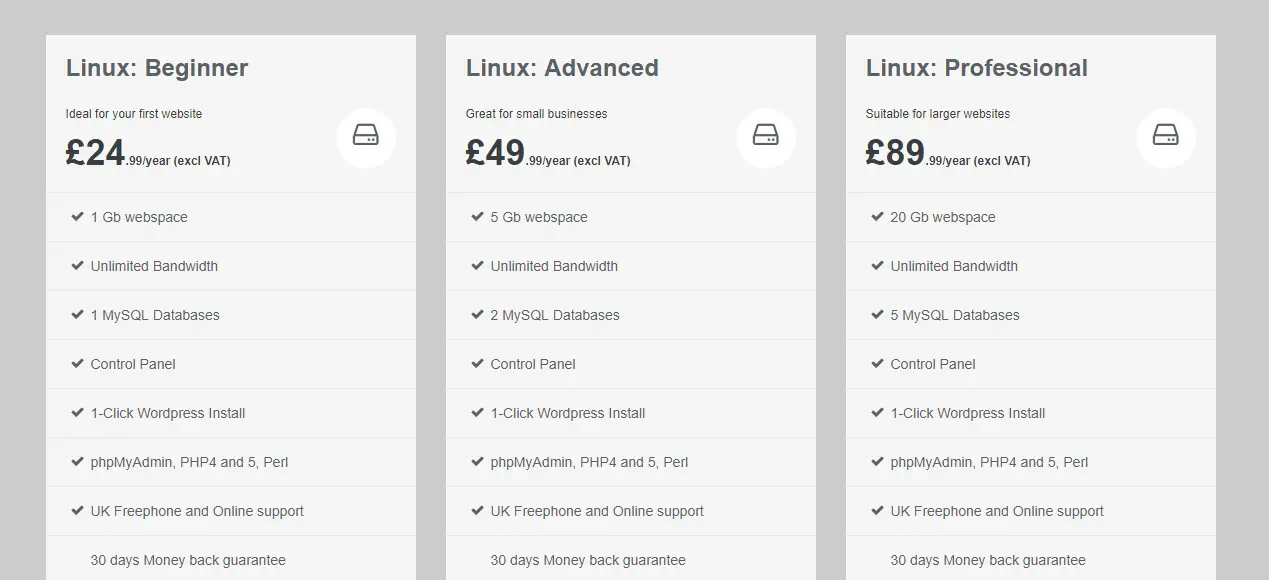 The usual caveats about unlimited resources apply here too: unlimited is not to be taken at its literal meaning. Your services are not actually unlimited in effect but only on a technicality. After certain usage thresholds are exceeded, typically with transfer bandwidth but sometimes on other related resources as well, the quality of services and interconnectivity data rate are reduced by a very large factor.
This often makes the service almost unusable and effectively grinds the site down to a halt, unable to deal with even a very minimal load. You are still being granted resources, albeit at a much slower speed. Easily is not alone in this regard in the hosting business though; this misleading trick is standard practice in this industry and almost all companies that operate in this domain are guilty of pulling this trick. However, we cannot blame the company for this.
Easily Reviews on eCommerce Hosting Plan
Special plans are in place for e-commerce websites as well. These come with hosting as well as backend development services as well, making these perfect for people with minimal technical know-how or ability to code.
Plans start at GBP 99 per year for an eCommerce website with up to  300 separate products, up to 50 pages or categories, and 12 options for secure online payment processing.
The plan goes up to GBP 499 per year that supports up to 5000 products, up to 500 pages or categories, and 14 options for secure online payment processing in addition to included search engine optimisation, search suggestions via data analytics and machine learning algorithms.
Also included is the responsive site design that fully supports smaller devices like smartphones and tablets without sacrificing functionality or usability in full desktop mode, and cross-selling tools.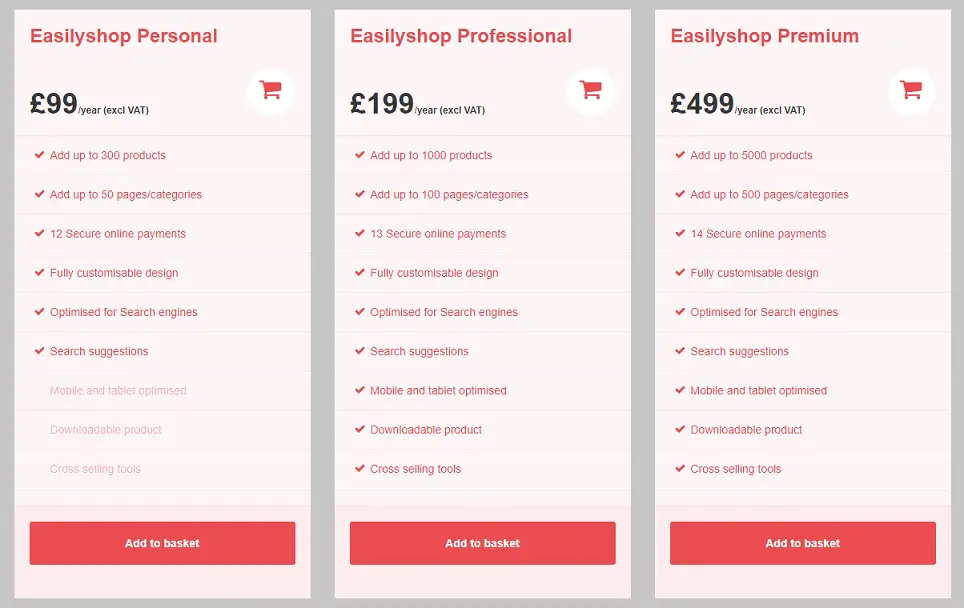 eCommerce hosting plans from Easily are some of the most well rounded and well-priced plans that we have seen in this domain for quite some time. Prices are fair for the services the company provides and provided that site development and maintenance is done by the same company that actually hosts the website, you can be certain that website performance and reliability will always be high across the board.
Easily Web Reviews on WordPress Hosting

While content management systems like WordPress, Drupal, and Joomla are fully supported on the Easily hosting platform, there are no specific WordPress hosting plans, so to speak. You get your regular shared hosting plans that fully support WordPress and also come with one click installer software that allows you to install web apps like WordPress with a single click. Systems are also in place to ensure automatic installation of updates, which keeps your site running at full speed and with total security.
Easily Web Reviews on Support and Customer Service
Customer support is fully based in the UK and available at your service 24 hours a day, 7 days a week. You can reach out to customer support over the telephone, email, and IM. Technical support is supremely efficient and knowledgeable. The overall experience, however, is let down by relatively middling general customer service.
Easily Web Reviews on Uptime Performance and Server Status
Easily is one of the oldest companies in the hosting business and as such is quite reliable when it comes to hosting websites. Downtimes are exceedingly rare and performance is at a good speed. Server uptime is one of the best in the business.
Good and Bad of Easily
Good
Simple hosting plans
Good performance
Custom built e-commerce hosting plans
Reliable performance
Decent customer service for the money
Bad
No high-performance hosting services
No plans for enterprise customers
Summary of Easily
Easily might be one of the oldest companies offering web hosting services, but it is now firmly middle of the road, targeting budget and mid-range users. The lack of high-performance plans seriously dents its credibility.
Compare Easily With Our Top Ranked Web Hosts!
SiteGround vs HostGator vs Easily

SiteGround

HostGator

Easily.co.uk
Rating

Rated 4.5 stars

Rated 4.5 stars

Rated 3 stars

Price

$3.95/month

$3.95/month

£24.99/year

Criteria