Editor Rating

Rated 4 stars

Excellent
---
Reviewed by:

Published on:

Last modified:
---
DISCLOSURE: This post may contain affiliate links, meaning when you click the links and make a purchase, we receive a commission.
Our Top Ranked #1 Web Host

Latest Uptime Stats (Real Records) - 99.98% (Last 12 Months)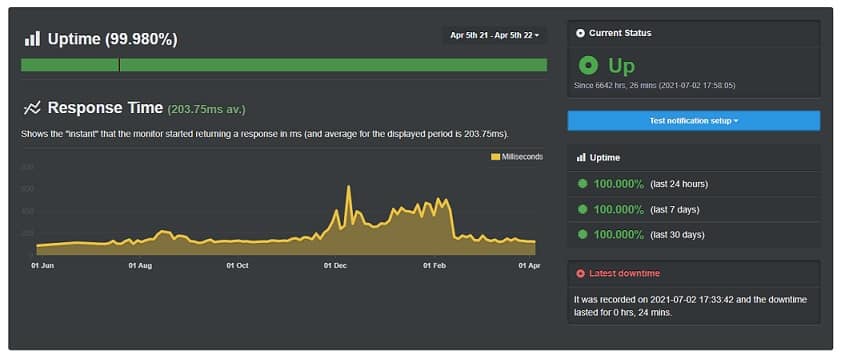 What is eHost Web Hosting?
eHost is one of the budget friendly options if you are looking for a relatively well featured online web hosting service. eHost has been proven to be reliable and stable. Most reviews of eHost have focused on the strict services offered by the company, but it is wise to remember that a web hosting service is a crucial part of any online venture.
Besides features and functionality, you need flexibility, integration, and excellent customer support when things go wrong. eHost has consistently delivered reliable functionality for all its users. eHost is currently partnered with CyrusOne to house all their servers. These servers are hosted in their Houston, Texas data center.
This eHost review explores if the company can still deliver the level of services and quality that we have come to expect from it over the years.
Details
Founded
1996
Server Location
Houston, Texas
Services

Web Hosting
Reseller Program
E-commerce Services
Domain Services
WordPress Hosting
SSL Secure
Marketing Services
Email Services
Website Management

Unlimited Website
Available
Unlimited Storage and Bandwidth
Available
Domain Hosting
Yes
Linux Hosting
Yes
Windows Hosting
No
WordPress
Optimized
Joomla
Optimized
Drupal
Optimized
Magento
Optimized
PHP Hosting
Optimized
e-Commerce Hosting
Optimized
Email Hosting
Yes
SSL Support
SSL Certificate Starting at $39.99/Yr
Dedicated IP
Available, $49.95/Yr for First Year and From Onward 99.90/Yr
Free Site Migration
Available at $100 Per Site
Free Domain
Yes
Domain Privacy Protected
Available at $9.99/Yr
Money Back Guarantee
30 Days
24/7 Support
Control Panel
CentOS cPanel

One-Click Installation
QuickInstall (MOJO)
Website Builder

Drag and Drop
goMobi Site Builder

Automated Backup
Daily Automatic Backups Available Price Starting from $1.14/mo
Content Delivery Network (CDN)
No
Security Features

SiteLock Secure
DDos Protection
WHOIS Protection
SSL Secure
Spam and Virus Protection

Payment Methods

MasterCard
JCB Logo
Diners Club International
American Express
Discover Network
Visa
PayPal

Endurance International Group Network (EIG)
Yes
Social Profile
No
eHost Reviews on Hosting Plan, Domain and Email Services
eHost only offers shared hosting plan with some very compelling features, making it quite worth for money. Have a look at the eHost shared hosting details below.
The regular shared hosting plan offered by eHost include unlimited domains, a multitude of predesigned templates to make web development work easy, free email and free domain name. In addition, eHost also provides some marketing softwares that will help you promote your website in the most effective and efficient manner possible.
This is a godsend for people who are beginners or are not as familiar with online hosting or running a website hands on. eHost is also one of the few hosting service providers that offer unmetered storage space and unmetered bandwidth and allow you to add an unlimited number of domains and unlimited databases to your eHost account.
eHost is one the few budget hosting services that do not skimp on features and services. In addition to the unlimited number of domains, you can also connect an unlimited number of databases to your platform. For a budget services company, offering unmetered storage and unmetered bandwidth is definitely a plus.
However, eHost has some pretty strict restrictions on CPU and RAM usage, making running server side applications a challenge. While eHost has tight restrictions on CPU and memory usage, it makes up for it by offering unlimited storage and unmetered bandwidth.
While this will not be a problem for a vast number of websites, applications that require server side processing will be problematic. Users should carefully consider this point before buying an eHost subscription. The eHost shared plan starts at $2.75 per month, which is very valuable with the features provided.
eHost Reviews on Domain Services
eHost offers some excellent domain management services. They include extensive privacy controls over your domain names and information, enhanced performance and load times, and the ability to add more subdomains. You can even transfer your existing domains to eHost with very little hassle.
eHost Email Hosting
eHost also offers some class-leading email services. Their services are tiered in different packs for personal users and business clients who have different needs. Server performance is good and you also get very good email services for free. You can choose to pay for more premium and feature packed options that are typically targeted at business and corporate users.
eHost spam filters are quite effective at weeding out unsolicited mail while letting genuinely important emails through. eHost also regularly backs up your data and archives to protect against data loss due to catastrophic failure of server equipment. However, eHost also ensures that your sensitive and private data is accessible only to you at every stage of the process by implementing secure transmissions and encryption technology.
eHost Reviews on WordPress Hosting
WordPress is one of the most popular CMS platforms on the market today. That is why eHost offers readymade WordPress integration plans available to its customers. You get to choose between WP Starter and WP Essential plan depending on your needs, but the platform is quite well designed and integrates with WordPress in a clean and efficient manner.
You can choose a WordPress plan that best suits your needs and you can change plans later based on website traffic, hosted content, etc. All interfaces are custom designed so that people who are not technically proficient can also operate the site to its full potential. eHost also offers some decent customer support in regards to WordPress.
Many new users are unfamiliar with the platform and the advanced tools it offers. Getting customer support from the hosting provider itself is quite convenient. WordPress support is a must for any web hosting service provider and
Many new users are unfamiliar with the platform and the advanced tools it offers. Getting customer support from the hosting provider itself is quite convenient. WordPress support is a must for any web hosting service provider and eHost is no exception.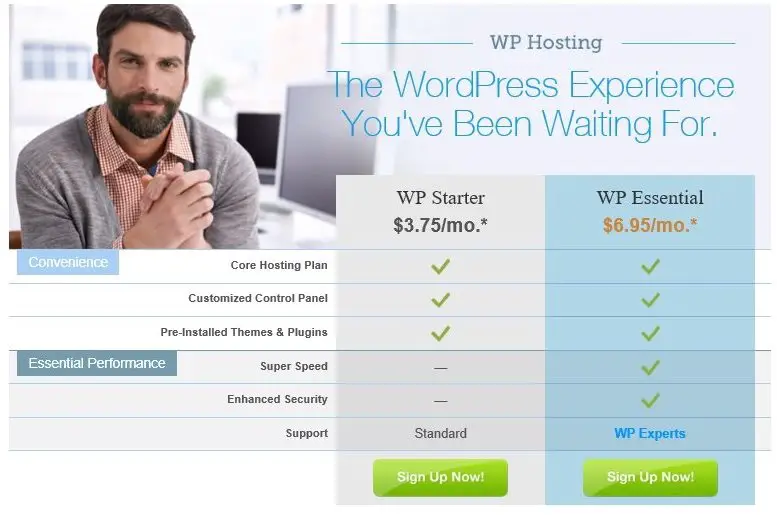 eHost Reviews on Support and Customer Services
eHost offers extensive support documentation. Customer service is implemented via online chat, telephone support as well as email. While many competing hosting services offer much more advanced and full-featured customer support, they also cost twice as much as eHost. Considering the price of eHost hosting packages, the customer support services are quite adequate.
I have tried their live chat support, it was an impressive experience with them. I would have liked some advanced features like remote commandeering of systems by support professionals, but it should be kept in mind that eHost is a budget offering and not designed to be used for situations that have greater needs.
#Trial 1 Excellent Live Chat Support from eHost.com
I contacted eHost to clarify some questions I had in mind. The method used to contact them was via Live Chat, and I measured the time taken for me to get responded. Surprisingly, I got their reply within one minute. The exact time it took was only 32.73 seconds.
I asked the support staff regarding the hosting price related question; he or she provided a correct answer and sent me a link for reference. This was helpful and through the link provided, I get to know that the renewal price is higher than the normal discounted price. Besides, I also requested support for WordPress, cPanel, and data centers related issues.
As you can see below, the support staff was able to provide good and effective support.
Overall, from my own experience, I would say eHost support is good. Their support staff is well trained, polite and knowledgeable. I had a happy experience with them. Besides, I could see that they care about their customer and the quality of support they have provided. They request a survey or feedback from those who have received their support.This is a strong signal that
This is a strong signal that eHost is serious in the business. Lastly, after ending the Live Chat session, I rated their support "Ten" as an acknowledgment that eHost support staff had done a good job.
#Trial 2 Prodigious Live Chat Support
I conducted another live chat test of eHost as still I have some more questions to ask from them. Same like before, I again measured their time when I tested their live chat services. I was amazed that I got fast answer within 1 minute. Lavanya K replied to me in just 16.39 seconds.
I made a list of my all questions which I wanted to ask from him and he answered my all queries in a well-mannered and polite way. First Vivian F talked with me and then he transferred my chat conversation to Lavanya K. I am happy about their fast and helpful customer services via live chat. So I rated both of them 10 out of 10 this time.
A detailed conversation with live support of eHost: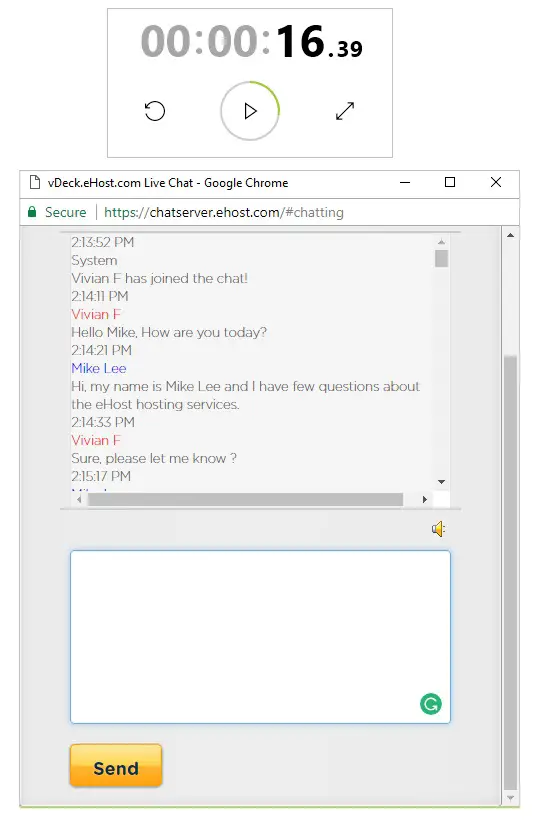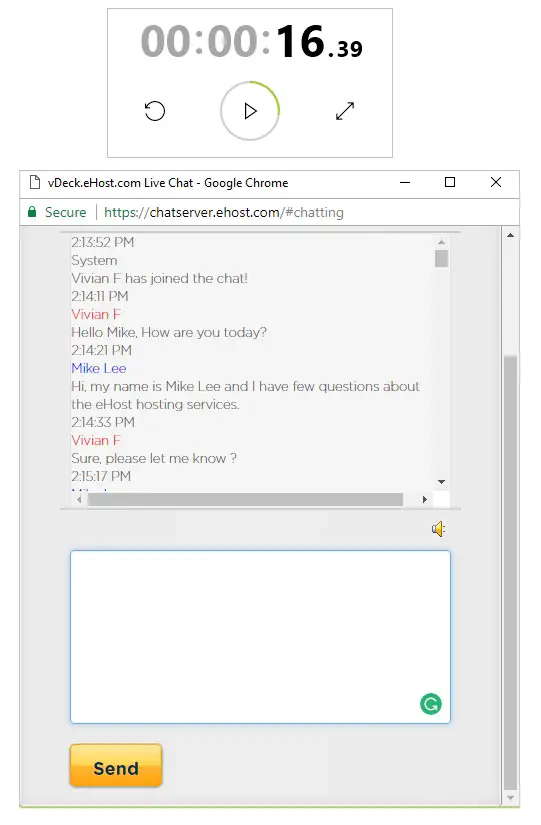 Vivian F has joined the chat!
Vivian F: Hello Mike, How are you today?
Mike Lee: Hi, I have few questions about the eHost hosting services.
Vivian F: Sure, please let me know ?
Mike Lee: Is eHost Hosting provides free SSL service? How about paid SSL solutions?
Vivian F: We charge $39.99 / year for SSL.
Mike Lee: How about Domain Privacy Protected Service? If yes then free or paid?
Vivian F: We provide Domain privacy and we charge $9.99 / year for it .
Mike Lee: Alright. Is there any Free Site Migration Service?
Vivian F: No Mike, we charge $100 for website files migration.
Mike Lee: It means your company is not providing free site transfer/migration?
Vivian F: No, we do not provide free site migration.
Mike Lee: For transferring a website I have to pay $100 per site?
Vivian F: You can transfer from your end using FTP. If you want us to do it for you, we charge for it .
Mike Lee: Okay. Is eHost Hosting offers Dedicated IP solution?
Vivian F: To assist you further on dedicated based hosting, I am transferring the chat to concerned department.
Lavanya K has joined the chat!
Lavanya K: Hello Mike, Welcome to Live Chat. My name is Lavanya, I'll be helping you. How are you doing today?
Mike Lee: Okay sure
Mike Lee: I am Fine. Is eHost Hosting offers Dedicated IP solution?
Lavanya K: I will check this for you.
Mike Lee: Sure 🙂
Lavanya K: We do provide dedicated IP. Dedicated IP is offered at 50% initial discount of $49.95 for the first year, then $99.90/year recurring price.
Mike Lee: What type of control panels being used in both Linux and windows hosting plan?
Lavanya K: Our plan is shared hosting plan, we provide Linux based hosting service
Mike Lee: That's mean no window hosting?
Lavanya K: Unfortunately, we do not support window hosting
Mike Lee: So what type of Control Panel is used for Linux Hosting?
Lavanya K: All of our servers use cPanel running on CentOS.
Lavanya K: You can refer the url to see demo cPanel:cpanel.com/demo
Mike Lee: What about vdeck?
Lavanya K: Unfortunately, we do not provide vDeck.
Lavanya K: Is there anything else I can assist you with today?
Mike Lee: Yes. Is eHost Hosting is a part of Endurance International Group(EIG)?
Lavanya K: Yes, ehost is under Endurance International Group.
Mike Lee: Does eHost offer a Content Delivery Network (CDN)?
Lavanya K: We do not provide Content Delivery Network.
Mike Lee: What platform is the eHost hosting using to support One-Click installation?
Lavanya K: We provide quick installs within cPanel.
Mike Lee: That's good.
Mike Lee:  Any Website Builder tool offered?
Lavanya K: Under quick installs there are many applications like WordPress, Prestashop, etc. You can install it in one click.
Lavanya K: We provide 2 website building platform under 1 hosting plan. They are cPanel and website builder.
Mike Lee: How about Magento and Drupal?
Lavanya K: We provide Magento and Drupal as well.
Mike Lee: Could you please mention the name of Website Builder used by your company?
Lavanya K: You can refer the article to see the software we support:support.ehost.com/articles/cpanel/quickinstall .
Mike Lee: Great.
Lavanya K: We provide template based site builder tool. You will have to select either cPanel or site builder for 1 hosting plan.
Lavanya K: However, our services will migrate with other service.
Mike Lee: Sound good 🙂
Mike Lee: How many data centers eHost Hosting has? What locations are these data centers/servers located?
Lavanya K: Our cPanel will migrate with JustHost and site builder will migrate with sitelio
Lavanya K: eHost.com currently partners with CyrusOne to house all of our servers. At present, all of our servers are hosted in their Houston, Tx data center.
Mike Lee: Thank you for answering all questions
Lavanya K: You're welcome!
Lavanya K: Was there anything else I may assist you with?
Lavanya K: If you think of anything else, we are here 24 hours!
Lavanya K: It was a pleasure assisting you. I hope you have a wonderful rest of your day. Don't forget to exit and rate. We greatly appreciate your feedback. Thank you for using Live Chat.
eHost Reviews on Uptime and Server Status
Uptime Stats
eHost has had historically very few server outages recently, which is quite surprising for any hosting service provider. Their systems are quite robust and protected to prevent outages and minimize service downtime as much as possible.
Server speeds are also good, which is absolutely okay considering that eHost is a budget hosting service and not designed to be used as enterprise-level hosting services.
If you need fast CPU performance or SSD storage, you will need to look elsewhere. But for a vast majority of personal websites and small business websites, eHost services are perfectly adequate.
Overall, the performance of the hosting is adequate for the price point. The company also offers regular status updates of their systems so that if they predict any upcoming outages or reduction in levels of service, you can take action accordingly in advance.
Uptime Stats – Target: 99.9%
July 2017 – 100%
June 2017 – 100%
May 2017 – 100%
April 2017 – 100%
March 2017 – 100%
February 2017 – 100%
January 2017 – 99.79%
December 2016 – 99.89%
November 2016 – 100%
October 2016 – 99.89%
eHost always claim to provide 99.9% uptime guarantee to their all customers. I wanted to test the uptime performance of this company and share it on my website. If anyone wants to buy the hosting package, then they should know all these things which are important for the website.
I started to collect eHost uptime stats from the past 10 months which includes October 2016 to July 2017. They performed really well recently. Image of their uptime performance is also shared with everyone who visited this website. Out of 10, eHost company achieved their target in 7 months. The overall uptime average of these 10 months is 99.957%, which is good.
Server Response Speed Test
When selecting any hosting especially for your own site, it is very important to know the server speed of the company that provides the hosting services. In order to check the server speed of eHost, whether they provide fast server speed or not, I tested their server speed from 8 different locations on one of the site which is hosted by eHost.
No doubt, this company is providing a good server response speed as it is shown in the picture below. Overall server response speed test is A, which is good.
Good and Bad of eHost
Good
Budget-friendly
Stable server systems with little downtime
Unmetered storage and bandwidth on basic plans
Custom designed integration into WordPress
Frequent promotions and discounts available
Good customer support
Bad
Server performance and response times are mediocre
CPU and RAM usage limits are extremely strict
No VPS or dedicated hosting plans available
Summary of eHost
eHost is a pretty good value for money if you are looking for cheap hosting services. For people who are new to online web hosting, eHost is perfect for learning the systems and the intricacies of online hosting.
You get what you pay for, though. Although the strict CPU limits put serious restrictions on running server side applications, eHost makes up for it by offering unmetered storage and bandwidth use.
This allows you to restructure your website to conform to eHost's rules if requited. I would have liked it if eHost offered more powerful VPS or dedicated hosting plan, but it seems that the company is solely focused on the budget end of the spectrum. Be that as it many, eHost is a very affordable solution for pretty basic hosting needs.
Its wide array of plug-ins and support for integrating other third party software makes it a good choice for low budget.
Compare eHost With Our Top Ranked Web Hosts!
SiteGround vs HostGator vs eHost

SiteGround

HostGator

eHost
Rating

Rated 4.5 stars

Rated 4.5 stars

Rated 4 stars

Price

$3.95/month

$3.95/month

$2.75/month

Criteria