Editor Rating

Rated 3.5 stars

Very Good
---
Reviewed by:

Published on:

Last modified:
---
DISCLOSURE: This post may contain affiliate links, meaning when you click the links and make a purchase, we receive a commission.
Our Top Ranked #1 Web Host

Ideal for WordPress, Joomla, Drupal and eCommerce
What is FastComet?
How many web hosting companies can you count? There are indeed many of them who are all competing to get customers. The customer normally has some web content that will need to be made available on the World Wide Web. Since not everyone can afford to have the resources required for this, opting to have your site hosted by a web hosting company is usually the best thing to do.
FastComet is among these many web hosting companies that could host your site. What makes it different from all the others? This FastComet reviews will give you an insight on the company performance.
FastComet Web Hosting
Just like most web hosting companies, FastComet web hosting offers the service of housing your site in their data centers and making it available to everyone who has an internet connection.
The company has been in this business for around seven years. During its early years, the company focused mainly on providing hosting services to both business and private clients but mainly in the area of System Administration.
Since 2013, FastComet has grown to provide public cloud hosting and now offers a hosting platform to its customers. Some of these services include open source web hosting, SSL, and other free templates. A look at some of the FastComet reviews will help us know more about whether their services are upbeat or not.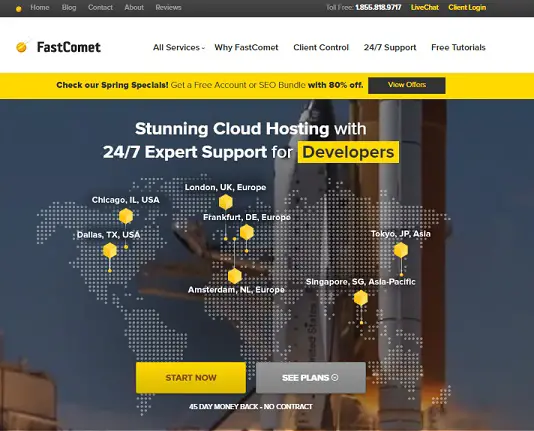 FastComet Information and Features (Table)
Details
 
Founded
2013
Server Location

Chicago, United States
Dallas, United States
Frankfurt, German
London, United Kingdom
Amsterdam, Netherlands
Singapore
Tokyo, Japan

Services

Domain Hosting
Domain Transfer
Shared Hosting
Cloud VPS Hosting
Dedicated Hosting
Dedicated WordPress Hosting
Dedicated Joomla Hosting
Other CMS Dedicated Hosting
e-Commerce Hosting
Website Builder

Unlimited Website
Available With Selected Hosting Plans
Unlimited Storage and Bandwidth
Limited Storage, Unmetered Traffic
Domain Hosting
Yes
Linux Hosting
Yes
Windows Hosting
No
WordPress
Optimized
Joomla
Optimized
Drupal
Optimized
Magento
Optimized
PHP Hosting
Optimized
e-Commerce Hosting
Optimized
Email Hosting
Unlimited Account Available With Any Shared Hosting Plan
SSL Support

Free Let's Encrypt SSL
CloudFlare CDN Free SSL

Free Server Name Indicator (SNI)
GlobalSign Private SSL (Free With Selected Hosting Plans)
Dynamic SSL Seal (Free With Selected Hosting Plans)

Dedicated IP
No
Free Site Migration
Yes, Up To 3 Websites (Depend on Hosting Plan)
Free Domain
No
Domain Privacy Protected
Yes
Money Back Guarantee
45 Days
24/7 Support
Selected Methods Only


Ticket
Live Chat
Telephone
Fax
Email
Forum

Control Panel
One-Click Installation
Website Builder

SemMush Website Builder
SiteCake

Automated Backup
Daily, Backups From The Past 7/30 Days
Content Delivery Network (CDN)
Security Features

SSL
Network Firewall
Web Application Firewall
Brute-force Protection
Exploits and Malware Protect
Malware Removal
Hotlink and Password Protection
Patchman
Account Isolation
CageFS Security
ModSecurity Manager

Payment Methods

Visa
MasterCard
American Express
PayPal

Endurance International Group Network (EIG)
No
Social Profile
FastComet Reviews on Hosting Plans, Domain, and Services
We can now take a look at what FastComet has to offer regarding the services mentioned earlier on in the article.
Shared hosting plans are the most economical hosting plans one could get, especially if you are an individual or a small business. FastComet shared hosting plans are available in three categories: StartSmart, ScaleRight, and SpeedUp.
The StartSmart is the most affordable of the three plans, starting at $2.95 per month. It has essential features such as Solid State Drive (SSD) web space of up to 15GB, a free domain name, daily backups, Sever Name Indicator (SNI) as well as a 45-day guarantee on getting your money back should it not work for you.
The ScaleRight plan goes for $6.95 per month and is suitable for those who have multiple sites. It features the SSD web space of up to 25 GB, a free SSL certificate from Lets Encrypt, as well as a 45-day guarantee of getting your money back. Apart from these, there's also a control panel (cPanel), 1-click installer and resources made for website optimization.
The SpeedUp plan starts at $12.95 per month. This plan can accommodate as many sites as possible. It features a 35GB SSD space, a free SSL certificate from Global Sign, a personal DNS, as well as the cPanel, 1-click installer, security and backup features.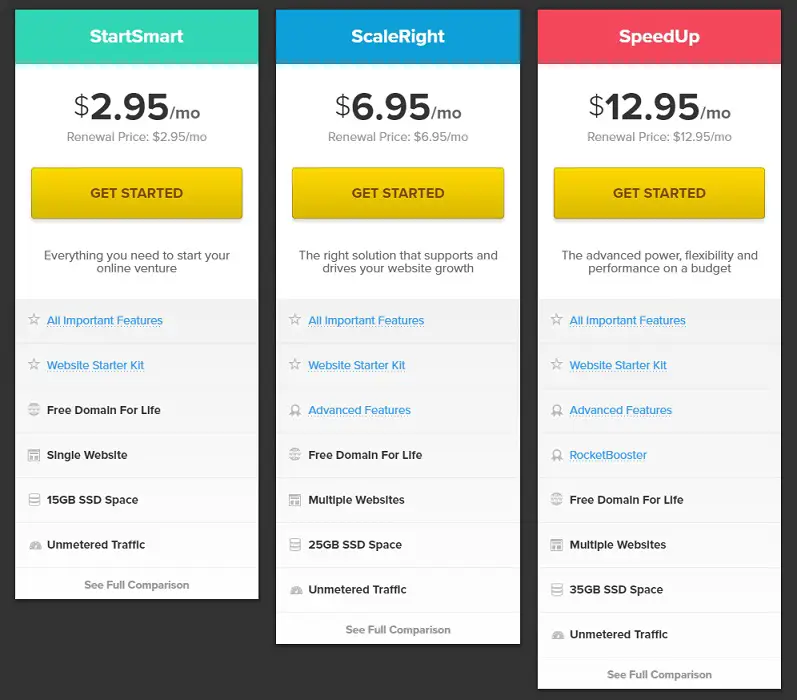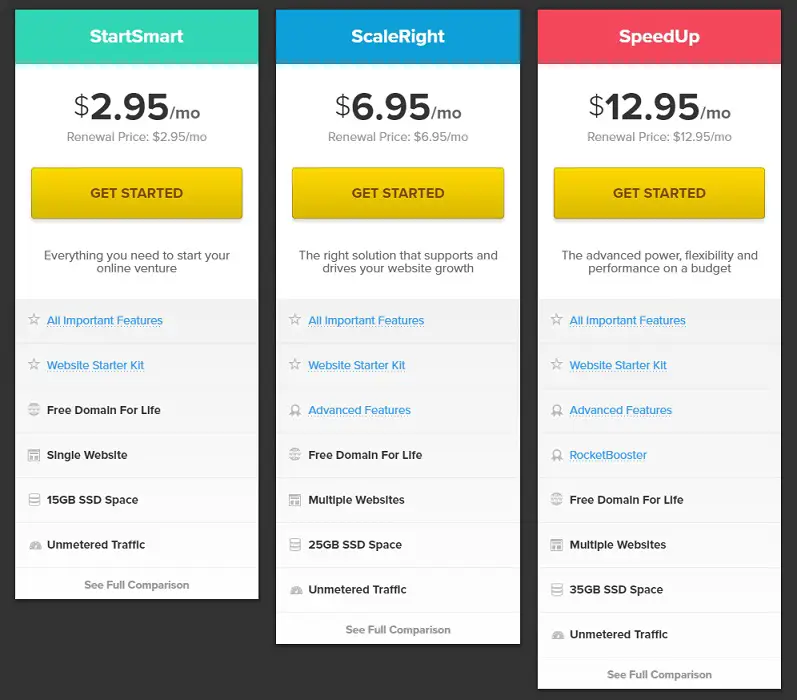 FastComet Reviews on Cloud VPS Hosting Plan
FastComet Cloud VPS hosting is another popular hosting plan among many medium sized sites. It offers the freedom of having to set your attributes for the server, but also the advantage of it being affordable, given that it operates in a virtual environment. Cloud, on the other hand, makes the information available from wherever you are.
FastComet VPS is offered with the SSD technology. This plan provides a much faster time in getting your data or finding the site from the server. It has four categories of plans, which are VPS Cloud 1 to VPS Cloud 4. These four categories are priced differently for clients in the USA, Europe, and Asia. The four plans feature a cPanel, Softaculous, hosting of an unlimited number of websites, support, and monitoring services.
FastComet Reviews on Dedicated Hosting Plan
The dedicated hosting plan is offered in FastComet through their dedicated servers. Dedicated hosting is suited to those individuals or businesses that have a significant number of site visitors, for optimized performance regarding loading time.
FastComet's dedicated servers are offered in four plans, namely DS 1, DS 2, DS 3 and DS 4. All these plans are hosted on Intel's Xeon CPU E5-2680 [email protected]. The only difference is that DS 1 uses the Quad-Core, DS 2 uses Hexa-Core, DS 3 uses Octa-Core while DS 4 uses Hexadeca-Core. DS 1 starts at $139 per month while DS4 goes for $419 per month.
The features included in this plan are a free cPanel, optimized speed, and performance through SSD file storage, security, and backup as well as a hosting environment that supports Perl, Nginx, and PHP.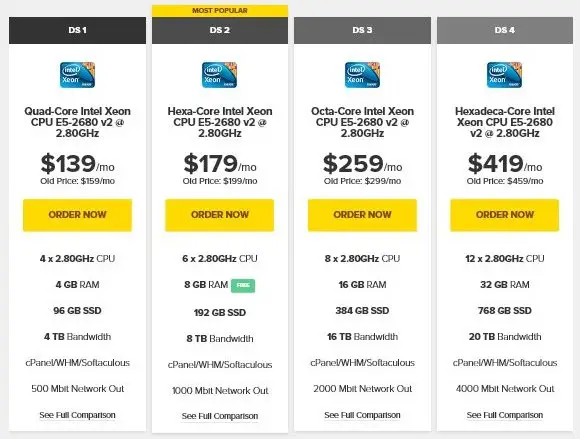 FastComet Reviews on Domain Service
The domain is essential for your website. There is no way visitors can locate your site if it does not have a domain, which is your site's URL. The domain can either be bought at a Domain Name Registrar or at your web hosting company.
FastComet offers free domain registration upon signing up to be hosted by the company. This is very applicable and convenient for those who are having their site hosted for the first time on the World Wide Web. There are terms and conditions to be followed during this process.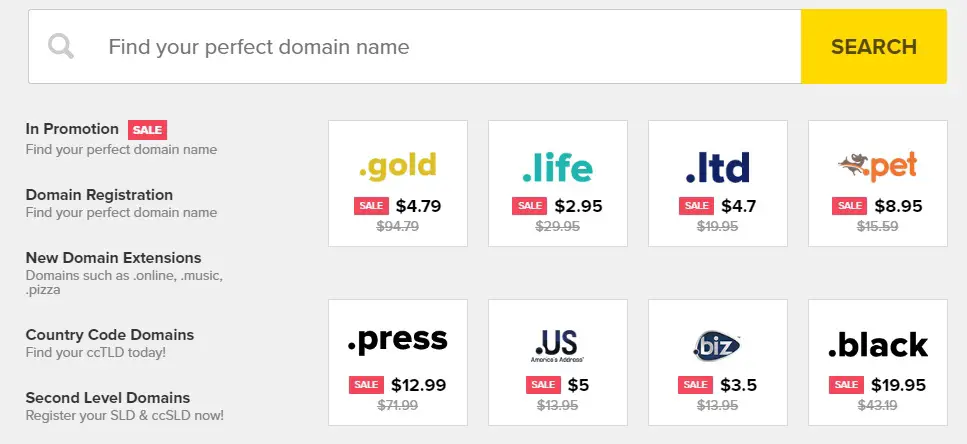 However, if you are planning to be a customer and already have a domain name for your site, then you can transfer it to your host company. FastComet offers this for a fee. Terms and conditions, as well as some paperwork, will have to be strictly followed during this process.
FastComet SSL
If you have a website that transacts a lot on-line or takes user details on-line, then you will need to secure your site from fraudulent practices. We are by now all aware of how one's personal details can be stolen from the internet.
To secure your data, as well as your client's personal details, you will need to have an SSL certificate. Besides, since the SSL is now one of the ranking factors in the eye of Google, webmasters are advised to implement SSL on their website.
FastComet offers two types of SSL certificates; one from Global Sign and the other from Let's Encrypt. You will thus get different features and benefits when you choose a plan that offers either of these for free, or when you decide to purchase your own private SSL certificate, specifically from Global Sign. Global Sign provides not just the protections, but also a host of other benefits.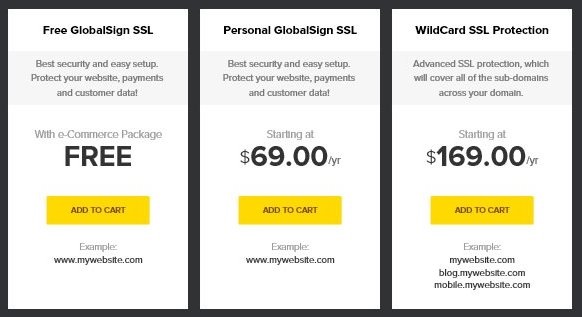 FastComet Reviews on WordPress Hosting
FastComet also hosts WordPress websites. In fact, it is hard to find a hosting company out there that doesn't support WordPress. WordPress is hosted under the open source hosting services and has some of the essential WordPress features such as 1-click WordPress installation, backup and restore, virus and malware scans, and other advanced security features. This makes it highly compatible and safe for use with WordPress sites.
One of the most important things to consider when looking for a WordPress website hosting is the speed which your site can be loaded, as well as the customer service offered by the company. FastComet boasts of faster speeds just like SiteGround, BlueHost, and DreamHost.
Note: The WordPress hosting provided is the same solution as the shared hosting

Why is this plan good for WordPress?
Well, the fact that you start at only $2.95 per month makes it affordable to most WordPress site builders, who are mostly bloggers and small on-line businesses. The other is that it offers backup security, as well as support for other open source applications that are necessary to run some of these WordPress built websites. There are also some free WordPress themes which can be downloaded or used directly with your chosen WordPress plan.
WordPress WooCommerce
WooCommerce is also another application that many people use to build their online stores. FastComet offers WooCommerce hosting same as the shared hosting solution. WooCommerce is available as a plugin, and more complex applications within the platform are offered at a price. Besides, FastComet also offers free WooCommerce and extensions installation service.
FastComet Reviews on Joomla Hosting
FastComet optimizes the Joomla hosting solution. The hosting solution is basically the same when compared to the shared hosting. FastComet shared hosting platform is optimized for many applications, including Joomla.
FastComet is receiving positive reviews on its support for Joomla; mainly due to its SSD powered hosting that makes it possible to load your site very fast. It also has some great free Joomla templates for use.
Under the Joomla hosting plan, FastComet offers one-click Joomla Installation, free Joomla upgrade, advanced Joomla security, 24/7 Joomla support, and more.

FastComet Reviews on Support and Customer Service
Customer service is provided at FastComet through toll-free calls, live chat, ticket, and email. FastComet also hosting a community where you ask your questions there, and the staffs will help you to solve your problems. There is also a section where you can contact the technical team for help. All this is provided round the clock, 24/7. I have shared my personal experience with their support below and it was pretty amazing.
A look at some of the reviews available online for their support shows that they have a brilliant team that acts on customer complaints within a record time. For your information, another web hosting company that serving effective customer support is SiteGround.

#Trial 1 Excellent and Helpful Live Chat Support
FastComet claims to provide 24/7/365 support. I have contacted them through the Live Chat support and overall I would say it was amazing. I got entertained almost instantly after I launched the chat. This proven that they are putting efforts in helping customers.
The customer support is knowledgeable and professional in clearing my doubts. Besides, one of the most important factors that I was happy with was the politeness. The customer support staff was always polite and trying to help. I rated Martin "Thumbs up" after I ended the chat.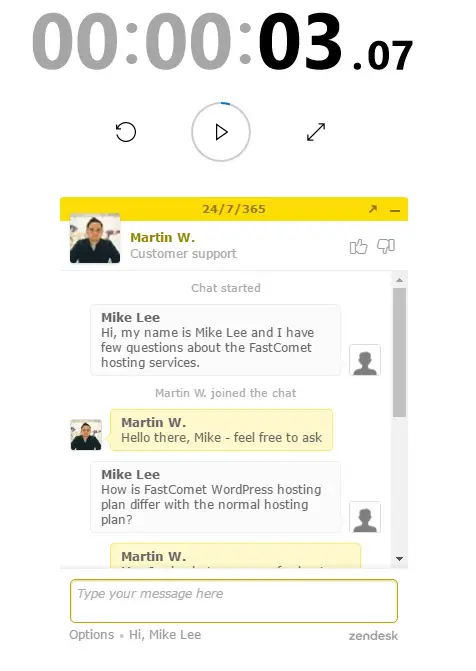 Here is our full conversation:
Mike Lee: Hi, my name is Mike Lee and I have few questions about the FastComet hosting services. 
Martin: Hello there, Mike – feel free to ask.
Mike Lee: How is FastComet WordPress hosting plan differ with the normal hosting plan?
Martin: May I ask what are you referring to with normal hosting plan? Compared to the Shared Hosting?
Mike Lee: I mean the shared hosting compare to WordPress hosting. 
https://www.fastcomet.com/wordpress-hosting
Martin: Understood, just wanted to make sure we are on the same page, Mike 🙂
Basically, they are the same solutions, as all of our offerings are fully optimized for more than 350+ applications, ranging from WordPress to WooCoomerce to something like Magento or OpenCart to a forum applications.
Mike Lee: Noted, is the shared hosting plans also optimized for Content Management System like Joomla, Drupal, and Magento?
Martin: Yes, all of them including Magento 1 and 2.
Mike Lee: Great. How about Windows hosting?
Martin: We provide Linux-based solutions only, with CentOS 6.5 and cPanel and with some both cPanel and WHM.
Mike Lee: Is the hosting environment also good for PHP and e-commerce hosting?
Martin: Yes they are, you are also provided with 1 Free Private SSL certificate, as well as Let's Encrypt.
Mike Lee: Can I get a Dedicated IP from FastComet?
Martin: May I ask why would you want such, just curious?
Mike Lee: I believe Dedicated IP has some SEO benefits in the eye of search engines. Just wonder if FastComet also provides this service.
Martin: As if you are asking for it, because of some SSL certificates, you won't need such, as we are using the latest SNI technology which allows us and our customers to install and setup SSL's without the need of Dedicated IP address. For the Shared Hosting solutions, nope, especially without the technical justification. As for that SEO myth, that isn't the case, as Google are interested in the domain name and the website content, configuration etc, not the IP address.
Mike Lee: Since FastComet provides free Let's Encrypt SSL, is that means all websites hosted on FastComet will be using https instead of http? Do I have the option?
Martin: Of course, you have the option it is totally your choice to issue or not an SSL certificate, we will never force you to use something like that. You can issue your own SSL's whenever you like.
Mike Lee: How about Domain Privacy Protected service?
Martin: This is an Addon service, which can be applied only to domain names registered with us or transferred to our registrar. The price for it is $9,95 per year. Also, with each hosting package order, you can register or transfer instead 1 domain name for free.
The domains included for the free registration are:
.com, .net, .org, .biz, .info, .in, .co.uk, .us. .eu, .ca, .es, .ru, .cn, .nl, .de
Mike Lee: Understood, is FastComet provides any website builder?
Martin: Yes, we do include a drag and drop builder, which is included in your cPanel for easier accessibility.
Mike Lee: I can see the SiteCake is listed as well. Are you using cPanel included website builder or SiteCake?
Martin: We are using a customized version of SiteMush for the website builder itself. The solution is optimized for using the SiteCake builder as well if you would like to. With us, you have tons of features and the freedom to choose from 🙂
Mike Lee: Is the FastComet server DDoS protected? What type of DDoS protection solution has been implemented?
Martin: You can check and review all the security information and detailed comparisons of the packages at fastcomet.com/compare-shared-package
Mike Lee: What is uptime guarantee of FastComet?
Martin: If you want to see the full list, we provide 99,9% uptime guarantee.
Mike Lee: Is FastComet part of Endurance International Group(EIG)?
Martin: Of course not, we a privately owned company based in San Francisco, and we are planning to keep it this way.
Mike Lee: One thing I noticed is the renewal price is same as the first time registration fee. Is this real? 🙂 (Note: Just figure out renewal price is at regular rate, you will need to renew at regular rate although you join them under promotional price, not really the same)
Martin: You can bet on it – we provide always the same renewal prices for all solutions.
Mike Lee: Is there any monthly payment option?
Martin: You can choose from month to month or annual cycle. However, keep in mind if you go with the monthly cycle, there will be a one-time setup fee of $19,95 for our protection added to the initial payment for the hosting package itself. If you go with annual one, you have 45 Days Money back and the setup fee will be waived.
Mike Lee: Understood. Will consider and thanks for the support!
Martin: We would be happy to have you on board, and it is a pleasure chatting with you Mike, if something else arises, just let us know 🙂
FastComet Reviews on Uptime Performance and Server Status
Uptime Stats
FastComet has an uptime guarantee of 99.90%, even for its cheaper shared hosting plans. However, from my own records on the FastComet uptime performance, most of the time the FastComet did not achieve the target. This is somewhat disappointing and I also found many complaints regarding their uptime performance on the internet. Here are the stats of FastComet uptime.
Uptime Stats – Target: 99.90%
May 2017 – 97.81%
April 2017 – 98.70%
March 2017 – 96.84%
February 2017 – 95.08%
January 2017 – 97.98%
December 2016 – 97.53%
November 2016 – 98.95%
October 2016 – 98.99%
September 2016 – 98.67%
August 2016 – 99.27%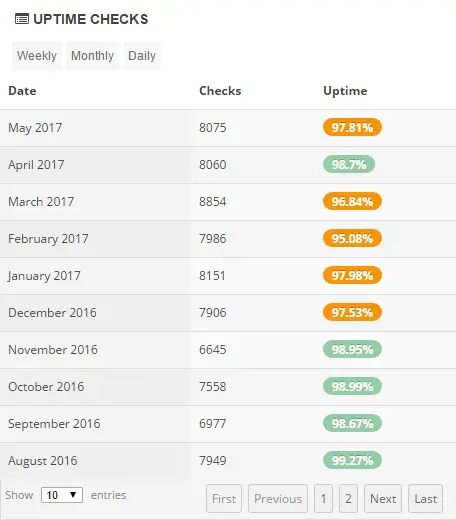 I am monitoring the uptime performance of FastComet regularly. The above is the records collected and you can see their uptime performance is not good if compare to other web hosting companies like SiteGround and HostGator. I am not sure what caused the uptime of FastComet a bit lousy but I will continue to monitor it and hopefully, there will be an improvement in the next record.
Note: I update this FastComet uptime stats regularly, do bookmark this page if you are interested in checking their uptime performance again.
Server Response Speed Test
I have conducted a server response speed test on a website hosted on FastComet server and the result shown their server response time is quite good. Although FastComet losing marks on their uptime performance, they still perform well on the server response speed.
The test was conducted by pinging the website from 7 different locations below. It scored A+ in May 2017. As you can see below, the response times are greatest in the United States as the test was carried on a server in the United States. Asia country like Singapore took longer time but I believe this can be improved if you host your website on their Singapore server.


Good and Bad of FastComet
Good
Excellent speeds. This is very crucial for many websites that have a lot of traffic.
Quick response time
Excellent customer support
Good value for money
Upfront prices with no hidden charges
Bad
Lousy uptime performance
There was a complaint due to false resource abuse warning
Summary of FastComet
Well, I have looked at what is on offer at FastComet regarding services as well as the various plans offered. I have also looked on-line at some of the FastComet reviews given by other users. It sounds like what give FastComet such positive reviews is its SSD technology that they use for all their web hosting services, as well as the open source program that allows many WordPress users to integrate various plugins with their sites.
The main downside is their uptime performance. For most webmasters, their uptime performance is not acceptable. I hope to see improvement in the next records and I will update this FastComet review regularly.
The customer support is excellent, and I would say they are professional in helping their customers in solving problems. The prices offered are fair, compared to most other web hosting companies, which are either too cheap or too expensive.
I can thus conclude that, given the above facts as well as the good and bad of FastComet, it is a web hosting company that still trying to stabilize their performance. If you are dedicated to trying FastComet, expect some downtimes but overall you will get an "Average" service.
Compare FastComet With Our Top Ranked Web Hosts!
SiteGround vs HostGator vs FastComet

HostGator

SiteGround

FastComet
Rating

Rated 4.5 stars

Rated 4.5 stars

Rated 3.5 stars

Price

$3.95/month

$3.95/month

$2.95/month

Criteria