Editor Rating

Rated 4 stars

Excellent
---
Reviewed by:

Published on:

Last modified:
---
DISCLOSURE: This post may contain affiliate links, meaning when you click the links and make a purchase, we receive a commission.
Our Top Ranked #1 Web Host

Ideal for WordPress, Joomla, Drupal and eCommerce
What is Flywheel?
We are in an era where all companies are going online to market their products. Online marketing is gradually becoming a way of life in the business world. There is virtually no company that does not own a website. There are also lots of web hosting providers offering hosting services to these individuals and corporations.
Flywheel is one of those web hosting providers that offer web hosting services to companies. It is a managed WordPress hosting provider with a major focus on making WordPress web hosting simple and easy for webmasters.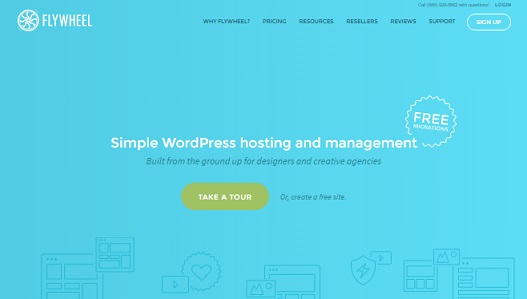 Details
 
Founded
2010
Server Location
Services

WordPress Hosting
Free SSL
Hacker Free Security
Enterprise Hosting
Reseller Hosting

Unlimited Website
No
Unlimited Storage and Bandwidth
Limited Storage and Bandwidth Available with WordPress Hosting
Domain Hosting
No
Linux Hosting
Yes
Windows Hosting
No
WordPress
Optimized
Joomla
No
Drupal
No
Magento
No
PHP Hosting
Optimized for WordPress
e-Commerce Hosting
Optimized for WooCommerce
Email Hosting
Yes
SSL Support

Free SSL Certificate Available with All WordPress Hosting Plan
Paid SSL Available at $10/mo

Dedicated IP
Yes
Free Site Migration

Available with All WordPress Hosting Plans
Expedited Migration Available at $49

Free Domain
No
Domain Privacy Protected
No
Money Back Guarantee
30 Days
24/7 Support
Control Panel
Custom Control Panel
One-Click Installation
Yes
Website Builder
No
Automated Backup
Nightly Backups
Content Delivery Network (CDN)

MaxCDN
Free CDN Available with Professional and Custom WordPress Hosting Plan
Paid CDN Available at $10 Per Site

Security Features

SSL Certificates
Free Malware Removal
Hacker Free Security
Brute Force Attack Protection
Intelligent IP Blocking
Strong Password Enforcement

Payment Methods

Visa
MasterCard
American Express
Discover
PayPal

Endurance International Group Network (EIG)
No
Social Profile
Flywheel was established in 2010 with its headquarters in Omaha, Nebraska. It focused its hosting plans to meet the needs of the web designers who build sites using the WordPress platform. Little wonder, thousands of designers around the globe make use of Flywheel. With Flywheel web hosting, client management is made simple for developers.
It has lots of data centers although it was not transparent about their network sever providers and hardware. Some of the founders and management team of Flywheel include Dusty Davidson (CEO), Tony Noecker), Rick Knudtsn, T Rave (Happiness Engineer), KYLE Putman (manager of accounts), Josh Lawler(Head Happiness Engineer) and many others.
Flywheel Reviews on WordPress Hosting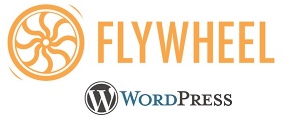 Flywheel is among the few web hosting providers that only focus on managed WordPress hosting. It is managed WordPress host that endeavors to get everything right. It offers its services a bit different from its counterparts. Flywheel managed WordPress hosting is focused on the needs of designers trying to set up their website. They offer lots of plans for WordPress hosting. Flywheel offers the pay-per site for customers who want to host a single WordPress installation. They also offer trial services for clients who are trying to confirm the quality of their services. The three main plans provided by Flywheel WordPress are:
Tiny Hosting Plan: It is the cheapest of Flywheel managed WordPress hosting plan with the price of $14 per month. It has 5 GB disk space, 250 GB bandwidth and allows not more than 5000 monthly visitors. Free SSL support is also available on the tiny plan. However, you have to pay an extra $10 per month for the CDN support.
Personal Hosting Plan: Comes with a price of $28 per month with a higher disk space than the tiny hosting plan, 500 GB bandwidth, and not more than 25,000 monthly visits. Free SSL is also included. CDN and multisite are not offered for free in this plan. You have to pay extra fee to get these services
Professional Plan: This has the highest price which is $69 per month with 20 GB disk space and one terabyte bandwidth with 100,000 monthly visits. However, the SSL, CDN and multisite are offered in this plan without an extra charge.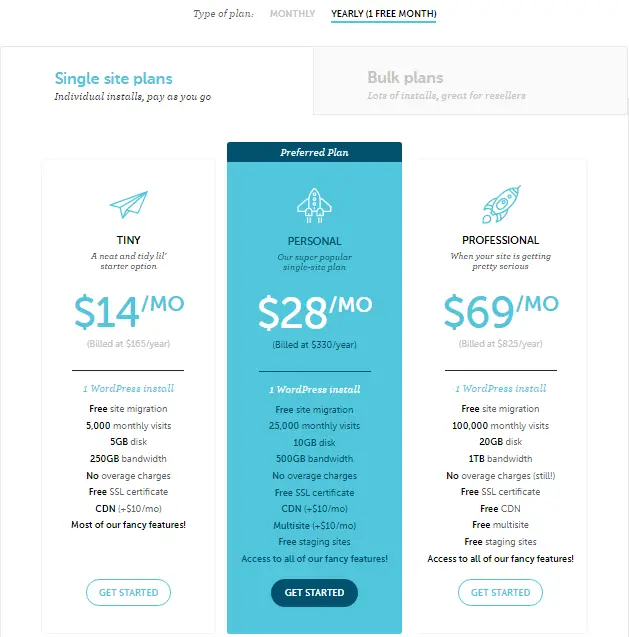 Their bulk plan allows a larger amount of disk space and bandwidth. It is majorly for people who need to host more than one site.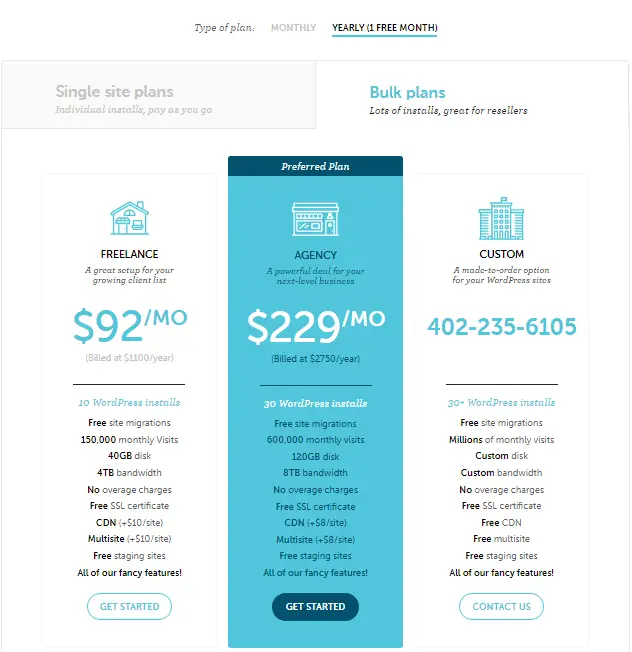 Flywheels managed WordPress offer varieties of services to its customers. They have the caching system that makes installation and configuration of plugins very easy for its customers. With their SFTP feature, customers can manage all their sites from a single login.
Another unique thing about their WordPress dedicated hosting is that there is room for the upgrading of their WordPress to the latest and a more secure version as the customers desires.
Flywheel is Officially Recommended by WordPress.org
Flywheel is a dedicated WordPress hosting platform that is optimized for WordPress. Besides, Flywheel only hosts WordPress sites. This makes them become very professional in WordPress hosting. They believe being an expert in WordPress is much better than being a jack of all types of hosting.
We believe this is one of the reasons that make them rated as recommended hosting by WordPress.org.
Some Other Unique Features of Flywheel Web Hosting
Backups: It offers automatic daily backups and one-click installation. Flywheel WordPress runs a daily backup of its customers' data. These backups are stored for 30 days on Amazon.
Security: They also offer a secured security to its customers. They ensure a strong password is used and has limits to the number of login attempts in case of intruders. They also make provision for situations where the sites will be hacked. Whenever, any of their client's sites is hacked, they offer malware removal for a hacked site and sucuri used to scan the malware.
Speed: When compared to some of its competitors, Flywheel has an excellent loading speed.
Pricing: Flywheel offers a monthly payment plan and discounts when a customer pays a year upfront. They do not have a special payment. Their cheapest managed WordPress hosting plan is $14 monthly plan. They accept PayPal and credit cards
Money back guarantee: A 30-day trial period is guaranteed to all Flywheels' clients to test the quality of their service. A free cancellation request can be placed if a customer is not satisfied with the services rendered and a full refund of his payment will be given to the customer.
Flywheel Reviews on Support and Customer Service
Flywheel does not offer a 24-hour customer support as most of other web hosting providers. Their customer support team is available from 7 am – 9 pm from Monday to Friday. Their support team can be reached either by telephone, live chats or email. Some of its customers complain that they have to wait for like 24 hours before they can get a response from their team.
There is also free site migration service offered to their customers. Flywheel also makes it very easy for their clients to build a free website using its free demo sites and one-click staging features. Their servers are managed by their technical team to ensure that the best security is given to their customers.
Their services are majorly for experienced users as there is no special tutorial for simple issues that relates to database management. If you are looking for a web host that provides excellent customer support, we will recommend SiteGround.

#Trial 1 Moderate Email Support
Unfortunately, FlyWheel doesn't provide live chat customer service to their non-customers. I decided to check their customer services by using other modes as they claim to offer fast support services to their own and non-customers. I visited their website and opened a ticket in which I mentioned all my details as well as questions which I wanted to ask from them.
On 14th of August around 16:47 pm I send them ticket and one of their representative responded to me around 15th August 5:00 am mid night. His name was Josh C and he answered my all queries in detail. I evaluated their customer support 8 out of 10.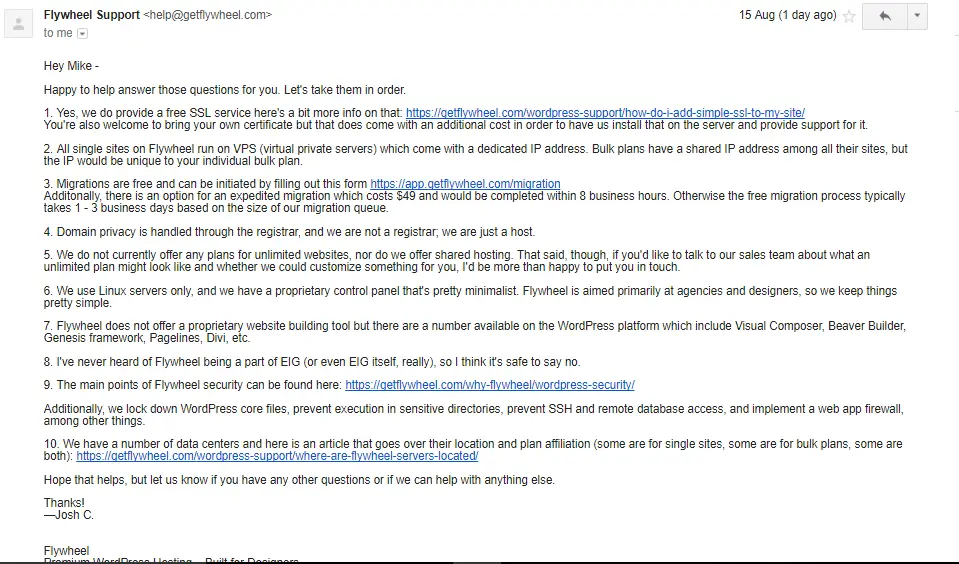 A detailed conversation with live support of Flywheel:
Hey Mike –
Happy to help answer those questions for you. Let's take them in order.
Q: Is Flywheel hosting provides free SSL service? How about paid SSL solutions?
A: Yes, we do provide a free SSL service here's a bit more info on that: https://getflywheel.com/wordpress-support/how-do-i-add-simple-ssl-to-my-site/
You're also welcome to bring your own certificate but that does come with an additional cost in order to have us install that on the server and provide support for it.
Q: Is Flywheel hosting offers Dedicated IP solution?
A: All single sites on Flywheel run on VPS (virtual private servers) which come with a dedicated IP address. Bulk plans have a shared IP address among all their sites, but the IP would be unique to your individual bulk plan.
Q: Is there any Free Site Migration Service?
A: Migrations are free and can be initiated by filling out this form https://app.getflywheel.com/migration
Additonally, there is an option for an expedited migration which costs $49 and would be completed within 8 business hours. Otherwise the free migration process typically takes 1 – 3 business days based on the size of our migration queue.
Q: How about Domain Privacy Protected Service? If yes then free or paid?
A:  Domain privacy is handled through the registrar, and we are not a registrar; we are just a host.
Q: Any shared hosting plan that supports unlimited website?
A:  We do not currently offer any plans for unlimited websites, nor do we offer shared hosting. That said, though, if you'd like to talk to our sales team about what an unlimited plan might look like and whether we could customize something for you, I'd be more than happy to put you in touch.
Q: Is Flywheel hosting supports Linux Hosting and Windows Hosting? If yes then what type of control panel is being used for both?
A: We use Linux servers only, and we have a proprietary control panel that's pretty minimalist. Flywheel is aimed primarily at agencies and designers, so we keep things pretty simple.
Q: Any Website Builder tool offered?
A: Flywheel does not offer a proprietary website building tool but there are a number available on the WordPress platform which include Visual Composer, Beaver Builder, Genesis framework, Pagelines, Divi, etc.
Q: Is Flywheel hosting is a part of Endurance International Group (EIG)?
A: I've never heard of Flywheel being a part of EIG (or even EIG itself, really), so I think it's safe to say no.
Q: What are the security features that Flywheel hosting offers?
A:  The main points of Flywheel security can be found here: https://getflywheel.com/why-flywheel/wordpress-security/
Additionally, we lock down WordPress core files, prevent execution in sensitive directories, prevent SSH and remote database access, and implement a web app firewall, among other things.
Q: How many data centers Flywheel hosting has? What locations are these data centers/servers located?
A:  We have a number of data centers and here is an article that goes over their location and plan affiliation (some are for single sites, some are for bulk plans, some are both): https://getflywheel.com/wordpress-support/where-are-flywheel-servers-located/
Hope that helps, but let us know if you have any other questions or if we can help with anything else.
Thanks!
—Josh C.
Flywheel Reviews on Uptime Performance and Server Status
Uptime Stats
There is no particular uptime guarantee offered by Flywheel, unlike most other web hosts that fuse around claiming uptime guarantee that they cannot maintain. However, review from some of their customers and web hosting performance report has proven that they have been offering good uptime record. Let's see my records for their uptime performance.

Uptime Stats – Target: 99.90%
August 2017 – 100%
July 2017 – 99.85%
June 2017 – 100%
May 2017 – 99.98%
April 2017 – 100%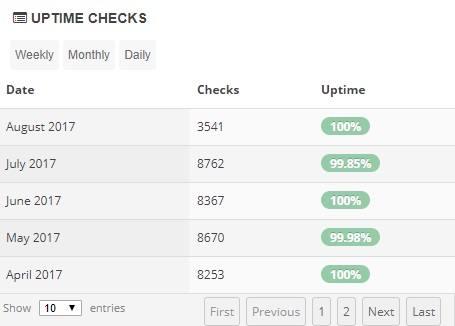 I wanted to verify the uptime performance of Flywheel and that is why I gathered their uptime stats performance of past 5 months. On the basis of data which I collected from one of the website, I found that in 4 months Flywheel achieved the target. The remaining uptime performance of one month remain satisfactory.
The average of Flywheel uptime stats is 99.966% and it is above the company's target value. This company is trying to improve their uptime performance and I can see this is a good sign.
Note: I will keep updating the uptime stats of Flywheel so users can bookmark this page for getting more and latest updates
Server Response Test Speed
Speed of server plays an essential role when it comes to choosing a hosting of a new company. Same like other companies, I have also checked the Flywheel server response speed. I pinged one of the Flywheel hosted website from 8 diverse locations.
I was astonished when I got A+ result from this site as you can see in the picture given below. Flywheel server response speed is found to be outstanding. CDN is available in this company which helps in speeding up your site.


Good and Bad of Flywheel
Good
Dedicated WordPress optimized platform
Perform very well on WordPress sites
Officially recommended by WordPress.org
Good uptime performance
Simple hosting plan, no complex hosting plan that confuses others
Bad
Their tiny plan does not give room for installation of multiple sites.
Does not support hosting for application other than WordPress.
No domain registration service, user can get a domain at GoDaddy and point it to Flywheel server.
Prices are higher compared to other renowned WordPress hosting providers like SiteGround and InMotion Hosting.
Conclusion of Flywheel
As a conclusion, Flywheel is specially designed for WordPress site owner. Although it is quite young in the industry, it is still highly recommended for managed WordPress hosting. It has a vision of getting everything right for its customers.  It has maintained a very good review from its existing clients.
If you are a WordPress site owner looking for a good web hosting provider, then Flywheel is all out for you to render a good quality WordPress hosting service.
Compare FlyWheel With Our Top Ranked Web Hosts!
FlyWheel vs SiteGround vs HostGator

HostGator

SiteGround

Flywheel
Rating

Rated 4.5 stars

Rated 4.5 stars

Rated 4 stars

Price

$3.95/month

$3.95/month

$15/month

Criteria