Editor Rating

Rated 4 stars

Excellent
---
Reviewed by:

Published on:

Last modified:
---
Our Top Ranked #1 Web Host

Note: This website ReviewPlan.com is hosted on SiteGround
Latest Uptime Stats (Real Records):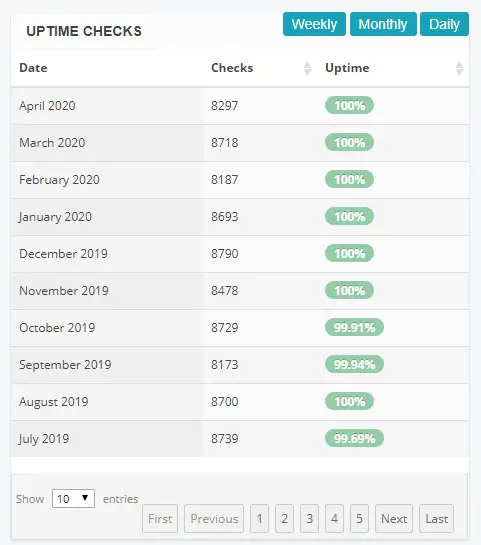 Server Response Speed Test Scored A+: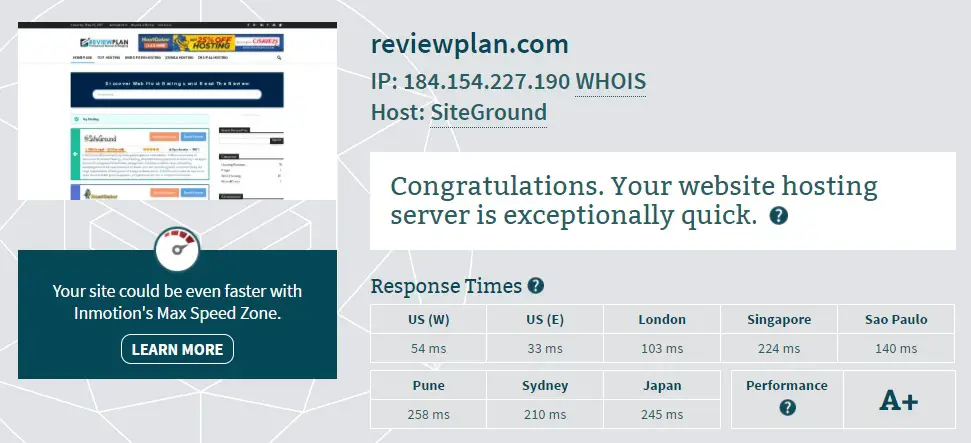 What is Go4Hosting?
Go4Hosting is a NASSCOM accredited provider of web hosting services as well a variety of IT solutions for targeted problem-solving in networking and interconnectivity domains. Based out of India, the company is uniquely positioned to take advantage of being located in a country where costs of infrastructure and consumables are low and the profit margin is high.
The company offers a wide range of hosting services all across the budget spectrum. Starting from shared hosting plans for beginner users to dedicated servers for resource-intensive enterprise applications to cutting edge cloud hosting platform for the very best in flexibility and performance benefit, Go4Hosting covers all grounds when it comes to being a comprehensive hosting services provider.
All this sounds great on paper, but what is the word on the ground about the company's services and utility? To find out, read on for the full review.
Go4hosting Reviews on Hosting Plans and Services
Go4Hosting has a comprehensive roster of hosting services that cover all bases and requirements. For the cost averse users, the company has inexpensive shared hosting plans on both the Linux as well as Windows platforms.
Shared hosting plans have the benefit of having virtually unlimited resources at their disposal so that novices and beginner users do not need to worry about storage space quotas, mailbox allowances, FTP accounts and linking MySQL databases.
This allows you to focus on building the best website you can and get your venture off the ground. For the vast majority of users, a shared web hosting plan is the perfect way to start their foray into operating their own website. Go4Hosting offers a well-rounded service that does not skimp on either performance or customer service.
Usage limits are quite fair and prices in line with the competition. In fact, the entire user-friendly package of usable performance and good customer service makes Go4Hosting one of the best hosting service providers for shared hosting plans.
Go4Hosting shared hosting plans start from USD 1.95 per month for a single domain and go up to USD 3.45 per month for an unlimited number of domains along with the migration of your existing site to Go4Hosting servers at no additional cost for a three-year lock-in contract. If you want to enter into an annual contract or one of lesser duration, your monthly rates will see a slight bump.
Go4hosting Reviews on Dedicated Hosting Plan
Go4Hosting also has dedicated hosting plans that are undoubtedly the most bang for your back in the business. You can get a dedicated server for as low as USD 99 per month. That money will get you a Xeon Quad Core processor at 2.4 GHz, 4 GB of RAM, 1TBB of hard drive storage, and 5 TB of transfer bandwidth.
At the highest end sits a configuration with dual Xeon E5 2630 v3 CPUs for a total of 16 cores, 32 GB of RAM, 2TB of storage on enterprise-grade SSDs in RAID 1 configuration costs USD 549 per month.
At these prices, dedicated hosting from Go4Hosting is practically a good deal. With top-notch hardware already in place and upgrade schedules, you can rest assured that performance of dedicated servers by Go4Hosting will always be exemplary.
Go4hosting Reviews on VPS Hosting Plan
For people who feel their needs are best served by a VPS hosting platform, Go4Hosting has them covered as well. With flexible resource allocations that can be dynamically scaled up depending on the requirement and site load, VPS is a great middle ground for cases where a dedicated server plan might be overkill but shared hosting is definitely out of the running. Go4Hosting VPS hosting plans comes with a 99.95% service uptime SLA and no setup or installation charges.
Linux based plans start at USD 24.16 per month for two processing cores, 1 GB of RAM, 40 GB of data storage, and 1 TB of transfer bandwidth.
Windows-based VPS plans range from USD 35.64 per month to USD 142.72 per month and span the same resource allocations as the Linux based ones.
Go4Hosting VPS plans are fully managed and come with included firewall and malware protection systems. The platform also supports custom-built software for specific use cases and is totally flexible for existing workflows.
Go4Hosting Reviews on WordPress Hosting

WordPress being one of the most popular and stable CMS options available to website builders today, Go4Hosting supports WordPress from the ground up. With dedicated support and service infrastructure for WordPress hosting cases, you are assured to get the maximum performance out of your existing or brand new WordPress website. Go4Hosting WordPress plans are scalable, meaning you can purchase resources only when you need them.
Go4Hosting Reviews on Support and Customer Service
An award-winning customer service team works tirelessly behind the curtains to keep all of the Go4Hosting customers happy at all times. Coupled with a robust and Microsoft certified technical support team, GO4Hosting enjoys one of the highest customer satisfaction ratings around that that is really something.
Help is available 24×7 by email, telephone, or email. Built-in localisation services also ensure that you get support in your language that you are most comfortable with. Resolution times are also impressively fast.
Go4Hosting Reviews on Uptime Performance and Server Status
The company boasts of a 99.95% uptime guarantee by means of an SLA. This is one of the highest level SLAs around and is a measure of the confidence the company has in its robust service and networking infrastructure. With minimal downtime and consistent high-speed performance, Go4Hosting turns in impressive numbers when it comes to high-performance plans and reliability.
Good and Bad of Go4Hosting
Good
Plans span the entire spectrum of budgets and requirements
Budget plans are not artificially handicapped
Strong customer support
Reliable and high-speed performance on all plans
Dedicated platforms for CMS like WordPress or Drupal\
Bad
Long-term service quality can be a problem
Expenses vary wildly depending on your contract lock-in period
Summary of Go4Hosting
Go4Hosting provides great performance at great price points. If you are in the market for a new hosting service provider, you could certainly do worse than Go4Hosting. A trial run is definitely highly recommended.
Compare Go4Hosting With Our Top Ranked Web Hosts!
SiteGround vs HostGator vs Go4Hosting

SiteGround

HostGator

Go4Hosting
Rating

Rated 5 stars

Rated 4.5 stars

Rated 4 stars

Price

$3.95/month

$3.95/month

$1.95/month

Criteria