Editor Rating

Rated 4.5 stars

Outstanding
---
Reviewed by:

Published on:

Last modified:
---
DISCLOSURE: This post may contain affiliate links, meaning when you click the links and make a purchase, we receive a commission.
Our Top Ranked #1 Web Host

Ideal for WordPress, Joomla, Drupal and eCommerce
What is GreenGeeks Web Hosting?
A decade ago, the web hosting industry got an additional company dedicated to serving webmasters and newbie bloggers. It is GreenGeeks web hosting company. The company was established in 2008 and is equipped with solid infrastructure and an impressive array of data centers.
Many trusted GreenGeeks elaborate that this web hosting is worth trying due to their high-quality services. GreenGeeks web hosting has been in this industry for a decade and gives neck-and-neck competition to the renowned firms like SiteGround and Inmotion hosting. The company is named after their savvy staff, who were employed in the company because they are web hosting buffs, and is inspired by the green energy movement.
In the beginning, the company faced many challenges as any other startup. However, GreenGeeks took only a few years to get fully established. The major competitive advantage for the company is the quality of their services. The CEO, Trey Gardener, never compromises on the quality of the services at any cost. That's why GreenGeeks is the choice of many customers.
This GreenGeeks reviews will give you an insight on the performance of GreenGeeks.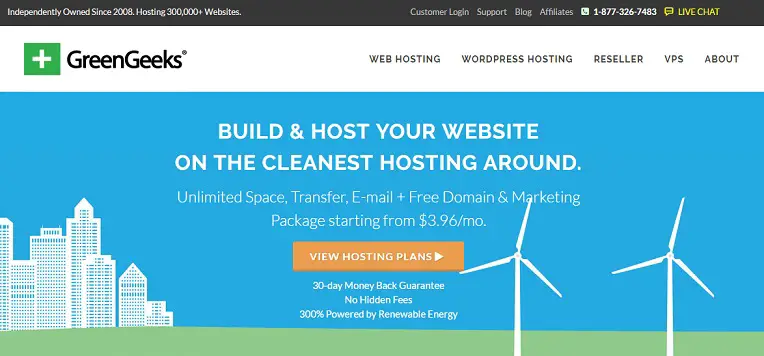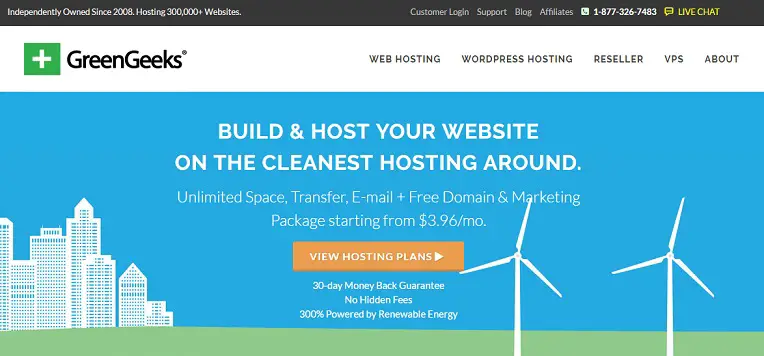 Details
 
Founded
2008
Server Location

Chicago, US
Phoenix, US
Toronto, CA
Amsterdam

Services

Web Hosting
WordPress Hosting
Reseller Hosting
VPS Hosting
Dedicated Servers
CMS Hosting
cPanel Hosting
Email Hosting
Joomla Hosting
Dedicated Hosting
Drupal Hosting

Unlimited Website
Available
Unlimited Storage and Bandwidth
Available With Shared Web Hosting and WordPress hosting Plan
Domain Hosting
Yes
Linux Hosting
Yes
Windows Hosting
No
WordPress
Optimized
Joomla
Optimized
Drupal
Optimized
Magento
Optimized
PHP Hosting
Optimized
e-Commerce Hosting
Optimized
Email Hosting
Yes
SSL Support
Yes, Starting at $49.95/Yr Though HTTPS
Dedicated IP
Available, Starting at $48/Yr Per Domain
Free Site Migration
Yes
Free Domain
Yes
Domain Privacy Protected
Available at a Cost of $9.95/Yr Per Domain
Money Back Guarantee
30 Days
24/7 Support

Email Support
Live Chat
Telephone

Control Panel
Linux Hosting Through cPanel
One-Click Installation
Yes, Through Softaculous
Website Builder

RV Site Builder (Free)
Weebly Website Builder (Free)
Drag & Drop Price Starts at $3.95 Per Month

Automated Backup

Daily Backups
Free Nightly Backup

Content Delivery Network (CDN)
CloudFlare
Security Features

Malware Protection
DDos Protection
Brute Force Protection

Payment Methods

Visa
American Express
Master Card
PayPal

Endurance International Group Network (EIG)
No
Social Profile
GreenGeeks Reviews on Hosting Plans and Domain Services
GreenGeeks offers web hosting services for shared, VPS, dedicated and reseller hosting. The hosting plans and packages of GreenGeeks are only run by the Unix/Linux powered servers.
The first package is GreenGeeks shared hosting that provides countless domains, bandwidth, and disk storage space. This plan is available for $3.95 per month.


GreenGeeks Reviews on VPS Hosting Plan
GreenGeeks VPS hosting plan includes 2,048 MB of memory, up to 3000 GB bandwidth and up to 125 GB of RAID-10 storage space with five different plans. It starts at $39.95 per month.

GreenGeeks Reviews on Dedicated Hosting Plan
The premium GreenGeeks dedicated server plan includes all the top-notch features and tools for website development. The GreenGeeks dedicated hosting plan is suitable for the website with high traffic volume. It starts at $169 per month, with DD3 Memory, 5 IP addresses and 10,000GB of bandwidth included.

GreenGeeks Reviews on Reseller Hosting Plan
The GreenGeeks reseller hosting plan offers unlimited cPanel and up to 2000GB of bandwidth. The five different reseller hosting packages make it possible for users to start their own web hosting business. It can be purchased at $19.95 per month.

GreenGeeks Reviews on Domain Services
The GreenGeeks domain name is almost free with all the hosting plans. The dedicated plan also includes a GreenGeeks transfer domain option that is quite important for many web developers. The domain services provided by the company are ideal and highly appreciated by their users.
GreenGeeks Reviews on WordPress Hosting


The services and plans offered by GreenGeeks are worth using because of their outstanding performance. One of the major reasons for relying on this web host is the GreenGeeks WordPress services. There is great compatibility with different OS included in the WordPress services.
With this service, the company offers the following: a 30 day money back guarantee; 24/7/365 customer support; blazing fast SSD Raid; free domain name registration; free one-click WordPress installation; 99.9% service uptime; free enhanced security; WordPress optimized servers; free WordPress migration; unlimited web space and unlimited data transfer.
GreenGeeks WordPress service is available at a discounted price of $3.95 per month. This plan is good for WordPress because the offered features are not only exceptional but are available at reasonable rates. Many other GreenGeeks reviews also show positive feedbacks on their WordPress optimized hosting plan.
GreenGeeks Reviews on Email Hosting
When it comes to the email feature provided by web hosts, the top consideration is always a provision of unlimited email accounts. The GreenGeeks email services stand out for many reasons. GreenGeeks email services allow subscribers and followers of websites get updates regularly. It is definitely best for generating more traffic to a website. 
Advanced technologies are being used to make this feature user-friendly. These are SMTP, POP3, and IMAP. Users are able to configure GreenGeeks email settings properly based on the technologies used. The Squirrel, Roundcube, and Horde webmail client software allow this platform to be ideal for uninterrupted email services.
The feedback by the majority of users shows that all services are offered at competitive prices, GreenGeeks email hosting can be a great option as it is already included in the hosting plans. The quality of services is commendable and the company is getting immensely popular among webmasters all over the world.
GreenGeeks Reviews on Support and Customer Services
There are many web hosting firms that provide good services but fail to prove themselves in customer support. Getting assistance is one of the top considerations for many people who are buying web hosting services. Sometimes, the complex features and intricate options drive web developers to communicate with the customer support staff for help.
Most users are satisfied with the GreenGeeks support. The staff responds quickly and many existing users get lots of assistance from their frequent replies. The GreenGeeks customer service has improved because Trey Gardener, the CEO of the company, is putting more emphasis on it.
Trey Gardener thinks that not supporting customers means to lose them. Therefore, there is no room for a bad or compromised customer support service. The GreenGeeks live chat is the highly preferred medium for customers to communicate with the support staff. It is a good medium that satisfies every customer through fast replies.
#Trial 1 Excellent Live Chat Support from GreenGeeks
Whenever anyone of you visits the official website of GreenGeeks, then on the right side customers can see a live chat pop up. This helps anyone to get a quick response. Recently, I take a test of their customer support service and fill up some information of mine and enter into the chat box.
I got a quick response from their customer support personnel in just 31.30 seconds. Galvin R was the person who answered my all queries in less time. His tone was quite good and polite throughout our conversation. GreenGeeks offers outstanding customer services and has complete information regarding their company's hosting plans.
I Rated GreenGreeks support representative 10 out of 10.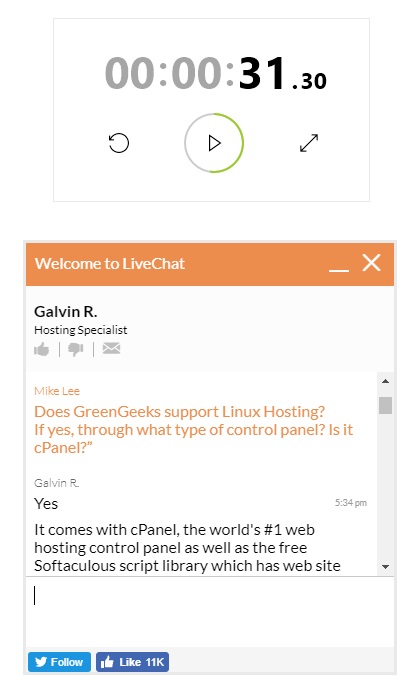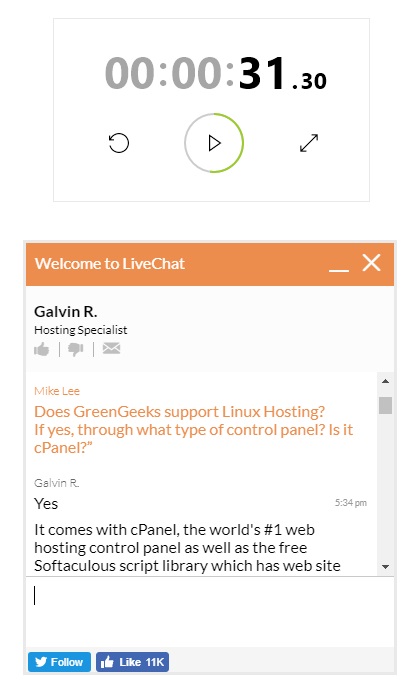 Here is the full conversation:
Galvin R: Hello. How may I help you?
Mike Lee: Hi, my name is Mike Lee and I have few questions about the GreenGeeks hosting services.
Galvin R: Sure.
Mike Lee: Does GreenGeeks support Linux Hosting? If yes, through what type of control panel? Is it cPanel?"
Galvin R: Yes. It comes with cPanel, the world's #1 web hosting control panel as well as the free Softaculous script library which has web site favorite scripts like Drupal, WordPress, Joomla and many others.
Mike Lee: Alright. Is GreenGeeks provides free SSL service? How about paid SSL solutions?
Galvin R: I am sorry but we do not support free SSL, you will have to purchase private SSL with us to load your domain with HTTPS. We offer AlphaSSL from GlobalSign for $49.95 per year and we install for free.
Mike Lee: How about Domain Privacy Protected Service? If yes then free or paid?
Galvin R: It will cost you $9.95/year/domain. You can check more information on that at http://kb.greengeeks.com/4207/id-protect-whois-privacy-protection/
Mike Lee: Is there any Free Site Migration Service?
Galvin R: We do provide FreecPanel Migrations. Once you have signed up, you'll be able to login to your account and click on Support -> Migration Request. Just fill in the form with the proper details and your request shall be sent to our Migrations department. It can take up to 48 hours to transfer the site (depending on the size of the site), but it's usually much sooner than this for the average site (within a few hours).
Mike Lee: Great. Is GreenGeeks supports Windows Hosting?
Galvin R: No, we don't.
Mike Lee: Is GreenGeeks offers Dedicated IP solution?
Galvin R: It will cost you $48.00/per year/per dedicated IP.
Mike Lee: Noted. Is GreenGeeks part of Endurance International Group(EIG)?
Galvin R: No, we are not the part of the EIG.
Mike Lee: Okay. Any Website Builder tool offered
Galvin R: Green Geeks has purchased the RV Site Builder (at no additional cost to our customers) which is easy to use web site building tool that allows novices to get a professional web site up on the internet within minutes. The RV Site Builder comes with nearly 700 templates for people to use and those templates can be modified to allow a more custom feel for the web site.
Mike Lee: Is this service paid or free?
Galvin R: Free.
Mike Lee: But I have seen on your company website that website builder is paid and its rate is $3.95 Per Month (Drag & Drop).
Galvin R: GreenGeeks offers multiple site builders included with our hosting services, these include RV Site Builder, WordPress, Drupal, Magento and more. Recently we have started developing a newly advanced site builder that is similar to Wix and/or Weebly that we will include a basic 3-page version for free with our hosting plans. This new Site Builder will then have additional paid functionality based on the features customers may require. https://greengeeks.com/website-builder/
Mike Lee: Does GreenGeeks offer a Content Delivery Network (CDN)?
Galvin R: Yes, we do offer.You can check our plans at: https://www.greengee…b/6152/cloudflare-cdn-pricing/CloudFlare CDN Pricing – GreenGeeks®
Galvin R: I hope I was of assistance to you. Is there anything else I can help you with today? Please rate us by pressing the relevant thumb impression on the top of your chat window before terminating the chat session and complete the feedback once you terminate this chat session.
Mike Lee: May I know in which year Greengeeks started the hosting business?
Galvin R: We are in the business since 2008.
Mike Lee: Yes, sure. Thank you for your help.
Galvin R: Thank you very much for chatting with us today. We hope the rest of your day is an excellent one.
Galvin R: Please rate us by pressing the relevant thumb impression on the top of your chat window before terminating the chat session and complete the feedback once you terminate this chat session.
Mike Lee: It is really nice talking with you, Galvin.
Galvin R: Same here Mike.
Featured Services of GreenGeeks DNS, Control Panel, SSH, SSL, FTP and Website Builder
GreenGeeks DNS
Having your own private DNS is possible through GreenGeeks. The company provides numerous hosting packages, and any third party hosted domain can be pointed to GreenGeeks server.
GreenGeeks Control Panel
Instead of some custom-built control panel, all customers are provided with the new version of cPanel regardless of their hosting plan. There is no doubt that it is the most well-known type of control panel making life simpler for many webmasters.
GreenGeeks SSL
The SSL (Secure Socket Layer) protection provides incomparable security to the entire data of a web page. It also helps to transfer data securely through the servers. The GreenGeeks SSL is a good choice for ECommerce store and businesses that perform online transactions.
GreenGeeks SSH
The secure shell is necessary to provide a protection shield to the web page against harmful files. Many users have an amazing experience of GreenGeeks SSH for better website security. The GreenGeeks SSH is recommended to transfer data securely from one path to another.
GreenGeeks FTP
The time taken to upload and download files to servers is a point of concern for many webmasters and web developers. The GreenGeeks FTP works efficiently and users are able to transfer their files easily through GreenGeeks FTP.
GreenGeeks Website Builder
Building a website can be too complicated or amazingly simple. GreenGeeks website builder offers free templates and easy drag and drops features for webmasters to build their websites easily. Besides, the mobile friendly feature is ready with their responsive template.
GreenGeeks Reviews on Uptime and Server Status
Uptime Stats
The 99.9% uptime makes GreenGeeks stand out from many other web hosting services providers. Despite the tough competition, GreenGeeks uptime remains at a high level although some downtime is expected. Generally, the speed of website hosted on GreenGeeks is fairly good. The user won't face too much of server issues.
Many GreenGeeks reviews are showing positive feedbacks about GreenGeeks uptime and speed performance. The GreenGeeks server status details are provided to users on regular basis. These details include server updates, the speed with respect to time, and improvements that need to be made.

Uptime Stats – Target: 99.9%
July 2017 – 100%
June 2017 – 99.96%
May 2017 – 99.93%
April 2017 – 100%
March 2017 – 99.97%
February 2017 – 100%
January 2017 – 100%
December 2016 – 100%
November 2016 – 99.91%
October 2016 – 100%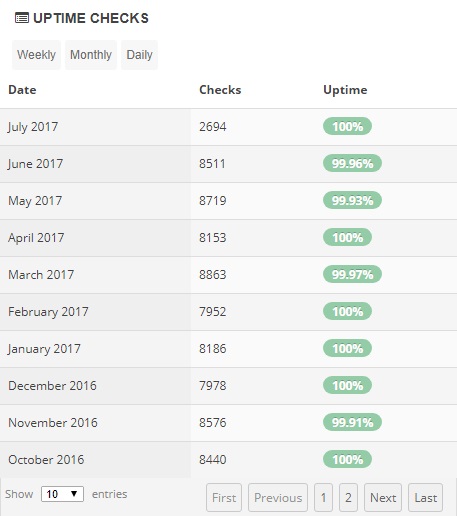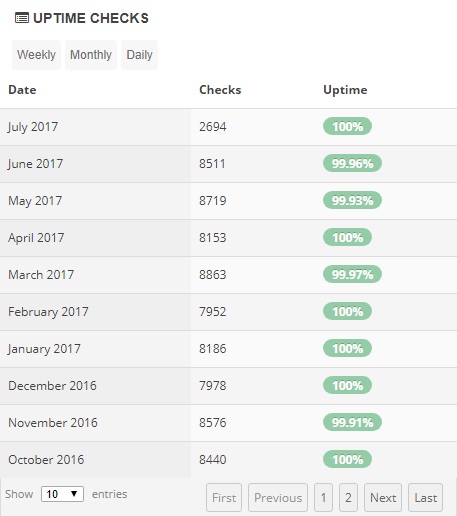 GreenGeeks claims to provide 99.9% uptime to their all clients. So I decided to check their uptime performance by my own and, then share the experience to all those who are in search to buy a new hosting for their website. I started to observe their stats from October 2016 to July 2017. I also shared the picture of GreenGeeks uptime performance and this company achieved their target in 10 out of 10 months.
GreenGreeks uptime performance was up to the mark in all 10 months. Hence, this company has fulfilled their claim most of the times and the average uptime of GreenGeeks in the period of 10 months is 99.98%.
Note: Visitors can also bookmark our website if they want to keep in touch with latest performances of uptime stats.
Server Response Speed Test
When choosing any hosting for your website, then speed plays a very important role especially for the client. I decided to test the server speed response of GreenGeeks in order to check whether they are providing fast speed or not. This company claims to provide a fast server speed. I pinged a GreenGeeks hosted website from diverse locations.
This company is providing an outstanding server response speed which you can see in the picture given below. GreenGeeks server response speed overall rating is excellent as it comes out as A+.

Good and Bad of GreenGeeks
Good
The use of energy-efficient hardware by minimizing carbon footprint.
Excellent customer support services for everyone.
The cPanel customized tools are worth trying.
Email services offered by the GreenGeeks are commendable.
Server uptime and speed performance are better than many other web hosting companies.
Bad
The shared plan is not recommended for the websites that stream video and audio files.
Does not provide free SSL
Dedicated IP solution is more expensive than other web hosting firms
Summary of GreenGeeks
GreenGeeks is a popular web hosting service provider. The company has many good reviews about the services, performance, and its competitive prices. Therefore, it has become the first choice of many webmasters today. These GreenGeeks reviews are based on trusted information easily available from top sites on search engines.
The company offers random discounts on each of their hosting plans. The email services provided by GreenGeeks are stable, and the latest technologies have been used to develop the email services platform. Like many other good web hosting firms, GreenGeeks also implemented cPanel.
This control panel is the top choice of many website owners across the globe. The company hasn't left any stone unturned to provide ideal SSL and SSH protection to every web page. This works for the users and that's why they are satisfied with the services offered by GreenGeeks. 
The technical and support services offered by the company are really praiseworthy. It is also an experienced firm with ten years of experience in this industry. Experiences make GreenGeeks possible to provide more satisfactory services than startups do. GreenGeeks is recommended for new and experienced bloggers, website owners and business web pages.
It is also an ideal choice for people who are looking for developing websites within a fixed budget. The ratings of this web host platform are also highly consistent on the internet. Therefore, I would suggest this web host to everyone.
Compare GreenGeeks With Our Top Ranked Web Hosts!
SiteGround vs HostGator vs GreenGeeks

GreenGeeks

SiteGround

HostGator
Rating

Rated 4.5 stars

Rated 4.5 stars

Rated 4.5 stars

Price

$3.96/month

$3.95/month

$3.95/month

Criteria