Editor Rating

Rated 3.5 stars

Very Good
---
Reviewed by:

Published on:

Last modified:
---
Our Top Ranked #1 Web Host

Note: This website ReviewPlan.com is hosted on SiteGround
Latest Uptime Stats (Real Records):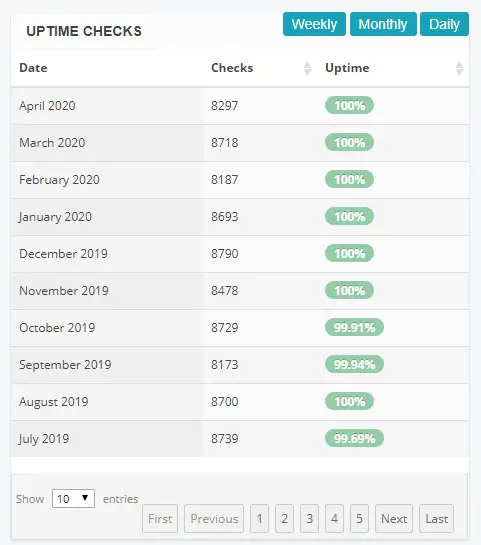 Server Response Speed Test Scored A+: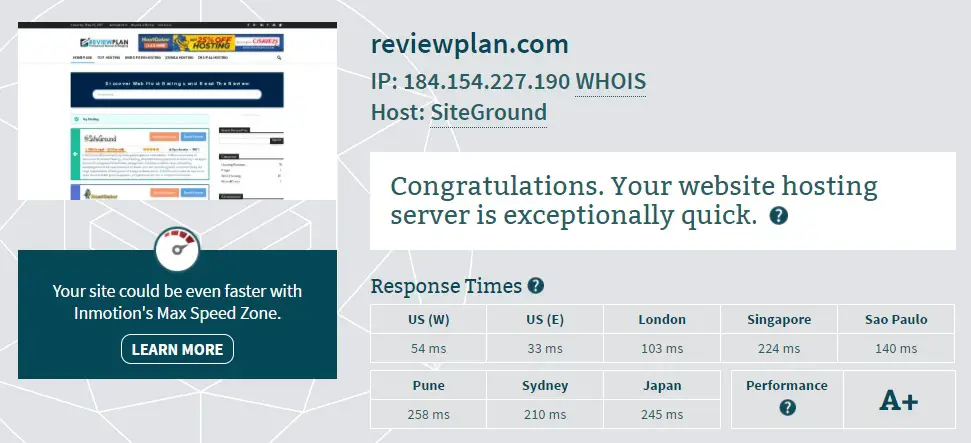 What is Hostexcellence Hosting?
Hostexcellence is a US-based provider of affordable web hosting services located in Ohio. The company is one of the few US-based service providers that actually operate their own private data centres and still offer relatively affordable hosting plans. The company also operates offices in Ukraine, Romania, and India, allowing it to extend its services to customers all over the globe and also offer colocation services for end users located in the ever growing areas of Asia and Eastern Europe.
Hostexcellence might look like a small company but by no means is it one. The company operates like a much smaller entity and focuses intensely on customer service and offering tremendous value for money; this is why ever since the company's formation in the late 1990s Hostexcellence has been able to continue its steady growth while competitors dropped out of the race. But how good are its plans actually? Read the full review to find out.
Hostexcellence Reviews on Hosting Plans and Services
Shared hosting plans perform as the backbone of any affordable hosting service provider and Hostexcellence is no exception. The company offers 3 tiers of pricing: the Basic plan costs USD 3.95 per month for 1 free domain registration and 1 dedicated IP address.
The Business plan costs USD 7.95 per month for 2 free domain registrations and 3 dedicated IP addresses, and the Ultimate Business plan also costs USD 7.95 per month for 3 free domain registrations and 15 dedicated IP addresses.
All shared hosting plans come with unlimited storage space and transfer bandwidth. An important caveat that bears mentioning is that while most budget hosting plans come with "unlimited" resources, users actually find that service speeds and data rates are severely curtailed after certain usage thresholds are exceeded.
This is misdirection and cannot be encouraged. However, it is also standard practice in the hosting industry. Hostexcellence is not alone in engaging in this shady practice and is certainly not the last, so if you just keep this in mind while you are researching hosting plans you will be alright.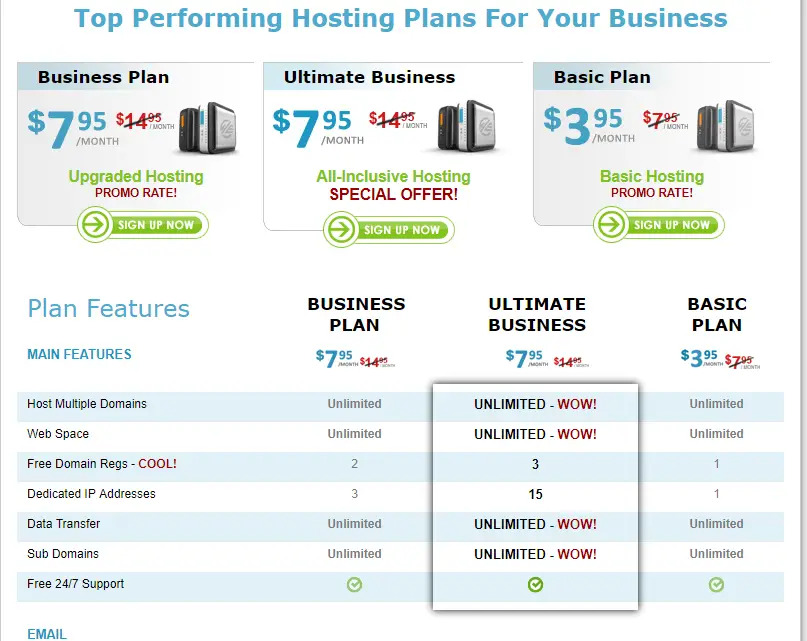 Hostexcellence Website Builder
If you are just getting started with web hosting, you can also choose to go with the very usable HE Website Builder from Hostexcellence. The company's custom-built website building software is extremely easy to use and does not require you to have any knowledge of coding to design your very own website. With complete drag and drop support, you can now completely sidestep having to hire a web designer or web developer.
With the HE Website Builder, designing your own website is now a breeze. With tons of templates to get you started, you can design a fully professional looking website with absolutely minimal effort. The Website Builder also allows you create responsive design websites that are optimized for mobile and tablet devices as well. You can also select search engine optimization settings from within the design interface itself. The HE Website Builder tool is available for USD 5 per month.
Hostexcellence Reviews on VPS Hosting Plan
If shared hosting is too underpowered for your liking, you can give the company's VPS hosting plans a look. Cloud-based hosting platforms offer the superior performance of dedicated hardware resources as well as the flexibility of resource allocation, which allows users to dynamically scale their performance as per demand.
Powered by Virtuozzo virtualization technology for guaranteed and error-free resource allocation and responsive performance, VPS plans form Hostexcellence certainly offer high-end performance at affordable price points.
There are 2 Linux based VPS hosting plans: for USD 54.95 per month you get 50 GB of storage space, 1.5 TB of monthly transfer bandwidth, 768 MB of guaranteed burstable RAM, and 4 virtual processing cores; for USD 89.95 per month you get 100 GB of storage space, 2 TB of monthly transfer bandwidth, 2048 MB of guaranteed burstable RAM, and 8 virtual processing cores.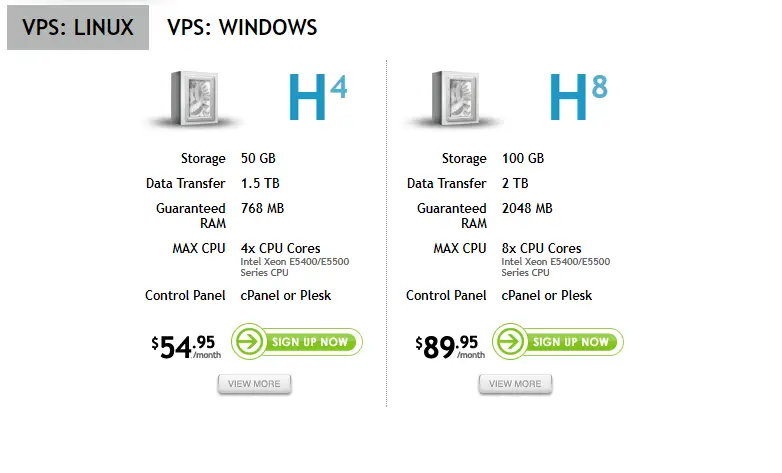 Control panel interfaces are provided by cPanel and Plesk depending upon your preference. If you want Windows as your operating system, the corresponding plans cost USD 69.95 per month and USD 104.95 per month. Windows VPS plans come with the Plesk 10 control panel interface. All VPS hosting plans come with 2 dedicated IP addresses, unlimited hosted domains and subdomains, and fully accessible via root or administrator privileges.
Hostexcellence Reviews on WordPress Hosting

Hostexcellence does not offer dedicated "WordPress hosting" plans. While specialised hosting plans are definitely a thing, those priced at the budget end are almost universally useless. So save your money and go with a standard shared hosting plan if budget hosting is what you need. You can definitely use WordPress on all major hosting platforms. WordPress is one of the biggest CMSs in use today and compatibility is guaranteed.
Hostexcellence Reviews on Support and Customer Service
Hostexcellence prides itself on its customer service and it is easy to see why. The company has invested significantly in customer service and it shows; issues are dealt with expeditiousness and handled gracefully.
The technical support is extremely effective, with support personnel delivering solutions to even the most complex issues in a reasonable time frame. Wait times are low and service is something to write home about. This is probably the great customer service you can get without shelling out a fortune on personal or dedicated server plans.
Hostexcellence Reviews on Uptime Performance and Server Status
Hostexcellence servers struggle with reliability, especially when compared to the market leaders. It is not bad by any terms and unless you are obsessively monitoring server status updates, you will hardly notice it.
But if you hosting venture requires absolutely guaranteed uptime, you should probably look elsewhere. For the prices the company charges, its uptime guarantees are completely reasonable as long you keep your expectations the same.
Good and Bad of Hostexcellence
Good
Good spread of hosting solutions
Affordable prices on all platforms
Excellent customer service
Good server performance
Excellent reliability
Bad
No private cloud plans
No dedicated WordPress plans
Summary of Hostexcellence
Hostexcellence is the way to go for most users. The company offers a decent amount of service for a decent price and we cannot find any significant faults with its offerings. Happy hosting!
Compare Hostexcellence With Our Top Ranked Web Hosts!
SiteGround vs HostGator vs Hostexcellence

SiteGround

HostGator

Hostexcellence
Rating

Rated 5 stars

Rated 4.5 stars

Rated 3.5 stars

Price

$3.95/month

$3.95/month

$3.95/month

Criteria