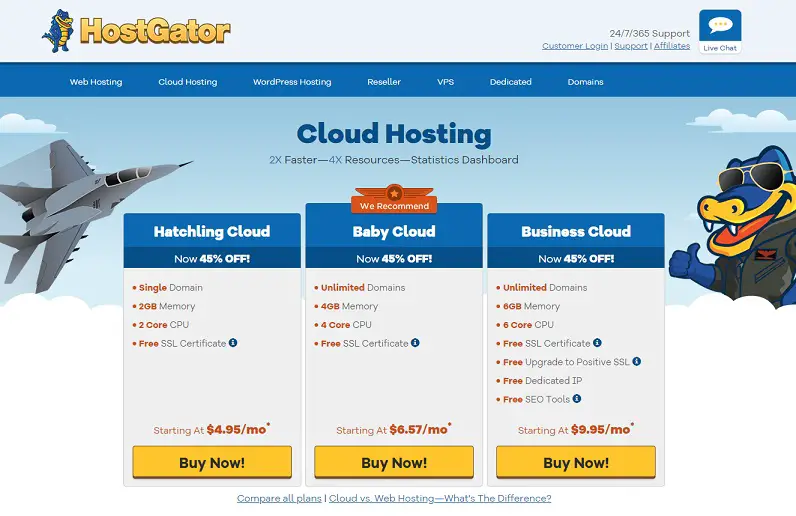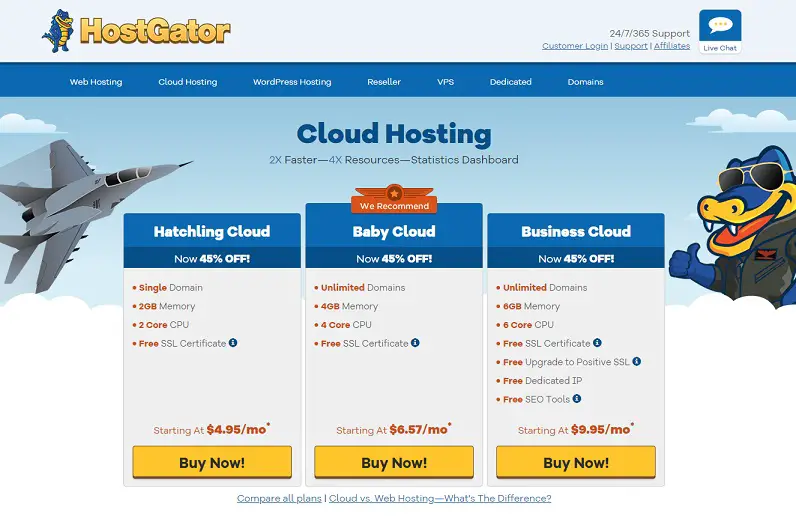 DISCLOSURE: This post may contain affiliate links, meaning when you click the links and make a purchase, we receive a commission.
HostGator is now the talk of the town among webmasters all over the world. At this point, they have over 9 million domain registered to them. In a way, they make up 1% of the world's internet traffic. This is a terrific achievement. They have not just stopped there.
They are making a tremendous progress with time. Now, they are being recommended on the internet as one of the best hosting providers. They offer a wide range of hosting services including shared, dedicated, VPS, cloud, reseller hosting services.
Recently, there seems to be an increasing interest in their cloud hosting service. As a result, we have jotted down this post to let you know all about the HostGator cloud hosting service. If you were searching for this post then you can start reading the rest of it to know some insider information about HostGator.
Let's get down to the business…
Check HostGator Cloud Hosting Details Here
HostGator Cloud Hosting Review
What is Cloud Hosting?
Cloud hosting is a newly added concept in the web hosting industry. This is actually an improved version of the conventional shared hosting solution. For this, web hosting providers use a network of multiple physical servers to draw the required resources for a number of virtual servers.
Those virtual servers simultaneously use the required resources (Bandwidth, RAM, CPU etc.) from all the available physical servers. That way, you are not limited to using only one server. And, those virtual servers are known as cloud servers. This system gives so much flexibility to the users.
Additionally, any users can add supplementary resources during traffic spikes. In that case, there is no possibility of a server crash due to a heavy load of traffic from time to time. Another perk of using cloud hosting is that you will enjoy way faster performance compared to shared hosting service.
Now, let's know about the packages of HostGator cloud hosting plans.
HostGator Cloud Hosting Plans:
What do we like about the packages of the cloud hosting service of HostGator beside their affordable price range? The simplicity of the representation of those plans. HostGator didn't make it complex with a myriad of hosting plans.
Rather, they have kept it into just 3 plans. The cloud hosting plans are known as Hatchling Cloud, Baby Cloud, and Business Cloud. These plans come with very different features. Yet, you can pick your favorite one based on your requirements quite easily.
So, let's take a glimpse into those plans.
This is the basic one. You have to pay at least 4.95$ each month for this plan. In exchange, you will get 2 GB RAM, 2 Core CPU, unmetered bandwidth and unlimited Storage Space. Unfortunately, you will not receive any dedicated IP with this plan.
Everything is good about this plan except for one thing. With this plan, you are able to host only 1 website on your hosting account. This might be a hindrance for some of the users. However, if you are looking to host more than one sites at once then you will find the suitable packages below.
The 'Baby Cloud' plan is a popular package among the users of all kind. Because it is not that costly. And, at the same time, it comes with all the very important features. Even HostGator officially recommends this package to their customers.
If you want this plan then you have to spend at least 7.95$ per month. You will receive 4 GB RAM, 4 Cores CPU, unmetered Bandwidth and unmetered Disk Space. If you want to have a dedicated IP with this package then you have to pay an additional 2$ per month. But, the best thing about this plan is that you are allowed to have unlimited websites hosted on your server.
The 'Business Cloud' plan will cost you the most. For this plan, you will have to spend at least 9.95$ per month. But, you will be receiving 6 cores CPU, 6 GB RAM, unlimited disk space, and unmetered Bandwidth in return. Additionally, you will also receive a dedicated IP with your package.
Like the 'Baby Cloud' plan, you will be able to host unlimited websites using this particular package. Plus, you are allowed to upgrade to positive SSL. And, you will also receive a number of SEO Tools developed by HostGator along with all other features. This plan might cost you the most but in truth, it will save you a lot in the long run.
You should be aware that all the prices we mentioned here are discounted price. And the discount depends on the specific packages and the time period you are going to buy the package for. If you want to get the highest discount possible, then you will have to buy the packages for the highest period of time (e.g. For 3 years at once).
Added to that, you will be given this discount only on your first time purchase. The discounted price is not available on the renewal of plans. With all the 3 plans you will be provided with a lot of features and services. We will be discussing them later on this very post.
Prior to that, let's see if Cloud hosting is for you or not.
Who should use the HostGator Cloud Hosting Plans?
Cloud hosting is becoming more and more popular these days among web pros. If you want to use the cloud hosting service of HostGator you are free to do so. Anybody is allowed to get their cloud hosting service.
But, it will be helpful for people who have websites which receive a surge in traffics from time to time. Let's say you have an online shop. During the Christmas, there's a possibility that you will receive more than normal visitors on your site. If you use any general hosting solution, your site would probably crash during that time.
In those situations, cloud hosting can be of great help. Again if you have a website where you run sales, promotions or different campaigns. Due to that, you can get a huge number of visitors coming to your site on a particular date as well. Then you can use cloud hosting to sort out the problem of sudden traffic surge on your website.
Or else, if you have a website for which the uptime is very much vital, you can also give it a try. As the cloud servers depend on more than one physical servers at a time, there is less possibility of a downtime on a regular basis.
If you are techy and own a number of websites of different kinds then you will love cloud hosting. First off, you will receive all kinds of data and metrics about the traffic of your website visitors directly to your cPanel. As a techy, you will find them pretty useful. From those data, you can take a different approach in reaching your visitors.
Last but not the least, even for non-techy users, cloud hosting can be a great way to start your online journey. As everything on your server will be already set up, you don't have to deal with a lot of extra tasks. You will be given intuitive and easy to use tools to manage your hosting environment. So, you can use them without any prior experience about web hosting.
Plus, all the must-have security measures will already be in place on a cloud server. So, for any non-techy or busy users, it is a time saver. You don't have to worry about the security of your websites. On the flip side, you can focus on creating awesome and helpful contents for your website/blog visitors.
There are more advantages of cloud hosting service. You will find more about this on the rest of the article.
Great for hosting what applications?
For webmasters, the first thing to do after buying and setting up your hosting and domain is to install your favorite CMS on your hosting. So far, over hundreds of CMS/web applications has been released. Among them, you might have heard of WordPress, Drupal, Joomla, Magento, PrestaShop etc.
If your web hosting company does not support any particular CMS (Content Management System) then you are in jeopardy. So, it is better to know about your web hosting's compatibility with all types of CMSs.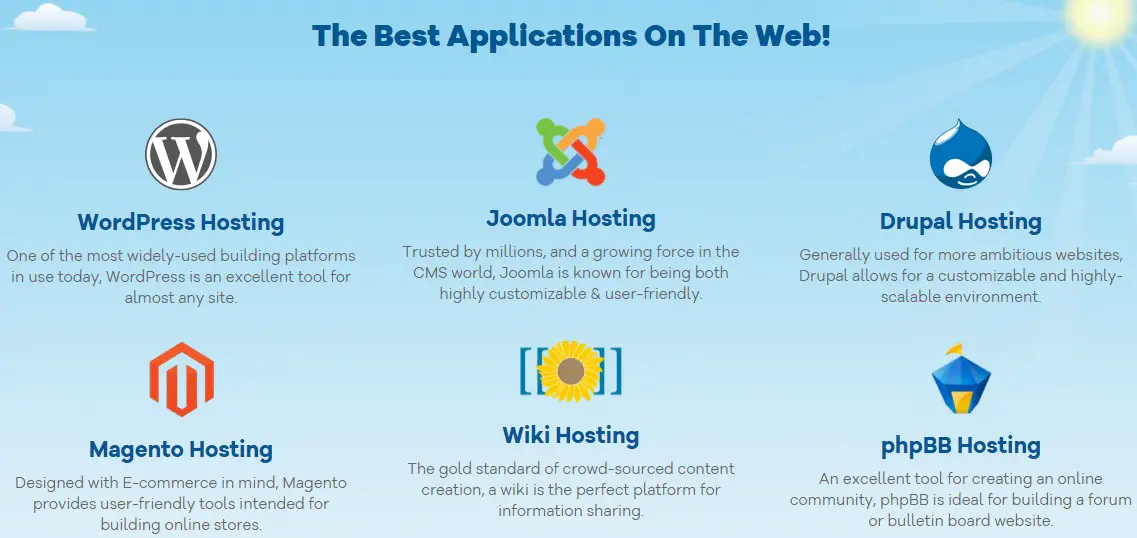 Luckily, HostGator is prepared for this. They are compatible with most of the CMSs available out there. Along with that, they also offer custom-developed software and plugins for the popular CMSs like the Joomla, WordPress, and Drupal etc.
You can install any web applications with just a few clicks. HostGator will pre-install their very powerful auto installer tool named 'QuickInstall' on your cPanel. So, by using that you can install over 75 scripts on your website at any time. Other than that you are always able to install any scripts manually. You will be able to do that using your FTP accounts from the cPanel. HostGator offers unlimited FTP accounts for this type of tasks.
You will also be provided with the famous auto-updater tool. This tool will help you to be worry-free all the time. As you know, updating your CMS on the minute a new update comes is very crucial. Or else, your website might be hacked as an outdated version of any CMS is vulnerable to malicious cyber-attacks. That's why the auto-updater tool will save you from danger by updating your CMS instantly when a new update is released.
With all these features, we can finally say that, whatever CMS/web applications you are going to use, HostGator will be a perfect fit for you.
Services of HostGator Cloud Hosting:
HostGator has numerous useful services which are included in their cloud hosting service. We will take you on a short tour explaining some of them.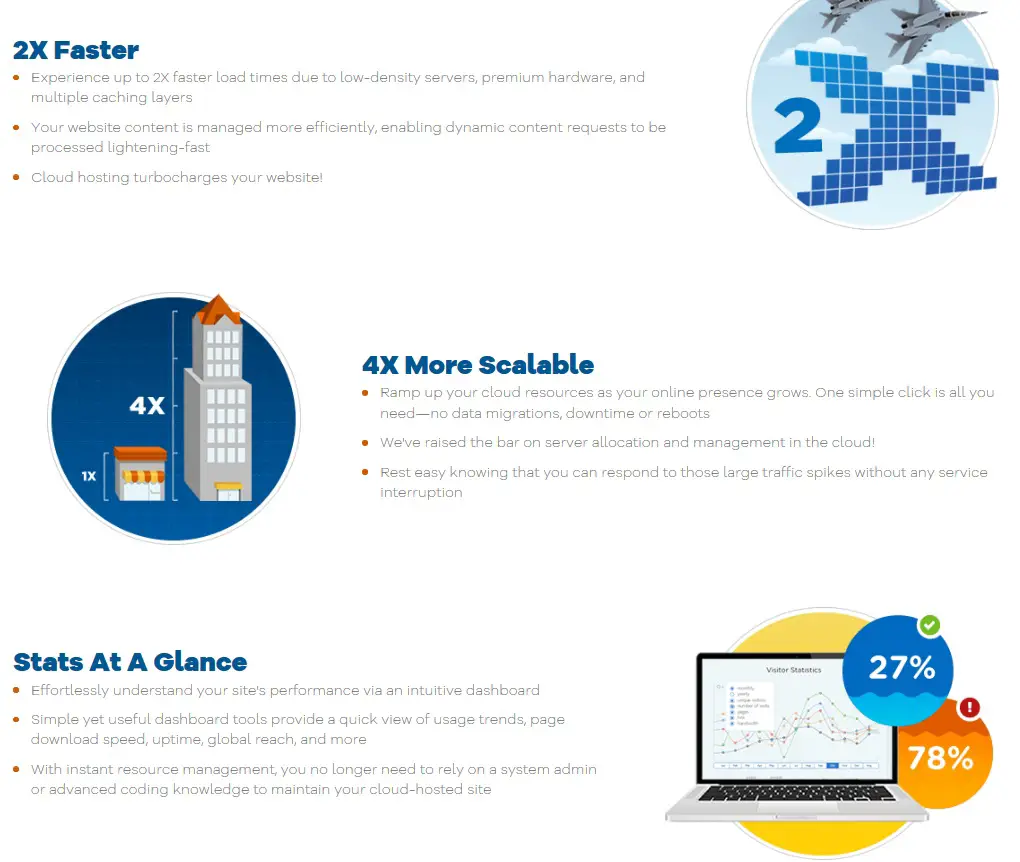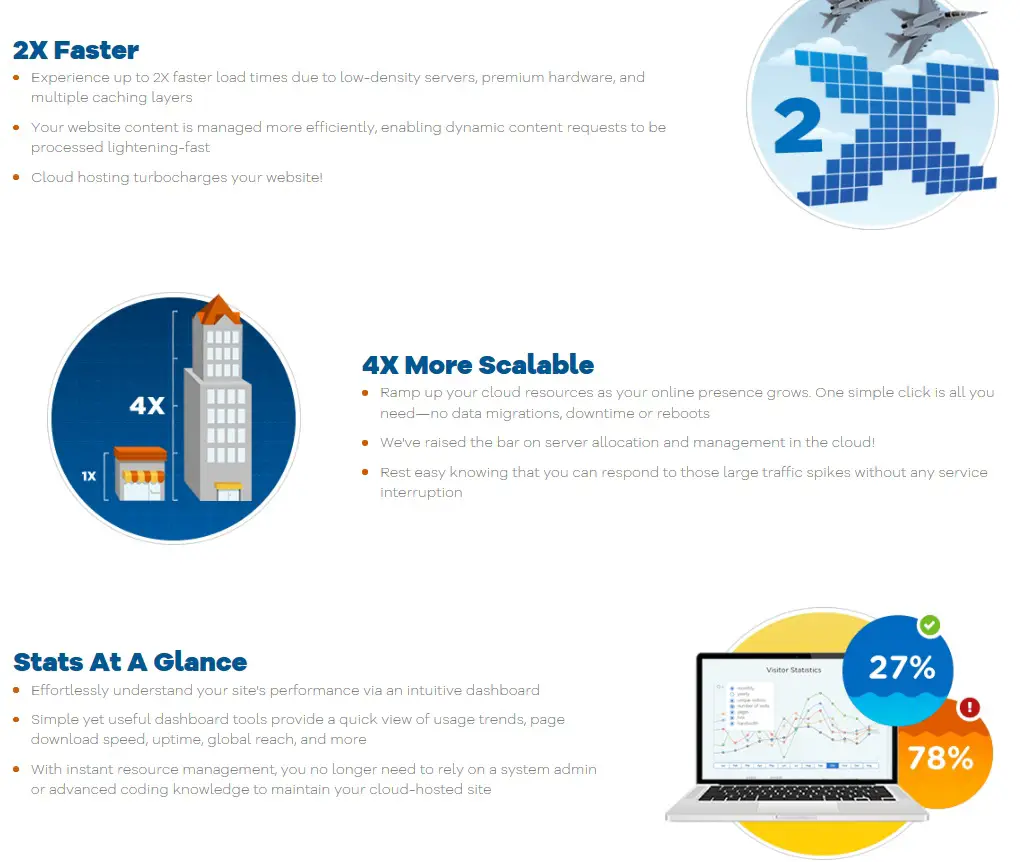 Cloud hosting of HostGator offers up to 2X faster load time compared to normal shared hosting. As the servers use premium hardware and are of low-density. So, your website will be loaded in a blink of an eye if you use cloud hosting service of HostGator.
As you already have come to know that cloud hosting is popular because of its scalability. With the help of HostGator's cloud hosting, you are free to scale up or down your hosting resources at any given moment. The best part is that there will be no need to reboot your servers. As a consequence, your website will be up all the time even when you are adding or removing resources from your live server.
Stable server during large traffic spike:
If you have used shared hosting, then you should know that when there is a spike in traffic on your server, there's a possibility that your sites/s could go down. As you can ramp up resources to your cloud server on the go, there will be no such interruptions. It is an awesome service from HostGator cloud service.
Interactive site performance dashboard:
HostGator provide a simple dashboard with each cloud hosting plans. You can find out all about your sites' performance from just taking a glance at the dashboard. It will help you to know about data regarding page download speed, global reach, uptime, usage trends etc. It might seem simple to you yet it is a very powerful tool to have on your arsenal.
Having an SSL certificate can be the difference between a secure site and a site which is unsafe for any visitors. Recently, Google shows an 'insecure' warning for the sites without any SSL certification on Chrome browser. Thus, if you don't have SSL encryption on your site, then people will tend to believe that your site is insecure for them. And, they will not visit your site.
An SSL certificate is costly. But, HostGator is giving away an SSL certificate with each of your domains hosted on HostGator for free. This is a game changer for the web pros.
Features of HostGator Cloud Hosting Service:
All the cloud hosting plans also come with a number of useful features as well. We will talk about some of them here.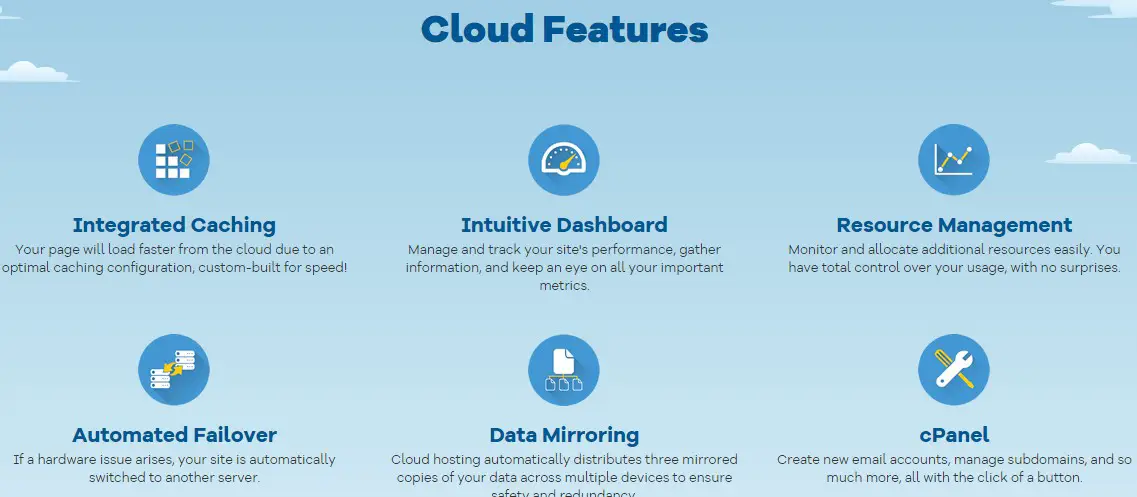 HostGator has developed a custom-built caching system which is integrated with each cloud hosting account. With the help of this system, your sites' contents will be delivered to your visitors' browser from the cloud servers faster than usual.
Easy Resource Management:
Whenever you need to add additional resources to your server, you are just a few clicks behind. With the intuitive resource management tool, you can monitor and allocate the right number of resources to your servers in an instant. You don't even need to be a professional.
As the resources are drawn from multiple servers at once, you are always secure. Whenever any issues arise on any of the servers, your website will be automatically switched to another server without any interruption.
Your website contents may get compromised at any time due to an unavoidable circumstance. To tackle this problem, HostGator keep 3 different copies of your site/s across multiple devices. That way, your data will be safe and secure. And, even if one source goes out of service, you have another 2 backups.
Testing the website load speed of HostGator:
Before you make your final decision, we would like to conduct a speed test of HostGator. Thus, we will be using a website hosted on HostGator as the test subject. And, we will get the help to perform this test from Pingdom.
Pingdom is a website which has a very cool speed tester tool for websites. They have several test servers all around the world. For the purpose of this post, we will be using their San Francisco, USA server. With the help of that, we will be able to get to know about the performance of HostGator's servers. So, let's run the test.
Pingdom test from the USA (San Francisco) server:

The result of the test: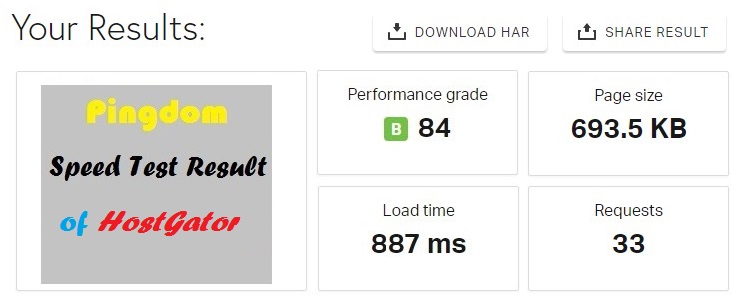 Result Breakdown:
The most important part of the result is 'Load Time'. The load time of a website indicates the amount of time it took to load the website completely on a visitor's browser. It is understandable that we want to have the fastest load sped from our websites. However, that is not always possible because of a lot of different factors.
Thus, there is an unofficial rule that if a website loads within 2 seconds then it is very good for the website owner. Then visitors will want to stay on that website. But, the lesser the load time, the better.
So, from our test, we can see that the load time of a site hosted on HostGator was 887 ms. That is definitely a sign of high-quality servers. The site was loaded very fast if you compare it with the standard load time of 2 seconds. So, we are very pleased with this result from HostGator.
Uptime Record of HostGator:
If you are not thinking about the uptime record of the web hosting company you are going to use in future then you are making a grave mistake. If your future web hosting company doesn't have uptime record above 99% then you should rethink about your choice.
In the online world, having 99%+ uptime is the standard. Because whenever your site goes down even for a few minutes, you will lose visitors. And, sadly among them, some visitors won't ever come back to your site. They would think that your site is closed forever. Added to that, you are losing brand new visitors as well.
And, it also affects your site's ranking on the search engines. If your site is down and a search engine sends traffic to your site, then the search engine will demote the ranking of your site. So, website uptime is indeed a crucial part of your site.
To get an idea about the uptime of HostGator we have given a visit to their official website. We have seen that they are insisting that they have 99%+ uptime. It wasn't surprising to us. Because it is very typical of the hosting providers to make false claims about their uptime.
Thus we have taken another approach to make sure to know the authentic uptime record of HostGator. We have got a hosting account with HostGator and hosted a test site. Later, we have started to closely monitor the up and downtime status of our test site. And, we have been doing this for a long time.
To help you find out about HostGator's real uptime record, we will reveal the information to you. Let's take a look at the screenshot below.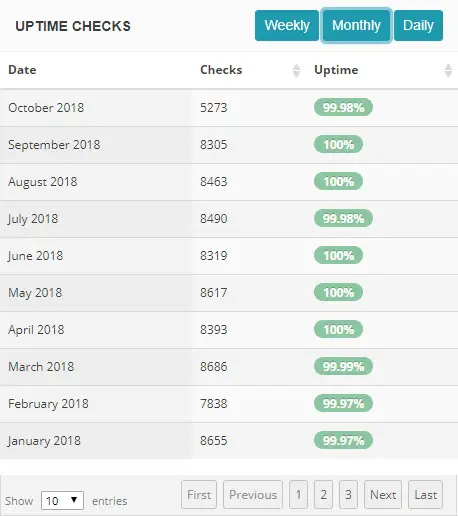 This is the uptime report (of last 10 months) of our test site hosted on HostGator. From this, you can judge it on your own.
We were over the moon when we found out that HostGator actually was able to keep the uptime above 99%+ on average. On top of that, they have actually kept a 100% uptime for a lot of months. This was really unbelievable.
Again, it wouldn't be a just review if we don't mention about the downtime too. We have found out that on some months the site was down for a little bit of time. It is actually bearable as there is not a single web hosting provider that guarantees 100% uptime. Overall, we have been pretty happy by that performance of HostGator.
HostGator Support:
HostGator has a great customer support team. They are a company which is reputed for their professional support team. Not only that but also they response so faster compared to other popular web hosting companies. HostGator offer 24/7/365 customer support. That simply means you will find them always with you.
However, that's just the tip of the iceberg. HostGator has a gigantic collection of helpful articles and videos on their website. You will find about 680 tutorials and 550+ video tutorials on their YouTube channel. Also, they have an extensive FAQ section dedicated to most of the common problems associated with web hosting management. So, chances are that you might not even have to contact them at all.

Although, if you need to contact them, you have all different ways to do that. So get in touch using the methods cited below.
Live Chat
Submit a Ticket
Direct Call
Email
Fax
Special Bill Manage Section
You can see that there are a plethora of ways to get in touch with HostGator. For swift reply on your queries, you can use the direct call or live chat options. And, for any specific problems, you should use the ticket system. That way, your problem will be sorted out faster.
It doesn't matter whatever the way you use, it is guaranteed that you will receive a response within the shortest possible time. Each and every support personnel is very high-skilled on their job. They can assess your issues as well as find the solutions promptly. So, you don't even have to be on the line for a long time.
A good customer support team is an asset to any company. HostGator knows that the customers are the soul of their company. Thus, they treat all of their customers equally. We have got to contact them on a couple of occasions. And, we were amazed by their efficiency. So, it is inevitable that you will also get a similar experience with them.
Wrapping it up: Should you consider using HostGator Cloud Web Hosting?
Our straightforward response is that you should use HostGator Cloud Hosting service.
They offer a lot of features and services with their cloud hosting packages. Yet, the prices of those plans are very budget-friendly. And, they have made the selection process of the plans very simple so you won't be daunted while choosing your preferred plan.
Apart from these, you are also getting industry-standard uptime and a professional support team always available to you. They have great servers which offer a faster response on their customer' websites. And, that reflects on the load speed of the user's blogs and websites as well.
This is not a coincidence that everybody is recommending HostGator for a long time. It is clear that HostGator actually is a superior web hosting company when it comes to uptime, load speed, customer support, and affordable but feature-rich plans. So, you can't go wrong when you are choosing the HostGator cloud hosting service for your websites.
Check HostGator Cloud Hosting Details Here