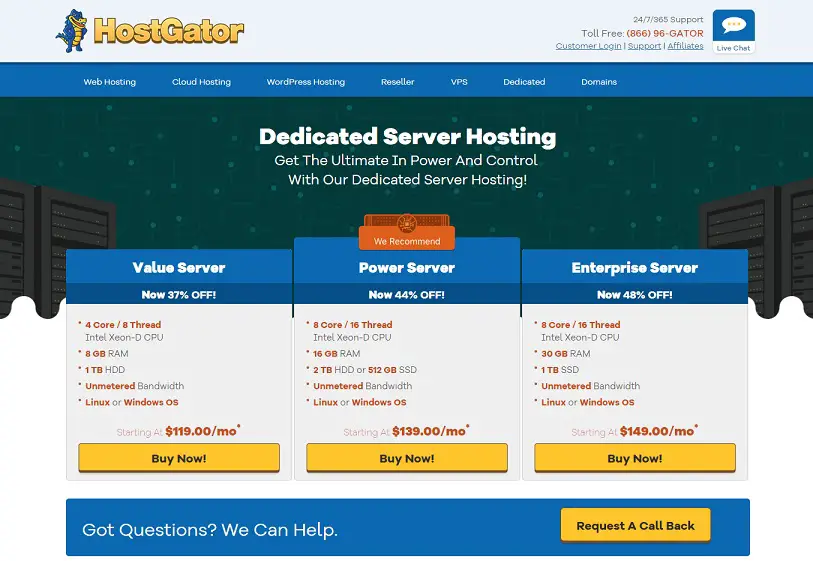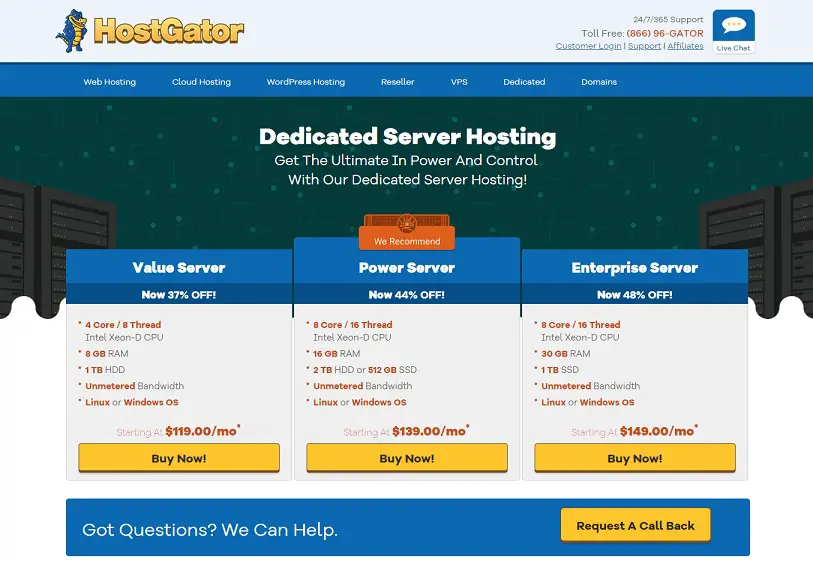 DISCLOSURE: This post may contain affiliate links, meaning when you click the links and make a purchase, we receive a commission.
HostGator is a leading web hosting provider company in the world right now. Since 2002, they are providing webmasters from all around the world with a wide variety of web hosting services.
Their services include from shared hosting, cloud hosting, VPS hosting, reseller hosting to custom dedicated hosting service. If you're not satisfied with your current hosting plan or you're receiving so much visitors that the current plan is not suitable for you anymore. You can switch to the dedicated hosting service of HostGator.
For our readers who are interested in the dedicated hosting service, we have compiled this post with a lot of great information about HostGator Dedicated Hosting service.
So, shall we begin?
Check HostGator Dedicated Hosting Details Here
HostGator Dedicated Hosting Review
What is Dedicated Hosting Service?
Let's cut to the chase here. Dedicated hosting is the type of hosting where you are renting an entire server from the web hosting provider company. This is one of the most powerful hosting services available out there.
You are the sole owner of that particular server. So, that the resources of your server won't be shared with any other users. This type of service is the perfect solution for big websites which receive a load of traffics.
If you want to enjoy maximum installation, customization, everlasting flexibility, and no limits then dedicated server hosting is the best option for you.
HostGator Dedicated Hosting Packages:
HostGator priced their dedicated hosting plans based on the specification of the servers. There are only 3 packages to choose from. You have the 'Value Server, Power server, and Enterprise Server' packages. These are the pre-defined dedicated packages from HostGator.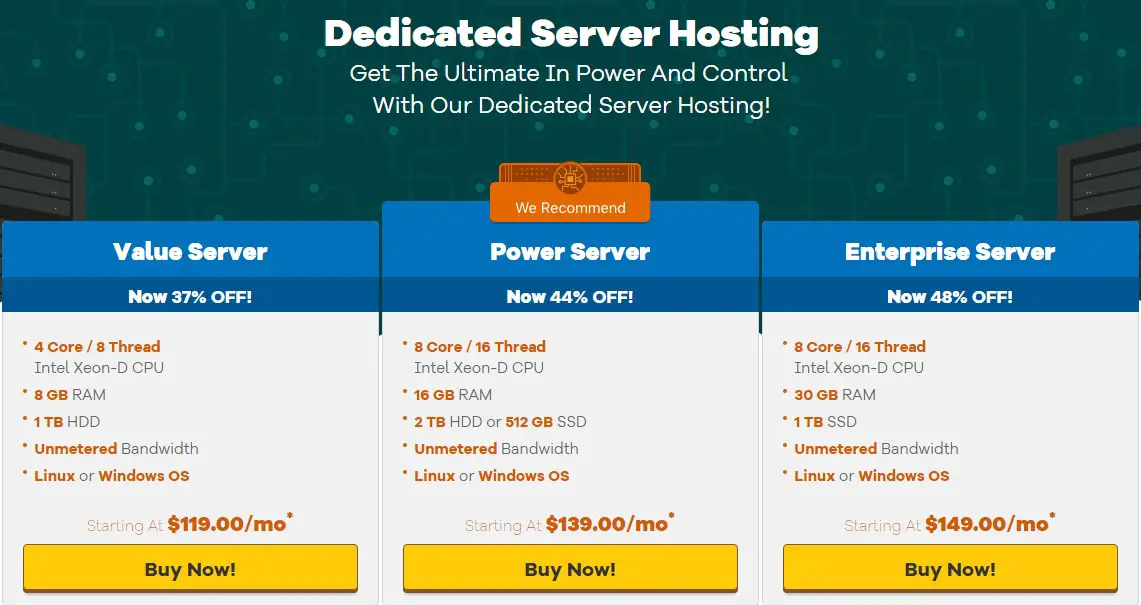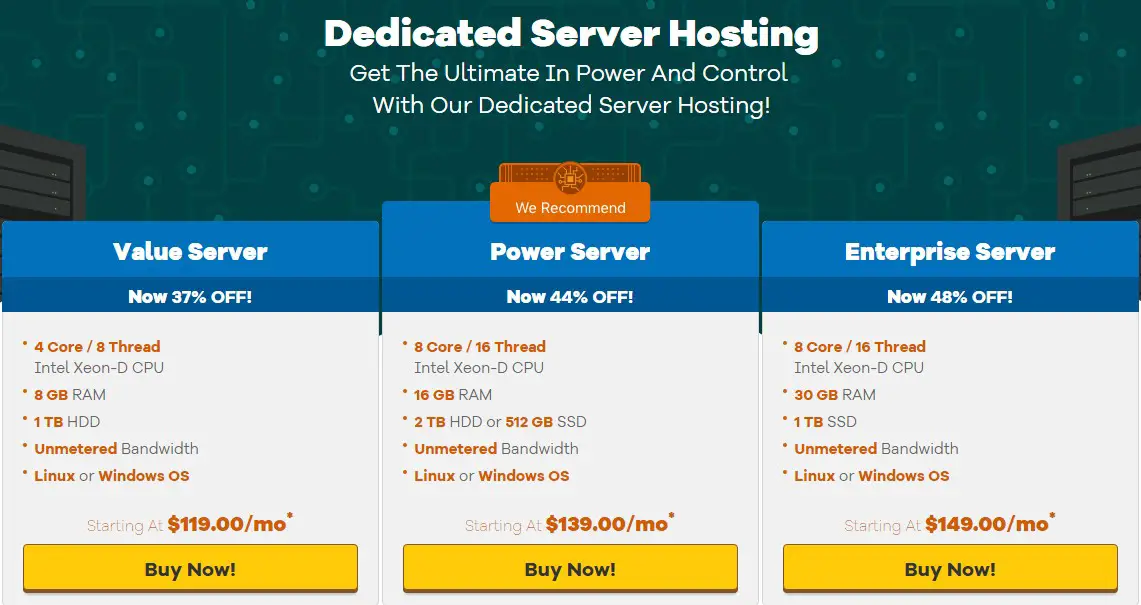 But, if you don't find the specifications of those packages appealing, you can actually create your own custom plans. However, to do that, you have to get in touch with HostGator. Then after letting them know your requirements, they will craft a solution especially for you.
Now, let's go into more detail about all these 3 packages.
If you want to get a dedicated server with a very low price then you have to take a look at this package. It will cost you from 119.00$ per month. You will have a 4 Core/8 Thread Intel Xeon-D CPU, 1 TB Storage space (HDD), 8 GB RAM, and unmetered Bandwidth. This package only lacks the SSD (Solid State Drive) option. You have to use HDD as the storage media on your server.
The most popular package among the dedicated server hosting packages is the 'Power Server' one. This is popular because it has all the advanced features and does not cost that much. So, users love this package. HostGator also recommend this package on their website.
This package is priced at 139.00$/monthly. It includes 16 GB RAM, 8 core/16 thread Intel Xeon-D CPU, 2 TB HDD or 512 GB SSD, and unmetered bandwidth. Here you have to make a very crucial decision.
If you need faster speed then you have to sacrifice on storage by getting SSD. On the flip side, if you need more storage space then you have to go for HDD option instead of SSD. So, you have to choose between 2 TB HDD or 512 GB HDD.
This package has the highest specifications. Thus, it will cost you the most. You have to pay at least 149.00$ each month. And, in return, you will receive a server with 30 GB RAM, 8 Core/16 thread Intel Xeon-D CPU, 1 TB SSD, and unmetered bandwidth. As this is a high-end package, there is no HDD option available in this package.
Applicable for all 3 plans:
With all these features and specifications, you will have the option to choose your preferred operating system. You can choose between Linux and Windows OS. Another important feature is that you can order a full managed server or a semi-managed server. The semi-managed servers will be perfect for developers. This will allow you to customize everything yourself.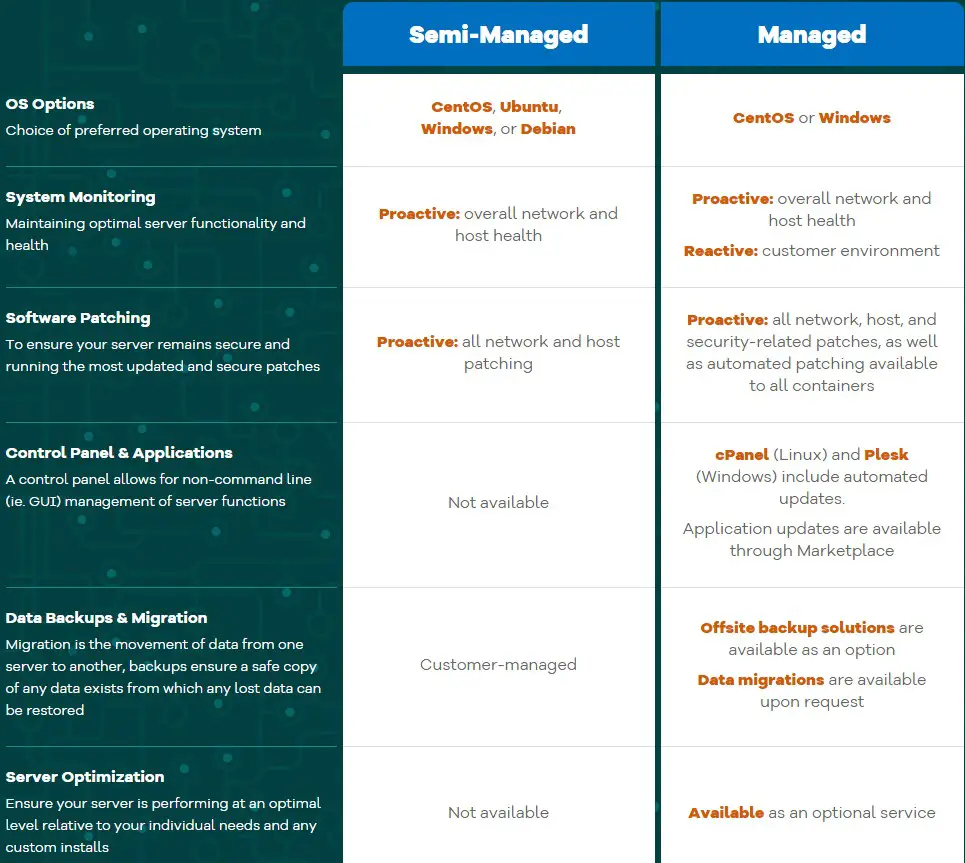 But, the managed servers are suitable for non-techy users. In this system, everything will be managed by the HostGator team except for any custom script installations. Thus, the managed servers cost more than the semi-managed servers.
Another thing to note, these mentioned prices are subject to change. HostGator runs many promotions at their website so it can go up or down at any moment. And, these prices mentioned here are discounted. And, the discount is based on the length of your billing cycle. If you get a package for 3 years then you will get the highest discount. And, it will decrease if the length of the billing cycle shortens.


And, the price of the custom plans will depend on your requirements. Plus, all of the dedicated servers of HostGator are located in the USA. There's no option to choose from multiple server locations.
Who should take the HostGator Dedicated Hosting Plan?
Usually, everyone can use HostGator dedicated hosting. But we would not recommend using dedicated hosting to each and every one. First of all, you know that the price of dedicated servers is higher than any other packages. And, as a result, you are getting more features, services, and benefits in return.
So, if you're just in the beginning of your online journey, you can put it off to use dedicated hosting for now. If you don't receive a lot of traffic on your site then you also don't need to use dedicated hosting.
On the contrary, if you own multiple large websites full of traffic that your current hosting service can't bear the load, you should consider using a dedicated hosting service. Dedicated hosting is suitable for business corporations to run their numerous huge websites from the same server.
If you are a game developer and have an online game already out, you should use dedicated hosting servers for your game. Dedicated hosting will provide stable connection, low latency between the gamers. And you know how important a stable connection in gaming can be.
For the ultimate power users, dedicated hosting is the way to go. There is not any other good alternative for the ultimate power users. We know that professionals like to customize their web hosting according to their needs. And this is easier to do with dedicated servers. As you will be on full control of your server, you can manage your own server and site your way.
However, not all of us are professional or have prior experience in web hosting. So, is it a good idea to go for dedicated hosting then? Fortunately, yes, you don't need to be a highly skilled tech enthusiast to be a dedicated web hosting user of HostGator. As HostGator provides a 'managed' service option with each dedicated hosting packages. If you get the managed dedicated hosting then everything related to your server will be taken care of by the HostGator technical team.
You just have to maintain your blog or business in the meantime. You can use your precious time to create new contents for your sites to grab more readers while the team of HostGator will keep an eye on everything on behalf of you.
Another benefit of HostGator dedicated hosting is that if you're not satisfied with the pre-defined plans, you can order your custom plan according to the needs and requirements of yourself. You have to directly contact them for that. But, it is a valuable option nonetheless.
So, it is likely that when you have a number of large sites, when you want to have full control over your sites and servers or even when you want faster performance from your sites but don't have any budget issues at the same time, your next move should be to start using HostGator dedicated hosting service.
Is it suitable for all the web applications?
There are many web applications out there. Some of us also know them as CMS (Content Management System). If you have not already heard about WordPress, Joomla, Drupal etc. then you might be living under a rock. Nowadays people use different types of CMS to streamline the process of setting up their websites.
But there's a chance that your web host company might not support your favorite web application. To avoid this kind of situations, you should inspect their compatibility with different kind of web applications in the first place. So, what about HostGator?
HostGator helps users to automate almost everything related to any web applications. One example is the 'QuickInstall' tool. Using this powerful tool, you can instantly install about 75 web applications on your website. Although you don't need to use that number of CMSs on your website. Yet this is a great feature of HostGator. Oh and that tool comes pre-installed.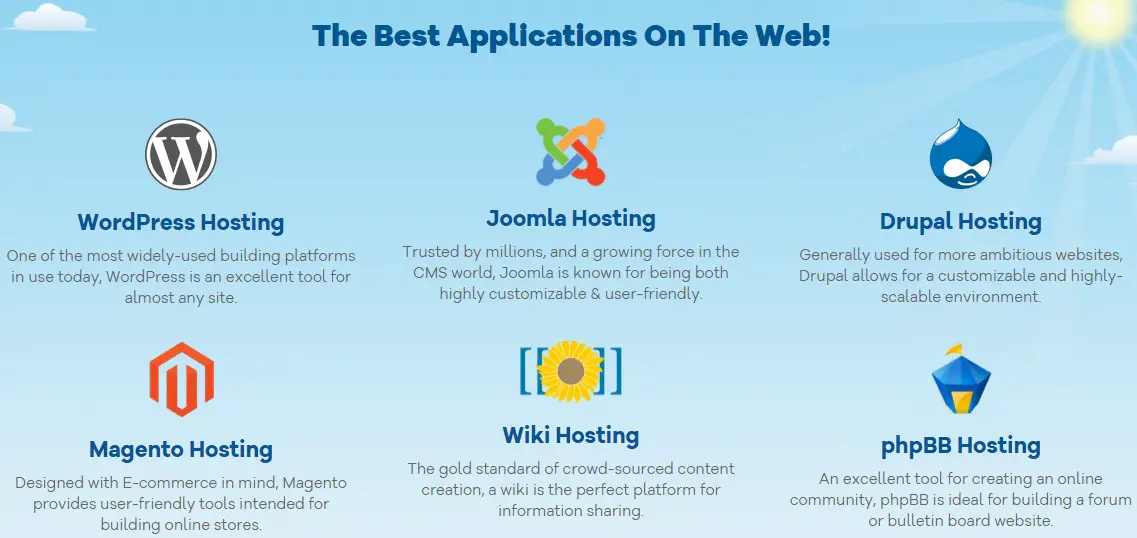 Another great service is that their in-house plug-ins and software specially developed for popular CMS like Joomla, WordPress, Drupal, Magento etc. They also have the local caching system integrated with your account already. That way the contents of your websites can be delivered to the visitors a lot faster than usual.
If you are into trying out different types of themes and plugins then you'll love HostGator. They have a built-in website builder named 'Soholaunch' installed on your hosting account. Using that you can build a website by using just drag and drop. No professional skills are required.
Additionally, you can be free from updating your CMS regularly. As HostGator offers Autoupdater tool which updates any running CMS automatically when a new update is released. Long story short, HostGator is optimized and perfect for using any web applications on your website.
Services of HostGator Dedicated Hosting Plans:
Let's talk about some services of the dedicated server hosting of HostGator.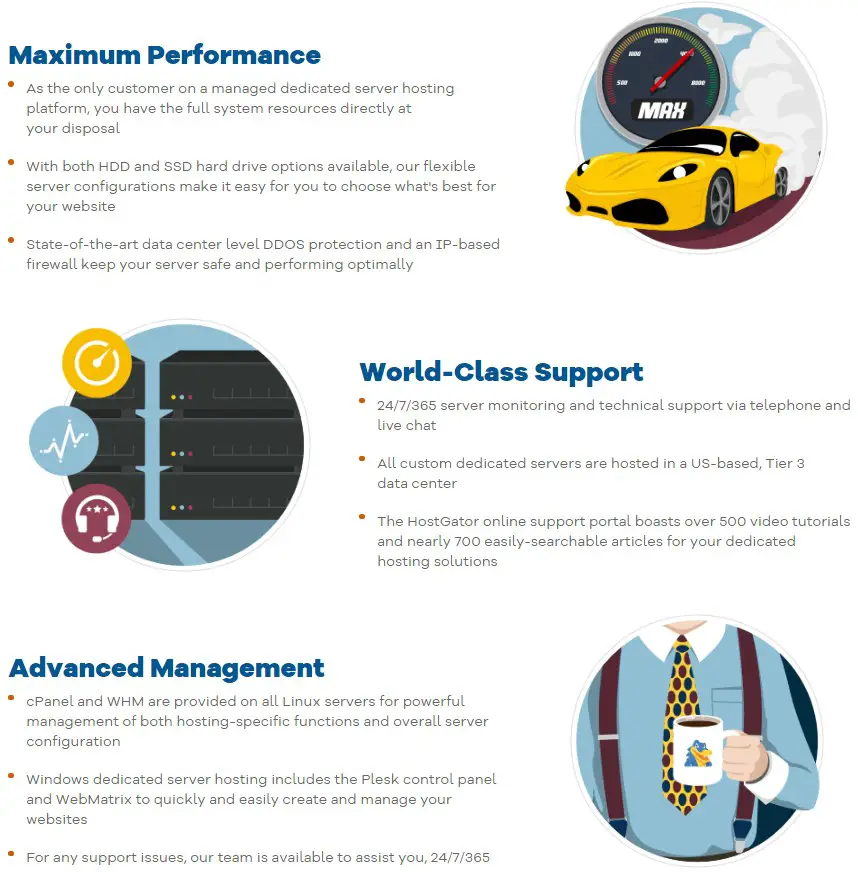 When it comes to dedicated server hosting, you have to be very careful about the security of your server. Otherwise, you might end up being attacked by hackers. Thus HostGator adopted multi-layer securities on their web servers. Your server will be safe from any kind of malicious attacks.
They have DDOS Protections, IP Table Firewall set up. And they also carry out continuous checking on the servers of their dedicated package customers'.
You will get free pre-installed cPanel and WHM (Web Host Manager) on your Linux based server. This means you will have the total control all over your server. With the help of WHM, you can also get access to the backend of your cPanel.
Plesk and Web Matrix option:
With all the windows based servers, you will be getting Plesk control panel and WebMatrix tool. With the help of these, you will be able to create, add, manage, and remove websites very easily.


Here's a bit of information for you. If you use SSD (Solid State Drive) instead of HDD (Hard Disk Drive) on your server, your website will improve its load speed up to 20 times. So, HostGator has kept that option for you. You can choose between HDD and SSD to host your sites on your server. But, remember that the price of SSD is higher than the HDD.
Every dedicated hosting package comes with unlimited SSL certificate. So, you can use that SSL encryption with any of your websites. You don't have to buy extra SSL certificate for your websites.
As the entire server is dedicated to your usage only, you can customize it the way you like. HostGator won't constrain you from doing your own thing.
If you are a dedicated hosting user then you are a VIP customer of HostGator. You will be given highest priority while you would need to contact them. Your problems will be solved first. This is not all. We will talk more about the customer support team of HostGator in the later part of this article.
Features of HostGator Dedicated Hosting Plans:
Now, we will discuss some of the useful features which come with the HostGator dedicated plan.


Unlimited Hosting Facility:
On all of the dedicated plans, you can add unlimited websites, create unlimited databases, FTP accounts etc. So, there are no limitations on using the allocated resources to you to its full potential.
HostGator offers free dedicated IP with every dedicated hosting plans. You will get 3 to 5 dedicated IPs depend on the package you are using.
If you use the managed hosting facility then your data will be backed up automatically each week. Even you can request manual backup and the HostGator team will do that immediately.
Proactive Software patching:
Usually, any dedicated servers need to have some very important software to run perfectly. And, they need to be updated on a regular basis. Luckily you won't have to worry about it as HostGator team will keep everything updated on behalf of you.
Proactive System Monitoring:
HostGator will proactively monitor the health of your server. As well as they will also keep checking the overall network infrastructure of your servers. That way, your server will maintain the optimal functionality and health.
Choose your preferred Operating System:
If you are a managed host user, you can choose between using Linux or Windows OS. But, if you are a Semi-Managed user, then you can choose between CentOS, Ubuntu, Windows, or Davian etc.
Let's test the page load speed of HostGator:
HostGator is usually mentioned everywhere as a fast web hosting company. However, to find out if it is true or not we will now conduct a short test of HostGator. This will be a page load speed test of a website hosted on HostGator.
To perform this test, we will be taking help from the prominent Pingdom website. If you are not familiar with Pingdom, it is a website which has multiple test servers on different locations of the world. Using any of the servers we can perform speed test of any websites at any moment.
For the purpose of this post, we will be using the test server which is situated in San Francisco, United States. So, let's begin.
Pingdom test from the USA (San Francisco) server:

The outcome of the test:
Evaluating the outcome:
Usually, most of the Webmasters agree to that a website should load within at least 2 seconds. If that's not the case then your website will lose visitors. Who does like a slow website? We bet you at least don't. So, others won't as well.
Consequently, as a website owner, you have to make sure that your website is faster than the competition. We know that there are a lot of things which effects the speed of a website but you have to agree that your web hosting is the main big factor.
Now, our test website was loaded completely within only 887 ms. Compared to the standard 2 second load time, our website did wonderfully. It's because of the servers of HostGator. If the test site would be more optimized we would be able to get faster performance than that.
However, you have to remember that this test site is hosted on a shared hosting account. If we could use a dedicated server then the result could be a whole lot more different in a positive way. Nevertheless, we should compliment HostGator for their stability and performance here.
Uptime Record of HostGator:
Let me ask you one thing. Have you seen any single web hosting company which does not claim that they maintain 99%+ uptime? We know it's hard to find such a web hosting provider. You will find that every web hosting company is guaranteeing the industry standard uptime record of 99%+.
It would be awesome if that was the case. But on the contrary, we see that a lot of hosting companies are not telling the truth. They are using that dishonest approach to lure customers away to their business. Unfortunately, it is not helpful for us the customers.
So, as usual, we visited the website of HostGator to know about the uptime record of the company. There we saw the typical thing that they have been maintaining 99%+ uptime. But, we were not convinced. So, we tried a tactic of our own. We have bought a new hosting account and set up a new website with them.
Since then, we are monitoring that site's up and downtime status. We have done this only to help our readers to find out the real uptime record of HostGator. So, here we are revealing the uptime stats of HostGator.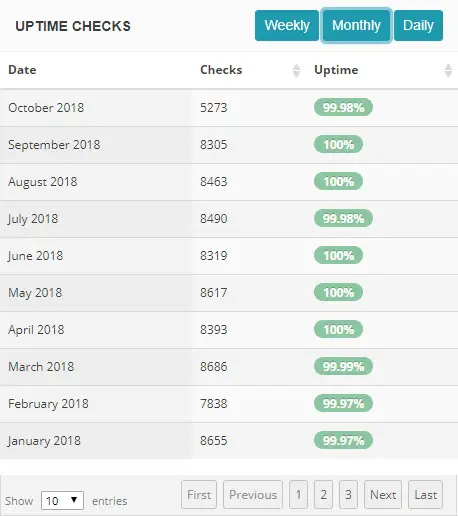 In the image above, we see the uptime stat of our test site for the previous 10 months. And, for the most part, the site was up 100% of the time. Incredible!
On some other occasions, there were also a few times when the site was down. Luckily, the downtime was very little to none. And it is clear that the average uptime of HostGator is indeed above 99% i.e. the industry standard.
So, there's no doubt that if you are looking for a hosting company that provides almost 100% uptime then HostGator is the service to go with.
HostGator Support Team:
Before you take the leap, you should always investigate the quality of the customer service of your future hosting company. Otherwise, whenever you are in need of assistance there will not be anyone to help you.
If you don't have prior experience in managing your hosting account it will be pretty helpful if your web hosting provider has a dedicated customer support team. Most of the popular web hosting companies have one professional customer service team.
HostGator is also one of them. HostGator provides 24/7 support to their customers throughout the year. You can easily talk to them about your problems anytime you want to. Here, your time zone does not matter. You can contact them always.

There are many ways to do that. Some of the main methods are given below.
Live Chat
Email
Submit a Ticket
Direct Call
Special Bill Manage Section
In order to get a quick response from them, you can use the live chat service. Anyone can make use of this useful method. Most of the time you will get a reply within a minute. You don't need to wait in queue for a long time.
We can say that from our personal experience. We had to contact them for a few times. They always delivered. Regardless of the method, you use to communicate with them you will hear from the HostGator customer representatives as soon as possible.
Again if you want to fix your problems without contacting their team, you can do it too. For people who are in a hurry or who don't find it easy to talk with a customer representative, HostGator has a great collection of guides and tutorials on their website.
They have added about 700+ resourceful articles and about 500+ video tutorials on their website. To this day, they are still adding more and more knowledge-based articles and videos. You can find all of their instructional videos on YouTube too.
All the tutorials are carefully categorized. So anyone can find the solution to their problem right away. If you are a fan of fast and professional customer support then you will undoubtedly like HostGator's service.
To sum it up: Is HostGator Dedicated Web Hosting worth it?
Definitely.
When you think about dedicated hosting then you reckon that you would have to pay a hefty amount of money. But in the case of HostGator, it is not like that. In contrast, HostGator dedicated plans are way cheaper compared to other web hosting providers'.
Yet, you won't receive any fewer features compared to the other hosting providers'. Even if you don't like any of the plans, you can order a plan tailored to your needs and budget.
Besides these, you are also getting the ability to customize your own server as you wish. There are no rules to that. You are also getting a professional and helpful customer care team available to you 24/7. Your server will be monitored on a regular basis from their side.
Furthermore, the uptime and loading speed of HostGator is also exceptional. So, if you need an industry-leading support, ultra-fast website, high customizability, ironclad security, and 99%+ uptime within an affordable price range then HostGator dedicated hosting is the best solution for you.