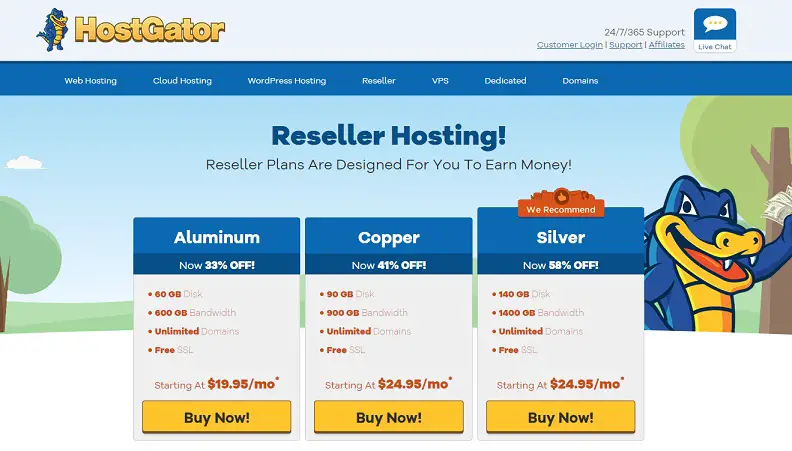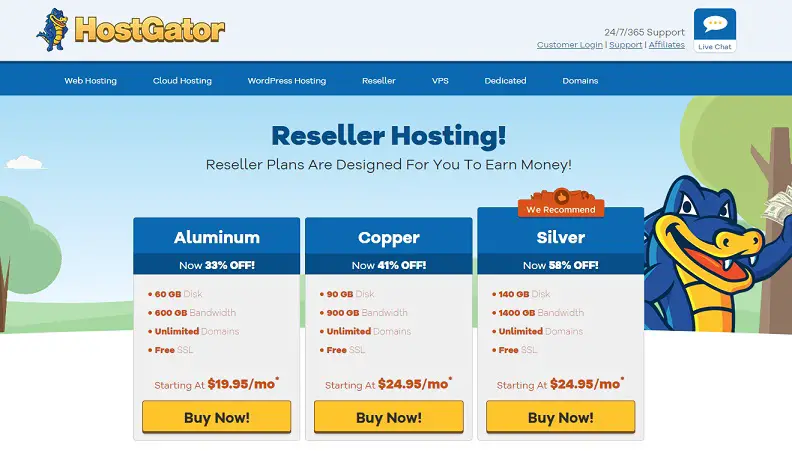 DISCLOSURE: This post may contain affiliate links, meaning when you click the links and make a purchase, we receive a commission.
HostGator is a popular web hosting company in the world. They have been in the industry for about 16 years. At this moment, we can say that they are one of the top 10 web hosting companies in the world.
They offer both web hosting and domain registration service. They have all kinds of web hosting services from shared, dedicated, cloud to even reseller web hosting service. However, we will be exploring their reseller web hosting service in today's post. For our readers, who are searching for an unbiased review of HostGator Reseller Hosting Service, you will find this post very helpful.
Along with this, we have also gathered some 'off the record' data about HostGator, you will also find them on this post. So, if you are ready, let's get the show on the road.
Check HostGator Reseller Hosting Details Here
HostGator Reseller Hosting Review
What is Reseller Hosting?
In short, reseller hosting is the type of hosting service using which you can start your own web hosting business. Normally, if you use any other hosting solutions like shared, dedicated, VPS etc. then only you can use those service. You can't share those services with anybody as the account is only allocated to you.
But, in the case of Reseller hosting, you have the option to share your account with as much as people you want. You will be given a client management software using which you can create multiple accounts for each of your customers/clients. You can allocate a specific amount of resources on each account. Then you can sell or share those accounts to your customers for a specific fee of your choice.
Reseller hosting is one of the best methods to create a side hustle. There are a lot of benefits of reseller hosting, we will explore everything related to this particular web hosting service in the rest of the article.
HostGator Reseller Hosting Plans:
HostGator has made it so simple to pick out a reseller hosting package for you. They didn't follow the approach of most other hosting companies when creating their reseller hosting plans. There are just 3 hosting plans for reseller hosting service from HostGator.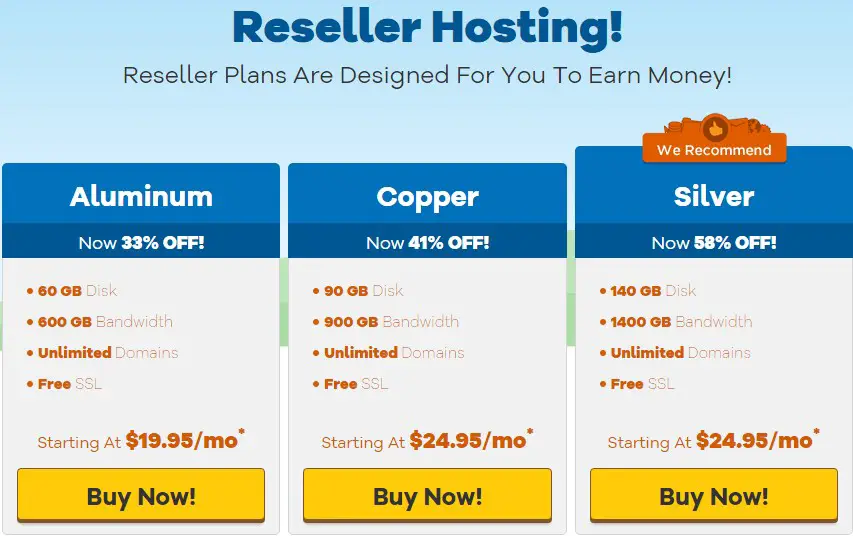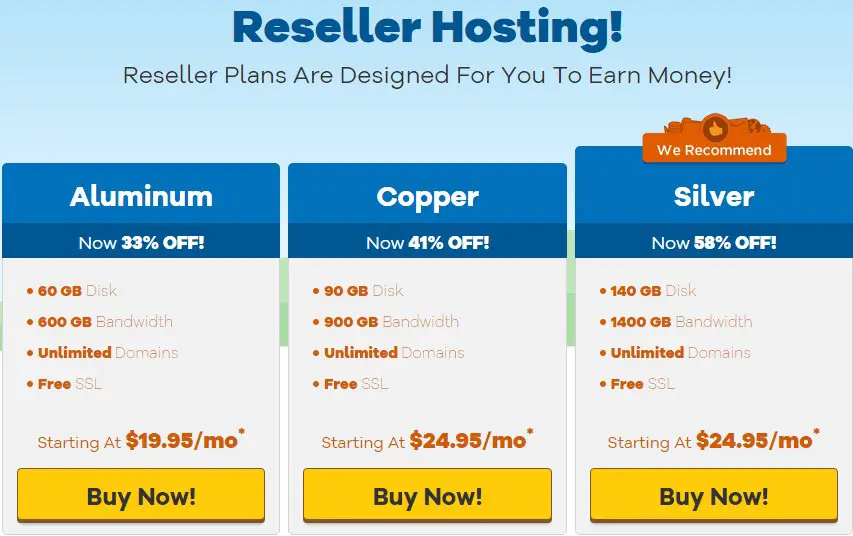 They are known as Aluminum, Copper, and Silver respectively. Each of the plans is different from each other in case of price and specifications. We will now describe each of these plans in greater detail for you down below.
This plan will cost you the lowest of them all. You can get this plan starting from only 19.95$ per month. In exchange, you will be getting 600 GB Bandwidth, 60 GB Storage Space and will be allowed to add unlimited domains to your account.
The second plan comes with some more features than the previous one. However, you have to pay more to get this plan compared to the first plan. The cost of this Copper Plan starts at 24.95$/monthly. In return, you are getting 90 GB Disk Space, 900 GB Bandwidth, and allowed to add unlimited domains to your account.
If you are looking for a reseller plan which is bang for the buck, then you have got to get this plan. This plan is recommended by HostGator on their website and this is the most popular one among all other plans as well.
You may be wondering how it can be so popular. Here's the answer, the price of this plan is similar to the price of the Copper plan (if you get the highest discount). But in return, you will be getting more features than the Copper plan. That's why people like this plan very much.
As we have mentioned this plan also will cost you from 24.95$ per month. But, with this plan, you will be getting 140 GB Disk Space, 1400 GB Bandwidth, and unlimited domain registration will be allowed as well. So, if you want the most features but within an affordable price then this is the best plan for anyone.
You will get free SSL certificate with each account regardless of which plan you choose.
To be noted, the price of all the plans as mentioned here are after applying the highest discount from HostGator. The amount of discount is dependent on the length of the billing cycle of yours. The lengthy your billing cycle would be the highest discount you are going to get. For example, if you buy any plan for three years at once then you will get the highest discount on the price. In comparison, if you get them for one year, your discount will also decrease accordingly.

Also, you will get this discount only during your first-time purchase. If you are going to renew the packages, there won't be any discount at all. So, when buying any of the packages, try to keep these on your mind. This will help you to make a smarter decision.
Who should use the HostGator Reseller Hosting Plans?
To be frank with you, reseller hosting is not for everybody. Yet, anyone can take advantage of this service. First of all, if you are an owner of a few small websites like your own personal blog or an e-commerce site of yours then you can refrain from buying any reseller hosting account. You are good using any shared or another hosting package that you're using right now.
But, if you are a web developer, freelancer or a web designer then you might find reseller hosting very useful. Let's say, you provide different kinds of website related service to your clients, you can add a free website with your service to make your projects better than earlier.
That way, you can offer your service and a free website along with your current services. Using this tactic you can make your service different than your competitors and you will stand out to the clients' eyes.
Now, another awesome reason to use reseller hosting is to make some money on the side. For example, if you want to start a web hosting company, you can do that with reseller hosting. As you know, starting a web hosting company from the ground up is very critical and difficult. You have to be well prepared for that. And, if anything goes wrong in the process, you will be left hanging in a bad situation.
So, big web hosting companies like HostGator are providing the reseller hosting packages so that you can start your own web hosting business. They have already done their part by doing the difficult tasks like setting the data centers, servers, network infrastructure etc. Now, you will be able to take their packages and rebrand it as you like. You can split the Bandwidth, Disk Space, and other resources that were allocated to you and make customized plans. And, you can sell those newly created plans to your customers for profit.
So, for entrepreneurs who are trying to get on the web hosting company business, this is a great opportunity. Because you can buy a reseller package from HostGator for a low price but you can resell the account to a lot of your clients for more than the buying price of yours with ease.
On top of all these, if you own multiple websites and want to keep managing them neat and clean then reseller web hosting can be a good choice for you. As reseller web hosting comes with separate cPanel for each reseller account, you can manage each of your website from different cPanel. This approach can also save a lot of money for you.
Great for hosting what applications?
If you are using reseller hosting to start a new web hosting company then you have to think if your web hosting provider supports web applications or not. Other than that, your customers won't find your service appealing and your business will be down the drain. So, you should choose a web hosting provider which at least supports the popular web applications.
Thankfully, HostGator is well equipped on this. All of the popular web applications are compatible with HostGator. When any new web applications are released, HostGator make adjustments on their servers to support the new ones as soon as possible.
HostGator comes with a website builder software named 'Soholaunch'. It is a drag and drops website builder. So, for your non-techy customers, it will be very helpful to create new unique websites. For your information, HostGator is compatible with all the most used CMSs like WordPress, Joomla, Drupal, PrestaShop, Magento etc.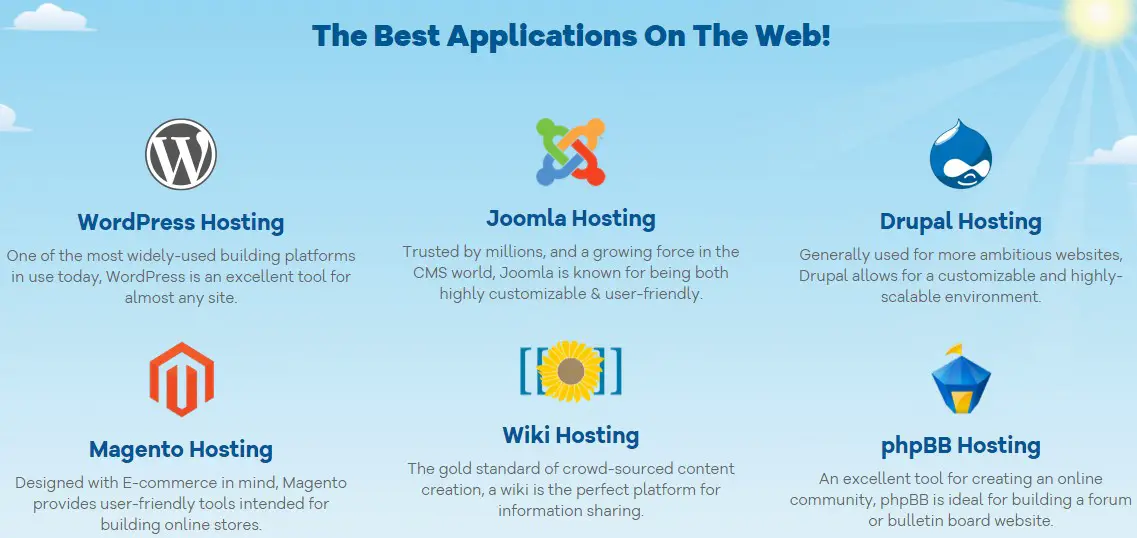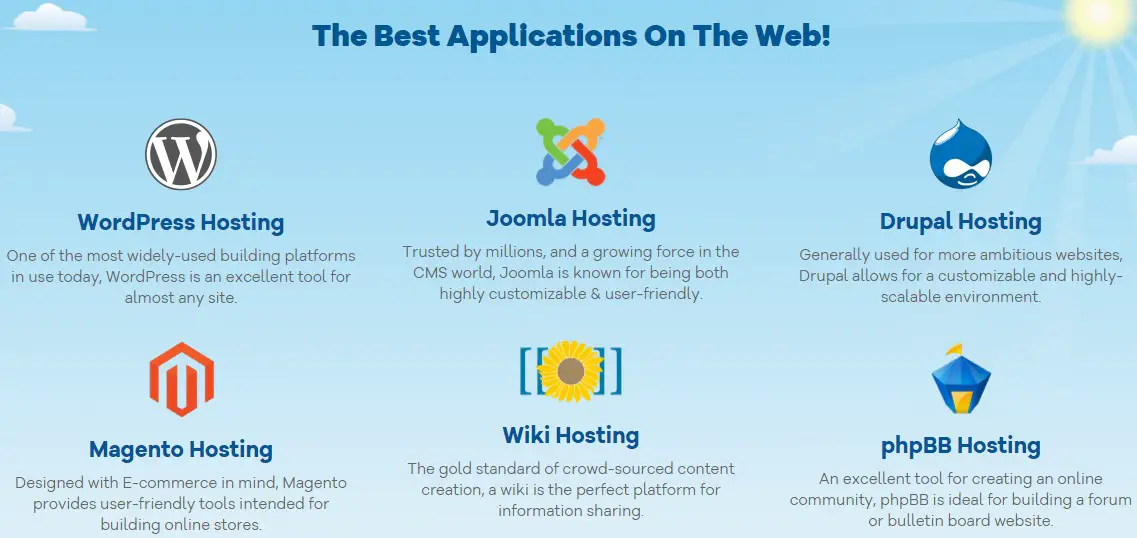 You can install approximately 75 web applications with just a few clicks with the help of HostGator's special tool named 'QuickInstall'. Your clients will love this tool. You can also manually install any other CMS or web applications as well. You have to use FTP accounts to do that. Fortunately, HostGator offers unlimited FTP account creation with each of their reseller hosting accounts.
You don't have to worry about updating your current CMS from time to time. Each of HostGator reseller account comes with pre-installed 'Auto-updater' feature. With the help of this awesome feature, your current CMS will be updated whenever a new version of that CMS is available. So, you and your customers can save a lot of time.
Added to all these, HostGator also offers some very useful plugins and software which were developed by HostGator to help your websites' perform faster. All of the necessary software will be included on the cPanel. You can maintain everything from there with ease.
So, in a way, you can be sure that HostGator is awesome to use any types of CMS or web applications on. HostGator has done their job behind the scene so that their customers can enjoy uninterrupted service.
Services of Reseller Hosting Package of HostGator:
With each reseller packages, you will be provided with some important services. Let's get to know about some of those.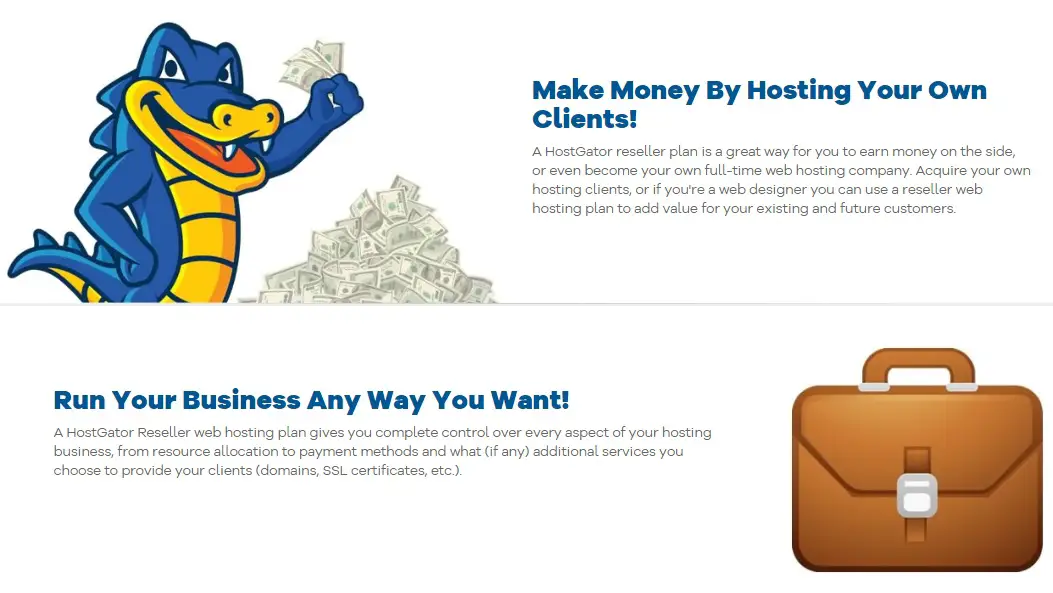 Unmetered web Hosting facility:
You can add an unlimited number of domains, subdomains, MySQL databases, FTP accounts on each of your reseller hosting account. That means that you can offer your customers an unlimited hosting facility. So, they can add as many websites they want to add to their hosting account. It is a very vital service from HostGator. If there'd be any limitation, it'd be hard to get customers.
Free brand-able tutorial videos:
HostGator will give you free 400+ non-branded video tutorials with each of your reseller hosting account. So, you can rebrand them according to your own brand for your customers or clients. And, then you can share them with them.
HostGator has made securing their web servers one of their highest priorities. They run regular security checkups and has some very strong security software (IP table Firewall, DDoS Protection etc.) on their servers. That will keep you and your customer's websites away from getting into any trouble.
There are a lot of reasons that you should take regular back up of your websites. So, it is also important for your customers. HostGator take free automatic backup of all of their customer's websites every week regularly. So, you and your customers can be free of worry.
Continuous Server Monitoring:
HostGator keeps monitoring all of their servers 24/7. So, you can save your time and concentrate on helping your customers instead. You don't have to worry about anything related to HostGator servers.
45-day money back guarantee:
You will be secured with HostGator's money back guarantee. This is undoubtedly a life saver. As a result, if you don't like their service or think that you don't want to be on a web hosting business, you can get a full refund within the first 45 days from buying your account.
Free Reseller Club Account:
If you get the reseller web hosting package from HostGator, you can also buy and reseller 70+ top-level domains (generic and county code level). So, you can offer domain registration service along with web hosting service to your clients or customers too.
Features of HostGator Reseller Hosting Service:
Now, we will be discussing some cool features which are included with the HostGator Reseller Hosting Service.


Full control over your account with WHM:
With each reseller account, you will receive WHM (Web Host Manager). It is a powerful control panel which can let you access the backend of any cPanel of your account. So, you can add, terminate, modify any of the accounts which you have sold to your customers. You can also limit any packages, specify storage space, email, bandwidth etc. Plus, you can modify passwords, DNS as well. In a few words, we can say that you have the total control over your account.
You will be given non-branded or white-labeled cPanel with your reseller account. As a result, you can add your company logo and customize everything the way you want to. Thus, you will be able to promote your own web host company even though you are using HostGator behind the scene as your hosting provider.
Unlimited Email accounts:
You can offer your clients the ability to create unlimited custom email accounts like [email protected] This is a very lucrative feature. Your customers will love creating custom emails regarding their websites without any limitations.
You can be assured that your customers won't be annoyed with spam emails on their inbox. HostGator has teamed up with 'SpamAssassin' which is preinstalled on your cPanel. That tool automatically blocks any spam emails.
Cron Job scheduling and SSH Access:
There would be a lot of tasks when you own a web hosting company. But luckily, you can automate most of them with the feature named 'Cron Job scheduler'. This will be added to your control panel from the first time. So, you can schedule any of the repetitive tasks from the start.
You will also be given SSH Access. This feature can be used to access your web server remotely. So, you will have the ability to control your web hosting company from any devices without worrying about security.
Website load speed test of HostGator:
If a web hosting provider doesn't have faster responsive servers, then your website hosted on their servers will be slow as a snail. So, you need to be sure if your next web hosting provider does own optimum servers. Although there's a word of mouth that HostGator owns fast servers, we want to make sure that it is true. So, we thought that it is a good idea to put HostGator to a test.
That way we would be able to know if HostGator is suitable for you as a reseller hosting provider for sure. As your customers will also want to have a faster website and you can give them that if HostGator has faster servers in the first place.
So, we will use Pingdom website to carry out a speed test of HostGator. For this, we will test a website which is hosted on HostGator. That will help us to assess the performance of HostGator precisely.
Pingdom test from the USA (San Francisco) server:
Pingdom has a lot of test servers which are located in different parts of the world. In case of this test, we will be using the test server of San Francisco. So, here we go.

The result of the test: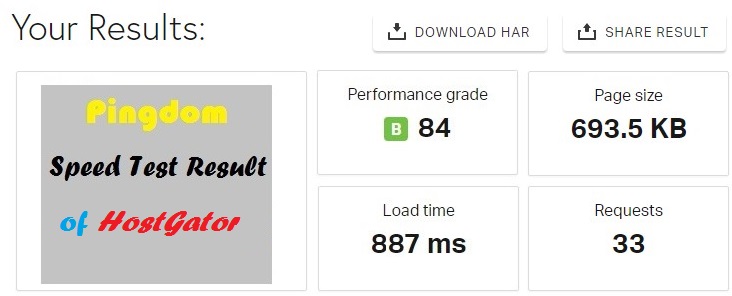 Analyzing the result:
To be noted, we have tested the website to know about the Load Time of that particular website. And, we have got our result. The load time of the website was just 887 ms on Pingdom test. Is it good enough?
Let me clarify. Actually, there is not an industry standard about the load time. To make it simple, webmasters agree that any website should be loaded within 2 seconds at least. So, if your website is not loaded completely within the 2 seconds time period, you have a slow website. In contrast to that, our website is so fast. As our test site was loaded within just 887 ms which is a lot faster than even 1 second of time.
This indicates that HostGator indeed has some of the best and fastest servers. Unless the result would be different. We are really happy about this amazing result.
Uptime Record of HostGator:
You should not sleep on the uptime record of your web host provider. If you have already picked out your next web host provider without inspecting about the uptime record of that particular company, you should reconsider your decision. Ok. You might say that you have known that your web host provider maintains 99%+ uptime. And you have known it from their own official website. So, you have made your decision based on that.
But, here's a warning for you. You should not believe what they tell you on their website. It is normal to brag about their high uptime record for any web host company. Unless they won't get any new customers. So, you can know about their real uptime record from one of their customers.
However, it might be difficult for you to contact such a person. So, we have done that part for you. We have hosted a site on HostGator to keep track of their uptime record. Consequently, we have been monitoring the website's uptime status for a long while. As a result, we will be sharing that secret information about HostGator's uptime down below. That way you can know the real uptime of HostGator.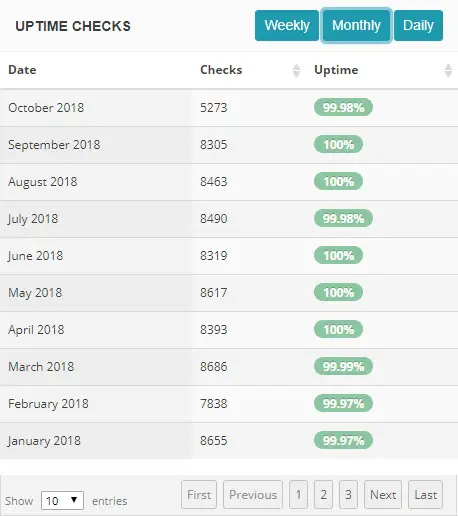 You can see the uptime status of our test website for the last 10 months on the image above. It is noticeable that there is some downtime. But, these are so little. And, it is normal to have temporary downtime. But the best part is that they have maintained 100% uptime for the majority of the months. On the other hand some of the months, the uptime were above 99%. So, if the industry-standard uptime is 99%+ for a web hosting company, it is safe to say that HostGator has easily maintained that target.
Now that you know the real uptime record of HostGator. And, it is above the 99% mark. So, you can go with HostGator Reseller Service without any hesitation.
HostGator Support:
One of the integral parts of a web hosting company is their customer support team. Although every web hosting company claim that they have 24/7 customer support system, you might find that you have to wait for a long time to talk with one of their representatives about your issue. And, nobody likes waiting in an online queue when you are using a reseller hosting service.
Because if anything troublesome happens to your web hosting providers' service, your customers will come to you with their problems. To solve the issues, you have to then contact with the main hosting provider. And, if the communication isn't swift enough then you are in the brink of losing your customers.
So, it is a must have for any web hosting company to have professional and responsive customer support team. HostGator is well known for their super helpful customer support. Before we have written this post, we have actually contacted several times with HostGator. The truth is that they were awesome from the beginning to the end.
They have a very skilled team. They know what could be the accurate solution to your problem. Whenever we got in touch with them, they have replied so fast. Sometimes, we even didn't have to wait for more than 10 seconds. That's pretty fast compared to their competitors.
On another note, they have a special support team for all their reseller hosting users. So that your problems are solved before anything. So, if you go with their reseller hosting package, you can depend on them. For contacting them, you can use any of the methods provided below.
Live Chat
Submit a Ticket
Direct Call
Special Bill Manage Section
Email

HostGator customer support team is available 24/7 all-round the year. So, you can be free of worries. Another interesting thing is that HostGator has over 500 video tutorials related to web hosting management. In addition, you can find over 700 help articles in form of tutorials and guides on their official blog. All of these articles are categorized systemically. So, you can find the perfect solution to your specific problem within the shortest time possible.
You can find all of their video guides on their official YouTube channel as well. Make sure to use the 'Live Support' option if you are in need of a faster response. Or else, you can use the 'Submit Ticket' option to get a solution to any of your specific issue regarding your account.
It does not matter which method you use, their team will try their best to provide you with the most suitable solution.
Wrapping it up: Should you consider using HostGator Reseller Web Hosting?
Without any second thought, you can go with HostGator if you are going to use reseller web hosting service.
The first attractive thing about their package is the price range. They are offering an irresistible price on their reseller web hosting packages. Compared to any other well-known web hosting providers they are at the top of the game. With this inexpensive price, you can make more profit reselling your account.
Still, if you are not convinced or you don't have any problem with your budget but want the best service for your money, you can't go wrong using HostGator. As you have seen the uptime record (authentic) and the website speed of HostGator for yourself. We don't want to say more about them. Later, we have also talked about their helpful customer support team. Overall, they are pretty great.
So, if you are in need of quality customer support, stable uptime, and a very affordable price which in return can make you more profit in the long run, you have got to use HostGator reseller Web hosting service.