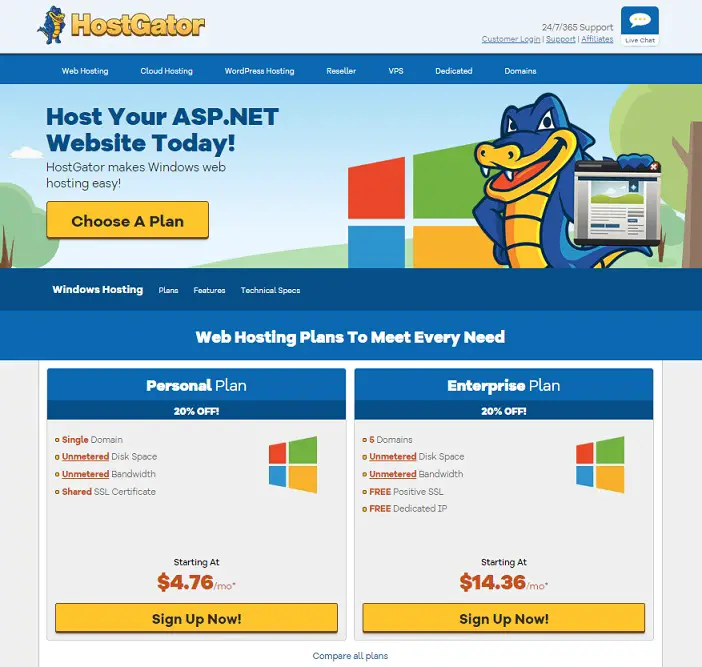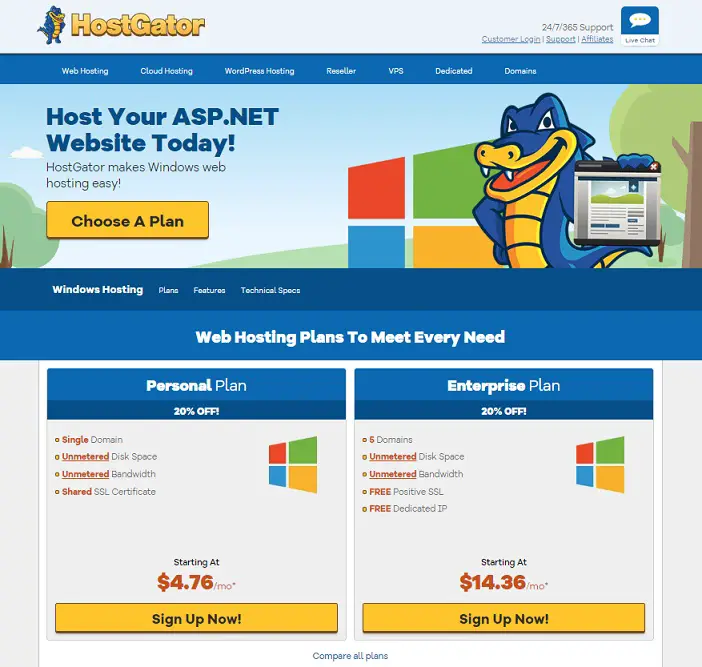 DISCLOSURE: This post may contain affiliate links, meaning when you click the links and make a purchase, we receive a commission.
HostGator began their business as a web hosting company in 2002. At first, it was an unknown company on a corner of the world. But, after a couple of years, HostGator was known all over the world. And, till this day, they are dominating the web hosting industry.
Although they are well-known for their web hosting service, they also provide domain registration service. It is known that they have registered over 9 million domain till this day. And, the number is rising surely. You will find a wide range of web hosting services from HostGator such as Dedicated, Shared, VPS, and Cloud etc.
Even they have operating system specific web hosting service. For instance, they offer windows OS based web hosting service. As a matter of fact, this post is a comprehensive review of the Windows Hosting Service of HostGator. So, if you have been searching for a post like this, you are at the perfect place.
So, let's not waste more of our time and get to the good part.
Check HostGator Windows Hosting Details Here
HostGator Windows Hosting Review
What is Windows Hosting?
As you know that your website's content and data are stored on a server by the web host provider of yours. Now, those servers use different kinds of operating system. Among them the most used operating system on web servers is Linux. However, Linux is not capable of doing some specific tasks which can be easily done with a Windows operating system.
Thus, some web host companies use specifically Windows OS as the default operating system for some of their servers. And, that is known as the 'Windows Hosting Service'. You have to use a different type of control panel while using Windows OS based hosting known as Plesk. Don't get intimidated if you are only familiar with cPanel. Plesk is very easy to use.
In most cases, the price of the Windows OS based hosting will be a bit higher than the Linux OS based ones. It is because Linux is an open-source OS. That means it is free of any cost. On the contrary, Windows OS will cost the web host providers some money. As a result, the price of the windows hosting service is more than other normal open-source OS based hosting packages. So, you have to keep that in mind while choosing your hosting service.
Now, let's see what is the Windows OS based Hosting Plans of HostGator on the following section.
Windows Hosting Plans of HostGator:
It is very simple to choose your favorite Windows hosting plan of HostGator. As HostGator curated the plans without making them complex. As a result, there are only 2 windows hosting plans available.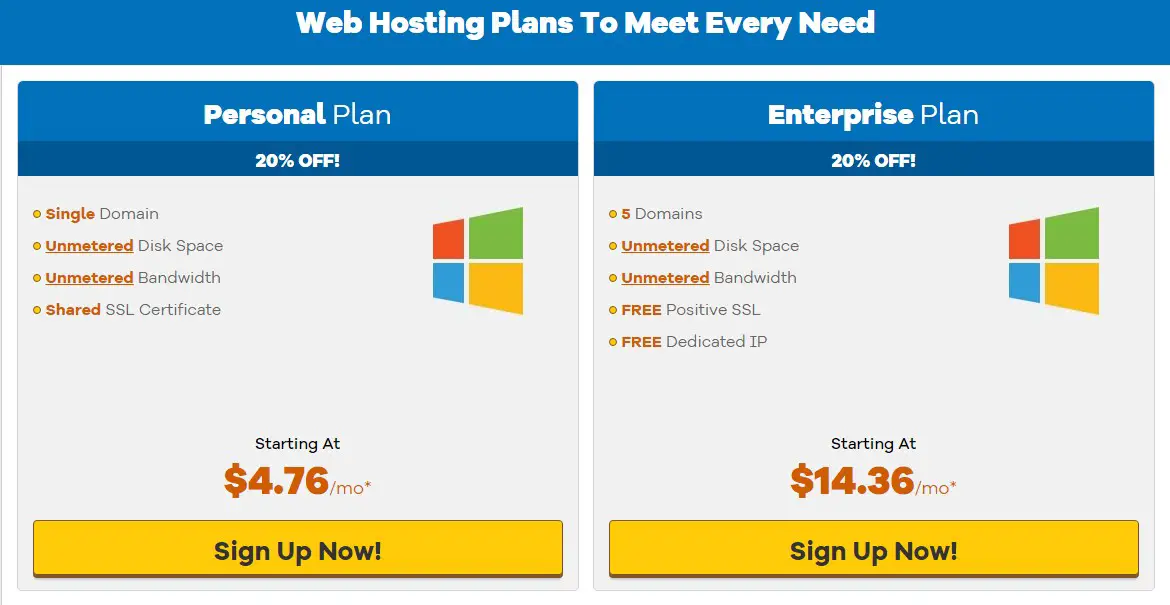 The windows hosting plans of HostGator is named as Personal Plan and Enterprise Plan. They come with different specifications and features. Let's get to know more about these two plans below.
This is a package which is not suitable for users who want to use multiple websites simultaneously. As HostGator allows only one website to host with this package. This is the most notable hindrance of this package. But, this package is priced at a very low price.
You have to pay at least 4.76$ per month for this plan. And, you will be receiving unmetered bandwidth, Unmetered Storage Space and can host only one website. If you want to host more than one domain or website on your host, you have to use the following plan.
This is the most used package among the windows hosting plans of HostGator. However, it is highly priced. You have to spend at least 14.36$ each month to enjoy this package. Using this package you can host up to 5 domains on your hosting account. It is the only option for people who want to host multiple websites together.
You will usually receive unlimited storage space and unmetered Bandwidth with this package. Plus, you will also get free dedicated IP for your websites. There are more features that come with these two plans. We will state most of them later in this article.
All the prices we have mentioned here are discounted. Here the discount is at 20%. But, you have to aware of that this discount can increase or decrease at any moment. And you will only receive the discount during your first-time purchase from HostGator. The discount will not be available when you will renew the plans later.
We hope you have got a clear idea about both of the Windows hosting package.
For whom the HostGator Windows Hosting Plans are suitable?
It is true that most web hosting services are based on the popular Linux operating system. But, there are users who do need to be able to use Windows operating systems on their web host. So, if you are one of those people then this is the best option for you to go with. However, if you don't need but interested in using windows OS on your server, you too can use it.
As windows OS based servers are compatible with most of the open source web applications. On the other hand, Linux only supports the open source software and doesn't support windows based scripts. So, you see windows is more flexible than Linux in case of compatibility.
Now, there are users who are just laying their hands on the website world. Among them, most of the users probably don't have prior knowledge about web hosting management. For you, it will be a great choice to go with HostGator windows hosting. As HostGator has several user-friendly software which can be used to manage your websites without having any professional skills regarding web hosting.
And, for the professionals, it is undoubtedly a great option as well. You have to bear in mind that the windows hosting plans of HostGator are shared and VPS hosting service. So, if you have multiple websites with a load of visitors, it won't be a suitable option for you. Also, on the first plan (Personal), you can only use a single domain, it might be a disadvantage for some of you. So, you have to use the Enterprise Plan if you want the most flexibility.
All-around, we can say that it is the most perfect solution if you want to use a Windows operating system and windows based technologies like MSSQL, ASP, .NET etc. on your website.
Great for hosting what web applications?
One of the best criteria of Windows hosting is that you can use cross-platform scripts on your website. Let me make it simple for you. When you use Linux OS based web servers then you can't use any Windows OS based applications on your servers. But, it is the exact opposite in case of windows hosting. You can use most of the open-source third-party CMS like WordPress, Joomla, Drupal, Wiki etc. with Windows OS based hosting.
So, if you had any doubt that if you could use the popular CMSs on your website when you are using windows OS based hosting, you can relax. HostGator has made it so simple to install any web applications on your hosting account. You will be getting the renowned Plesk control panel with your hosting account. And, using that you can install about 38+ open-source scripts simply with a click. And, the Plesk control panel is very intuitive, you will get the hang of it as fast as possible. There are not many learning curves.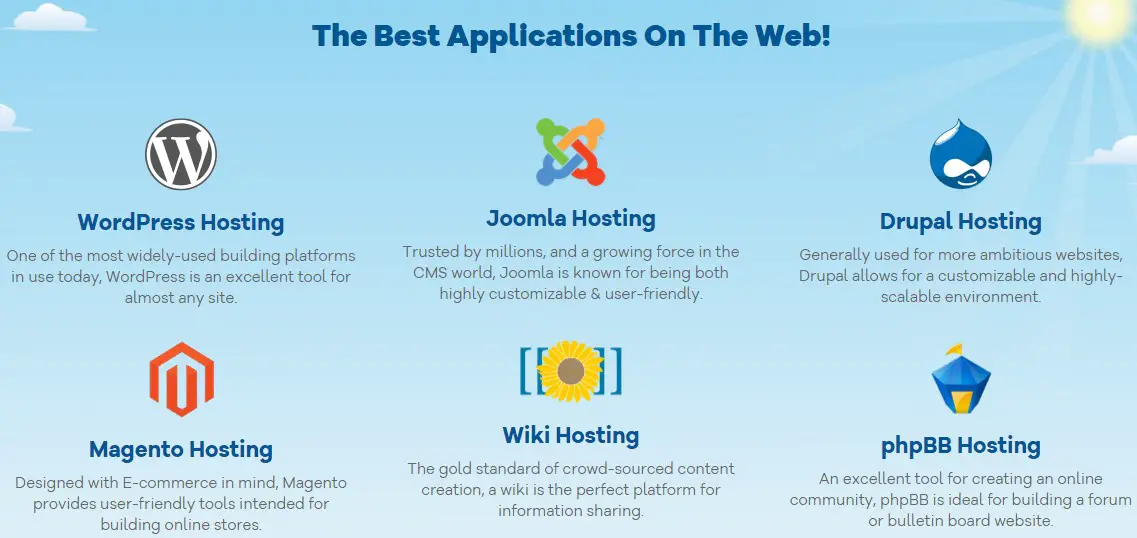 Along with any open-source CMSs, you can also use the other windows based scripts like ASP.NET, .NET, Microsoft SQL Server (MSSQL), and Microsoft Access etc. There's no limitation. You will also be given website builder software with your account. That way, you can design your websites using any CMS (Content Management System) by just dragging and dropping.
HostGator also provides auto-updater which works behind the scene. When a new update of your CMS is released, the 'Autoupdater' will update the CMS automatically without interrupting your service. It is very important to keep the CMSs on your system updated. And, HostGator keeps you free from worry by preinstalling the Autoupdater tool on your system.
So, if you want to use most of the popular web applications or CMS on your website, then HostGator has the best support system in place for you. You can rely on their highly optimized servers.
HostGator Windows Hosting Services:
HostGator offers loads of compelling services along with their windows web hosting service. Let's take a peek at some of the notable ones right now.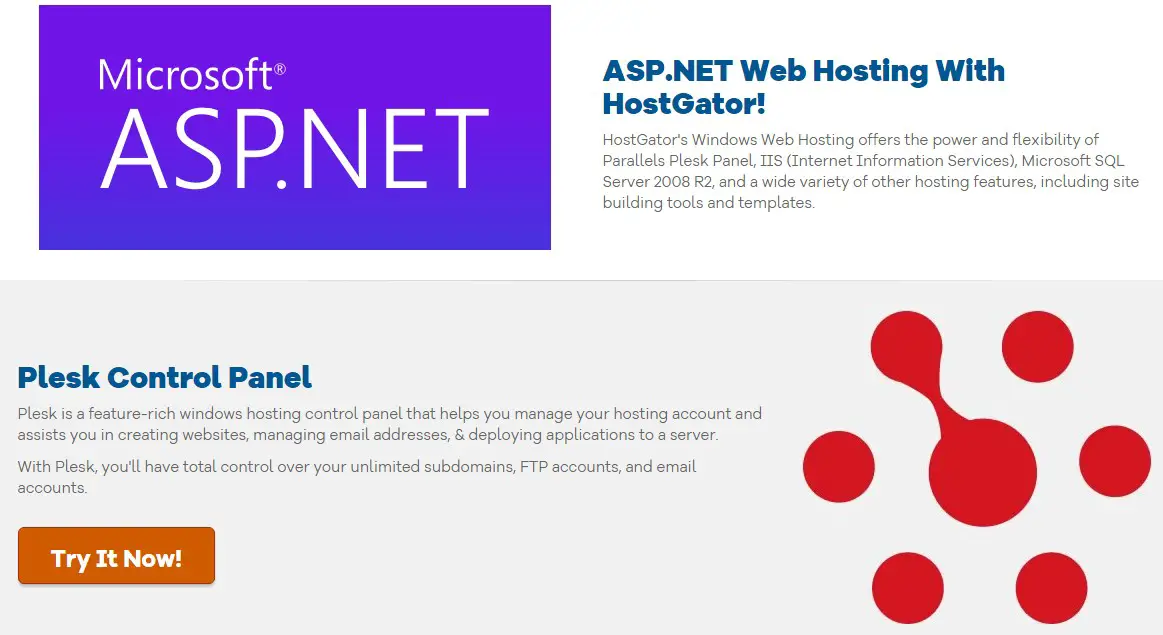 Unlimited Hosting facility:
Each of windows hosting plan of HostGator is equipped with unlimited Bandwidth and Unlimited Disk Space. You can also create an unlimited number of customized email accounts (e.g. [email protected]).
You also are allowed to create as many as FTP accounts, MySQL, Microsoft SQL, and Access Databases. You can use any programming modules like GD Library, Curl, AJAX, and MVC 3.0 etc. Additionally, you can also have unlimited subdomains for each of your domains.
No need to worry if you want to switch your current web hosting company to HostGator. Their special support team will transfer your website, your domain, and all other important things like MySQL database, installed scripts etc. for free.
SSL encryption has become one of the must-have features for any websites nowadays. But, it cost a lot to buy a new SSL certificate for each of your domain. Luckily, HostGator provides an unlimited number of SSL certificates with each windows hosting plan without any extra charge.
Free website building tools and templates:
If you're a beginner then you will like this service. HostGator has over 4500 pre-made website template for free on their repository. You can use any of them to design your website instantly.
Also, you can use the free drag and drop website builder tool to create and design your website as you like. You don't need any technical skills to have for using this easy tool.
Spam emails are so annoying. If you don't set up a spam prevention system on your site, you will drown in spam emails. As a result, HostGator offers free spam preventions system named 'SpamAssassin' with each windows hosting account.
HostGator has taken their money back guarantee up to another level compared to other web hosting providers. They give a full refund up to 45 days after you have bought your web hosting service from them. It is very assuring to have a backup option like this. If you don't feel that it is for you, you can leave them without losing your money.
HostGator Windows Hosting Features:
We will speak about some of the most useful features of HostGator Windows Hosting Service here.

HostGator know the importance of taking backup of your websites. So, they offer free automatic backup for each of their users. Your website will be backed up automatically each week. Yet, you can also manually take a backup just with a click from your control panel.
HostGator Windows hosting accounts come with a lot of lightweight yet powerful admin tools. Some of the noteworthy ones are Webalizer, AWStats, Password Protected Directories, Hotlink Protection, Raw Log Manager etc. These tools can be used for many purposes. For instance, with the help of AWStats, you will be able to know all the important statistics regarding your website visitors just from your control panel.
There are a lot of different control panels out there which are used for windows is based servers. But, the best and the most user-friendly one is undoubtedly the Plesk control panel. And, HostGator includes this tool for free to its windows hosting users' accounts.
HostGator has set up a multi-layered security system on its servers. You will be safe from any kinds of hacking attempts, malicious crawlers and bots. On top of these, they monitor all the servers 24/7 proactively.
The Plesk control panel will be pre-loaded with the 'Task Scheduler' tool. You can automate and schedule most of the recurring tasks with the help of that particular tool. It will save a lot of precious time of yours.
The website load speed test of HostGator:
You should make sure that your to-be hosting company has fast performance. Other than that, your website hosted on that specific web host will be slow. So, to get a faster website, you can test the website speed of any website hosted on that particular hosting provider.
Accordingly, we will be using a website hosted on HostGator to conduct a speed test of that website. It will be easy to find out the performance of HostGator from such an experiment. To conduct an accurate test, we will be getting a hand from the popular Pingdom website. You may know them as one of the best website status monitoring website.
They have the perfect tool to conduct a website page load speed test. Pingdom has got multiple servers around the world to perform the speed test. This time we will be using the San Francisco server of Pingdom to get the work done. So, let's begin.
The test from the USA (San Francisco) server of Pingdom:
The outcome of the test: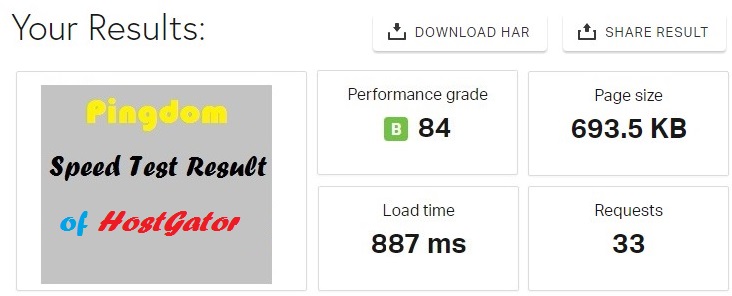 Analyzing the test result:
From the test, we have got to know the load time of our website. The Load time refers to the time it takes to load on a visitor's browser. It is better if the speed is fast and eventually the load time will decrease depending on the speed. So, we would be happy if our test website takes as less time as possible.
We have seen that the load time is 887 ms. Is it fast enough? To be honest, it really loaded faster than we thought. You can say the load time was beyond our expectation.
Why? Because there is a rule of thumb that your website should load completely on any website visitor's browser within at least 2 seconds. Comparing to that scale, you can see that our website loaded twice faster. And, it is a good sign about the HostGator web host company. If they didn't have high-quality servers, it won't be possible to get that amazing load time from our test website.
Uptime Stats of HostGator:
Do you know the uptime record of your next web host company? If you don't then you should inquire about that. It is a very important aspect of any web hosting company. Normally, to know the uptime record of a website hosting company you would have to go to their official website. But, one of the common thing between each and every web hosting companies is that they all claim that they have the best uptime record in the industry.
But, do you think that is true? It is not impossible to maintain the industry standard uptime for a big web hosting company. If you are not aware, the industry-standard uptime is at 99%+. So, here the margin of error is so low. That's why it is very difficult to keep up with this percentage. However, we have also stumbled upon the official website of HostGator and saw that they have 99%+ uptime. But, we were not persuaded by their advertisement.
So, we took a direct approach. We have hosted a website on their server to measure the uptime percentage of HostGator. It was done keeping our readers in mind. As most of us can't host a test site before going with any particular web hosting company. So, we are keeping a track of the status of that website in a regular manner. To save you from the hassle, we will share the authentic uptime status of that website. So that you can help yourself by seeing the real stat of HostGator uptime. And then you can make your decision without having any doubt.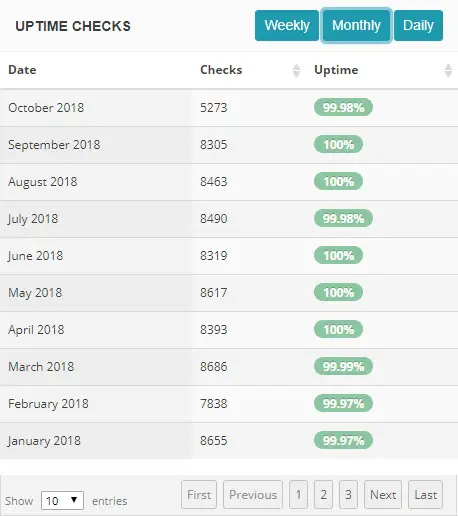 Here is the uptime stat of HostGator for the last 10 months. To be noted, as time goes, we update this stat regularly. So, if you need to look for it later, you can always come back anytime.
We can see that our website was up for the maximum amount of times. On most months, it was up for 100% of the time. And, in some particular months, there was some downtime. As HostGator claim that they offer 99%+ uptime. If you calculate the uptime percentage of all the months, you will find that actually, they have maintained above 99% uptime continuously for the last 10 months. So, you can rest assured that your website will be up for the most period of time if you start to use HostGator as your web hosting provider company.
HostGator Customer Support:
HostGator is well-known for their super helpful customer service team. Before, jotting down this post, we had to make sure if HostGator really care about their customers. So, we have contacted them multiple times for different reasons. And, in all instances, we got a positive response from them. We really liked their service.
Here's why. First, they responded so quickly every time. We didn't have to wait and waste our precious time. On most occasions, we got a reply from them within a minute. Next, we were amazed at how good they are at solving the problems. They knew all the technical terms pretty well. That's why they can help even the non-techy users pretty fast.
Whenever you are contacting them, they instantly try to know what your issues are. And then they will try the easiest and fastest solution. So, even if the problem is on your side, you can solve it following their instructions without a hitch. If you want to get a faster reply then you have to use the Live Chat option. There are other ways to contact them as well. Some of the most common ones are stated below.

Live Chat
Email
Submit a Ticket
Direct Call
Special Bill Manage Section
HostGator customer support team is available 24 /7 all 365 days of the year. So, you can contact them from anywhere and anytime.
You have to bear in mind that some problems are not solvable through live chat. In that case, you can get the job done using the Submit Ticket option. This also a great way to get a faster response. If a problem is not solvable during a live chat session, they will let you know what other ways you can use.
And, if you don't like to talk to the customer support and want to solve the problem by yourself, you can do that too. As there are over 700 tutorial articles and over 500 video tutorials at your disposal always. HostGator has posted them on their official blog and YouTube channel. So, you can follow those tutorials. They are very carefully and systemically categorized. So, anyone can find the exact solution as fast as possible.
All in all, we would have to say, we were very happy with the customer service team of HostGator.
Wrapping it up: Should you consider using HostGator Windows Web Hosting?
There's no doubt that you should go with HostGator. And, we know that you also already have guessed the reasons behind our suggestion.
It is normal for web hosting companies to charge you more for the Windows-based hosting compared to Linux based ones. HostGator is not different here too. Even though, they charge more for windows based hosting. It is easy to notice that their price range is very low compared to other web hosting companies. So, you are getting more features by just spending a lot less money.
Again, for most of us, the features are more important than saving money. And, HostGator is well aware of that. So, they are offering a lot of useful features for free. But, the most important thing about HostGator is their performance. As we have run a speed test, we have seen that HostGator took a lot less time to load the test website. And, we have also revealed the real uptime record of HostGator with you. It is true that they are maintaining the industry-standard uptime on a regular basis.
We also don't have any complaints about their customer support. Rather, we are dazzled by their helpfulness and professionalism. It will be very difficult to find a customer support team like this anywhere.
So far, from our experience, we will highly recommend HostGator Windows Hosting service to our readers. You will get high-quality performance, faster response from their customer support team, and incredible uptime on your websites if you consider using HostGator. So, without any doubt, you can go with them.