Editor Rating

Rated 3.5 stars

Very Good
---
Reviewed by:

Published on:

Last modified:
---
Our Top Ranked #1 Web Host

Note: This website ReviewPlan.com is hosted on SiteGround
Latest Uptime Stats (Real Records):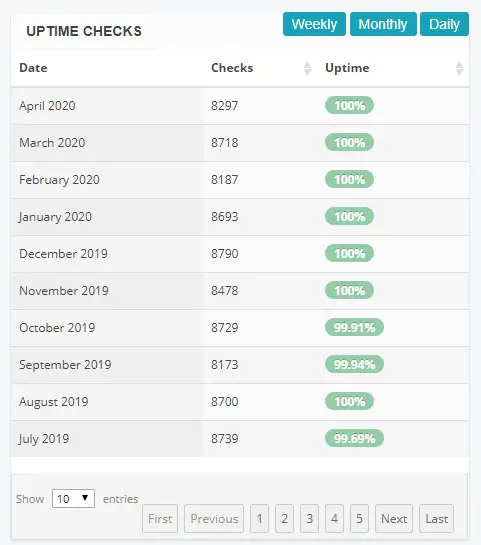 Server Response Speed Test Scored A+: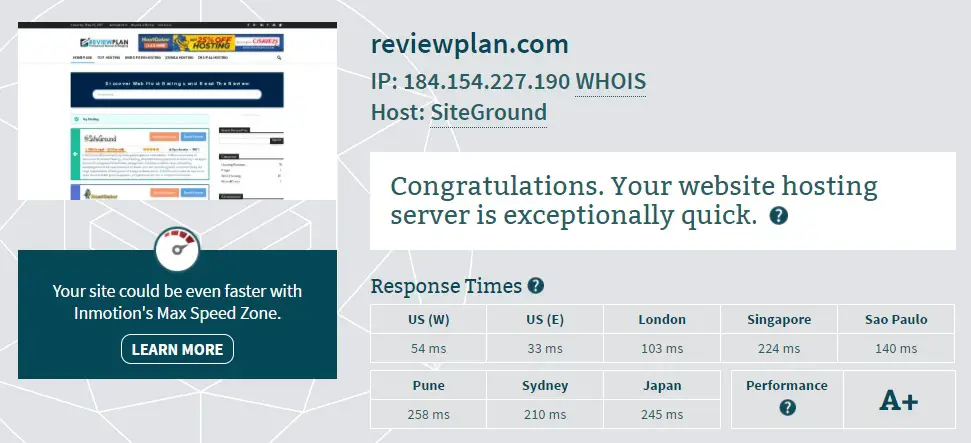 What is Hosting24?
Hosting24 is a budget oriented web hosting service provider, aimed towards individual customers and small to medium businesses.
The company has been offering reputable hosting services since 2004 and is also a leading provider of domain related services to a wide and diverse number of clients. Hosting24 is one of the leading ICANN accredited domain registrars in the business and can directly assign domain names and related services.
This close connection between hosting services and domain management services ensures that the company is able to offer robust plans and solid performance without compromising on reliability.
Hosting24 operates servers in two different continents: in North Carolina in the US and in the UK. Along with secure collocation services, the data centers have unfettered access to Tier 1 internet access with multiple redundancies to ensure uninterrupted services to clients.
This review is all about finding out if Hosting24 hosting services are up to snuff.
Hosting24 Reviews on Hosting Plans and Services
Hosting24 focuses on small businesses and individuals strongly. This is evident in the prime placement of its shared hosting services in all its marketing materials.
The shared hosting plan offers unlimited resources, bandwidth and storage space; the Silver plan costs USD 3.99 per month and the Gold plan costs USD 6.99 per month. The plans differ in that the Gold plan included custom name servers and support for add on domains in cPanel.
You get a domain free of cost with both plans along with a 30-day money back guarantee. All data is backed up weekly, ensuring protection against hardware failure or data corruption.
DDOS protection courtesy of CloudFlare and SEO services from Attracta are included with all shared hosting plans. These plans also include RvSiteBuilder Pro, Zyro SiteBuilder website building tools and the Softaculous installer for complete ease in developing and getting your website online.
Hosting24 has two specially designed plans for resellers. Many businesses, especially web developers and website designers, include hosting services within their packages. For such clients, the reseller hosting plans are a seriously good deal.
The Starter plan costs USD 12.99 per month and comes with 50 GB of hard drive storage space and 500 GB of bandwidth while the Business plan costs USD 22.99 per month and comes with unlimited storage space and unlimited transfer bandwidth.
Reseller hosting plans include professional billing tools, custom nameservers with privacy protection, ability to edit WHOIS entries, domain privacy services, DDoS protection from CloudFlare, SEO services from Attracta, antivirus and antimalware software from ClamAV as well as unlimited cPanel accounts.
Also included is the website building software like RvSiteBuilder Pro, Zyro SiteBuilder and Softaculous installer for convenient installation of web applications.
E-commerce applications are also supported with the platform being completely osCommerce ready. Reseller plans also support an unlimited number of MySQL databases, phpMyAdmin, Remote MySQL connections, support for CGI, Ruby on Rails, Curl, and a host of other advanced development tools and frameworks.
Hosting24 has one of the most robust and developer friendly hosting platforms in the business where nothing is behind closed doors. This allows advanced users to fully take advantage of the tools at their disposal and not get bogged down with usability issues. With full cPanel support and an unlimited number of email mailboxes, Hosting24 reseller plans are some of the best in business.
Hosting24 keeps the great for last in the form of virtual private server or VPS plans. Offerings start at USD 10.78 per month, which comes with a 1 GHz CPU, 1024 MB of RAM memory, 10,000 MB of storage space, 1000 GB of transfer bandwidth, connection bandwidth of 30 Mbps and 1 dedicated IP.
The plan goes all the way up to USD 86.24 per month that comes with 8 GHz of CPU speed, 8192 MB of memory, 80,000 MB of storage space, 8000 GB of transfer bandwidth, 100 MBps connection bandwidth and 8 dedicated IPs.
VPS plans are hosted from the company's cutting edge Immedion data center, a collocated SSAE 16 SOC 1 Type II compliant facility that ensures top services continuously without interruption.
Hosting24 Domain Service
Hosting24 is an ICANN accredited domain management service provider, you can register your website on your choice of top level domain extensions. This is in addition to the wide range of management services and the ability to make granular changes to domain registries and WHOIS entries as well as domain privacy services. Suffice to say you definitely get your money's worth with Hosting24.
All Hosting24 plans, be they shared hosting or VPS hosting, are fully compatible with the WordPress content management system or CMS platform. WordPress is definitely the most popular and widely used CMS on the internet and is used as the backend of some of the biggest websites with heavy traffic load.
Such robust WordPress integration ensures that your website performance never suffers no matter what happened. Thanks to the Softaculous installer, WordPress, Joomla, osCommerce and other applications can be installed very quickly with very little hassle.
Hosting24 offers 24×7 live customer support included with all its hosting plans. You can contact Hosting24 customer service over telephone, email, or IM. Technical support is staffed by well trained and competent professionals who ensure proper solution of any issues.
Hositng24 guarantees a server uptime status greater than 99.9% and the performance has definitely been very reliable over time. Server down time has been an extremely rare occurrence, as the drop in speed and performance. Hosting24 scores high on reliability at a budget price point.
Good and Bad of Hosting24
Good
Budget oriented plans for individual and small business use
Large variety of services bundled with hosting plans at all price points
Cheap VPS hosting that is finally accessible
Reliable performance and redundant hosting
Good customer service and technical support
Bad
No plans for more demanding users
Resource guarantee is a point of concern
Summary of Hosting24
If you wanted a diverse array of hosting services on a budget, look no further than Hosting24. The company has been providing robust web hosting services since 2004 and by our estimation will continue to do so in the future.
Compare Hosting24 With Our Top Ranked Web Hosts!
SiteGround vs HostGator vs Hosting24

SiteGround

HostGator

Hosting24
Rating

Rated 5 stars

Rated 4.5 stars

Rated 3.5 stars

Price

$3.95/month

$3.95/month

$3.99/month

Criteria