Editor Rating

Rated 3.5 stars

Very Good
---
Reviewed by:

Published on:

Last modified:
---
Our Top Ranked #1 Web Host

Note: This website ReviewPlan.com is hosted on SiteGround
Latest Uptime Stats (Real Records):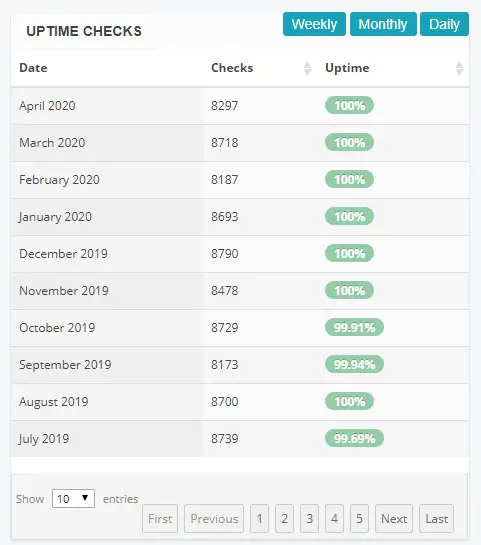 Server Response Speed Test Scored A+: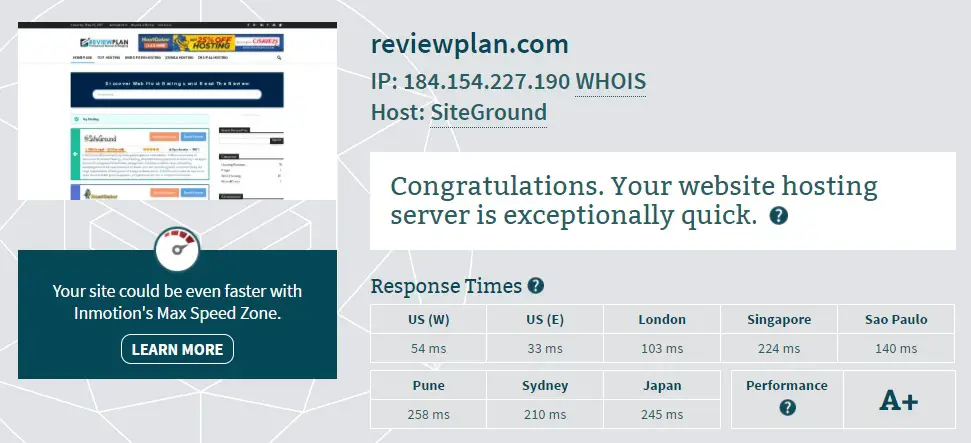 What is HostMantis Hosting?
Hostmantis started out life as Plexihost. The company is not a multinational giant but aims to offer affordable hosting plans for its customers. Hostmantis operates multiple data centers in Europe and the United States with special attention to imbuing them with redundancy and data security in addition to the high-speed network infrastructure.
With full monitoring 24 hours a day by on site engineers and network administrators, Hostmantis aims to offer quality and high performance hosting services at affordable prices.
Moving ahead of offering simple one-dimensional hosting solutions, the company offers a diverse range of services that are liable to fulfill the needs of both individual users as well as professional businesses and corporate websites.
Does the performance stack up against the tall claims?
Read on for the full review.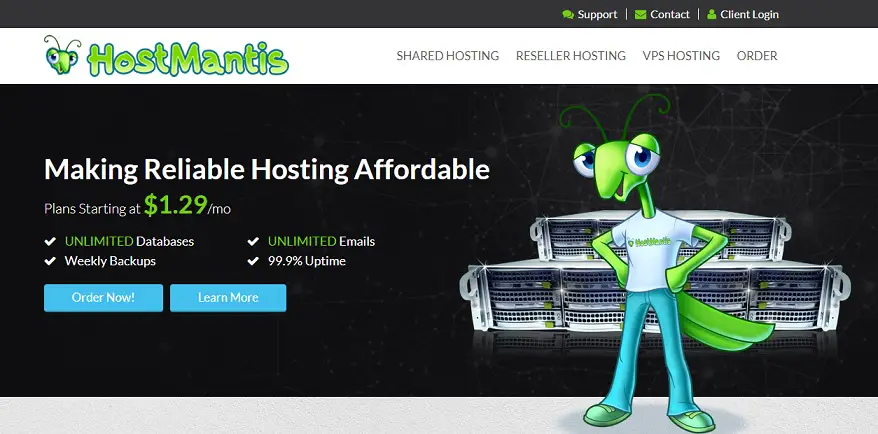 HostMantis Reviews on Hosting Plans and Services
Every hosting service provider worth its salt operating in the budget sector offers shared hosting plans, and to be very honest, shared hosting is all that many websites that are just starting out need. Individual blogs and small businesses hardly have the daily traffic necessary to justify a more expensive hosting plan with greater resource allocations.
Shared hosting plans start off from USD 1.29 per month for 2 GB of storage space, 20 GB of monthly transfer bandwidth, support for 1 domain, 5 subdomains, 3 parked domains, 2 MySQL databases, and 1 FTP accounts.
The plan goes all the way up to USD 6.49 per month for 50 GB of storage space, 500 GB of monthly transfer bandwidth, and unlimited resources.
Compared to other shared hosting plans in the budget domain, plans from Hostmantis offer a number of more advanced features like DDoS protection, servers without overselling that running the latest Intel Xeon hardware. You can also have your choice of Windows and Linux based operating systems if that is something that matters to you.
If you are looking for something a little more powerful, you can consider the company's premium hosting plans. These are shared hosting plans with a bit more oomph.
Plans range from USD 2.29 per month to USD 7.49 per month for the same resource allocations as the standard shared hosting plans but with additional features like full solid state storage, CloudFlare CDN, full daily backups, guaranteed server uptime via service level agreements, and a better selection of additional supported web technologies delivering a significant performance and usability boost.
You also get a 30-day money back guarantee if the service is not what you need. You have nothing to lose when you subscribe to premium hosting plans from Hostmantis. Besides, they also offer Windows based hosting solution.
HostMantis Reviews on Reseller Hosting Plan
If you are a business entity looking for reseller hosting plans, Hostmantis has you covered there as well. The company offers reseller plans that are perfect for business concerns like web developers and design studios who might want to include hosting services with their web development or site design plans.
Reseller hosting plans start out at USD 4.95 per month for 25 GB of storage space, 100 GB of monthly transfer bandwidth, and 25 cPanel accounts and goes up to USD 34.95 per month for 100 GB of storage space, 1000 GB of monthly transfer bandwidth, and 150 cPanel accounts.
Since individual cPanel accounts can almost always be equated to individual users, the most expensive reseller plans only go up to 150 users. This might not be the perfect solution for any large businesses looking to expand their service portfolio beyond a certain number of years or users. Additionally, Hostmantis reseller services are not completely white label so if that is a concern for you, you might need to look elsewhere. Besides, HostMantis also offer Windows based reseller hosting solution.
HostMantis Reviews on VPS Hosting Plan
For the more serious hosting needs, you will need Hostmantis VPS hosting plans. On the Linux platform, the Entry level plan costs USD 14.95 per month for 1 processing core, 1 GB of RAM, 40 GB of storage space, and 1 TB of monthly transfer bandwidth.
The top end Expert plan costs USD 79.95 per month for 5 processing cores, 4 GB of RAM, 150 GB of storage space, and 4 TB of monthly transfer bandwidth.
Plans running Windows provide similar resource allocations and start at USD 24.95 per month and go all the way up to USD 99.95 per month, amounting to a roughly USD 10 to USD 20 premium for the switch in operating systems.
All VPS hosting plans come with guaranteed connectivity, thanks to high-performance Cisco cores, added redundancy, and stability. Added security such as VNC for the KVM virtualization platform completes the package.
All data centers are further equipped with redundancies related to power and other utility services. Data is backed up on a regular basis and all servers run enterprise grade hardware.
HostMantis Reviews on WordPress Hosting
Hostmantis does not offer distinct WordPress hosting plans. That is not a bad thing though. You can certainly run WordPress based websites on the company's hosting platform, but Hostmantis less likely will provide you with any additional software support beyond technical support.
HostMantis Reviews on Support and Customer Service
Hostmantis aims to differentiate itself from the other hosting companies out there by providing high-quality customer service and technical support. Support is available 24 x 7 and over the telephone, IM, and email.
By focusing on customer support, the company saves on marketing expenses as a lot of it is accomplished via word of mouth. And such an achievement for a small company comes with very real value.
HostMantis Reviews on Uptime Performance and Server Status
Hostmantis plans come with a 99.9% server uptime guarantee via SLA. This means that the company is confident in its ability to providing reliable hosting services. Down time is minimal and speeds are maintained consistently.
Good and Bad of HostMantis
Good
Large number of hosting plan
Plans for both individuals as well as business concerns
Reliable servers
High-performance plans
Excellent customer service
Bad
No dedicated WordPress plans
High end plans not capable enough to support high traffic websites
Summary of HostMantis
Hostmantis delivers services that are just good enough. And at the prices it charges, that is all that really matters. By providing great services at a great price, it handily overcomes its minor shortcomings and offers a compelling hosting solution that is easy to recommend.
Compare HostMantis With Our Top Ranked Web Hosts!
SiteGround vs HostGator vs HostMantis

SiteGround

HostGator

HostMantis
Rating

Rated 5 stars

Rated 4.5 stars

Rated 3.5 stars

Price

$3.95/month

$3.95/month

$1.29/month

Criteria