Editor Rating

Rated 3.5 stars

Very Good
---
Reviewed by:

Published on:

Last modified:
---
DISCLOSURE: This post may contain affiliate links, meaning when you click the links and make a purchase, we receive a commission.
Our Top Ranked #1 Web Host

Ideal for WordPress, Joomla, Drupal and eCommerce
What is HostMonster Web Hosting?
While it is true that there are many servers and web hosting companies out there, it is also true that not all hosting companies are alike. Everyone's needs are different, so it's helpful to research as many hosting companies as possible and find out which ones suit your requirements.
This web hosting reviews focus on one such company, called HostMonster. Many hosting companies have to offer a variety of services and hosting package prices to stay competitive in the hosting market, and HostMonster is no different. In fact, this company has been around since 1996, so these people are longtime professionals at the web hosting "game," as it were.
Some of the many services they offer include shared, VPS and dedicated hosting. They provide installation service for over 100 open-source apps, including WordPress, which installs with just one click. This is just the beginning, though. Read on through the rest of this HostMonster hosting review to get a more detailed picture of how this company might serve your needs.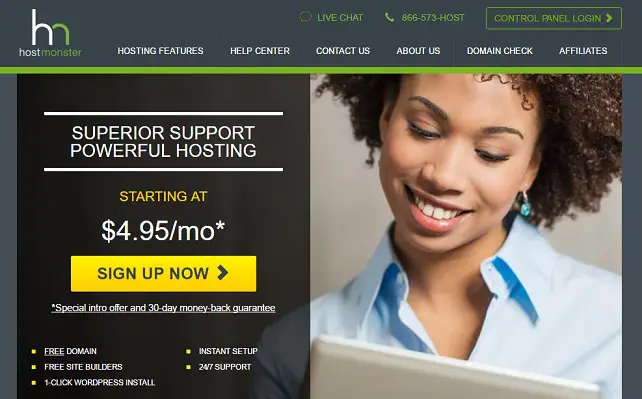 Details
 
Founded
1996
Server Location
Orem, Utah
Services

WordPress Hosting
Shared Web Hosting
Pro Web Hosting
Dedicated Hosting
VPS Hosting
Domain Names

Unlimited Website
Available with Web Hosting (Prime and Plan) Plan
Unlimited Storage and Bandwidth
Available with Shared Web Hosting Plan
Domain Hosting
Yes
Linux Hosting
Yes
Windows Hosting
No
WordPress
Optimized
Joomla
Optimized
Drupal
Optimized
Magento
Optimized
PHP Hosting
Optimized
e-Commerce Hosting
Yes
Email Hosting
Yes
SSL Support

SSL Available With Web Hosting Pro Plan
Paid SSL Available at $49.99/Yr

Dedicated IP

Available With VPS and Dedicated Hosting All Plans
Paid Dedicate IP Available at $5.99/mo

Free Site Migration
No
Free Domain
Available for One Year (All Hosting Plans)
Domain Privacy Protected
$11.88 Per Domain Per Year
Money Back Guarantee
30 Days
24/7 Support
Control Panel
cPanel
One-Click Installation
MOJO Marketplace, Softaculous (VPS or above)
Website Builder
Weebly Site Builder
Automated Backup
Available
Content Delivery Network (CDN)

CloudFlare
SiteLock True Speed CDN

Security Features

SSL Certificate
Site Backup Pro
Spam Prevention

Payment Methods

Visa
American Express
MasterCard
Discover

Endurance International Group Network (EIG)
Yes
Social Profile
N.A.
HostMonster Reviews on Hosting Plans, Features and Services
HostMonster has a variety of plans available for your needs, from shared hosting to VPS and dedicated servers. The shared hosting plan is often the most affordable for your startup needs, and you can always upgrade to VPS or dedicated server plans later on.
The shared hosting plans are grouped this way: "Basic," "Plus" and "Pro." The basic package allows you 1 website, 50 GB of space, 1 domain, 5 parked domains, 25 subdomains, 5 email accounts with 100 MB of space per account. The "Plus" package gives you just a bit more: 10 websites, 20 parked domains, 50 subdomains, 100 email accounts with 500 MB of space for each account, plus $150 worth of marketing offers.
The pro account, naturally the priciest of the shared hosting packages gives you essentially unlimited sites, subdomains, parked domains, unlimited email accounts and email storage, plus 1 SSL certificate, and much more. But as you can see, it could easily be money well spent, depending on your needs.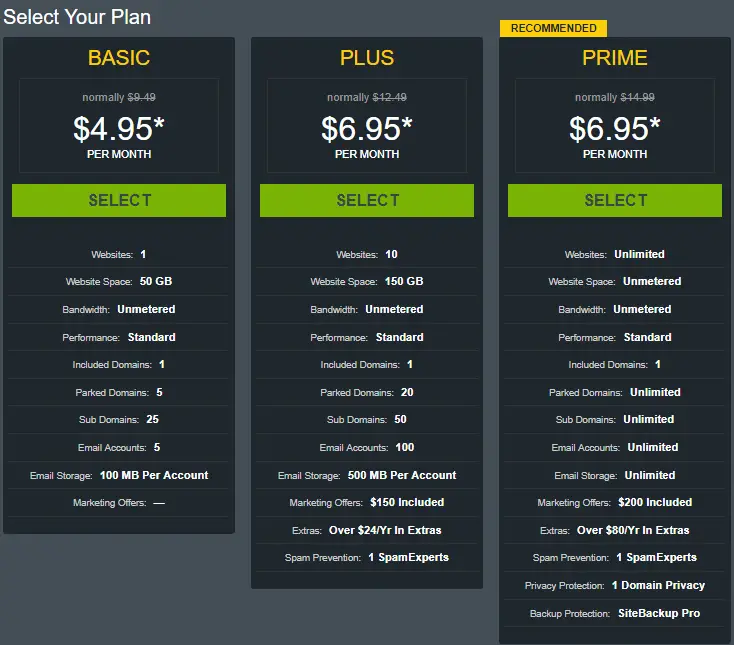 HostMonster Features
While some features are package-based, there is still a wide variety of overall hosting features that you get with HostMonster. Here are just some of them:
Popular CGI/Database capability such as Javascript, Perl 5, PHP 5, MySQL and so on
Linux Operating System
Various multimedia features such as MIDI file support, streaming audio/video support, real audio/video support, etc
Multiple e-commerce features such as four types of shopping carts, SSL server, and more
Free Website Scripts such as phpBB, WordPress, Drupal, and Joomla
HostMonster Reviews on VPS Hosting Plan
The VPS hosting plans, as you might have guessed, are of course a bit pricier, but it just might be worth it to you to check out their additional features. Some of these are:
Cloud technology
Enhanced cPanel
Root access for greater control
Instant Provisioning—meaning you're up and running in mere seconds, as opposed to hours or days with other hosting sites.
Guaranteed Server Resources
Multiple Account Management—access all your accounts with just one login.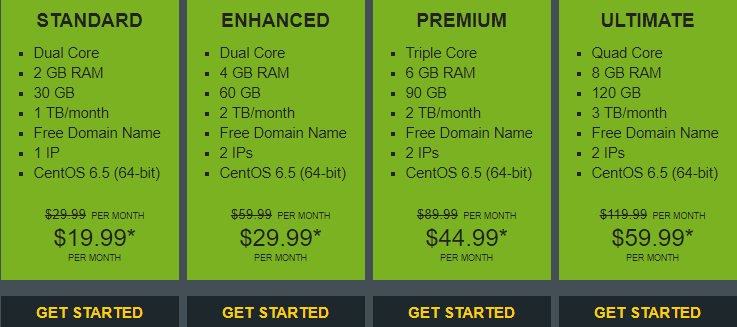 HostMonster Reviews on Dedicated Hosting Plan
The HostMonster dedicated hosting plan is suitable for those who have greater needs. The Standard plan starts at $79.99 (First month only), with renewal price of $109.99 per month from second month afterward. All dedicated hosting plans include a free domain name and using CentOS 6.5 (64-bit).
HostMonster Reviews on Domain Service
Concerning domain names, HostMonster offers reasonable pricing on the usual dot-com, dot-net, dot-biz and other familiar domain extensions. They also provide registration for fancier or more "time-sensitive" domains such as ".blackfriday" for e-commerce, or ".boutique" for a truly unique twist for your online gift shop.
Granted, these names are a bit more expensive, but they just might be worth the cost. Also, keep in mind that when HostMonster mentions the "1 free domain," the domain really isn't free. They simply credit your account for the cost of the domain, something like a rebate for a physical product.
HostMonster Reviews on WordPress Hosting
If you're keen to use WordPress to publish your site or blog, you're in luck. HostMonster has a one-click installation tool to get WordPress up and running. All you do once you create an account is to go to your control panel, then find either WP icon under the "Website Builders" section, or find "Mojo Marketplace" and look for the WordPress icon under the "one-click installs" section. Click the icon and follow the instructions as you go. Some folks might have a little trouble putting WordPress on a shared hosting plan, given that shared hosting is what HostMonster tends to focus on as far as beckoning people to sign up is concerned.
Think of it this way: a shared hosting plan is a bit like sharing a house with friends: while you have lots of company, the resources get stretched a bit thin sometimes. So, when it comes to making sure people can access your WordPress blog or website quickly, it might be worth it to save back some money and get a VPS or dedicated server if you want to run a big WordPress site.
The resources aren't as crowded, and having a dedicated server would be like having a house all to yourself.
HostMonster Reviews on Support and Customer Service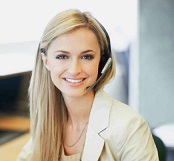 HostMonster has a variety of ways you can get help for your issue. One is their extensive knowledge base to help with the most fundamental problems. Use the search function to look for links within the knowledge base that will assist you. If this doesn't work for you, they have phone support with two different phone numbers, one for US customers and one for outside of the US.
There is also chat support as well if you are not necessarily a "phone person" or you do not currently have access to a landline or cell phone. Chat support is also good if you are in an area where cell reception is not what it could be. You can also submit a ticket if you prefer obtaining help this way.
Some might view this as a more secure way to get help, or at the very least, it gives you an "electronic paper trail," as it were, from a question asked for a solution. A ticket is also helpful in the rare event that the phone and chat systems are flooded with people needing assistance.
As for something like multilingual support, HostMonster's tech support is not outsourced. It's based directly in the U.S. So, it's highly likely that someone who speaks Spanish can get support, though it isn't blatantly mentioned. Either because it doesn't need to be, as bilingual support is pretty much standard anymore in the US, or a majority of HostMonster users and reviewers speak English.
This said, any other languages beyond Spanish are not all that supported phone-system-wise. So if you speak any other language than Spanish or English, you might have an issue. Tech support is available 24/7, though the three other forms of support, such as billing, sales, and TOS (terms of service) compliance support are not 24/7.
In truth, the range of feedback about customer support from others using HostMonster varies. It is not all good, nor is it all bad. Some negative reviews have mentioned potential "canned responses" or lack of response entirely, but many of the negative comments have easily come down to certain factors that might have been out of the reviewers' control.
Many reviews for HostMonster tech support over the last five to ten years have been mostly good. So, if you do happen to read negative reviews while doing your own research, do take them with a few grains of salt, and use your intuition, keeping human nature in mind as you read.
If you are looking for a web host that can provide excellent customer support, we would recommend SiteGround as it is currently the best in the market.
I shared my personal experience with the HostMonster support below.
#Trial 1 Moderate Live Chat Support
I have heard about the fast and professional customer service of HostMonster. So, I decided to check whether they are providing the satisfactory support service. Before contacting their live chat support, I made a list of questions which I wanted to ask. Their support person replied to me in 16.64 seconds which is really appreciable.
I found that the person whom I was talking with doesn't have the complete knowledge about their plans. Throughout the whole conversation with him, I found that he did not answer me well. So, I rated him 7 out of 10.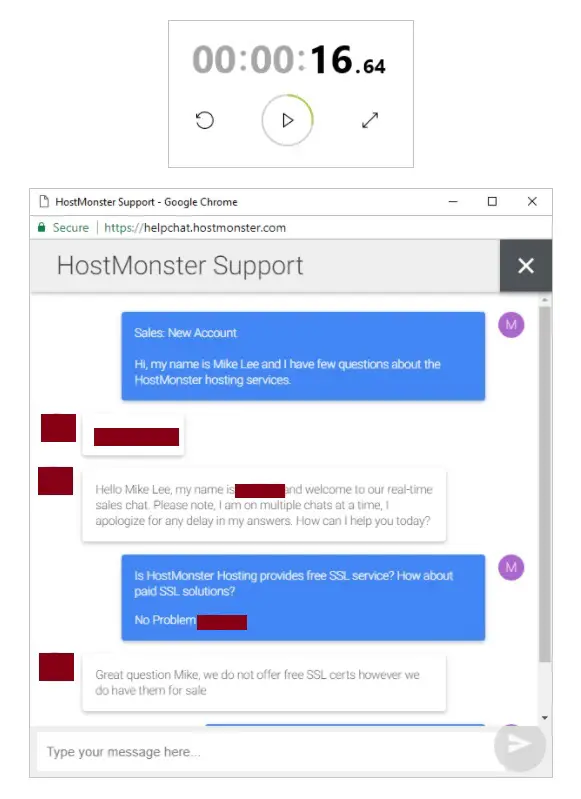 A detailed conversation with live support of HostMonster:
Mike Lee: Hi, my name is Mike Lee and I have few questions about the HostMonster hosting services.
Support: Hello Mike Lee, my name is xxxxx and welcome to our real-time sales chat. Please note, I am on multiple chats at a time, I apologize for any delay in my answers. How can I help you today?
Mike Lee: Is HostMonster Hosting provides free SSL service? How about paid SSL solutions?
Support: Great question Mike, we do not offer free SSL certs. However, we do have them for sale.
Mike Lee: Could you please tell me about the paid SSL charges?
Support: Absolutely, well, first it would depend on the hosting plan you have, what hosting plan was you leaning towards?
Mike Lee: Okay, tell me about shared web hosting.
Support: What would you like to know about shared hosting?
Mike Lee: The shared hosting provides free SSL or paid?
Support: Paid.
Mike Lee: Alright. Could you please tell me the price?
Mike Lee: SSL Certificates: $49.99 per year? Correct?
Support: Yes, you would have to purchase a Dedicated IP with your SSL. The price for that without seeing an account is guessed to be $71.88/year and the SSL would be $50.04/year
Mike Lee: How about Domain Privacy Protected Service? 
Support: That would also depend on the package you pick with us.
Mike Lee: Well, tell me about shared web hosting plan?
Support: Some plans offer it for free and others need it to be paid for.
Support: Go here for me so we are on the same page: https://www.hostmonster.com/cgi-bin/signup
Mike Lee: Is there any Free Site Migration Service?
Support: Do you have your site built with WordPress.com or WordPress.org, and no we do not offer migrations for free.
Mike Lee: Is HostMonster Hosting offers Dedicated IP solution?
Mike Lee: Is dedicated IP solution is available with your all hosting plans? Like VPS, dedicated, etc.
Support: Yes, we do have Dedicated and VPS plans that are available:)
Mike Lee: How many data centers HostMonster Hosting has? What locations are these data centers/servers located?
Support: One location – Orem, Utah.
Mike Lee: Noted, is Host Monster Hosting a part of Endurance International Group(EIG)?
Support: Yes, they do own HostMonster.
Mike Lee: Alright.
Support: Do you have any other questions for me?
Mike Lee: Does HostMonster hosting offer a Content Delivery Network (CDN)?
Support: Yes, we do offer CDN.
Mike Lee: May I know the name of CDN offered?
Support: Cloudflare and SiteLock.
Mike Lee: Great 🙂
Mike Lee: What platform is the HostMonster hosting using to support One-Click installation? Softaculous?
Support: All hosting plans will allow for one click installs, but you would need VPS or above to get Softaculous.
Mike Lee: Any Website Builder tool offered?
Support: Yes almost 80, but the main ones we recommend are WordPress and Weebly.
Mike Lee: Is HostMonster supports Linux Hosting, Windows Hosting or both?
Support: Linux only.
Mike Lee: What type of control panel being used in Linux hosting?
Support: cPanel is used on all plans.
Mike Lee: Will HostMonster back up my website automatically?
Support: We have options for that.
Mike Lee: Could you please tell me more about automatic backups?
Support: Well we have site Backup Pro, it is something that will let you backup your site.
Mike Lee: Noted, it is nice talking with you. Thank you 🙂
HostMonster Reviews on Uptime Performance and Server Status
Uptime Stats
Naturally, if you are running a website, you want the server uptimes to be consistent. HostMonster's uptimes, server and page loading speeds for shared hosting have been quite good. If any reviews are negative, it's likely because HostMonster's services did not adequately match the customers' needs as far as speed, etc. were concerned.
Again, it is often easy for shared hosting to be somewhat problematic if you have a lot of people trying to run fancy scripts and e-commerce on budget pricing. Within the last months, HostMonster's servers have been shown to have at least 99.89 % to 100% uptime. So while you might want to hear from someone's personal experience, it might be wiser to rely on actual current number sampling than a human being's subjective opinion.
This is because every person's needs are different when it comes to hosting, and subjective opinions have a tendency to be full of unreasonable expectations.
Uptime Stats – Target: 99.90%
August 2017 – 100%
July 2017 – 99.89%
June 2017 – 99.93%
HostMonster company doesn't claim any fixed uptime target. In this case, we will use the industry uptime standard of 99.90% as the target. I wanted to check the uptime performance of Hostmonster. Hence, I collected three month's of Hostmonster's uptime stats.
The company achieved the industry target in two months. The overall average of HostMonster hosting is 99.94%, which is outstanding and it is a good achievement for this company.
Note: I will keep updating the uptime stats of HostMonster so bookmark this site for future updates.
Server Response Speed Test
After seeing the uptime performance of HostMonster, I decided to check the server response speed. It is good for us to know whether this company provides a fast server response speed. Response speed of your website plays a pivotal role when choosing a hosting.
I pinged one of the website which is hosted on HostMonster. I check the server response speed of the website through 8 diverse localities and got a good response from all locations. Overall rating of HostMonster server speed is found to be A.
Good and Bad of HostMonster
So far, we've mentioned WordPress, support, hosting features and so on. Here are some of the positive and negative points of using HostMonster:
Good
Affordable shared hosting, even up to $14.95/month for many unlimited services.
Hosting on all levels is feature-rich, making VPS and dedicated servers themselves worth every penny.
Tech Support is 24/7 with chat, phone, support tickets, forums and a large searchable knowledge base.
Uptime is 99.85%-100% within the last three months, and page loading times for a shared hosting account is more than reasonable.
One-click WordPress hosting—just follow the instructions as you go and you're on your way!
Bad
Could be challenging to run E-commerce on shared hosting, especially if you expect to have lots of traffic.
Only Tech Support is available 24/7. Any other type of support has more or less regular business hours, so if you're outside of the US and need help with billing, sales or Terms of Service compliance help, you'll have to keep an eye on the time difference.
No real significant multilingual support, which could make it difficult for people outside the US who don't really speak Spanish, or are not yet that fluent in English.
No autoresponder capability, which is not helpful for those running email lists.
No free SSL
Summary of HostMonster
Now that you've seen all the data, the question now is this:
Is HostMonster a good choice for hosting?
In all reality, it depends on your needs. If you merely want any of the shared hosting plans, and that's good enough for what you need: mostly text articles with a few pictures here and there, then HostMonster is great.
If you need e-commerce, then HostMonster is also good, but you'd best save up for a little while longer and get the VPS or dedicated server. You could get by with running e-commerce or WordPress on the pro level of the shared hosting, but if you want to grow your business and your blog, then a VPS or dedicated server is your better bet.
However, it is pricey on those levels, so if you really can't quite afford HostMonster's packages at that level, but you need e-commerce, then HostMonster might not be your best bet. Overall, HostMonster is a great hosting choice for small-time shared hosting.
It's good for business and blogging, but on the latter end, the VPS and dedicated server plans could be a bit pricey for those anticipating the need for high-traffic solutions, but they're not to the point where they can afford it.
Compare HostMonster With Our Top Ranked Web Hosts!
HostMonster vs SiteGround vs HostGator

SiteGround

HostGator

HostMonster
Rating

Rated 4.5 stars

Rated 4.5 stars

Rated 3.5 stars

Price

$3.95/month

$3.95/month

$4.95/month

Criteria