Editor Rating

Rated 3.5 stars

Very Good
---
Reviewed by:

Published on:

Last modified:
---
DISCLOSURE: This post may contain affiliate links, meaning when you click the links and make a purchase, we receive a commission.
Our Top Ranked #1 Web Host

Ideal for WordPress, Joomla, Drupal and eCommerce
What is HostUpon Hosting?
HostUpon is a small privately owned web hosting provider that has its headquarters in Toronto, Canada and focuses on providing quality service to its customers. It was established in 2007 and hosts over 10,000 customers. HostUpon has almost everything you need to host your website with ease.
It offers unlimited disk space and bandwidth, email address, add-on domains, Joomla, shopping carts, free domain for life, high uptime, customer support, free script installer and free website transfer. It also offers WordPress and cloud hosting to its clients. HostUpon offers three primary plans: Starter Unlimited, Business Unlimited, and Premium Unlimited.
It also provides varieties of other hosting plans to accommodate all businesses. The other hosting plans it offers include reseller, dedicated, VPS and cloud hosting. It also offers different period of the billing cycle and accepts payment through Visa, MasterCard, and PayPal.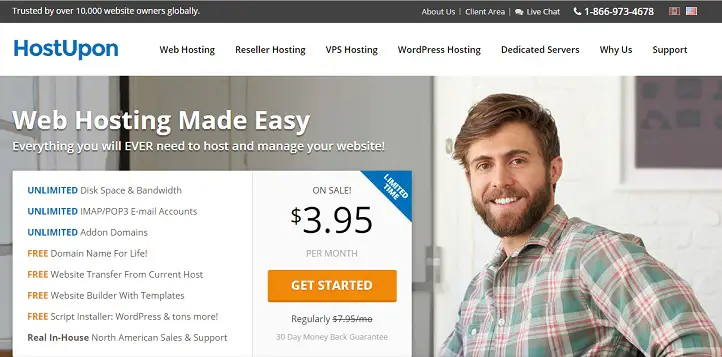 Details
 
Founded
2007
Server Location
Canada, Toronto
Services

Web Hosting
Reseller Hosting
VPS Hosting
Cloud Hosting
WordPress Hosting
Joomla Hosting
FFmpeg Hosting
Boonex Dolphin Hosting
PHPMotion Hosting
PHPFox Hosting
SocialEngine Hosting
Dedicated Servers
Website Backups

Unlimited Website
Available
Unlimited Storage and Bandwidth
Available with Web Hosting and WordPres Hosting plan
Domain Hosting
Yes
Linux Hosting
Yes
Windows Hosting
No
WordPress
Optimized
Joomla
Optimized
Drupal
Optimized
Magento
Optimized
PHP Hosting
Optimized
e-Commerce Hosting
Optimized
Email Hosting
Available only with Dedicated servers
SSL Support
Addon Service Available at $79.95 Annually
Dedicated IP
Available Service Starting at $30/Yr
Free Site Migration
Yes
Free Domain
Available
Domain Privacy Protected
Domain WHOIS Privace Available at $9.95
Money Back Guarantee
30 Days
24/7 Support

Live Chat
Telephone
Ticket Support
Tutorials

Control Panel
All Hosting Plans Comes with cPanel
One-Click Installation
Softaculous
Website Builder
RV Site Builder
Automated Backup

Free Daily, Weekly and Monthly Backups Through Dedicated Servers
Paid Automatic Backups Available Starting at $49.95 Annually

Content Delivery Network (CDN)
CloudFlare
Security Features

Firewall Protection
SSL Secure
DDos Protection
Malware Scanner
Spam Filter &
Anti-Virus
SiteLock Secure

Payment Methods

Visa
MasterCard
PayPal
Visa Debit cards

Endurance International Group Network (EIG)
No
Social Profile
HostUpon Review on Hosting Plans and Domain Service
HostUpon allows its customers to migrate from any of their hosting plans to another by just paying up for the new one. They have customer support specialist for each of the hosting plans to direct customers in case they are confused on which sub-plan to sign up for.
Let us briefly look at the varieties of hosting plans available on HostUpon.
HostUpon offers shared hosting plan to its customers. This plan is perfect for beginners. It allows a lot of sites to be hosted on a shared server and IP. They offer three types of shared hosting: Starter, Business, and Premium.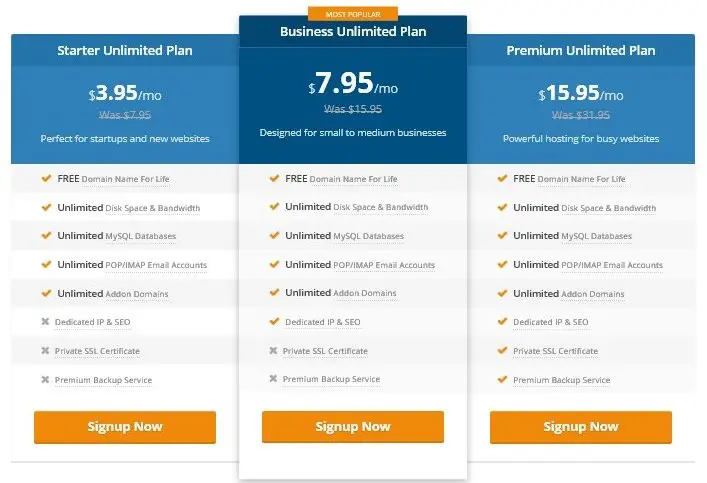 HostUpon Reviews on VPS Hosting Plan
VPS is among the hosting plans offered by HostUpon. This hosting plan allows you higher control of your server. When you sign up for the hosting plan, it will come with cPanel, WHM control, FFMpeg pre-installed for your video websites, CSF and LFD firewalls, brute detection and real-time virus scanner to secure your site.
Their VPS hosting plan offers free migration service and 24/7 in-house support. HostUpon offers different types of VPS hosting plans as below.
VPS-20: This plan is perfect for small websites and has a startup price of $49.95 per month. It comes with 20 GB storage, 512 MB memory, 100 GB bandwidth, and cPanel.
VPS-50: This is the most prominent of all their VPS plans and is recommended for websites focused on media. It is sold at $69.95 per month. It offers unlimited bandwidth for its customers, 1GB memory, and 2 dedicated IPs.
VPS-75: The startup price is $89.95 per month and comes with 2 dedicated IPs, unlimited bandwidth, and 75 GB disk space.
VPS-100: Recommended for businesses that are still growing, it offers 3 dedicated IPs, 2GB memory, and 100 GB disk space. It costs $110.95 per month
VPS-150: It is perfect for the big shots and agencies. Besides, it is also the most expensive of all VPS. It is billed per month at the cost of $149.95 and comes with 3GB memory, 3 dedicated IPs, and 150GB disk space.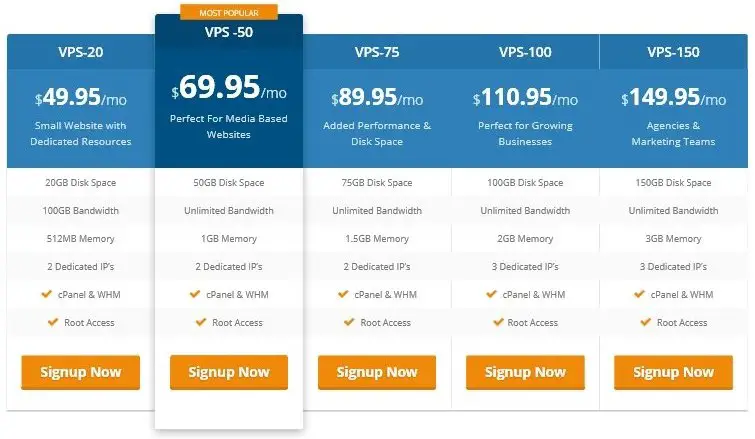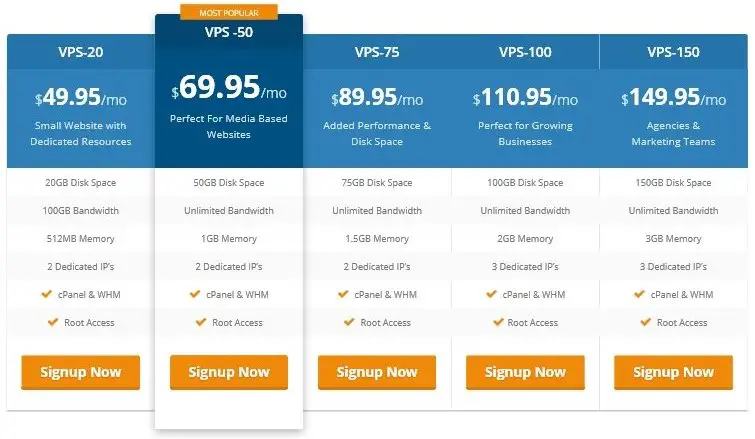 HostUpon Reviews on Cloud Hosting Plan
HostUpon offers three different plans in their managed cloud hosting and offers raid protected disk space on all of them. Cloud hosting, in general, has more resources than the other shared hosting options. Their cloud hosting plans include:
Cloud-25: Recommended for new sites and beginners. It is billed at $24.95 per month and offers 25 GB disk space, 5 MySQL databases, unlimited accounts and two add-on domains.
Cloud-50: Perfect for SME and costs $49.95 per month. It offers 50 GB storage space and unlimited bandwidth, unlimited MySQL databases, unlimited add-on domains and email accounts.
Cloud-100: Cloud-100 is for websites with high traffic and offers unlimited everything with 100 GB disk space.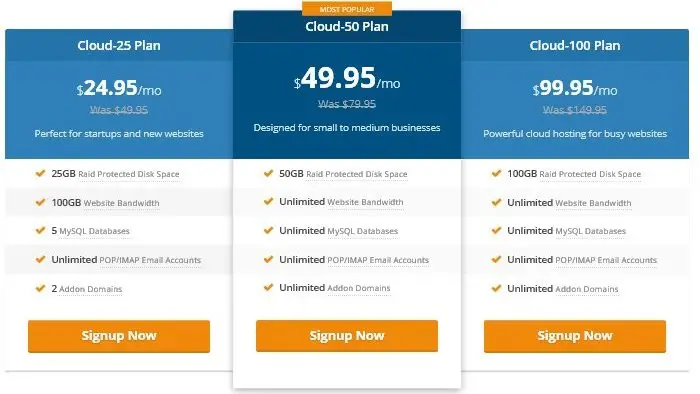 HostUpon Reviews on Dedicated Hosting Plan
HostUpon dedicated hosting plan is highly scalable, includes cPanel and WHM, which allows you to have a total control of your server. Have a look at the HostUpon dedicated hosting plan below.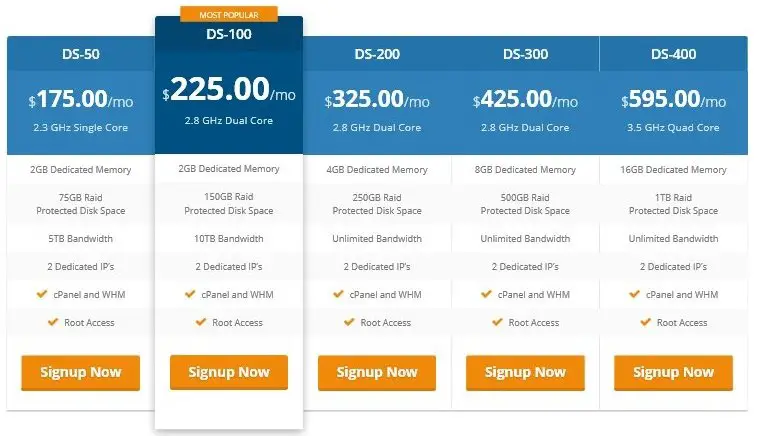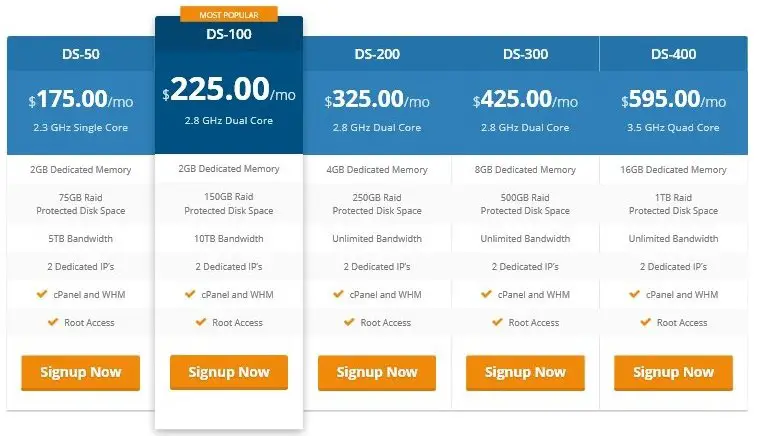 HostUpon Reviews on Reseller Hosting
HostUpon offers reseller hosting solution at $19.95 per month. It includes all features of shared hosting and some other additional features. All their reseller hosting plans come with cPanel, WHM, unlimited bandwidth and many other unique features.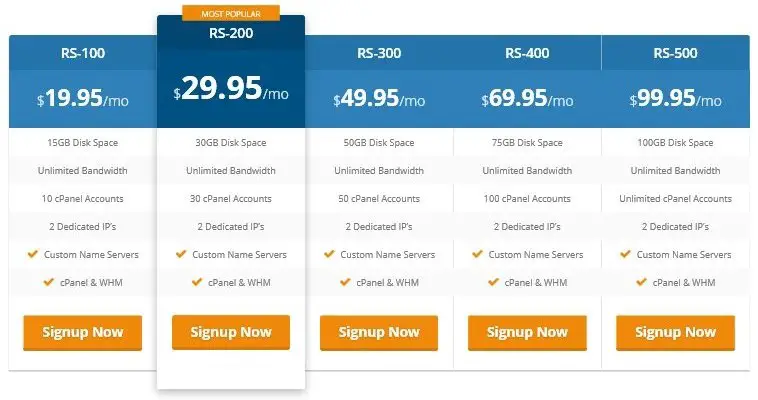 HostUpon Reviews on Domain Service
HostUpon offers a "free domain for life" to its customers who signup for 1-3 years billing cycle. The domains are registered in the name of the client, and he or she has full ownership of the domain. HostUpon allows their customers to transfer their existing domain to HostUpon.
The domain is also renewed for free as long as the client has his/her account remains active.
HostUpon Reviews on WordPress Hosting
Millions of websites make use of WordPress hosting offered by different web hosting providers. HostUpon offers one-click WordPress installation. Their WordPress hosting is easy, reliable and secure. They do not have a special hosting plan for WordPress. However, their shared hosting plans are already optimized for WordPress.


HostUpon Reviews on Support and Customer Service
Customer support should be provided by every web hosting service provider. HostUpon has expert customer support that is available at 24/7 to meet the needs of its customers. They can be reached through the knowledge base, in-house support, live chat and email. They also provide video tutorials to their clients. Each of their hosting plans has support specialist who is ready to help.


#Trial 1 Professional Live Chat Support
I heard a lot regarding the good customer support of Hostupon therefore; I decided to verify it myself. I contacted them through live chat and send all my questions at a time. I waited for 2 hours but did not receive any reply from them. Then I closed the live chat box and again contacted their live chat support. This time I got the reply in just 2 seconds by their customer representative Luke.
He told me that he has already replied on my previous chat but I have not received it, therefore; he answered all my questions again. I must say their customer support staff are well-informed about the hosting plans. On the basis of my experience, I gave 4 out of 5 stars to Luke.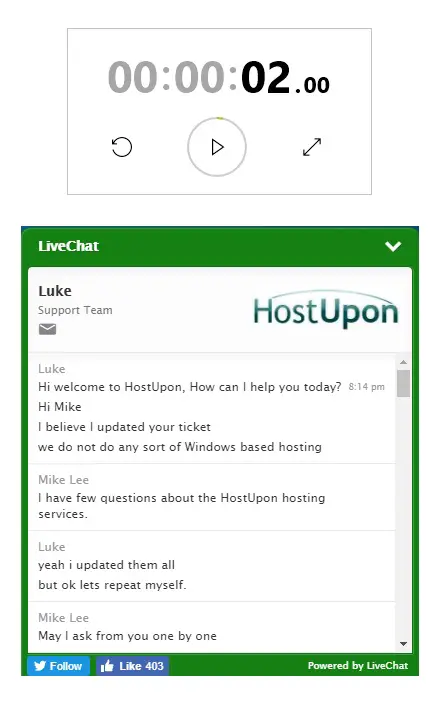 My full conversation with HostUpon customer support is given below:
Questions which I asked in my previous chat
Hi, my name is Mike Lee and I have few questions about the HostUpon hosting services.
Q: Is HostUpon provides free SSL service? How about paid SSL solutions?
A: We do offer SSL certificates as add-on services for $79.95/year.
Q: How about Domain Privacy Protected Service? If yes, free or paid?
A: Domain Name Privacy is also offered as an addon service for $9.95/year.
Q: Is there any Free Site Migration Service?
A: Yes we will transfer all your data for you free of charge.
Q: Is HostUpon offers Dedicated IP solution?
A: Yes Dedicated IPs are offered as an addon service for $30/year.
Q: Is HostUpon supports Windows Hosting?
A: We do not go any sort of Windows based hosting – Sorry.
Q: Is there any hosting plan that supports email hosting?
A: We do not offer any email specific plans other than dedicated servers.
Q: What platform is the HostUpon using to support One-Click installation? Softaculous?
A: All our servers are cPanel based and Softaculous is offered on our Shared plans.
Q: Does HostUpon offer a Content Delivery Network (CDN)?
A: CloudFlare is available on our Shared plans 
Q: How many data centers HostUpon has? What locations are these data centers/servers located?
A: Our servers are located in Canada – Toronto.
Q: What are the security features that Hostupon offers?
A: All our servers are hardened/secured. We can install a firewall for you such as cpf.  
Q: Is the server DDoS protected?    
A: Yes, it sure is.
Q: Will HostUpon back up my website automatically? Or I have to pay for this service?    
A: You can setup automated Backups on a Dedicated server on daily/weekly/monthly basis. I would suggest weekly as backups do consume space. 
HostUpon Reviews on Uptime Performance and Server Status
Uptime Stats
Just like most hosting service providers, HostUpon guarantees its customers a 99.9% uptime guarantee. However, some downtimes are reported, and they do not 100% reach their uptime target. Besides, their policy does not mandate them to take responsibility of any downtime caused by a client.

Uptime Stats – Target: 99.9%
July 2017 – 100%
June 2017 – 99.99%
May 2017 – 99.80%
April 2017 – 99.81%
March 2017 – 99.84%
February 2017 – 99.54%
January 2017 – 99.51%
December 2016 – 99.28%
November 2016 – 99.85%
October 2016 – 99.69%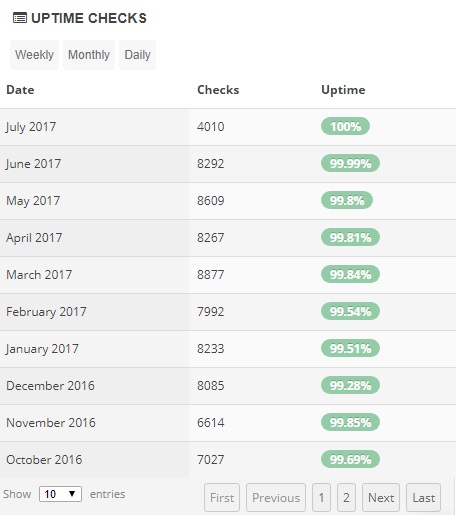 HostUpon Hosting claims to provide 99.9% uptime performance to their entire clients. So I decided to check whether this company is providing the claimed uptime performance or not. I collected their uptime stats of 10 months including July 2017. I was embarrassed to see the uptime performance of this company as it achieved the target in just two months June and July. In other 8 months, it did not achieve their given target.
Overall, the uptime stats average of this company is 99.7%. HostUpon did not accomplish the target in the year 2016 but I see some improvement in 2017.
Note: Keep in touch with our website as we are providing uptime stats of HostUpon on regular basis.
Server Response Test Speed
HostUpon Hosting is providing an outstanding server speed as all of us knows that server speed plays a significant role when choosing any good hosting company. Same like the uptime stats, I also observed the HostUpon server speed to check whether this company provides faster server speed or not. I pinged one of my website on this hosting through different locations.
I was overwhelmed to see that in all locations they provide fast server speed. Rating of HostUpon server speed response comes out as A+.
Good and Bad of HostUpon
Good
Free migration service.
They offer varieties of hosting plans that accommodate any business.
Acceptable customer service.
They are flexible.
Offer a 30-day money back guarantee to its customers to access their services.
Bad
Delay in support
Poor uptime performance
Summary of HostUpon
HostUpon is one of the web hosting providers that have lots of positive reviews from its existing customers. I hope they can improve their uptime performance soon. Although it is not as excellent as SiteGround, we would say it is still worth a try.
Compare HostUpon With Our Top Ranked Web Hosts!
SiteGround vs HostGator vs HostUpon

SiteGround

HostGator

HostUpon
Rating

Rated 4.5 stars

Rated 4.5 stars

Rated 3.5 stars

Price

$3.95/month

$3.95/month

$3.95/month

Criteria