Editor Rating

Rated 3.5 stars

Very Good
---
Reviewed by:

Published on:

Last modified:
---
DISCLOSURE: This post may contain affiliate links, meaning when you click the links and make a purchase, we receive a commission.
Our Top Ranked #1 Web Host

Ideal for WordPress, Joomla, Drupal and eCommerce
What is Hostway?
Hostway is a well-known and established provider of premium web hosting services. Mainly aimed towards business users, Hostway provides some of the most reliable and thorough services in the industry.
The company has developed a well-deserved reputation for providing customized hosting solutions for clients depending on their needs and requirements; for instance, the needs of a startup and that of a mature corporate entity is not going to be similar.
Hostway also caters to e-commerce websites as well as create and maintain testing and sandboxing environments for highly demanding technical users and developers.
Because the company by design provides comprehensive hosting services, you will be able to find cheaper alternatives to Hostway quite easily.
So the question remains: does the company deliver enough to justify its charges?
Read the review to find out.
Hostway Reviews on Hosting Plans and Services
Hostway aims to be a full-fledged service provider for its clients. It provides a variety of services, each aimed at the clients who might make the most benefit out of it.
For startups and new entrepreneurship, the company provides inexpensive shared hosting plans starting from USD 6.95 per month. These plans are good for small websites and businesses who have limited resources to dedicate to technical expertise and want a web hosting solution for relatively simple needs.
Hostway Reviews on Cloud Hosting
Cloud hosting plans are also available for medium and large business enterprises with varying demands and needs. Managed cloud hosting plans are great for instances where the needs and resource utilization is not constant. Being flexible is crucial, otherwise either the client pays more for unused resources or demand outstrips availability and causes poor quality of service.

Cloud hosting can remedy this by modifying resource allocations on the fly instantaneously and use Microsoft's Azure platform.
Hybrid Public Cloud Hosting
Public Cloud hosting on the Azure platform is achieved in a Hybrid configuration for the very best performance. The system supports a range of operating systems and databases, thereby allowing you to configure the system to your need and guarantee compatibility with pre-existing systems.
As a result, the hosting plan is good for a number of use cases, from running websites with varying traffic requirements to sandboxed development environments or to implement automatic resource allocation web applications.

FlexCloud
Hostway also offers FlexCloud, an Infrastructure-as-a-Service (IaaS) product that allows you to change your hosting resources at the touch of a button. The system is designed for a large variety of users and runs Windows Server.
Virtual Private Cloud hosting
For extremely demanding users, Hostway provides Virtual Private Cloud hosting. This includes a band of isolated resources in a N+1 cluster configuration to ensure redundancy and reliable performance. The system is operated using an Azure-consistent control panel and comes with round the clock support 365 days a year.
The plan starts from USD 3750 per month and offers 192 virtual CPU resources, 184 GB of RAM memory and 4 TB of non-volatile storage on a combination of SAS and SSD resources. Additional resources can be added when needed, resulting in a powerful and flexible hosting package that does not break the bank.
Hostway E-Commerce Hosting
For e-commerce usage scenarios, Hostway maintains the Magneto platform that is used by more than 25% of all e-commerce sites on the internet. Managed Magneto hosting plans start from USD 99.95 per month.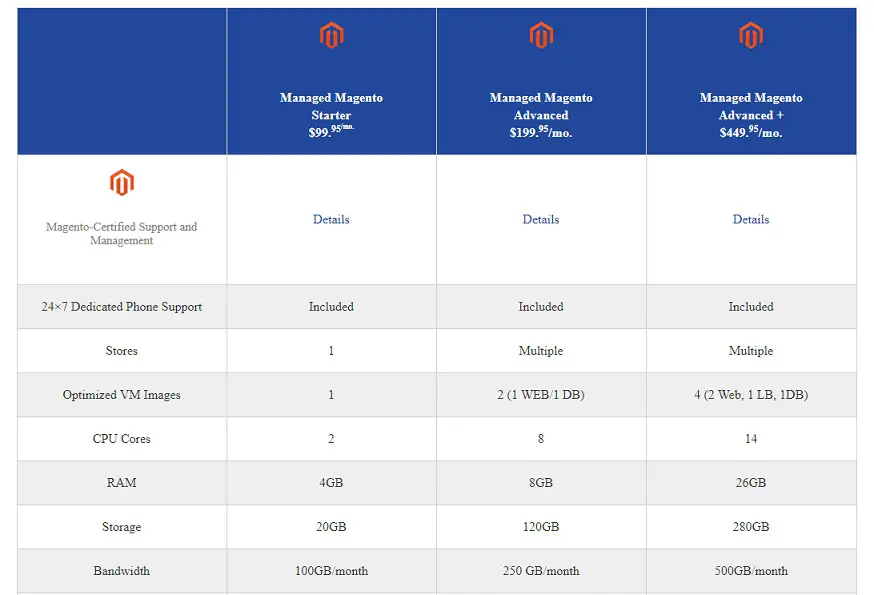 In addition to hosting services, Hostway also provides email server plans, colocation services, domain management services, continue status monitoring systems, and a lot more.
Hostway Reviews on WordPress Hosting
WordPress is the most widely used content management system on the internet today, driving a large percentage of websites online. WordPress is, therefore, the platform of choice for many clients desiring stable and fast operation. Hostway provides managed WordPress hosting services for its clients for their complete peace of mind.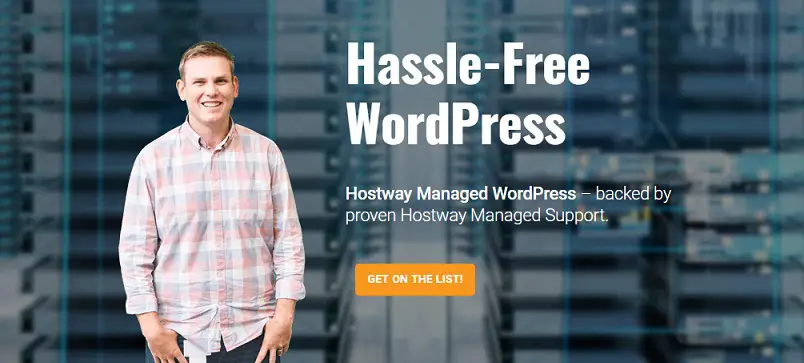 The company provides comprehensive WordPress services that begin from WordPress installation and includes 24×7 customer support as well. Hostway maintains a dedicated support team for its WordPress users that ensure prompt resolution of any issues and services.
The support team also helps users with installation of web apps and set up of various ancillary WordPress services. Configuring your WordPress installation with the required plugins and other services is also included in the managed WordPress hosting plan.
Simply put, if you already have or wish to build a website on the WordPress platform, you could do much with the managed WordPress plan from Hostway. The company offers an all-encompassing WordPress service that covers all grounds.
Hostway Reviews on Support and Customer Service
Hostway primarily aims its services at business and enterprise users. Therefore offering quality customer service and technical support is always a top priority for the company.
All hosting plans, whether shared or dedicated or virtual or cloud, get access to the same award winning customer service that has won Hostway so many fans over the years.
Support is available 365 days a year, 24 hours a day with little downtime. Problems are dealt fast and to the clients' satisfaction. You can reach them through phone call, email, or an IM chat when you contact Hostway customer support.
Hostway Reviews on Uptime Performance and Server Status
Hostway has one of the good server uptime records in the industry. It operates six data centers to evenly distribute the computational load of hosted websites and by using some very clever resource allocation algorithms, service down time is virtually eliminated. Hosted websites work at top performance on the company's high-speed servers and offer a great user experience.
Good and Bad Hostway
Good
Unparalleled services
Great performance
Great reliability
Best in class customer support
FlexCloud is a revolutionary IaaS offering
Bad
Expensive; not suitable for small scale users
No data centers in the Asia Pacific region
Summary of Hostway
Hostway is a very well-known brand in the web hosting business and for good reason. With unparalleled hosting service, great customer service, and unbeatable reliability, Hostway offers the best bang for your buck.
Its packages are a bit on the pricey side, and its cloud hosting plans are priced firmly for the enterprise domain, setting them out of reach for very small companies.
However, the services are definitely worth the cost. Hostway overall gets very good ratings for all its hosting plans and other offerings.
Compare Hostway With Our Top Ranked Web Hosts!
SiteGround vs HostGator vs Hostway

SiteGround

HostGator

Hostway
Rating

Rated 4.5 stars

Rated 4.5 stars

Rated 3.5 stars

Price

$3.95/month

$3.95/month

$6.95/month

Criteria