Editor Rating

Rated 4 stars

Excellent
---
Reviewed by:

Published on:

Last modified:
---
DISCLOSURE: This post may contain affiliate links, meaning when you click the links and make a purchase, we receive a commission.
Our Top Ranked #1 Web Host

Ideal for WordPress, Joomla, Drupal and eCommerce
What is iFastNet Hosting?
iFastNet provides a wide variety of web hosting and domain registration related services at a number of price points suited to all budgets. The company has been offering quality services for some time and has built up quite a number of satisfied customers. Providing an interesting combination of a good feature set and competitive pricing, iFastNet is one of the top competitors to beat in the business.
With its innovative take on pricing and strong hardware resources, the company has been able to go toe to toe with many of the more established brands in the business. A strong and loyal customer base has resulted in widespread word of mouth marketing, which has led to consistent growth.
However, can a relatively new company handle this load, or will it burst under the pressure? Read the full iFastNet review to find out.

Details
 
Founded
2005
Server Location
Services

Premium Hosting
Business Hosting
WHM Reseller
VPS Plans
Dedicated Servers
Register Domain
Shared Hosting

Unlimited Website
Available with Shared Hosting (Ultimate Premium) Plan
Unlimited Storage and Bandwidth
Available with Shared Hosting (Ultimate Premium) Plan
Domain Hosting
Yes
Linux Hosting
Yes
Windows Hosting
No
WordPress
Optimized
Joomla
Optimized
Drupal
Optimized
Magento
Optimized
PHP Hosting
Optimized
e-Commerce Hosting
Optimized
Email Hosting
Yes
SSL Support
Free SSL Certificates (Let's Encrypt)
Dedicated IP
Yes, Available with VPS Plans
Free Site Migration
Yes
Free Domain
Yes
Domain Privacy Protected
Yes, Free of Charge
Money Back Guarantee
7 Days
24/7 Support

Phone
Ticket Support
Email
Knowledgebase
Live Chat (Own Clients)

Control Panel
cPanel 11 latest version
One-Click Installation
Yes, Through Softaculous
Website Builder
Free SiteBuilder
Automated Backup
Yes
Content Delivery Network (CDN)
Cloudflare RailGun
Security Features

Free SSL Certificates (Let's Encrypt)
24/7 Monitoring
Firewall Protection
SiteLock
Spam Filter Spam Assassin
Web Firewall
Hotlink Protection

Payment Methods

Credit Card
PayPal
WorldPay
2CheckOut

Endurance International Group Network (EIG)
No
Social Profile
iFastNet Reviews on Hosting Plans and Services
One of the iFastNet's strongest suits is its wide variety of hosting plans for all budgets. Whether you are looking for a place to host a personal blog, a small business website, or enterprise level services, iFastNet has a plan for you. The sheer number of preconfigured plans provided by the company means that you can choose the perfect plan that is tailored to your needs.
It is too common for users to pay more for an expensive plan that they do not need. With iFastNet, you can pay for the plan that you need and not waste money on additional resources you have no need for.
You can take your pick from a number of shared hosting plans. The Starter plan costs USD17.99 on an annual basis and gives you access to 250 GB of bandwidth, 5 GB of storage space on high-speed SSDs which are faster and more reliable than traditional hard drives, one free domain, and one add-on domain.
It also comes with the most updated version of cPanel interface software and Softaculous to help you create versatile web applications even without any prior knowledge or coding experience. The pricing is enough to conclude that this plan is obviously aimed at beginners and those users with small needs.
The strong resource package and bundled software show that the company is serious about offering an unparalleled experience to its customers, especially those who are particularly budget oriented.
The Super Premium plan costs USD 3.99 on a monthly basis and comes with 250 GB of bandwidth, unlimited storage space on high-speed SSDs, 6 free domains, 20 add-on domains along with the latest software. This plan is clearly geared at a high end from its bundled features if not the pricing.
This plan is aimed at business users who might require a lot of storage space for important media or for archival processes. Having bundled domains also means greater versatility and flexibility with regards to the websites for business use.
The Ultimate Premium plan costs USD 6.99 on a monthly basis and offers absolutely the most bang for your buck. You get unlimited bandwidth, unlimited storage space on high-speed SSDs, unlimited add-on domains and 21 free domains. It is obvious from this feature spread that iFastNet wants to attract its users to its most expensive shared hosting plan.
However, you should always buy a plan that is suited to your needs at the present.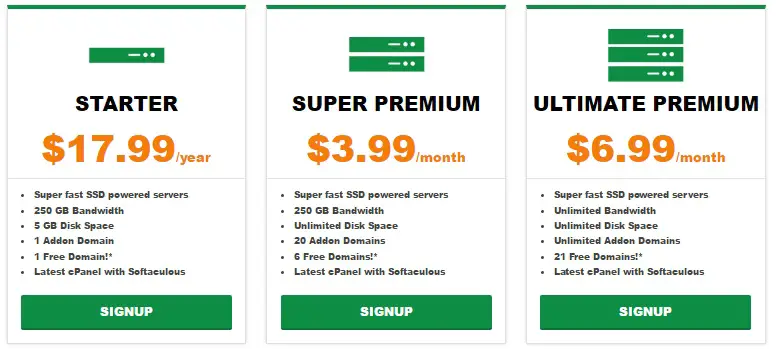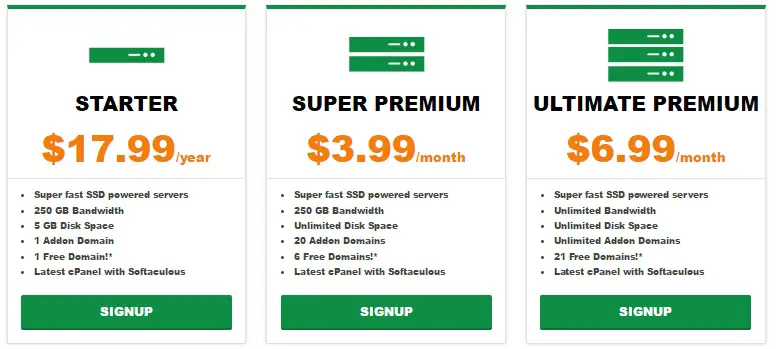 iFastNet Reviews on VPS Hosting Plan
If you are running over your metered limits, you can choose to go for a VPS or virtual private server plan.
• The Economy plan costs USD 9.99 per month and comes with 30 GB of storage, 125 GB of bandwidth, minimum 512 MB of memory and 1 IP address.
• The Basic plan costs USD 19.99 per month and comes with 40 GB of storage space, 200 GB of bandwidth, minimum 756 MB of RAM and 1 IP address.
• The Entry plan costs USD 29.99 per month and comes with 50 GB of storage space, 300 GB of bandwidth, minimum 1024 MB of RAM and 1 IP address.
• The Standard plan costs USD 42.99 per month and comes with 80 GB of storage space, 400 GB of bandwidth, minimum 1256 MB of RAM and 1 IP address.
• The Ultra plan costs USD 55.99 per month and comes with 120 GB of storage space, 600 GB of bandwidth, minimum 1512 MB of RAM and 1 IP address.
• Finally, the Ultimate plan costs USD 65.99 per month and comes with 250 GB of storage space, 1000 GB of bandwidth, 2048 MB of guaranteed memory and 1 IP address.
Obviously, the more you are willing to pay, the more resources are provided at your disposal. It is important to note that while iFastNet does not have any setup charges, the storage is provided on hard disk drives and not on high-speed SSDs like you get on shared hosting plans.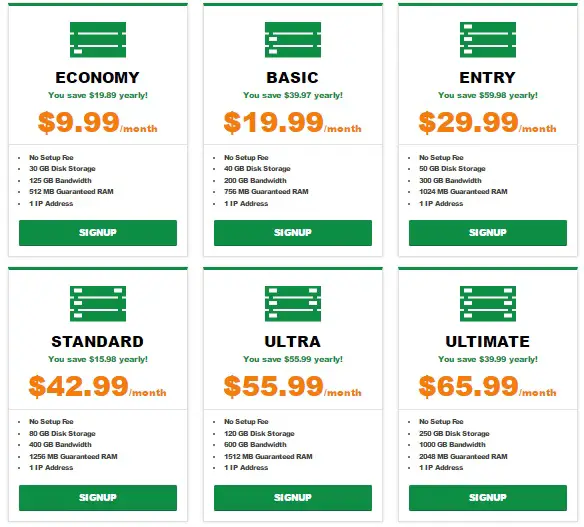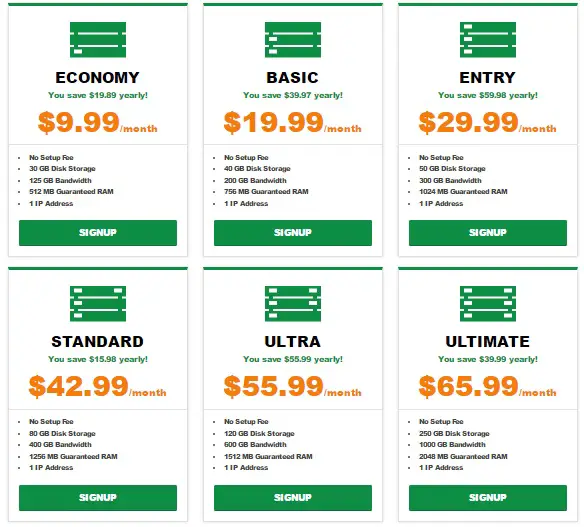 iFastNet Reviews on WordPress Hosting
iFastNet offers close integration with WordPress. WordPress is the most widely used content management system with millions of users. The strong integration of WordPress with iFastNet services means you can run your new or pre-existing WordPress sites without any hassles whatsoever while experiencing superb performance.
iFastNet Reviews on Support and Customer Service
iFastNet maintains 24×7 customer service throughout the year. With its award-winning customer service and technical support, it is no wonder that iFastNet is generating so much positive press and rave reviews. With some of the best customer service ratings in the business, iFastNet has seriously invested in a good place.
Help documentation and contact details are also regularly updated. However, at the time of this writing, iFastNet does not provide live chat support.
#Trial 1 Quick Ticket Support
I wanted to test the ticket support of iFastNet as I heard a lot about their fast and professional customer support services to all individuals. For this, I visited their website and clicked on their support center. Another page opened where I have to create a new account or to enter the user name and password in case of their existing customer.
As I am new so I registered on their website and login my account. I created a new ticket on 18-oct 2017 (10:59 am) and wrote all questions which I have in my mind. I got a fast response from one of their support persons in just 6 minutes. I was really impressed and that is why I gave him 5 stars.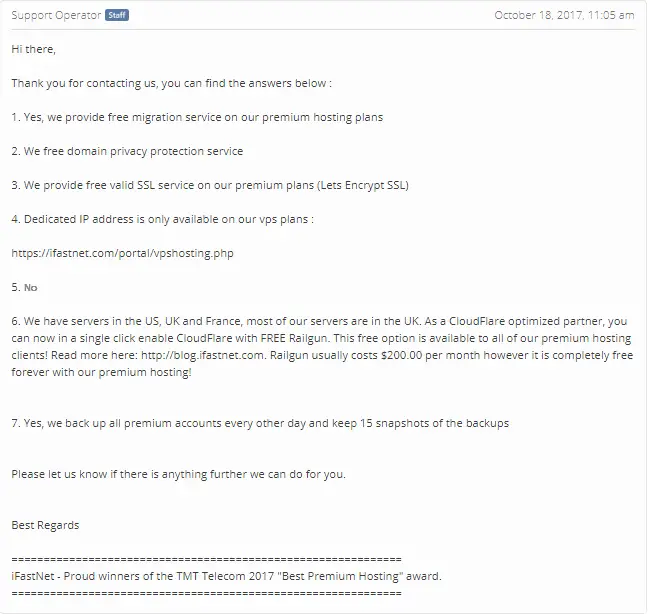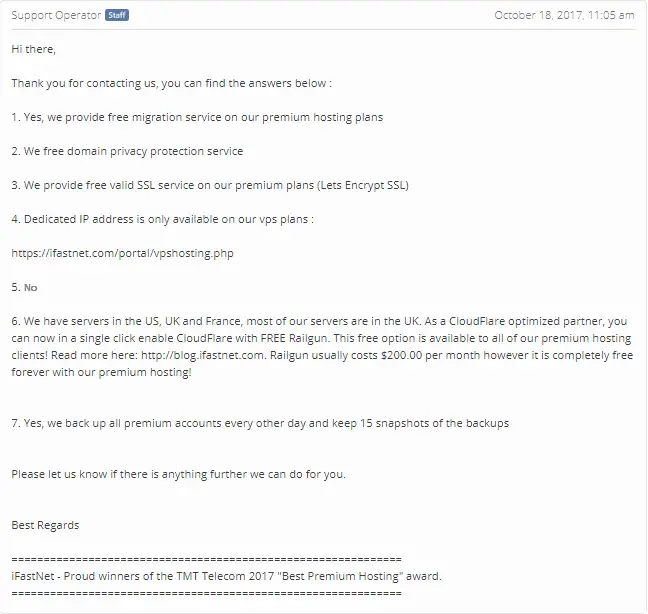 My full conversation with iFastNet customer support is given below:
Q: Is there any Free Site Migration Service?
A: Yes, we provide free migration service on our premium hosting plans
Q: How about Domain Privacy Protected Service? If yes then free or paid?
A: We free domain privacy protection service
Q: Is iFastNet Hosting provides free SSL service? How about paid SSL solutions?
A: We provide free valid SSL service on our premium plans (Lets Encrypt SSL)
Q: Is iFastNet Hosting offers Dedicated IP solution?
A: Dedicated IP address is only available on our vps plans
Q: Is GoDaddy's Hosting is a part of Endurance International Group(EIG)?
A: No, we are not
Q: How many data centers iFastNet has? What locations are these data centers/servers located?
A: We have servers in the US, UK and France, most of our servers are in the UK. As a CloudFlare optimized partner, you can now in a single click enable CloudFlare with FREE Railgun. This free option is available to all of our premium hosting clients! Read more here: http://blog.ifastnet.com. Railgun usually costs $200.00 per month however it is completely free forever with our premium hosting!
Q: Will iFastNet back up my website automatically?
A: Yes, we back up all premium accounts every other day and keep 15 snapshots of the backups
iFastNet Reviews on Uptime Performance and Server Status
Uptime Stats
Similar to the company's stellar record with customer service, server performance and reliability of iFastNet is top notch as well. With guaranteed 99.9% service uptime, there are no doubts about the reliability of iFastNet servers. Shared hosting plans all feature high-speed SSD storage, resulting in great performance and very little down time.

Uptime Stats – Target: 99.90%
September 2017 – 99.99%
August 2017 – 100%
July 2017 – 99.97%
June 2017 – 99.95%
May 2017 – 99.98%
April 2017 – 99.83%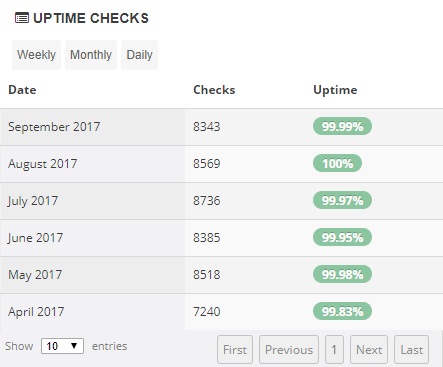 Overall, iFastNet server uptime is trustworthy. As individuals can see by their own in the given above image, this hosting company achieved their target in 5 months out of 6 which starts from April 2017 to September 2017. Only in the month of April, this company didn't accomplish their target.
From my own observation, I have seen many hosting companies who didn't achieve their given target. For me it is satisfactory given that the uptime performance is above 99%.
Note: I update this iFastNet uptime stats regularly, do bookmark this page if you are interested in checking their uptime performance again.
Server Response Test Speed
I carried out the server speed test of iFastNet as one of my website is hosted on this company. iFastNet scored A(September 2017), which proves that iFastNet server is consistent. I pinged my website and tested the server speed of 8 locations which are US (W), US (E), London, Singapore, Sao Paulo, Bangalore, Japan and Sydney.
As seen in the given below image, it performed well in London. I am satisfied with their overall performance that's why I rated their server speed as good.

Good and Bad of iFastNet
Good
SSD standard across all shared hosting plans
Latest software portfolio
Wide range of pricing
Strong customer service
Good server reliability
Bad
Do dot provide Live Chat support
Summary of iFastNet
iFastNet is a versatile web hosting service provider that offers some really compelling plans, especially with shared hosting. While its VPS plans are a bit lacklustre, they are still good when compared to the competition. With strong server performance and a good record of long-term reliability, iFastNet is a good choice in ways more than one.
Compare iFastNet With Our Top Ranked Web Hosts!
SiteGround vs HostGator vs iFastNet

SiteGround

HostGator

iFastNet
Rating

Rated 4.5 stars

Rated 4.5 stars

Rated 4 stars

Price

$3.95/month

$3.95/month

$17.99/year

Criteria