Editor Rating

Rated 4.5 stars

Outstanding
---
Reviewed by:

Published on:

Last modified:
---
DISCLOSURE: This post may contain affiliate links, meaning when you click the links and make a purchase, we receive a commission.
Our Top Ranked #1 Web Host

Ideal for WordPress, Joomla, Drupal and eCommerce
What is InMotion Hosting?
Established in 2001, InMotion has been reviewed as a top hosting company by CNET for 13 years and running. Rated A+ by the Better Business Bureau (BBB), InMotion offers exceptional credentials in the field of web hosting. InMotion succeeds by providing an unbeatable combination of reliable technical performance as well as an award-winning customer service team.
InMotion has longstanding partnerships with leading open source communities like WordPress, Joomla, b2evolution, etc. InMotion offers some of the most robust backend ecosystems with their varied and flexible plans. You can rest assured that they can handle all your hosting needs as you grow.
This InMotion hosting reviews will give you an insight on the company performance. InMotion has hosted a vast number of enterprise clients for a long time, and it is easy to see why. With an unmatched combination of excellent performance and an A+ accreditation from the BBB for its superior customer service, InMotion makes a very compelling case for any hosting requirements that you may have.
InMotion is typically known for its business and corporate bent. Since its users are usually those who will gladly pay extra for better reliability and support, it is also very suited for personal and other non-business applications as well.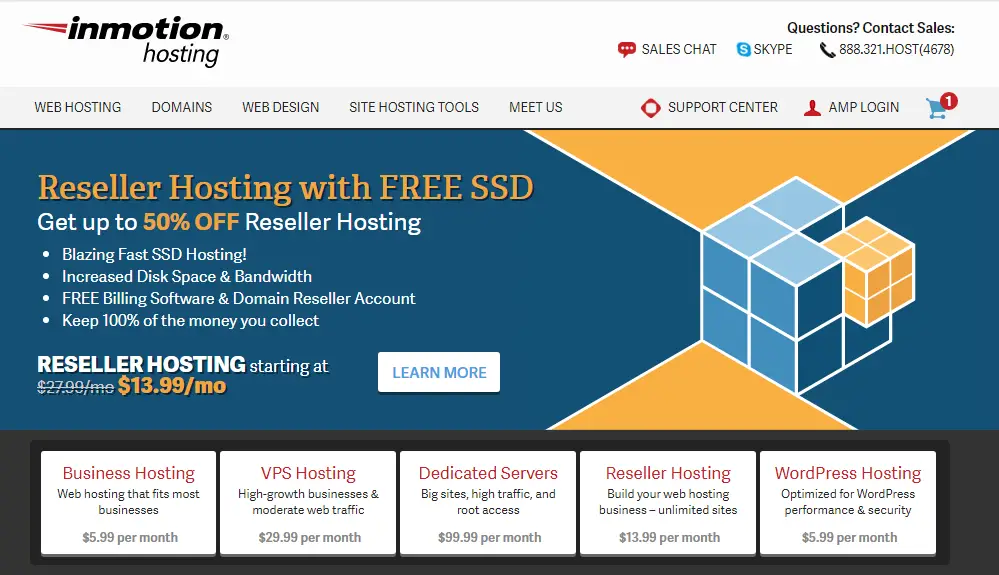 Details
 
Founded
2001
Server Location

Virginia (US East Coast)
Los Angeles, CA (US West Coast)

Services

Shared Business Hosting
VPS Hosting
Reseller Hosting
WordPress Hosting
Managed Hosting
Dedicated Servers
Enterprise Hosting Solutions
Domain Names
Web Design Services
Launch Assist
Web Hosting
SSD Hosting
eCommerce Hosting
PHP Hosting
SSH Hosting
Transfer Webistes
Ruby Hosting
PostgreSQL Hosting
Shared cPanel Hosting

Unlimited Website
Available with Shared Business Hosting (Pro Plan), WordPress Hosting (Pro Plan) & VPS Hosting Packages
Unlimited Storage and Bandwidth
Available with WordPress Hosting and Shared Business Hosting Plan
Domain Hosting
Yes
Linux Hosting
Yes
Windows Hosting
No
WordPress
Optimized
Joomla
Optimized
Drupal
Optimized
Magento
Optimized
PHP Hosting
Available
e-Commerce Hosting
Available
Email Hosting
Yes
SSL Support

LetsEncrypt
Flex SSL
Comodo SSL That Cost $99.99/Yr Plus One Time Installation Fee $25
Free SSL (HTTP) Using Auto SSL

Dedicated IP

Yes, $2 Per Month & $24 Per Year
Free IP's with Reseller, VPS and Dedicated Server Plans

Free Site Migration
Available with All Hosting Plans
Free Domain
Available With All Hosting Plans
Domain Privacy Protected
Available Starting At $9.99 Per Domain Per Year
Money Back Guarantee
90 Days
24/7 Support

Live Chat
Telephone
Ticket Support
Email

Control Panel
cPanel
One-Click Installation
Yes, Softaculous
Website Builder
Automated Backup
Free Automatic Daily Backups With All Hosting Plan
Content Delivery Network (CDN)
No, but you can implement CDN from third party
Security Features

DDos Protection
Custom Firewall Protection
Malware Protection
Secure SSL

Payment Methods

Visa
MasterCard
Discover
American Express
Check

Endurance International Group Network (EIG)
No
Social Profile
InMotion Reviews on Hosting Plans and Services
InMotion offers various types of hosting plans including shared, VPS, WordPress, dedicated and reseller solution. Have a look at the details below.
InMotion offers some extremely value oriented shared hosting packages for businesses. Ideally suited for static websites or as content management systems built around centrally updated databases, shared hosting is a cheap and effective option for modest hosting needs. If you need to run custom applications, you can do that as well.
You also get a free domain with shared hosting packages. Alongside one click installation, you get support for SSH, PHP, MySQL, PostgreSQL, Ruby, Python, Perl as well as hosting on SSDs instead of regular hard drives for fast access speeds and superior performance.
InMotion Hosting Reviews on VPS Hosting Plan
InMotion also offers actively managed VPS hosting systems on the state of the art Linux servers and preconfigured cloud compatibility. All hosting is done on SSDs and with support for CentOS, cPanel, LAMP stack and a host of other features. InMotion VPS hosting is one of the most compelling offerings in the market.
Support for granular features like unlocked CPU cores and built-in redundancies offer you supreme performance and reliability. Besides, with an exclusive Resource Dashboard, you can analyze your usage patterns to optimize your platform further or decide on the option of upgrading to a plan better suited to your needs.

InMotion Hosting Reviews on Dedicated Hosting Plan
As the flagship packs for InMotion, dedicated hosting is one of the best offerings by the company. You can choose from single and dual processor servers, preconfigured LAMP stacks and get free SSD hosting. A hosting team is always ready for dedicated server to monitor your needs as well as provide custom configurations if necessary.
Besides, the 2 hours hardware replacement guarantee is what takes the cherry, giving you peace of mind in case any hardware fault occurs. You are promised with minimal downtime so that you can get back to business as fast as possible.
InMotion Hosting Reviews on Reseller Hosting Plan
InMotion's reseller hosting packages allow web development professionals to bundle hosting services with their design and development kits, leading to all round better growth potential for their businesses. You get up to 30 free transfers of cPanel accounts and access to SSD hosting as standard.
Also bundled is free WHMCS for billing services and included certificates for TLDs, gTLDs, and SSL.

InMotion Hosting Reviews on Domain Service
InMotion also offers domain transfer services for all kinds of hosting packs. If you are concerned about privacy, you can subscribe to the Domain Privacy add-on that protects your personal information from queries and for-profit businesses like telemarketers. You can transfer existing domains to your InMotion Hosting account with very little hassle.
If you subscribe to a 12-month or 24-month plan, you can also get a domain transferred for free.
InMotion Hosting E-commerce Features
InMotion also comes with full support for e-commerce. Using Softaculous for 1 click installation, InMotion supports OpenCart, WHMCS, PrestaShop, Magento, TomatoCart, osCommerce, AlegroCart, ZenCart, phpCOIN, etc. You also get the relevant support infrastructure for these dedicated e-commerce solutions, ensuring that if you run into any trouble with your e-commerce venture, then you can rely on InMotion's stellar customer support.
InMotion Hosting Reviews on WordPress Hosting
Offering some of the most premium WordPress hosting services on the market, InMotion runs some of the most optimized WordPress hosting configurations. WordPress support can be added onto any existing hosting plan, and you also get support for BoldGrid, which allows you to get your website up and running in absolutely no time.
InMotion offers free installation, automatic updates, command line interface integration and free data backups for enhanced redundancy and data protection. You also get a dedicated support team for exclusive WordPress support services.

InMotion Hosting Reviews on Email Hosting
InMotion offers some class-leading email plans when it comes to functionality and value for money services. Setting up your email login and various other email settings are incredibly easy, thanks to the intuitive user interface and UX design. Email hosting is done on InMotion's robust server infrastructure, ensuring that you never experience service outages at crucial instances.
Thanks to the company's long presence and experience in the web hosting, InMotion has some of the most sophisticated spam filters with its email hosting services, which guarantees a great email experience. Built in malware protection and automatic filters ensure that you never fall prey to phishing attacks or any other software with nefarious intent.
InMotion email can be used using a broad range of webmail clients as well as desktop clients such as Outlook or Microsoft Exchange. Since its services are compatible with enterprise software, you can rest assured that InMotion email is as suitable for business use as it is for casual or personal use.
InMotion Hosting Reviews on Support and Customer Support
InMotion is a leading web hosting service provider and consistently features at the top of industry rankings. This is almost certainly due to its stellar customer service and technical support. InMotion employs the most skilled customer service personnel who are also technically proficient in handling complex queries of error situations.
Its award-winning customer service is the testament to the level of professionalism and excellent service that InMotion provides to its clients. You get what you pay for with InMotion. With some of the best customer service experience in the industry, you will never complain that you are being overcharged since anytime you require support, you are reminded of where your money goes.
#Trial 1 Professional Live Chat Support
In order to check the live chat support of Inmotion Hosting for all customers, I prepared some questions regarding their hosting plan. I communicated with one of their Live Chat Support personnel. Their support person replied to me after 2 minutes and 42.38 second after reading all of my questions which I asked from them. Name of their personnel was Allen S. and he answered my all questions in detail.
I like the way he talked with me and my all confusion was sorted out. This company has outstanding customer support staff who not only provide complete detail but also communicate in a polite manner. Therefore, I rated Inmotion Hosting support 10 out of 10.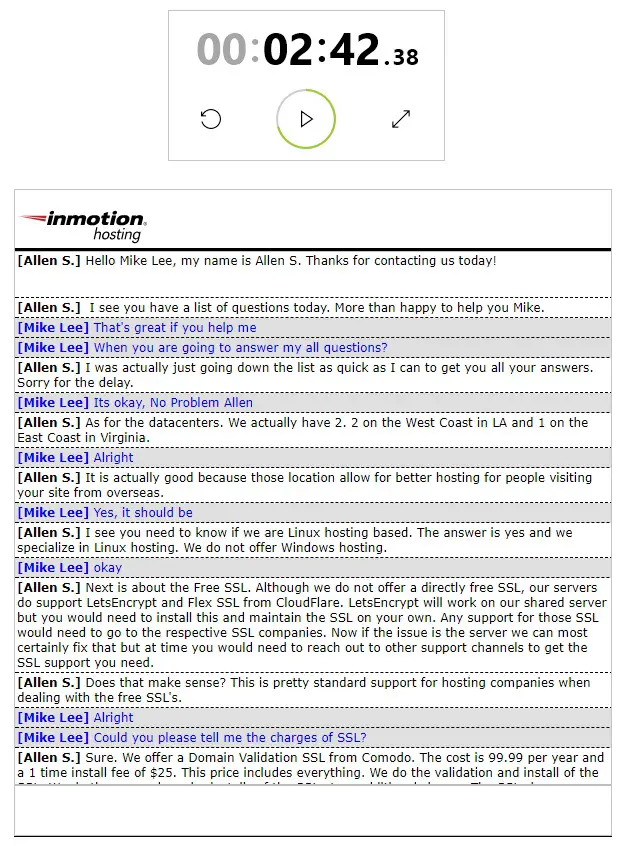 Here is my full conversation with Allen S.(InMotion Hosting Support Staff):
Hi, my name is Mike Lee and I have few questions about the InMotion hosting services.
How many data centers InMotion hosting has? What locations are these data centers/servers located?
Is InMotion hosting supports Linux Hosting?
Is InMotion hosting supports Windows Hosting?
Is InMotion hosting provides free SSL service? How about paid SSL solutions?
How about Domain Privacy Protected Service? If yes then free or paid?
Is there any Free Site Migration Service?
Is InMotion hosting offers Dedicated IP solution? If yes, then paid or free?
Which control panel is used by both windows and Linux hosting Like plesk, cpanel etc
How long it takes for the server to be deployed?
Please help to clarify the questions above.
Regards,
Mike Lee
Allen S: Hello Mike Lee, my name is Allen S. Thanks for contacting us today! I see you have a list of questions today. More than happy to help you Mike.
Mike Lee: That's great if you help me. When you are going to answer my all questions?
Allen S: I was actually just going down the list as quick as I can to get you all your answers. Sorry for the delay.
Mike Lee: It's okay, No Problem Allen.
Allen S:  As for the data centers. We actually have 2. 2 on the West Coast in LA and 1 on the East Coast in Virginia.
Mike Lee: Alright.
Allen S: It is actually good because those location allow for better hosting for people visiting your site from overseas.
Mike Lee: Yes, it should be.
Allen S: I see you need to know if we are Linux hosting based. The answer is yes and we specialize in Linux hosting. We do not offer Windows hosting.
Allen S: Next is about the Free SSL. Although we do not offer a directly free SSL, our servers do support LetsEncrypt and Flex SSL from CloudFlare. LetsEncrypt will work on our shared server but you would need to install this and maintain the SSL on your own. Any support for those SSL would need to go to the respective SSL companies. Now if the issue is the server we can most certainly fix that but at time you would need to reach out to other support channels to get the SSL support you need.
Allen S: Does that make sense? This is pretty standard support for hosting companies when dealing with the free SSL's.
Mike Lee: Could you please tell me the charges of SSL?
Allen S: Sure. We offer a Domain Validation SSL from Comodo. The cost is 99.99 per year and a 1 time install fee of $25. This price includes everything. We do the validation and install of the SSL. We do the renewals and reinstalls of the SSL at no additional charge. The SSL charge includes a Free dedicated IP for your SSL. Also we do all the work. We might need you to respond to a email or 2 but highly unlikely. Mainly our SSL is made where if you do not have the time and need someone else to do the work.
Allen S: I still like recommending the Free SSL
Allen S: It is free and they work really well on our servers. Not much maintenance needed for the free SSL's but sometimes people can either be intimidated by managing your own SSL or just do not have the time.
Mike Lee: Free SSL service through which hosting plan?
Allen S: Any hosting plan. All of our plans are compatible with the SSL's options we have discussed.
Mike Lee: That's really good for everyone.
Allen S: The only difference with the Free SSL's and the paid SSL's is that you would have to install and maintain the Free SSL.
Allen S: I think so. I just found out yesterday that LetsEncrypt does work on our Shared Business Class hosting. I think this is great for our customers!
Allen S: I see you are looking at free site migration as well correct?
Allen S: We do this but I would need to know how many sites you have and how they were built.
Mike Lee: Yes, I want to know.
Mike Lee: It depends. Let's suppose 2 sites
Allen S: Would they be WordPress sites and would they come from a host that uses cPanel?
Mike Lee: Both.
Allen S: Perfect. We can move up to 3 "items" for free. That would mean for 1 WordPress site there would be 2 items because there would be a database. Now if everything is under 1 cPanel account, or up to 3 cPanel item accounts, we can move the sites for free.
Allen S: Does that make sense Mike?
Mike Lee: I have seen that your company is providing free site migration service to your VPS plan.
Allen S: That is a different plan because we use Launch Assist for the VPS migrations. The Launch Assist is done by a Sys Admin in our company and you would get 2 free hours of Launch Assist. Not only can they move your site but optimize your site as well to perform better on a VPS.
Mike Lee: Are you providing 3 sites for free to your all hosting plans or not?
Allen S: It differs. With our Business Class hosting we can move up to 3 items for free. This can be 3 cPanel accounts no matter what is on the cPanel.
Allen S: With our VPS plans we use Launch Assist to move the sites and do what is needed to help the customer get setup.
Allen S: It is a little more technical to host on a VPS so we offer the extra support to get started.
Allen S: Now you can purchase additional Launch Assist time if you are on Business Class but normally not needed.
Mike Lee: Yes, it is. I agree with you.
Allen S: So the next question was about IP addresses. If we offer them and how much. Correct Mike?
Mike Lee: Nope. The next question is "How about Domain Privacy Protected Service? If yes then free or paid"?
Allen S: I am sorry. I thought I had gone over that but no worries. Domain Privacy does come at a charge. It is 9.99 per year. We charge because this fee because we would like you to know what you have instead of incorporating the price of Domain Privacy into our overall hosting price. If a company does not charge for Domain Privacy they have included that cost in the overall price somewhere.
Mike Lee: No problem Allen 🙂
Allen S: It takes a lot of work to keep a domain private but legal per ICANN so somewhere there would be a cost for Domain Privacy at any hosting company. Whether you see it on the bill or not.
Allen S: Now the Ip question right?
Mike Lee: Yes, Dedicated IP.
Allen S: I just want to make sure we don't miss anything. Choosing a good host can mean your success or failure as a online website.
Allen S: So IP's.
Allen S: 2 dollars a month or 24 a year.
Mike Lee: 24$ per year?
Allen S: You get a FREE IP with the purchase of a SSL from us or there are IP's that come with our VPS and Dedicated server programs.
Allen S: $24 Ip per year. Correct.
Allen S: But that is mainly for shared hosting. Our other hosting plans offer free IP addresses with the hosting package.
Mike Lee: Alright, other hosting plans provide free dedicated IP address.
Allen S: Correct but it also usually depends on the plan you are setting up. We offer Free IP's with other packages where others we do not. Just depends on the hosting plan that you choose that is best for you.
Mike Lee: Okay, it depends on the hosting plan.
Allen S: Correct but sometimes it is best to go with a Business Power Plan and pay the additional $24 dollars for an IP then go with a VPS 1000HA-S. You get 3 free IP's with the VPS 1000 plan but it is much more than the Power Plan and pay the $24 per year for the IP.
Mike Lee: Got it. Your company is providing both paid and free dedicated IPs.
Allen S: Correct. As for the next question we use strictly cPanel. You can use something else but it would need to be installed by you and you will need at least VPS hosting, possible Dedicate hosting, to make these changes. You will be granted full Root access if this is something you would wish to do.
Mike Lee: Your company provide cPanel for different hosting like Linux Hosting, dedicated or so on
Allen S: That is correct. Yes.
Mike Lee: Good 🙂
Allen S: As for the time it takes to deploy a host server? Depends. You will see a Business Class hosting plan provision in less than an hour. As for a VPS or Dedicated hosting it can take up to 24hrs but as of right now it take about 2hrs for a VPS and 4-6hrs tops for a Dedicated server.
Allen S: We actually have to put together the Dedicated server so that is why that take a little longer.
Allen S: Now is this hosting you are setting up today or maybe later? We can come together on a hosting plan best for you and I can provide you with a link with the best pricing. Also I wish to provide you with a link so that when you process your request I can make sure I get credit for the time we have worked together.
Mike Lee: Is there any hosting plan that supports email hosting?
Allen S: All of our plan support "Unlimited" email hosting. Do you need to send out emails in larger volume?
Mike Lee: Yes, can you provide me the link with best pricing?
Allen S: If this is the case do know that all of our plans are limited to 250 emails an hour to start.
Allen S: On Business Shared Class hosting you can up that limit to 750. With a VPS or above we can just remove that email restriction but you are responsible for managing the server from being blacklisted.
Mike Lee: Does InMotion Hosting offer a Content Delivery Network (CDN)?
Mike Lee: Got it Allen.
Allen S: That is a good question and we do not offer this directly but people love to use CloudFlare. Actually CloudFlare is where you get the Free Flex SSL plugin.
Allen S: We do not offer it but it does work great with our service. Just be sure if you use the free CloudFlare that you go in and clear the Cache on the CDN every once in while or it will affect the performance on your site.
Allen S: Do you know how many sites you need to host and if any of the site are Ecommerce sites?
Mike Lee: 2-3 sites.
Allen S: Any e-commerce and any sites with heavy traffic going to them?
Mike Lee: It means no CDN provided by your company, we have to use our own.
Mike Lee: Not e-commerce site, just simple site.
Allen S: You do need to choose your own CDN provider. The main reason we do not offer this is because then you get the choice of who you want to use and can move to other CDN providers as you choose.
Allen S: I would say just to start hosting is to go with our Business Class Power Plan.
Allen S: https://secureorder.inmotionhosting.com/order-process#order-session/b1c5647a5b290595b47ba33d29d8a03bd2f4364b
Mike Lee: Okay.
Allen S: This would be hosting Power Plan good for 3 years for 161.64. I don't think you would need anything else for the 3 years and it will give you the best saving possible.
Mike Lee: Yes, no doubt.
Allen S: Also if this plan is not right for you, then you can request a "Full" refund on the purchase price in the first 90 days. No service fees or paying for the time you had the hosting. You would get a full refund of the purchase price if you are not happy.
Allen S: This is why I like answering questions like this. This way we can find you the right hosting that you will be happy with.
Mike Lee: It is really a nice talking with you and happy that you answered my all questions
Allen S: I can stay on the chat while you process your order. This way if you have questions during the order process I can be here to answer them for you.
Mike Lee: Yes I like the way you are talking with me.
Allen S: Cool. Just click the link to process the order. I am right here if you have any questions. Also when you are done I can advise you on how best to get started,
Mike Lee: okay. Once again thank you so much 🙂
Allen S: You are very welcome Mike.
InMotion control panel, SSL, SSH, FTP, DNS and Website Builder
InMotion is a leading provider of the most diverse and feature packed web hosting offerings on the market. Its services are full featured and packed with advanced and sophisticated software. Thanks to its partnerships with leading open source software consortiums, InMotion readily integrates the latest updates and new technologies into its backend, making web development on its platform incredibly easy.
InMotion supports all leading development protocols and technologies. With built-in SSL support for added security and integrated SSH and FTP support, you can rest assured that you are getting one of the most feature packed software platforms to build your website on.
Also on the table is a robust DNS platform and nameservers for greater reliability and fast performance.
InMotion Hosting Website Builder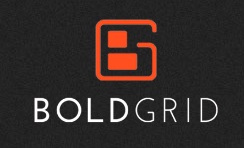 Finally for novice designers or first-time users, InMotion bundles a website builder tool called BoldGrid which is a featured packed WYSIWYG software package. Thanks to integrated support for WordPress and associated technologies, BoldGrid makes building a website from scratch effortless.
It is a great way to get your web venture up and running as fast as possible or as a stop-gap measure until you can complete a more traditional built from the ground up and then transfer it to your hosting plan.
InMotion Hosting Reviews on Uptime Performance and Server Status
Uptime Stats
InMotion maintains what are the most enviable server uptime records in the industry. Its robust hardware infrastructure ensures stable uptime and minimal downtimes that are unmatched by its competitors. Thanks to its dedicated hardware and high-speed SSDs across all hosting packages, even the most budget hosting plan gets high-performance metrics when compared to competing hosting service providers.
They have well-maintained partnerships with data pipelines. InMotion Hosting also gives you some of the most responsive websites, with response times well below the average of 350 milliseconds. This is an excellent level of performance and combined with the superior processor and resources allocated at the hardware level. InMotion Hosting is pretty difficult to beat.
InMotion also leverages peering technologies and in an unprecedented move leverages fragmented hosting on multiple data centers to offer great performance without the additional hardware overhead necessary. InMotion allows its shared hosting subscribers to choose which data center they want to use for storage; you can decide to put your website in a Max Speed Zone, which can guarantee you a performance boost of over 600% at absolutely no additional cost!

Uptime Stats – Target: 99.90%
July 2017 – 99.93%
June 2017 – 99.98%
May 2017 – 99.89%
April 2017 – 100%
March 2017 – 99.99%
February 2017 – 99.90%
January 2017 – 99.88%
December 2016 – 99.96%
November 2016 – 100%
October 2016 – 99.99%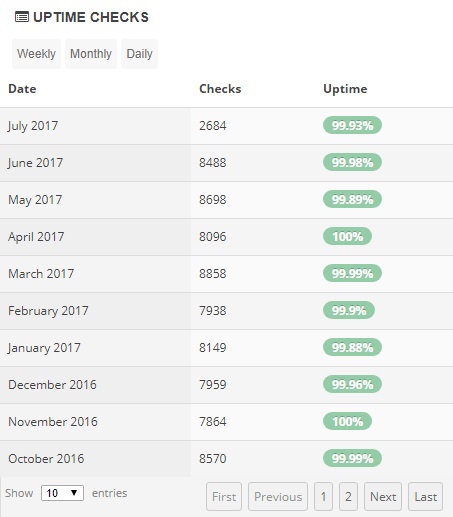 I checked one of my website's performance which is hosted on InMotion hosting and also the image of uptime stats performance is given above. The company claims to provide 99.90% uptime to their clients, but the company did not hit their target all the time.
InMotion did try to achieve their target. From the 10 months uptime performance records, in 8 months it achieved the target and its performance was well. Overall average of uptime performance of InMotion Hosting is 99.95%, which is excellent.
Note: Always keep in touch with our site to get latest and regular updates regarding InMotion Hosting uptime stats.
Server Response Speed Test
The sever response speed of InMotion Hosting is excellent as almost every individual knows that speed is one of the most crucial thing when it comes to choosing the hosting for any company. Like, if your website speed is not good, then it can create problem for the visitors who visit your website plus it also affects your website image.
Do check these all things when anyone of you wants to buy a hosting plan for your site. I also checked the inMotion Hosting server response speed from 8 diverse locations. Overall performance of this hosting is A+.
Good and Bad of InMotion Hosting
Good
Wide choice of server upgrades
Stellar performance
Industry leading customer service
Industry leading reliability regarding server uptime
Free SSDs on all hosting packs
Premium services for affordable prices
Frequent promotions
Bad
Limited number of website allowed on Launch and Power hosting plan
Summary of InMotion Hosting
InMotion is hands down the excellent hosting service provider on the market. While it may not offer the cheapest packages, the services it provides are well worth the price. Even though the customer service alone makes InMotion worthy of the highest recommendation, it also offers some of the highest levels of sustained performance and reliability that you can get at a price that might qualify as "affordable".
InMotion is also one of the few hosting service providers that offer SSD hosting as standard, meaning that the cheapest InMotion Hosting package will get you better performance while many other premium hosting services still using regular hard drives. InMotion offers premium services at decidedly non-premium prices.
It offers unparalleled customizability with server hardware as well, allowing you to tailor your hardware to your needs. Backed by the 2-hour replacement guarantee, you also get peace of mind about the reliability in case something does go wrong. Whether you go with dedicated hosting or a VPS hosting plan, you can also migrate from one plan to another as your needs change, and you outgrow the existing resource allocation.
Also considering the fact that InMotion's frequent discounts and promotions offers culminate in some deeply discounted prices, InMotion gets the strongest recommendation possible. For complete peace of mind, world class performance and proven reliability, all at a cost that won't break the bank, we recommend you to go with InMotion web hosting services. Happy hosting.
*Looking for an alternative? Check our Top Ranked SiteGround Reviews!
Compare InMotion Hosting With Our Top Ranked Web Hosts!
InMotion Hosting vs SiteGround vs HostGator

SiteGround

HostGator

InMotion Hosting
Rating

Rated 4.5 stars

Rated 4.5 stars

Rated 4.5 stars

Price

$3.95/month

$3.95/month

$5.99/month

Criteria