Editor Rating

Rated 3.5 stars

Very Good
---
Reviewed by:

Published on:

Last modified:
---
What is iWeb Hosting?
iWeb offers hosting solutions and was established in 1996. It is now an Internap company and based in Montreal, Canada. They used to offer a range of services earlier but then shifted their focus to web hosting since 1998. The company was privatized in 2011 and now offers hosting services with smart servers. They have data centers in different locations to support the business. They claim to be one of the biggest web hosting service providers in Canada.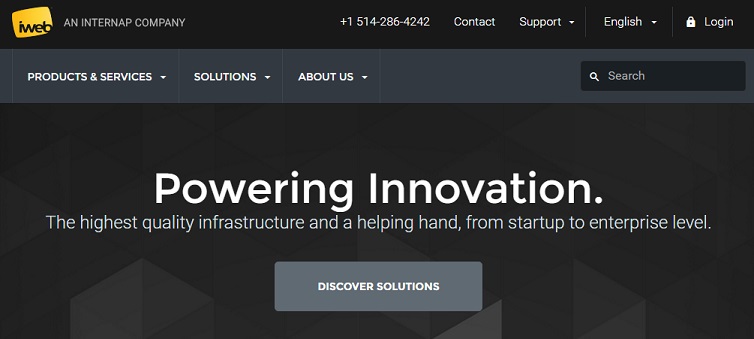 iWeb hosting focuses on high-performance infrastructure that can impart values to any business. Their hosting solutions provide a higher amount of productivity to the clients. iWeb web hosting solutions are designed to meet the requirements of the clients. This iWeb hosting review offers an insight into the type of services that the company manages to deliver over a global platform. If you are looking for a clear picture regarding the services and the kind of support offered by this company, you might need to read this iWeb hosting review.
iWeb Reviews on Hosting Plans and Services
iWeb offers professional and premium hosting services. iWeb dedicated server hosting plans are popularized by the company. Users can opt for cPanel services and immensely benefit from the high network uptime. Smart servers are virtual machines that operate just like the private servers. Besides, iWeb cloud hosting can be deployed in a quick manner.
iWeb Reviews on Cloud Hosting Plan
Scalable cloud servers and storage offered by iWeb are ideal for many applications and websites. The company offers cloud hosting solution and charge from $0.06 per hour. If you calculate it in monthly basic, it costs around $43.2 per month.

iWeb Reviews on Dedicated Hosting Plan
The dedicated hosting plan offers a higher level of performance and control when compared to normal shared hosting offered by other hosting providers. The costs are also predictable when compared to cloud servers. The dedicated solutions cater requirements for websites that need high server resources. The single processor server starts at $95 per month.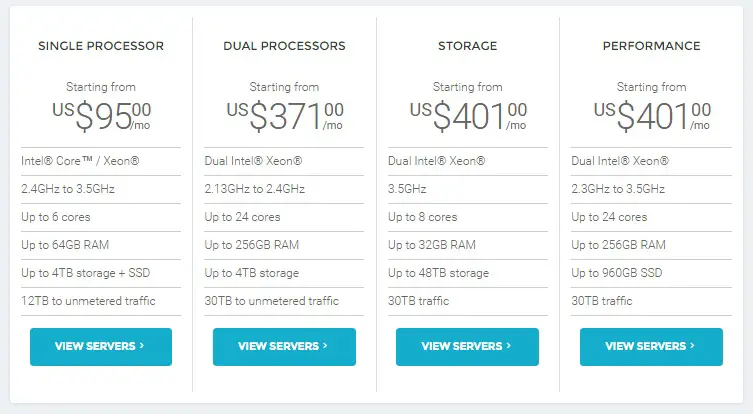 iWeb Server Cluster
These connect to several dedicated servers and offer cost-effective ways in which higher levels of performance can be achieved. Optimal performance and high availability make this feature quite popular.
iWeb Windows Dedicated Servers
iWeb is Gold Datacenter and Microsoft Cloud OS Network partner. They are one of the leading Canadian Cloud OS network partners of Microsoft. This implies that there is certified support for the latest releases. Hybrid solutions are also offered by iWeb. Optimized hosting solutions are offered with the Microsoft software, including:
Microsoft System Center 2012 R2
SQL Server 2014
Windows Server 2012 R2 (Standard and Datacenter editions)
A windows dedicated server is offered and you can contact the iWeb expert to know more about the clustered solutions offered by the company. The Windows dedicated hosting solutions start from $120 per month.

iWeb Reviews on Support and Customer Service
iWeb support is offered 24/7. The in-house technical staff caters the requirements of the clients. iWeb customer service team is friendly and customers can reach the team through live chat or telephone. Assistance is offered in Spanish, French, and English. Users can get tickets for availing support through the control center. The company has a vast knowledge base with the impressive range of topics.
Trial #1 Moderate Support from iWeb Live Chat Team
I have contacted iWeb live chat support to clear my doubts. They took only 8 seconds to get me replied. Overall I would say their response speed was fast but not every support staff was able to handle their clients well. However, they were very polite and I felt comfortable with the support provided. Below shows our full conversation:
iWeb Support: Hello, how may I help you?
Mike Lee: Hi, my name is Mike Lee and I have few questions about the iWeb hosting services. I can see iWeb offers cloud and dedicated hosting solution but no Shared hosting found. Is iWeb offers any shared hosting solution?
iWeb Support: Please describe what you mean by shared hosting. Public cloud?
Mike Lee: I think public cloud is a type of cloud hosting. I am looking for normal shared hosting. For example, the hosting solution with many websites hosted on a single server.
iWeb Support: I am not positive on that. Can I get some information from you and have one of our hosting specialists reach out to discuss this with you?
Mike Lee: It is okay. I am just asking for it. Before that, I have other questions for you.
iWeb Support: Sure.
Mike Lee: Does iWeb charge for dedicated server setup fee?
iWeb Support: There are some one-time charges on the front end.
Mike Lee: Okay, how about WordPress hosting? Is iWeb provides any dedicated WordPress Hosting Plan?
iWeb Support: I am not positive on that. Let me transfer you to one of our iWeb account representatives. I'm on the Internap side of the house. Please wait while I transfer the chat to another support.
Another Support: Hi! How may I help you today?
Mike Lee: Hi, is iWeb provides any dedicated WordPress Hosting Plan?
Another Support: If you are looking for a shared hosting solution you can contact www.funio.com. It's our partner and provides hosting solutions.
Mike Lee: iWeb is more focusing on cloud and dedicated hosting, am I right?
Another Support: Right. We don't have shared hosting solutions.
Mike Lee: Okay, for cloud and dedicated hosting, Is iWeb promises any uptime guarantee?
Another Support: Our SLA is 100% uptime.
Mike Lee: Thanks for the information. Is iWeb has any real-time server status on the website?
Another Support: What do you mean?
Mike Lee: I mean a web page that shows the users the current server status.
Another Support: No.
Mike Lee: For the DDoS protection, the iWeb server DDoS protected?
Another Support: You need to add DDos protection on top of your server if you are worry about it.There is no by default.
Mike Lee: How about DDoS for cloud hosting?
Another Support: We can provide it just for our dedicated servers.
Mike Lee: Okay, thanks for the information and support.
Another Support: My pleasure.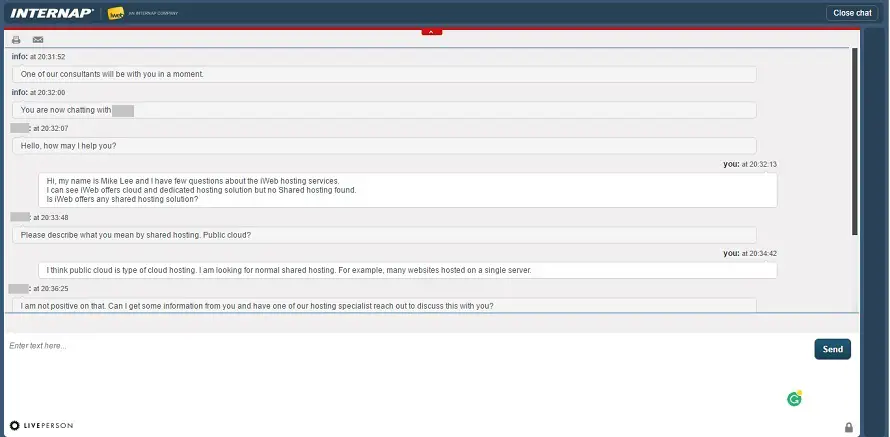 iWeb Reviews on Uptime Performance and Server Status
iWeb guarantees 100% network uptime for their hosting plans. iWeb uptime is governed by a money-back guarantee feature. The company would refund in case they fail to offer the uptime that was promised to the clients. iWeb downtime is something that one has to bother about, although the company always takes all possible measures to eliminate the downtime.
The user can subscribe for getting regular updates about the company. The company manages to offer quick server speed with the data centers present in many locations. In order to ensure continuous operation, generators and air conditioning systems have been set up in the facility.
Good and Bad of iWeb
Good
100% SLA uptime
Robust server hardware
Fast support and pricing
Fast server deployment
Bad
No shared hosting plan
No dedicated WordPress hosting
Need to implement DDoS protection on the server by yourself
Summary of iWeb
iWeb is committed to offering personal and enterprise hosting services. They are focusing on cloud and dedicated hosting. This hosting company offers good services to all types of businesses. The company considers itself as a premium service provider and trying to achieve what they are claiming. Although iWeb is not perfect, it is still a good choice for moderate and advanced users.
Compare iWeb With Our Top Ranked Web Hosts!
SiteGround vs HostGator vs iWeb

SiteGround

HostGator

iWeb
Rating

Rated 5 stars

Rated 4.5 stars

Rated 3.5 stars

Price

$3.95/month

$3.95/month

$0.06/hour

Criteria