Editor Rating

Rated 3 stars

Good
---
Reviewed by:

Published on:

Last modified:
---
DISCLOSURE: This post may contain affiliate links, meaning when you click the links and make a purchase, we receive a commission.
Our Top Ranked #1 Web Host

Ideal for WordPress, Joomla, Drupal and eCommerce
What is IX Web Hosting?
IX Web Hosting is a web hosting company founded by Mr. Fathi Said, who is also the current CEO of the company. This company is headquartered in Columbus, Ohio, USA. IX Web Hosting is a shared hosting provider, but it has also provided VPS hosting solution recently.
IX Web Hosting is also ready to accept any e-commerce website hosting as they already improved their security. You can learn more about IX Web Hosting performance by looking at this IX Web Hosting reviews.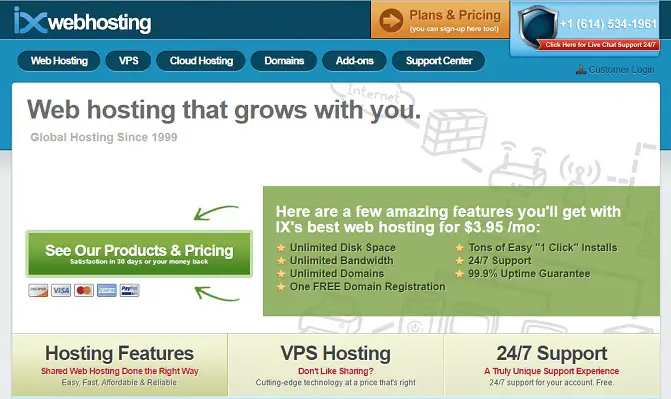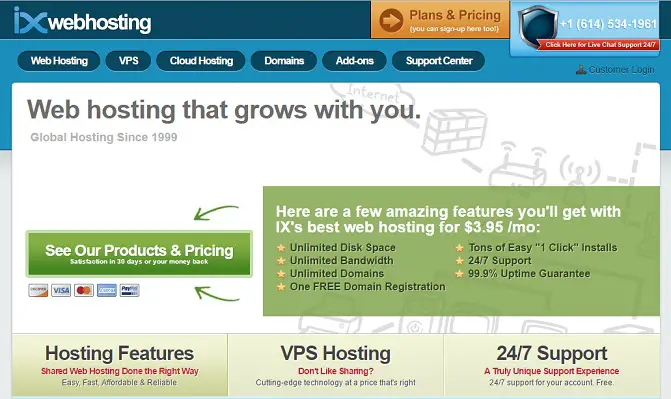 Details
 
Founded
1999
Server Location
USA, the state of Ohio
Services

Linux Hosting
VPS Hosting
Cloud Hosting
WordPress Hosting
Window Hosting
Hosting Tools
Domain Names
Add-ons

Unlimited Website
Available With All Hosting Plans
Unlimited Storage and Bandwidth
Available With All Hosting Plans
Domain Hosting
Yes
Linux Hosting
Yes
Windows Hosting
Yes
WordPress
Optimized
Joomla
Optimized
Drupal
Optimized
Magento
Optimized
PHP Hosting
Optimized
e-Commerce Hosting
Optimized
Email Hosting
Yes
SSL Support

Free Shared SSL
Dedicated SSL Starts at $49.95/Yr

Dedicated IP
Free Dedicated IP Available With All Linux and Windows Hosting Plans
Free Site Migration
Available Starting from $49.00 Per Domain
Free Domain
Available With All Hosting Plans
Domain Privacy Protected

Free Domain Privacy for One Year
Paid Privacy Will Cost $9.95/Yr

Money Back Guarantee
30 Days
24/7 Support

Live Chat
Ticket Support
Telephone
Email

Control Panel
H-sphere
One-Click Installation
EasyApps
Website Builder
Yes
Automated Backup
Available
Content Delivery Network (CDN)
SiteLock Trust Seal Available at $1.25/mo
Security Features

Firewall Protection
SSL Secure
SiteLock Trust Seal Available at $1.25/mo

Payment Methods

Discover
American Express
Visa
MasterCard
PayPal

Endurance International Group Network (EIG)
Yes
Social Profile
IX Web Hosting Reviews on Hosting Plans and Domain Services
IX Web Hosting offers various types of hosting plans. This includes Linux/Windows shared hosting and VPS hosting. Have a look at the details below.
This is one of the clustered internet services that they provide. IX Web Hosting shared hosting provides a server with stable internet connection. The shared hosting plans are further divided into three categories, which depend on user needs. The business owners may opt for an expert plan, unlimited pro plan or the business plan.
IX Web Hosting shared hosting provides a broad range of services for Linux web hosting. They provide a user-friendly interface, along with language support. IX Web Hosting pricing for the expert plan is quite affordable, starting at $3.95 per month.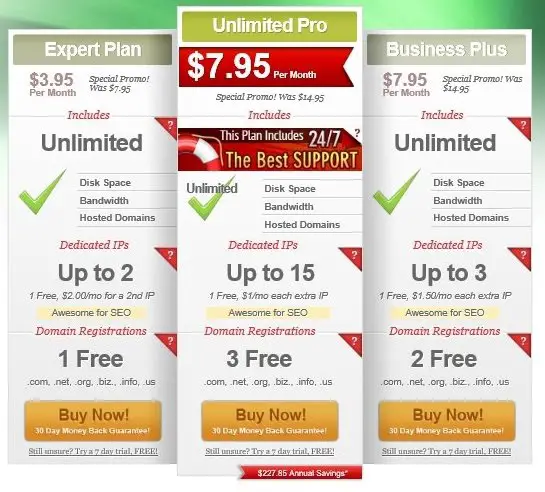 For IX Web Hosting shared Windows hosting plan, the Microsoft SQL Server is also included for online database storage. The Business Plus hosting plan pricing is slightly higher than the Linux-based Expert hosting plan. It costs $4.50 per month.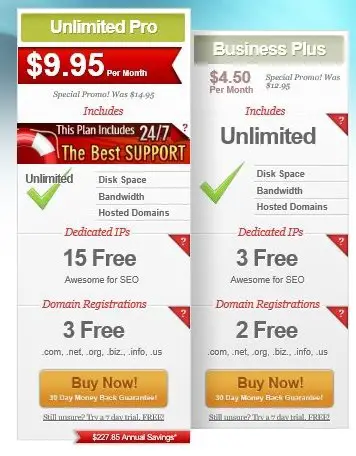 IX Web Hosting Reviews on VPS Hosting Plan
VPS hosting stands for Virtual Private Server. In VPS, the IX Web Hosting provides a semi-dedicated server to their users. The IX Web Hosting VPS plan starts at $54.95 per month, which is considered quite expensive based on current market price. However, they provide server set up service and customer support for this plan.
Moreover, they offer technical assistance and a backup set up for business entities.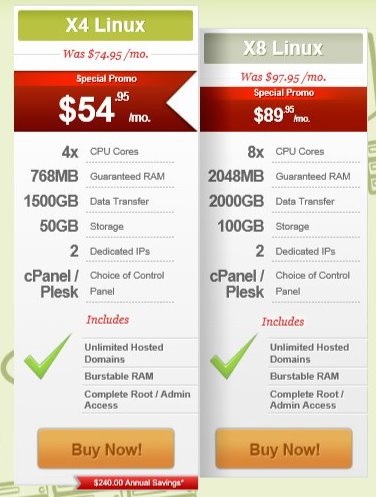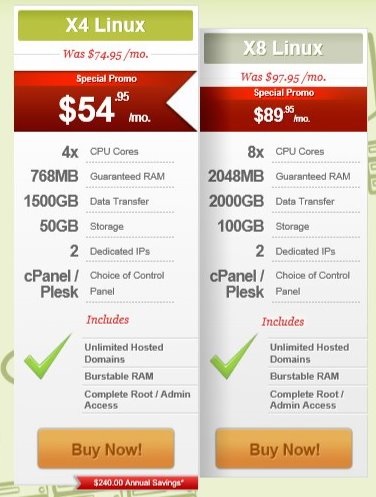 IX Web Hosting Reviews on Domain Services
IX Web Hosting's domain hosting services can help you to manage your site easily in one place, quickly and precisely. A free domain is also included in their hosting plans. There are domains available for the universal users and entrepreneurs. IX Web Hosting pricing for domains hosting is quite affordable.
The domain transfer service is very helpful as it allows the customers to transfer their third-party hosted domains to IX Web Hosting.
IX Web Hosting Reviews on WordPress Hosting
WordPress is the most popular Content Management System (CMS). WordPress is widely utilized by webmasters in creating blogs and websites. The IX Web Hosting WordPress package includes 24×7 WordPress expert support. WordPress can be installed quickly on IX Web Hosting server with the One Click Installation tool.
The WordPress optimized IX Web Hosting plan starts at $7.95 per month, with up to three free domains included.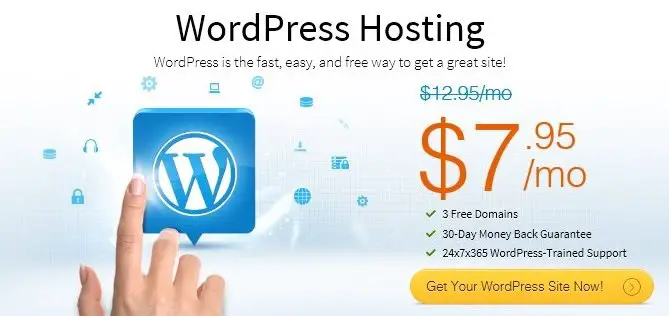 IX Web Hosting Reviews on Email Hosting
IX Web Hosting email services offer you an abundant space that you can use to store your emails. The boundless IMAP technology used can help you to gain access to your email account anywhere. IX Web Hosting utilizes advanced emailing technologies to provide the stable services to their customers.
SMTP and POP3 emailing technology implemented are reliable. Client webmail software like RoundCube and SquirrelMail are also included. Auto email synchronization is possible on many types of devices.
IX Web Hosting Reviews on Support and Customer Service
IX Web Hosting provides a medium level of customer support, which is neither the best nor the worst. This statement is made based on the feedback from their clients.
However, my own experience with their support was quite good.
IX Web Hosting designates a Personal Support Representative to every customer which will help them in handling and solve any technical issues. At the most time, the staff is active, and you can contact them via ticket.
You can also ask for support via telephone and live chat. The personal support representative has been trained to resolve customer issues professionally. However, some delays might be expected if you are looking for support at the peak timing period.
#Trial 1 Professional Live Chat Support
I heard a lot about the performance of IX Web Hosting customer support that they are providing to their customers and non-customers. This company claims to provide fast and efficient customer services. So, I planned to test their service by my own. I made a list of some questions and contacted their support personnel through the live chat.
The lady who assisted me was Galina Kiseleva and she replied me within 07.35 seconds, which is quite fast. She answered my all queries in a professional way and her way of talking was polite. She has good knowledge about different hosting plans that are offered by this company. So, I rated her 9 out of 10.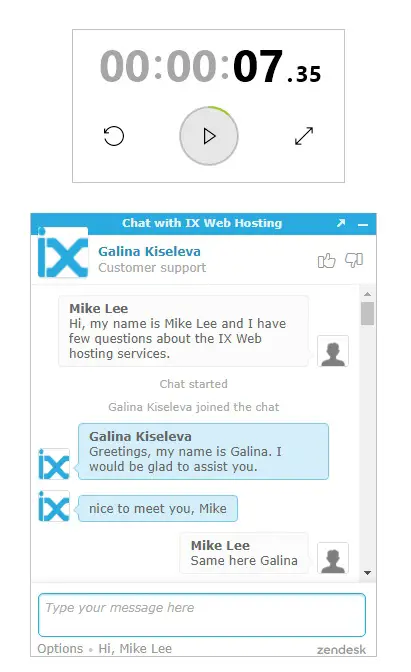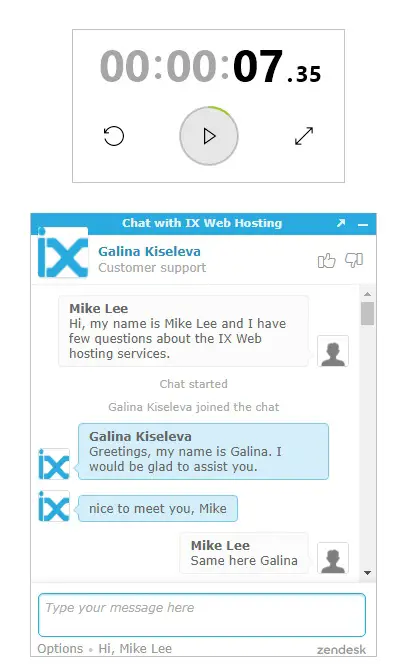 Here is the full conversation:
Mike Lee: Hi, my name is Mike Lee and I have few questions about the IX Web hosting services.
Galina Kiseleva: Greetings, my name is Galina. I would be glad to assist you.
Galina Kiseleva: Nice to meet you, Mike.
Mike Lee: Same here Galina.
Mike Lee: Is IX Web Hosting provides free SSL service? How about paid SSL solutions?
Galina Kiseleva: For free we offer shared SSL, paid one is dedicated SSL. The difference between them is that with shared SSL site will look like domain.c10.ixwebhosting.com, if you only need https://domain.com – it will be with paid dedicated SSL.
Galina Kiseleva: Here is some information about our dedicated SSL:
Galina Kiseleva: http://www.ixwebhosting.com/e/g1/products/ssl-certificate
Mike Lee: It means your company is offering paid SSL?
Galina Kiseleva: Yes
Mike Lee: How about Domain Privacy Protected Service? 
Galina Kiseleva: We offer privacy for free for 1 year, then it will cost $9.95 per year.
Galina Kiseleva: What features might you need except SSL and privacy?
Mike Lee: Is there any Free Site Migration Service?
Galina Kiseleva: If you need us to move everything for you, our site moving service is paid only.
Mike Lee: May I know the cost, please.
Galina Kiseleva: Please check prices for all plans from here – you may choose different plans for both platforms:
Galina Kiseleva: https://manage.ixwebhosting.com/index.php/wizard.dspFrmHostingAdd/e/g1
Mike Lee: Noted. Is Ix Web Hosting offers Dedicated IP solution?
Galina Kiseleva: Yes each plan has its own amount of dedicated IPs.
Mike Lee: That's great. What type of control panels being used in both Linux and windows hosting plan? Could you please tell me their names?
Galina Kiseleva: There is only one control panel and it is H-sphere
Mike Lee: Alright. How many data centers IX Web Hosting has? What locations are these data centers/servers located?
Galina Kiseleva: Our data center is based in the USA, the state of Ohio
Mike Lee: What platform is the IX Web hosting using to support One-Click installation? Softaculous?
Galina Kiseleva: We have EasyApps Collection in control panel with the set of such applications. 
Mike Lee: Is IX Web Hosting is a part of Endurance International Group (EIG)?
 Galina Kiseleva: Yes, it is.
Mike Lee: Does IX Web Hosting offer a Content Delivery Network (CDN)?
Galina Kiseleva: It is not supported.
Mike Lee: What are the security features that this company offers?
Galina Kiseleva: We use two firewalls (preliminary and on-network firewall); also there are a lot of services to protect emails, there are SiteLock and SSL, etc.
Mike Lee: May I know which year IX Web started the hosting business?
Galina Kiseleva: Please check the information about us here http://www.ixwebhosting.com/why-ix-web-hosting
Mike Lee: Noted. Thank you for your time.
Galina Kiseleva: You are welcome, Mike.
Featured Services of IX Web Hosting SSL and Website Builder
IX Web Hosting SSL
IX Web Hosting offers SSL feature for the Ecommerce store. SSL certificate is essential for all websites that involve business transactions. The SSL certificate starts at $49.95 per year, which can make your website more secure from attackers.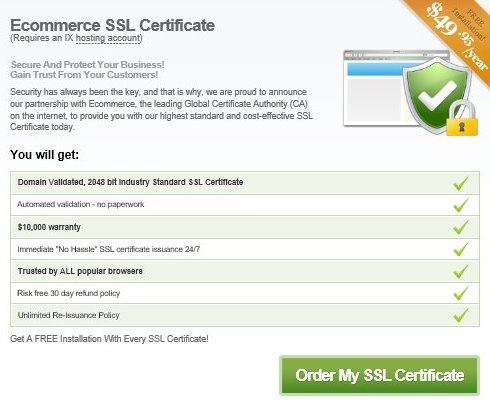 IX Web Hosting Website Builder
The IX Web Hosting website builder is very useful. The drag and place feature allows you to customize your site in an attractive manner. Besides, it is also an ideal choice if you do not want to use any content management system like WordPress.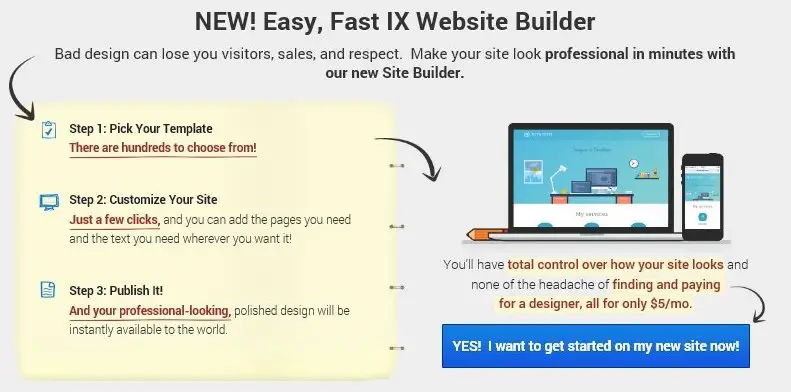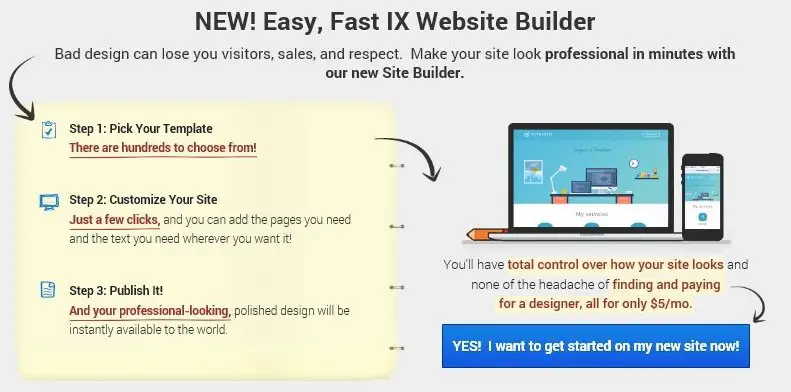 IX Web Hosting Reviews on Uptime Performance and Server Status
Uptime Stats
IX Web Hosting has 3 tier (N+1) data center which is in Ohio, US. IX Web Hosting provides 99.9% uptime guarantee, but the accuracy of this statistic is proven to be unreal.
They implemented two backup generators and enhanced security against server outages. The monitoring software closely monitors the network to get informed if there is any server down issue.
The downtime issue at IX Web Hosting is quite frequent. If that happens, IX Web Hosting always tries to solve it as soon as possible.

Uptime Stats – Target: 99.9%
August 2017 – 100%
July 2017 – 99.80%
June 2017 – 99.42%
May 2017 – 99.93%
April 2017 – 99.74%
March 2017 – 99.56%
February 2017 – 98.23%
January 2016 – 99.91%
December 2016 – 99.65%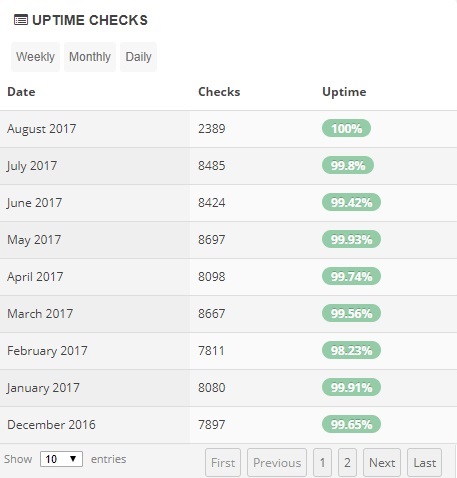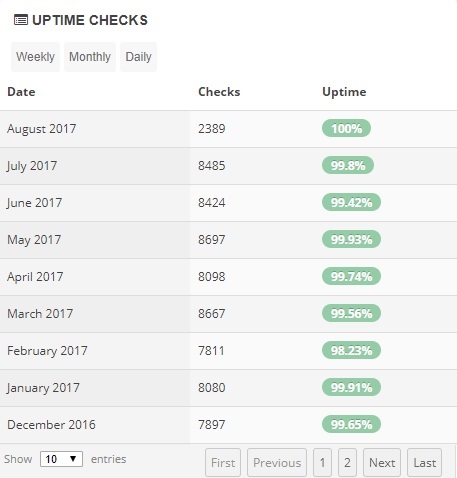 IX Web Hosting claims to provide 99.9% uptime to all those clients who are using their services around the world. I decided to test their uptime performance. I start observing their uptime performance and gathered the data for 9 months from December 2016 to August 2017. This company achieved the uptime target in just 3 months as you can see in the image uploaded above.
Uptime stats performance plays an important role when a new client wants to buy a hosting for different purposes. The overall uptime average of IX Web Hosting is 99.58%, which is unsatisfactory. I hope to see improvement in the near future.
Note: The uptime stats of IX Web Hosting is updated regularly, do bookmark this page if you are interested in checking their uptime stats again in future.
Server Response Speed Test
It is very crucial for all those customers who want to buy a hosting from a new company. The first thing that comes to their mind is the server speed. As all of us knows that server response speed is very important because if your website loading speed is slow, then it will affect your visitors and worth of the site. So, I decided to check the server response speed of IX Web Hosting at my own end.
I checked one of the website which is hosted by IX Web Hosting. I pinged the site via 8 diverse locations. It comes with a better rating of A that is satisfactory.

Good and Bad of IX Web Hosting
Good
The free domains offered are exceptionally helpful for the customers.
WordPress optimized hosting plan performs quite well
Good server response speed
Bad
Costly VPS hosting plan
Unsatisfactory uptime performance
Does not support cPanel
Summary of IX Web Hosting
IX Web Hosting has developed its services over the years and is one of the major emerging web hosting companies in the US. The server speed performance of IX Web Hosting is at the acceptable level.
However, they might need to improve their uptime performance as no one want their website to be always "offline". It is not as good as SiteGround,  we hope to see major improvement in their service.
Compare IX Web Hosting With Our Top Ranked Web Hosts!
SiteGround vs HostGator vs IX Web Hosting

SiteGround

HostGator

IX Web Hosting
Rating

Rated 4.5 stars

Rated 4.5 stars

Rated 3 stars

Price

$3.95/month

$3.95/month

$3.95/month

Criteria