Editor Rating

Rated 3.5 stars

Very Good
---
Reviewed by:

Published on:

Last modified:
---
Our Top Ranked #1 Web Host

Note: This website ReviewPlan.com is hosted on SiteGround
Latest Uptime Stats (Real Records):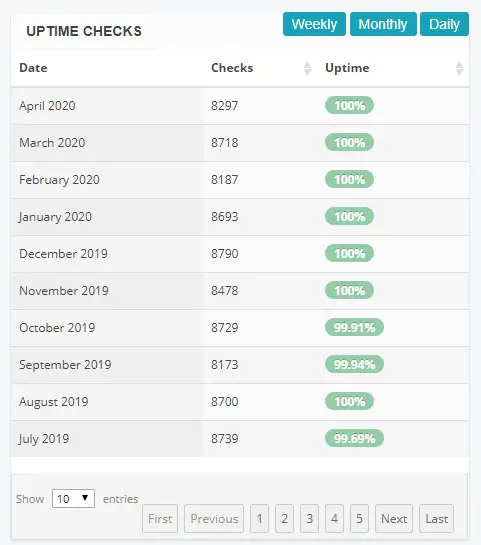 Server Response Speed Test Scored A+: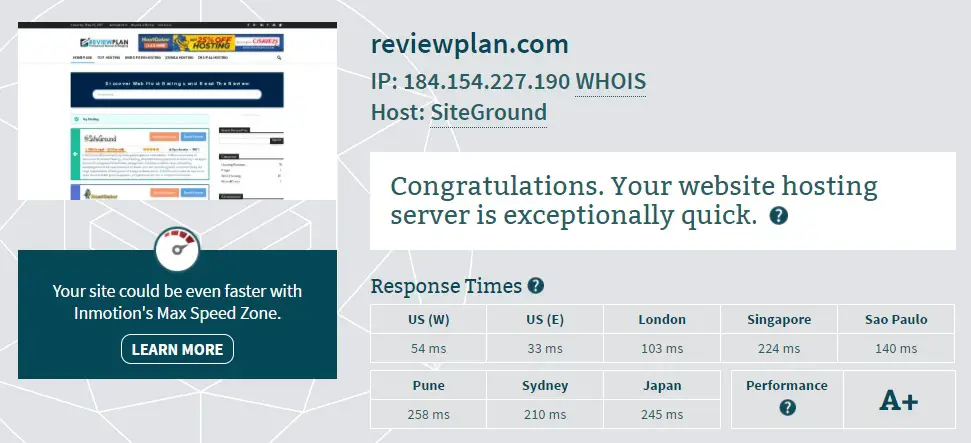 What is JaguarPC Hosting?
Founded in 1998, JaguarPC is a veritable behemoth in the web hosting business. The company started out not as a geographical entity but as a company dedicated to providing high-quality hosting services to businesses and users all over the globe. From the very beginning of consumer internet to today's entirely connected world, JaguarPC has seen it all and then some.
The company is therefore uniquely positioned to anticipate the needs of the future while delivering excellent and high-performance services for today's needs as well. The company has diversified into offering a vast array of IaaS, SaaS, and managed service solutions in addition to offering the award-winning web hosting performance that it is known for. Let's kick this review off with an in-depth look into the web hosting offerings from JaguarPC.
JaguarPC Reviews on Hosting Plans and Services
Shared hosting plans target the market for affordable hosting solutions. JaguarPC has some pretty confident offerings in this domain.
The company's shared hosting platform is completely built on solid-state technology for storage duties. Abandoning traditional spinning hard drives for solid state drives results in perceptible gains in performance. Solid state drives not only remove performance bottlenecks from the system but is also markedly more reliable than hard drives.
Shared hosting plans also come with CloudFlare CDN, cPanel control panel interface, spam protection services, and secure SSL access. At these price points, the feature spread is remarkable. Shared hosting also features the RV Site Builder tool that is perfect for users who are not proficient web management and development.
The website builder allows for complete drag and drop support that is essential for building websites for beginners. You need to know a line of coding to design a professional and attractive website, thanks to RV Site Builder that is included by JaguarPC.
JaguarPC Reviews on Cloud Hosting
If shared hosting is not suitable for your particular needs, you can always step up to cloud hosting solutions from JaguarPC. Available in both Linux and Windows flavours, VPS hosting plans come with the performance guarantees of dedicated hardware resources while retaining the flexibility and on-demand scalability of a cloud platform solution.
VPS hosting plans are all powered by solid-state storage and come with 2 dedicated IP addresses on IPv4 and 24 IP addresses on IPv6. All VPS hosting plans are fully managed by on-site engineers and technicians 24 x 7, taking the hard work out of server management and allowing you to focus on your website instead of server configurations.
JaguarPC Reviews on Dedicated Hosting
For the very best in hosting performance though, you simply cannot beat an old-fashioned dedicated server. Dedicated servers run specially configured hardware just for you and offer the best performance possible. This, however, comes at a cost: increased expenses and reduced flexibility. However, it is still the gold standard when it comes to high resource websites and other web ventures where reliability and performance are top priorities.
Dedicated servers from JaguarPC come with unlimited outbound traffic, 10 Mbps unmetered bandwidth, and a 99.999% server uptime guarantee via a service level agreement. So you can rest assured that you will be getting the very best in the business from JaguarPC.
With JaguarPC you can have your choice of operating systems such as Windows and several flavours of Linux. The company also adheres to data security and access standards such as PCI DSS and HIPAA, making it the de facto choice for highly specific data storage and hosting needs.
JaguarPC Reviews on WordPress Hosting
JaguarPC aims fairly to the lower to the mid-range section of the hosting market. Naturally, this precludes the company from offering plans that are typically perceived as "budget" oriented, namely WordPress plans.
WordPress hosting is something you only typically see from budget hosting service providers and is usually something similar to the conventional shared hosting plans with some added layers of WordPress functionality that contribute almost nothing of use. What you should do instead is go with a regular hosting plan and install WordPress on it as usual. Same performance, the same end result.
JaguarPC Reviews on Support and Customer Service
JaguarPC is renowned for its customer service, and for good reason. The company places serious emphasis on offering value for money services and customer service is an essential part of any business transaction. Problems are resolved with urgency and accuracy.
The technical support staff is well trained and offer solutions to even complicated issues quickly and in a manner that is legible to laymen. Comprehensive support, along with a complete online knowledge base, and FAQs are available to all customers. An online ticketing service ensures quick resolution of online complaints.
JaguarPC Reviews on Uptime Performance and Server Status
JaguarPC holds an impressive server uptime record that is unmatched by its closest competitors. Downtimes are rare and speeds are maintained consistently, thanks to the multiple layers of redundancy built into JaguarPC network infrastructure.
Good and Bad of JaguarPC
Good
Wide range of accessible hosting services
High-performance plans
Good server reliability
Excellent customer service
Affordable prices
Bad
Some complaints about the server performance
Summary of JaguarPC
JaguarPC offers a number of affordable solutions to get your website online in a jiffy. The company offers value for money services and the few compromises are well worth the service you get in the end. Recommended.
Compare JaguarPC With Our Top Ranked Web Hosts!
SiteGround vs HostGator vs JaguarPC

SiteGround

HostGator

JaguarPC
Rating

Rated 5 stars

Rated 4.5 stars

Rated 3.5 stars

Price

$3.95/month

$3.95/month

$3.27/month

Criteria