Editor Rating

Rated 4 stars

Excellent
---
Reviewed by:

Published on:

Last modified:
---
DISCLOSURE: This post may contain affiliate links, meaning when you click the links and make a purchase, we receive a commission.
Our Top Ranked #1 Web Host

Ideal for WordPress, Joomla, Drupal and eCommerce
What is Lunarpages Web Hosting?
Web hosting services are one of the most common services these days. There are a huge number of companies out there, which provide the web hosting solutions, private cloud hosting, disaster recovery, complete IT infrastructure, business continuity solutions and much more.
This Lunarpages review shows that it is one of the companies that are providing various types of hosting plans to suit everyone needs. They utilize the internet connectivity for their operations and help customers in providing satisfied services. Lunarpages hosting has made it easier for the worldwide companies in securing and monitoring their IT infrastructures.
The Lunarpages web hosting was founded in the year 1997, and since then it has been able to support over 150 thousand customers all over the world especially in the US. They utilize the supreme internet connectivity network for their clients in order to provide them quality services.
This has helped them to retain trustworthy and reliable customers. They offer their services for both Linux and Windows users without any discrimination. They have maintained separate directories and scripts for both operating systems.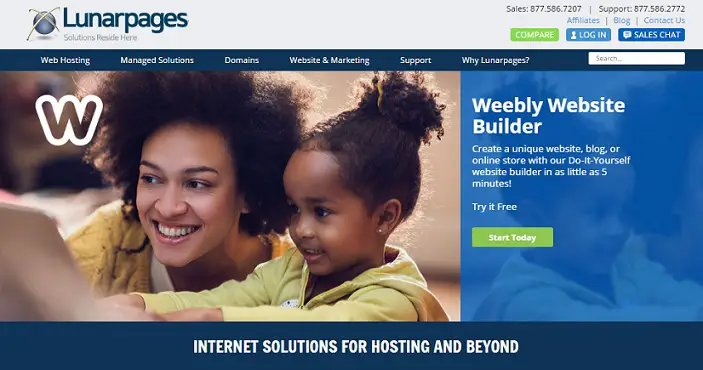 Details
 
Founded
1997
Server Location

Hawthorne, California
Irvine
Denver
Colorado
Chicago
Illinois
Ashburn
Virginia
Las Vegas
Los Angeles

Services

Web Hosting
VPS Hosting
Cloud Hosting
Reseller Hosting
Managed Shared Hosting
Linux Hosting
Dedicated Server Hosting
Email Hosting
Window Hosting
Website & Marketing
Domain Hosting
e-Commerce Hosting

Unlimited Website
Yes, For Basic, Windows and Business Enterprise Plan
Unlimited Storage and Bandwidth
Available For Basic Hosting, Window Hosting and Business Enterprise Hosting
Domain Hosting
Yes
Linux Hosting
Yes
Windows Hosting
Yes
WordPress
Optimized
Joomla
Optimized
Drupal
Optimized
Magento
Optimized
PHP Hosting
Optimized
e-Commerce Hosting
Optimized
Email Hosting
Optimized
SSL Support

Free SSL is Included in Business Plan
Other Plans are Paid Starting at $109.00/yr

Dedicated IP

Yes, Free In Business Plan
Other Plans Starting At $4.95 per month

Free Site Migration
No
Free Domain
Yes For One Year
Domain Privacy Protected
Yes, $7.95 Per Domain Per Year.
Money Back Guarantee
30 Days
24/7 Support

Submit Ticket
Live Chat
Telephone

Control Panel

Window Hosting (Plesk)
Linux Hosting (Customized LunarPanel)
cPanel Cost $2/month

One-Click Installation
Yes, Softaculous
Website Builder
Weebly Website Builder Starting at $8/mo
Automated Backup

Available Starting at $1.50/mo
R1Soft Managed Backups

Content Delivery Network (CDN)
CloudFlare
Security Features

SecureLive addon Service Cost is $9.95/mo
Anti-Spam Protection
Real Time Hacker Prevention
DDos Protection

Payment Methods

Check
Money Order
PayPal
AliPay
Credit Card

Endurance International Group Network (EIG)
No
Social Profile
Lunarpages Reviews on Various Plan Pricing and Services
Lunarpages is one of the web hosting company that offers various types of hosting plan to suit their customers need. Have a look at these hosting plans.
Lunarpages Reviews on Basic Web Hosting Plan
Lunarpages provides a wide range of services for the Linux web hosting. They provide a user-friendly technology, along with language support. Lunarpages pricing for basic web hosting is quite affordable and starts at $4.95 per month.

For windows, including the above services the Microsoft SQL server is also provided for the customers for online database storage. Basic web hosting provides versatility and flexibility and turns a monotonous page into an attractive layout for the customers. The Windows plan starts at $9.95 per month.

Lunarpages Reviews on Starter Web Hosting Plan
Through simple management and communication, the Lunarpages makes your website a potential profit generating source for your business. Stable uptime services keep your site online every time which can earn you a lot and the DDoS protection helps you to keep your site safe and secure.
The Starter plan starts at $3.95 per month, which is suitable for small blog hosting.
Lunarpages Reviews on Business Web Hosting Plan
Businesses often need a complex site to make their businesses grow. The Lunarpages helps you to make a perfect business by hosting a website for you. For growing businesses and newly started business, they provide different storage plans, SQL databases, free domains, and sub-domains.
Moreover, they provide different bandwidths to the customers for various plans that are much helpful for growing businesses. The web hosting is made available for all types of businesses whether they are small scale, medium or large scale businesses.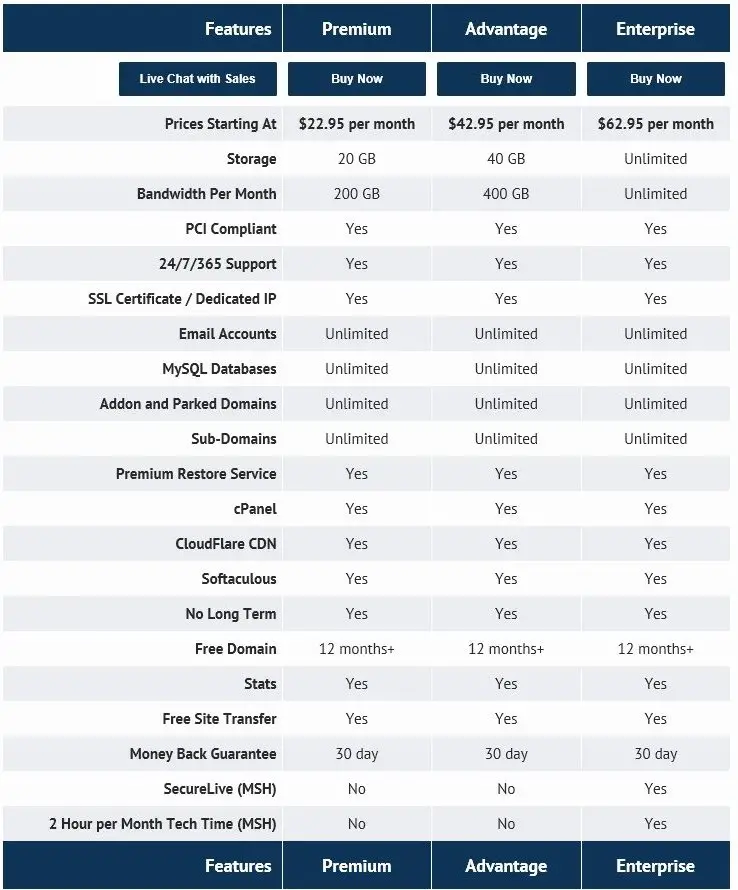 Lunarpages Reviews on Private Cloud Hosting Plan
The private web hosting plans provided by the Lunarpages includes the simple communications and website management services. The cloud specialists at Lunarpages are well-trained for providing virtual machines and hardware nodes for the private business models.
They can provide the private business owners with a managed control over their performances and resources. The diagram below shows the customized build set up for one of their customers.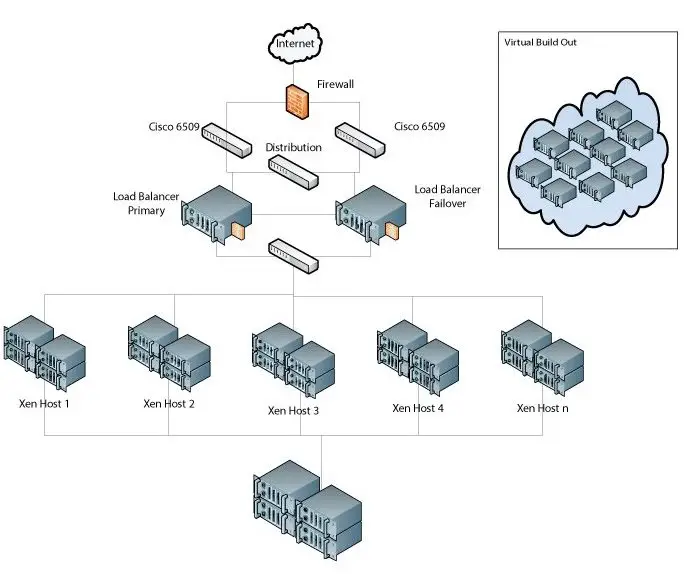 Lunarpages Reviews on Scalable Cloud Hosting Plan
The scalable cloud hosting is a great feature for the customers who run on a tight budget plan. The Lunarpages cloud only charges for the services that the customers use. Rather charging for the whole plan, the customers only pay for the services they use. The scaling features provide a greater bandwidth and greater online storage database.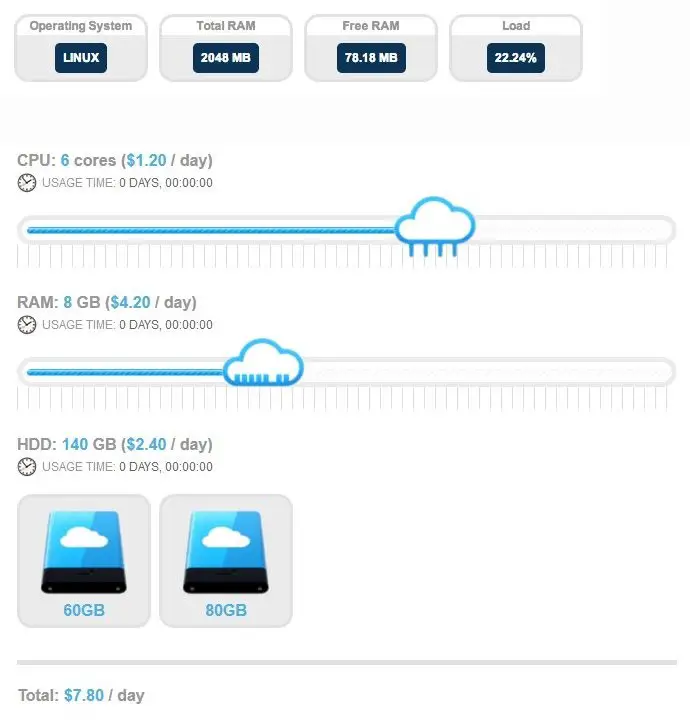 Lunarpages Reviews on Dedicated Hosting Plan
The Lunarpages dedicated servers offer three various solutions for the window hosting plan. These include ASP.NET scripts, MS SQL servers, and the MS Exchange servers. They provide a greater RAM and storage upgrades that are very useful for the Windows users.
Managed hosting provided for the Windows has also made the Lunarpages dedicated server a good option in the market.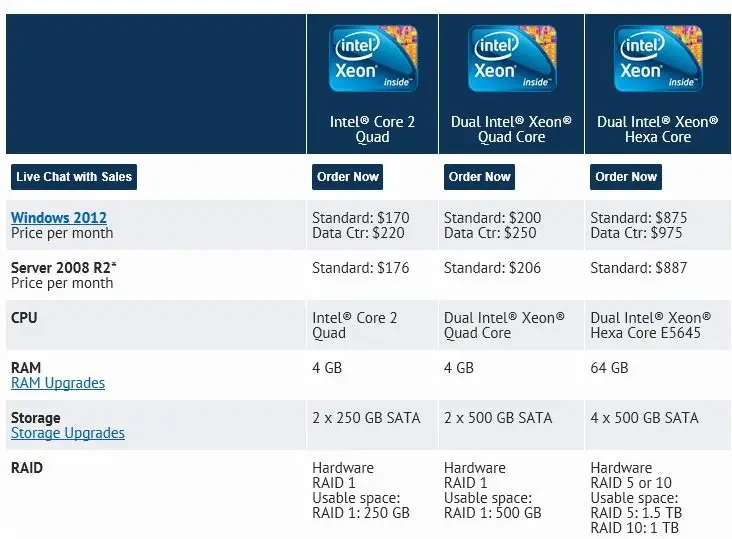 The Linux dedicated hosting server is a great advantage for the Linux users. The Linux technicians are ready to support your Linux system 24/7 and make sure that your online databases are safe and secure. Moreover, they provide various hosting plans that you can take up in order to make your Linux systems a great potential for your business.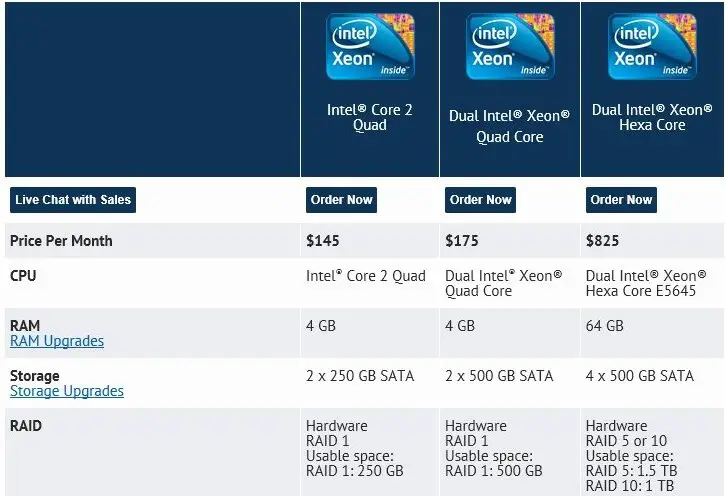 Lunarpages Reviews on Reseller Hosting Plan
The reseller hosting plans are an ideal option for the webmasters, private label hosts, and developers. The Lunarpages reseller provides technical and media support to the customers. The domain name registration is one of the prime features that is offered by the Lunarpages.
With just $19.95 per month, you can start your own web hosting business!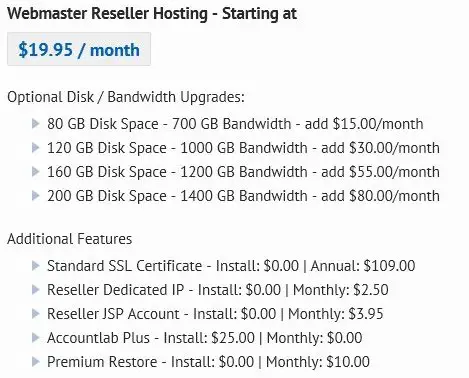 Lunarpages Reviews on Managed Solutions
The managed dedicated hosting requires extra care and high level of expertise to carry out the job. The Lunarpages dedicated servers offer their customers the smoothest transitions to the dedicated managed hosting. They offer their managed services for both Linux and Windows users.
The managed shared hosting includes upgrades to different types of scripts and software. The team of skilled professionals at the Lunarpages can help you in developing and monitoring your website. The software upgrade and installation are also carried out by Lunarpages.
Lunarpages Reviews on Scalable Cloud VPS Hosting
Lunarpages Scalable VPS Hosting plan is a great way to control resources and it allows the clients to pay just for used resources. It is your own choice to select the number of CPU cores, RAM, disk space, and bandwidth. The VPS hosting plan starts at $44.95 per month, including features like 50GB of SSD storage, 1000GB of bandwidth, 2 Cores CPU, 2GB of RAM, etc.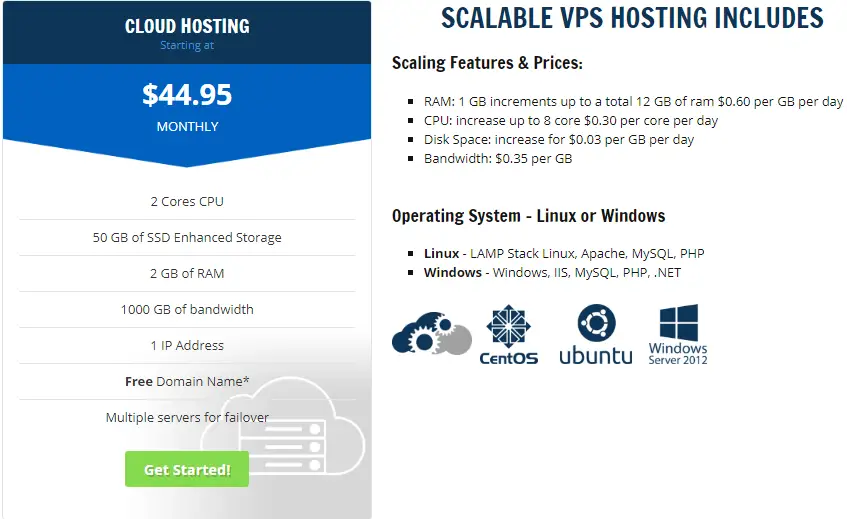 Lunarpages Reviews on Email Hosting Service
The webmail is now essential for a website. The Lunarpages email offers you a generous disc space that you can use up in order to store your data online. The MS Exchange mail is perhaps the ideal option for the Lunarpages to maintain perfect email services for their customers.
Both Basic Exchange and Premium Exchange email hosting plan includes the anti-spam feature, which is a must to fight email spam.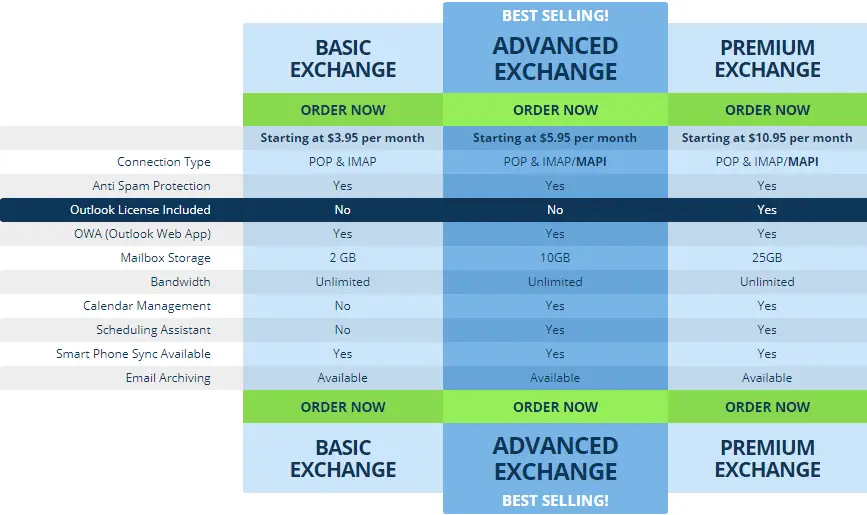 Lunarpages Reviews on Customer Support, Forum, and Wiki
The Lunarpages support team provides a greater opportunity to connect with the people all around the world. The Lunarpages forum is created for the web hosting community in order to provide them with all the essential details and announcements that the company has to make.
All the announcements relating to the customer's hosting accounts are made on the Lunarpages forums. The Lunarpages wiki has been specially created to answer the frequently asked questions (FAQs). Moreover, the Lunarpages wiki has been created to show tutorials of different items such as setting up emails, FTP and much more.
After reviewing the Lunarpages wiki, if you still are confused regarding anything you may contact the Lunarpages customer service in order to be satisfied with your queries. The Lunarpages support team is available for customer support 24/7. The support team members are claimed to be trained and try their best to satisfy the customers.
Although they try to entertain every customer, there are still some complaints regarding their non-supportive attitude. Below is my personal experience with their live chat support.
#Trial 1 Professional Live Chat Support
No doubt, Lunarpages provides detailed information on its forums and wiki page but I wanted to test their live chat response that's why I contacted their live chat support. Their customer representative replied me in just 28.35 seconds. His response was quite fast in answering my queries.
He was well-informed about the details of hosting plans and guided me in detail that's why I rated him 8 out of 10.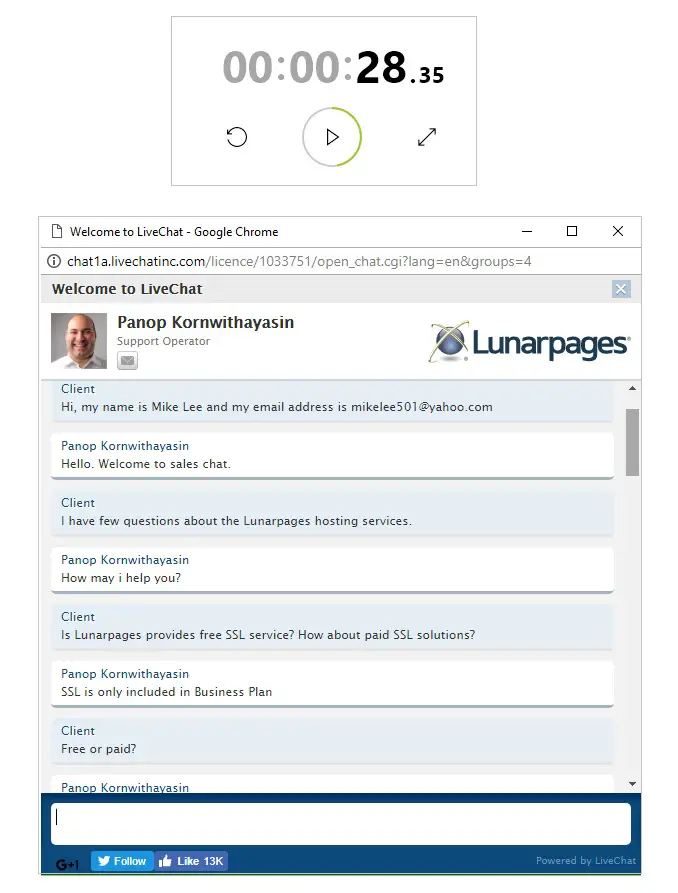 Complete conversation with Lunarpages live chat support:
PanopKornwithayasin: Welcome! Before we get started, may I have your name, email address and phone number, just in case we get disconnected.
Mike Lee: Hi, my name is Mike Lee.
PanopKornwithayasin: Hello. Welcome to sales chat.
Mike Lee: I have few questions about the Lunarpages hosting services.
PanopKornwithayasin: How may I help you?
Mike Lee: Is Lunarpages provides free SSL service? How about paid SSL solutions?
PanopKornwithayasin: SSL is only included in Business Plan.
Mike Lee: Free or paid?
PanopKornwithayasin: If you purchase business hosting plan, SSL is free
For other hosting plans, you will need to purchase it with the cost of 109 USD per year per domain, subdomain
You may review the feature comparison chart for each plan here https://lunarpages.com/web-hosting/compare-plans/
Mike Lee: How about Domain Privacy Protected Service If yes then free or paid
PanopKornwithayasin: Private Domain registration is not a part of standard domain registration. It is an additional service that we offer for $7.95 per domain per year.
PanopKornwithayasin: If you purchase Basic hosting plan for 12 months package or higher, you will get 1-year free domain registration. Otherwise, you will need to purchase domain registration $19.95 per domain per year
Mike Lee: Is there any Free Site Migration Service?
PanopKornwithayasin: Sorry we do not offer site migration.
Mike Lee: Alright. Is Lunarpages offers Dedicated IP solution?
PanopKornwithayasin: Dedicated IP is free in Business Plan. For other plans, the cost is $4.95 per month.
Mike Lee: How many data centers Lunarpages has? What locations are these data centers servers located
PanopKornwithayasin: You can find this information here https://lunarpages.com/company/data-center-tour/
Mike Lee: What are the security features that Lunarpages offers?
PanopKornwithayasin: We have SecureLiveaddon service which cost is $9.95 per month https://lunarpages.com/managed-solutions/securelive/
Mike Lee: How about other security features like DDoS protection etc?
PanopKornwithayasin: It's a standard security which is already included in all hosting servers.
Mike Lee: Which control panel is used by both Windows and Linux hosting, Plesk and cPanel?
PanopKornwithayasin: In Windows server, we provide Plesk control panel. In Linux, we provide our own LunarPanel which is developed by our company and it's free. If you need cPanel, there is an additional cost $2 per month.
Mike Lee: Any hosting plan that supports unlimited website?
PanopKornwithayasin: Basic, Windows and Business Enterprise Plan do support it. You can check it here https://lunarpages.com/web-hosting/compare-plans/
Mike Lee: What about automatic backup?
PanopKornwithayasin: It's daily and rotately overwritten every 3 days. However, it's not free. You will need to purchase premium restore service.
Mike Lee: Could you please tell me the price of this service
PanopKornwithayasin: The cost is $1.50 per month.
https://wiki.lunarpages.com/Adding_Features/Premium_Restore
Mike Lee: Okay. Nice conversation with you.
Mike Lee: Have a good day Panop.
PanopKornwithayasin: You're welcome.
PanopKornwithayasin: You too.
PanopKornwithayasin: Thank you.
Mike Lee: Welcome.
PanopKornwithayasin: Bye.
Information Regarding Lunarpages, DNS, SSL, SSH, cPanel and Website Builder
Lunarpages DNS
The Lunarpages DNS is an important part, which helps the customers to manage their website domain nameservers easily. At the time of writing this, Lunarpages is still able to handle their DNS well. Tutorial on How to Change Your Nameservers and Using Advanced DNS Editor might be helpful if you are new to DNS.
Lunarpages SSL and SSH
To secure the customer's confidential data, Lunarpages SSL services and the Lunarpages SSH are utilized. These help in securing the confidential data that the company possesses in order to maintain customer satisfaction and their goodwill. The Lunarpages Dedicated SSL Certificate starts at $109 per year.
For more information on Lunarpages SSL, please read Add SSL Feature. For the shared hosting plan, the Lunarpages SSH costs $2 per month and your website will be moved to the server with SSH enabled.


Lunarpages Control Panel
Lunarpages uses its own customized "LunarPanel" to handle the website management staffs. They also provide cPanel solution but it will cost additional $2 per month.
The Lunarpages cPanel provides the Linux based hosting accounts to manage the accounts actively. This includes the application and file managing alongside managing the email hosted server of your account. The customizable control panel allows the web hosting accounts to customize their site in the way they want.
Customizable website plans are easy to understand and comprehend by the clients.
Lunarpages Website Builder
Easy to drag and drop editors are available with the help of Weebly web builder. These help in designing your website in a unique manner and are very helpful in making the site attractive and easy to understand for the users.
The Weebly web builder is a popular and easy to use tool which let users with the less technical knowledge to build their website without much difficulty. The Lunarpages website builder plan starts with the free plan. Besides, there are also paid plans available to suit their customers need.

Lunarpages Reviews on Uptime and Status
Uptime Stats
Providing superior web hosting services is a hard nut to crack, but once you maintain a well-developed and established internet connectivity you can easily provide fast and powerful web hosting to clients. The Lunarpages uptime performance is stable, but not perfect.
They have improved connectivity services so that customers acquire a full-time satisfaction. The Lunarpages try to make it possible for their customers to maintain a continuous online connection to all their web hosting accounts. They resolve the down problems which help them to gain the trust of their clients.
Lunarpages status is very useful in providing a real-time connection between the customers and their users. On the off chance, Lunarpages downtime might sometimes cause serious problems for the lines, but they have hired skilled technicians that are always present on site to provide the best services, in order to retain the system to its original state.
The average Lunarpages uptime is claimed to be maintained at 99.9%. The uptime records and speed of the Lunarpages had made them much reliable before. My own records of the Lunarpages uptime performance have proven this. 

Uptime Stats – Target: 99.90%
July 2017 – 100%
June 2017 – 100%
May 2017 – 99.99%
April 2017 – 99.81%
March 2017 – 100%
February 2017 – 100%
January 2017 – 99.96%
December 2016 – 99.97%
November 2016 – 100%
October 2016 – 99.94%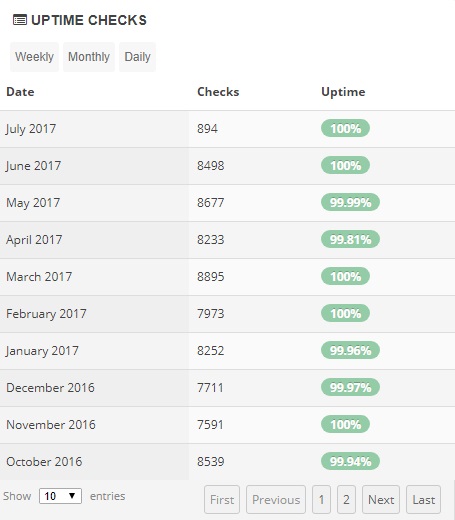 99.90% is the uptime target of Lunarpages, which the company promises to provide to all of their customers. There was no data to verify the claimed uptime performance of Lunarpages before this. Hence, I decided to test their claim. For this purpose, I gathered their uptime stats for last ten months including July 2017.
I am overwhelmed with the uptime performance of Lunarpages as they have fulfilled their promise. The company has achieved its claimed uptime in 9 out of 10 months and their average uptime is found to be 99.97%.
Server Response Speed Test
After verifying the uptime performance of Lunarpages, I decided to test their server response speed. The company promises to provide superfast server speed. I tested their server speed from 8 diverse locations in order to get the accurate results. I was delighted to get an excellent result as their server speed was much fast.
Lunarpages also offers SSD storage to their customers that further raises the server response speed. The server response speed of Lunarpages has been rated as A+, which shows a quite good performance.


Good and Bad of Lunarpages
Good
They provide a full scalability of the cloud hosting system, which is the prime need of every customer. With full scalability, the customers can easily control their budget. There are few web hosting companies that provide their customers with a full scalability cloud hosting system.
Free trial offered by the Lunarpages is a great way of testing their services. You can check upon the reliability of web hosting and their quality services. The free trails mostly range for 30 days or so. And they can provide you with a great experience of working.
They keep the confidential data safe and secure, making it easy for the customers to maintain a safe and sound online database.
Bad
The pricing policy of the Lunarpages is quite variable it is dependent upon the features that you add up on your website. They have a standard fee of 44.95$ which is not suitable or affordable for the small scale business. Due to increased traffic, the rates are also high, there is no affordable web hosting plan that the small scale business can take up for web hosting.
No free site migration service
Popular cPanel costs additional $2 per month
Summary of Lunarpages
Lunarpages have always tried to achieve the objective of ultimate customer satisfaction, and for this purpose, they have developed their organization into one fine web hosting service providers. They have hired skilled personnel for their web hosting industry, who tries to make them a top achiever in this regard.
They have a support team that includes system administrators, queries team, programmers and developers that are ready to help the customers 24/7. Although Lunarpages might not be a perfect choice for everyone, but they offer various types of hosting plan that might suit your need.
Do consider your website requirements and decide whether Lunarpages is a good choice for you.
Compare Lunarpages With Our Top Ranked Web Hosts!
SiteGround vs HostGator vs Lunarpages

SiteGround

HostGator

Lunarpages
Rating

Rated 4.5 stars

Rated 4.5 stars

Rated 4 stars

Price

$3.95/month

$3.95/month

$4.95/month

Criteria