Editor Rating

Rated 4 stars

Excellent
---
Reviewed by:

Published on:

Last modified:
---
DISCLOSURE: This post may contain affiliate links, meaning when you click the links and make a purchase, we receive a commission.
Our Top Ranked #1 Web Host

Ideal for WordPress, Joomla, Drupal and eCommerce
What is MDDHosting?
MDDHosting was established in the year of 2007. The goal of the company is offering perfect web hosting services for individuals and business all over the world. This company offers its customer support service at any time. This MDDHosting reviews will give you an insight on the MDDHosting performance.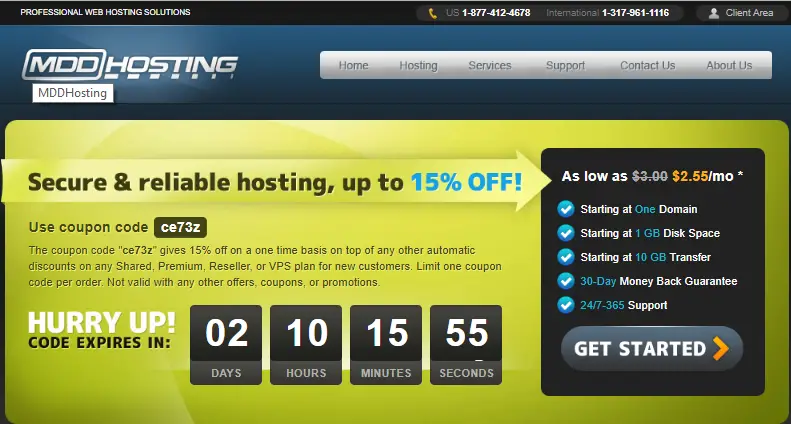 Details
 
Founded
2007
Server Location
Denver, Colorado
Services

Shared Hosting
Premium Hosting
Reseller Hosting
Virtual Private Servers
Dedicated Servers
SSL Certificates

Unlimited Website
Yes
Unlimited Storage and Bandwidth
Limited Storage and Bandwidth is Available with Shared Web Hosting
Domain Hosting
Yes
Linux Hosting
Yes
Windows Hosting
No
WordPress
Optimized
Joomla
Optimized
Drupal
Optimized
Magento
Optimized
PHP Hosting
Optimized
e-Commerce Hosting
Optimized
Email Hosting
Yes
SSL Support

Let's Encrypt Free SSL Certificates Available
RapidSSL Certificate Available at $35.00/Yr
GeoTrust QuickSSL Premium Certificate Available at $125.00/Yr
GeoTrust True BusinessID with EV Available at $179.00/Yr

Dedicated IP
Yes, Per IP Available at $48/Yr
Free Site Migration
Yes
Free Domain
No
Domain Privacy Protected
WHOIS Privacy / ID Protection Available at $5/Yr Per ID
Money Back Guarantee
30 Days
24/7 Support
Control Panel
cPanel
One-Click Installation
Yes, Softaculous
Website Builder

cPanel Site Publisher
SitePad Website Builder

Automated Backup
Automatic Daily Backups Available
Content Delivery Network (CDN)
No
Security Features

SSL Certificates
Antivirus & Malware Protection
Firewall Protection
Spam Expert/ Spam Filtration

Payment Methods

Credit Card (Visa, MasterCard, American Express)
PayPal

Endurance International Group Network (EIG)
No
Social Profile
MDDHosting Reviews on Hosting Plans and Domain Services
MDDHosting offers various types of hosting plans, including shared, premium, VPS, reseller and dedicated hosting solution. Have a look at the hosting plans below.
MDDHosting shared hosting plans are created to maximize the uptime. SSD accelerated storage is included in order to get the reliability and speed. The most basic plan starts at medium pricing level of $3.50 per month.
MDDHosting Reviews on Premium Hosting Plan
One to three percent of the total numbers of MDDHosting accounts have been hosted by their premium servers. This premium plan supports advanced hardware and also Pure SSD storage to bring the powerful speed. Every Premium hosting account gets access to 2 full CPU cores.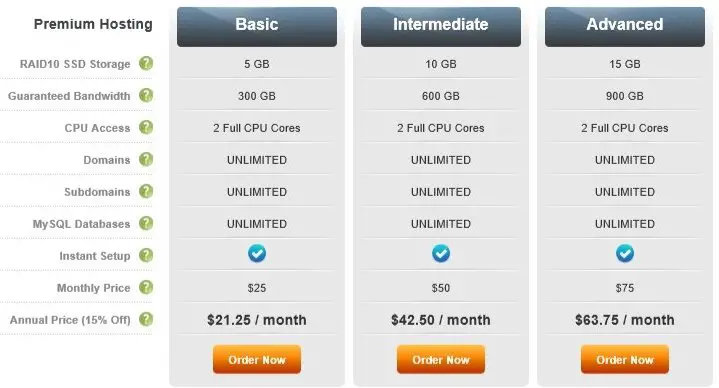 MDDHosting Reviews on Reseller Hosting Plan
MDDHosting reseller plans are created for those who are searching for the mood booster in order to start a web hosting company. This plan is also perfect for those who are operating web design companies. MDDHosting offers a couple of important tools to make your business successful.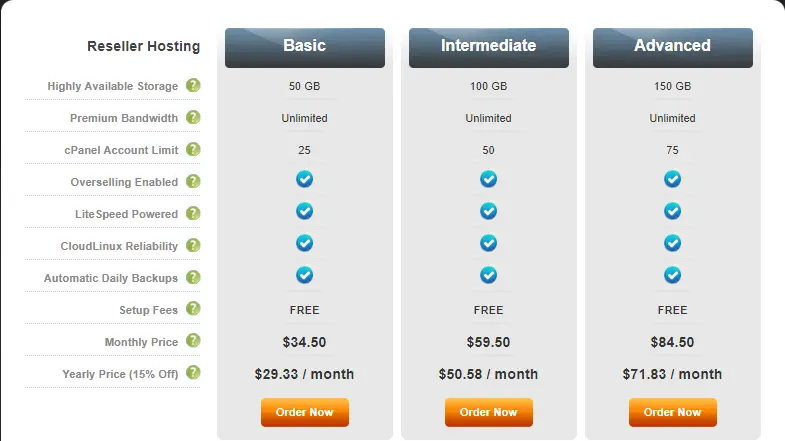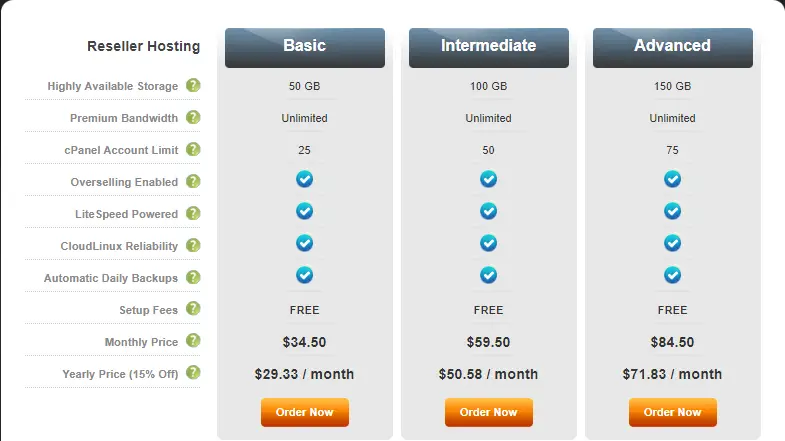 MDDHosting Reviews on VPS Hosting Plan
MDDHosting VPS plans offer reliability, security, and speed at great levels without having to add a dedicated server's expense. The most basic VPS plan starts at $71.21 per month, with the condition of 1 year pre-payment. If you prefer monthly payment, it will cost $74.96.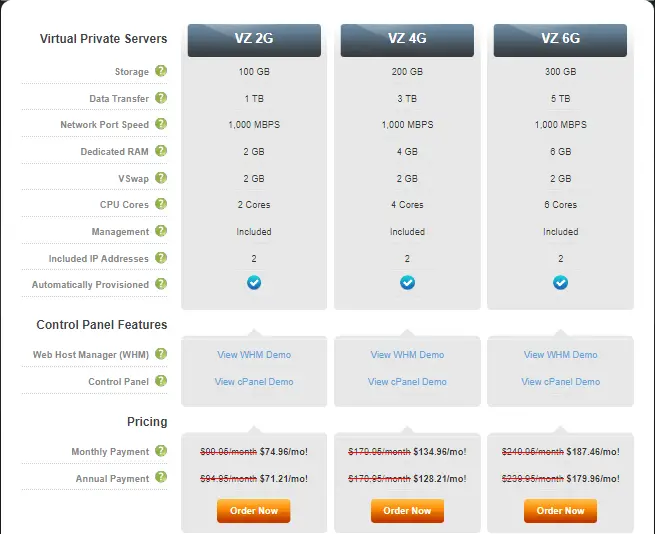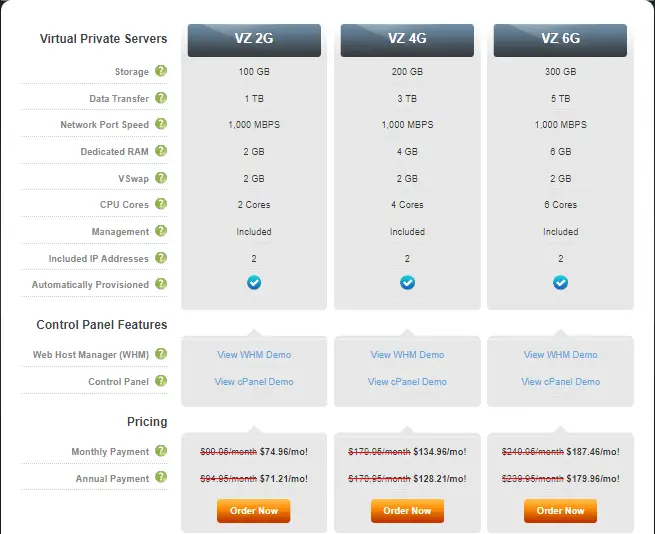 MDDHosting Reviews on Dedicated Hosting Plan
MDDHosting dedicated servers are offered to fit the demand of the websites with high traffics and need more server resources. Both single processor and dual processor CPU are provided. For more information about the pricing, you might need to request a quote from MDDHosting to get the best dedicated hosting plan for your website.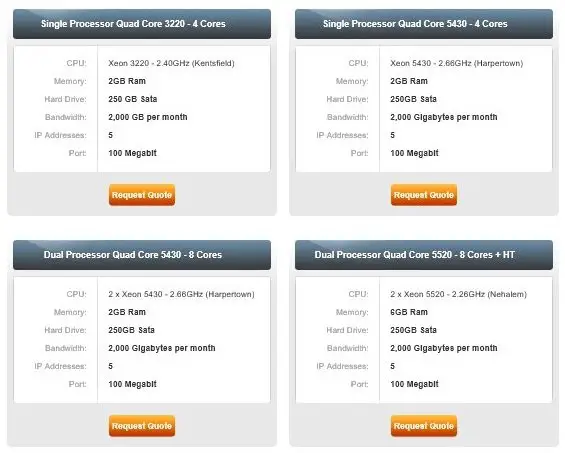 MDDHosting SSL Certificate
Three types of SSL certificate are offered by MDDHosting. RapidSSL Certificate is a well-known domain validated or DV certificate as it offers rapid issuance process at low cost. GeoTrust QuickSSL Premium Certificate is the most effective and inexpensive solution that can be used to cover your domain name.
GeoTrust True BusinessID with EV features the authentication and security at the highest level.
MDDHosting Reviews on Domain Service
The real-time MDDHosting domain name search lets you searching up to a couple of domains at one time. The most popular .com extension cost $14.95 per year. Besides, if you have the third party hosted domains, it is also possible to transfer domains to MDDHosting at the same pricing level as registering a new domain.
MDDHosting Reviews on WordPress Hosting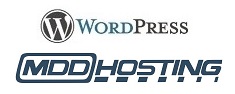 It easy to get the WordPress up on the MDDHosting platform. Users are able to run it by using the built-in installer which takes just a couple of clicks. MDDHosting comes with a couple of tools that will be easy for you to manage your WordPress site. You just have to install, manage updates, staging and integrate. This company has a well-trained team that will support all WordPress problems at 24/7. MDDHosting optimized their platform for WordPress and made WordPress performs better.
MDDHosting Reviews on Support and Customer Service
MDDHosting offers customer support for 24/7. You can get the support through email, phone, ticketing system and also web portal. However, users are not able to reach them through live chat because it is not offered at the time of writing this review. By using their ticketing system, error messages and a couple of important conversation will be able to be analyzed.
This is very useful to get the lost translation that has happened when you have a conversation on the phone with somebody. As a customer, you can screen capture or copy and paste the errors and request for MDDHosting support.
#Trial 1 Outstanding Ticket Support from MDDHosting
I heard a lot about MDDHosting customer support, especially ticket support that they offer super fast services not only to their own clients but non-customers as well. So I decided to take a trial and for this I went to their website and fill up the form and asked all those questions which I have in my mind regarding their hosting plan. This hosting company also gave me a link through email to check my status.
I was astonished to get a speedy email from them within 20 minutes after filling the ticket form in which they wrote all answers of my all queries. The representative who send me the email was James L and he communicated with me so well and in a good way. Really happy and satisfied with this company's extraordinary service and that is why I rated him 10/10.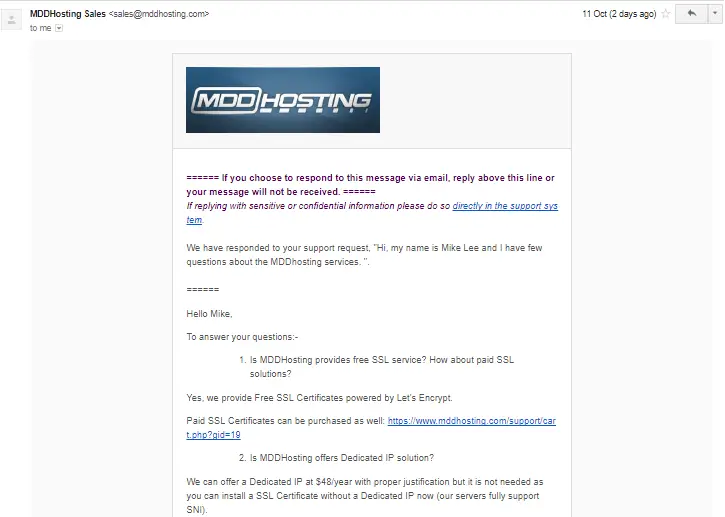 Here is the full conversation:
Q: Is MDDHosting provides free SSL service? How about paid SSL solutions?
A: Yes, we provide Free SSL Certificates powered by Let's Encrypt.
Paid SSL Certificates can be purchased as well: https://www.mddhosting.com/support/cart.php?gid=19
Q: Is MDDHosting offers Dedicated IP solution?
A: We can offer a Dedicated IP at $48/year with proper justification but it is not needed as you can install a SSL Certificate without a Dedicated IP now (our servers fully support SNI).
Q: Is there any Free Site Migration Service?
A: Yes, you can read our policy here: https://www.mddhosting.com/tos.php#1b
Q: How about Domain Privacy Protected Service? If yes then free or paid?
A: WHOIS Privacy / ID Protection can be added for $5/year for domain registration or transfer.
Q: Is MDDHosting is a part of Endurance International Group(EIG)?
A: No and we will never be.
Q: Any Website Builder tool offered?
A: Yes, we offer both cPanel Site Publisher and SitePad Website Builder.
Q: Is free domain included in the hosting plans?
A: No.
Q: What are the security features that MDDHosting offers?
A: We have many security features setup at the server level including a server level firewall and web application firewall. That being said, you will be fully responsible for your application and account level security which includes keeping all applications and plugins up to date, safeguarding your password, keeping your computer virus or malware free, etc.
Q: Any shared hosting plan that supports unlimited website?
A: We do not limit the number of domains that you can have for our Professional Plan and Premium Hosting plans but all the domains will share the resources (like CPU and Memory) allocated to your account.
MDDHosting Reviews on Uptime and Server Status
Uptime Stats
MDDHosting offers stable uptime and server speed for their clients. Many other MDDHosting reviews defined the same. Visitors are able to visit your website smoothly. Since no one is perfect, some people found that MDDHosting was down few times a year. This is still acceptable as the server down issue does not happen for a long time. MDDHosting always response to this problem quickly.

Uptime Stats – Target: 99.90%
October 2017 – 100%
September 2017 – 99.09%
August 2017 – 99.89%
July 2017 – 99.95%
June 2017 – 100%
May 2017 – 99.92%
April 2017 – 99.96%
March 2017 – 99.98%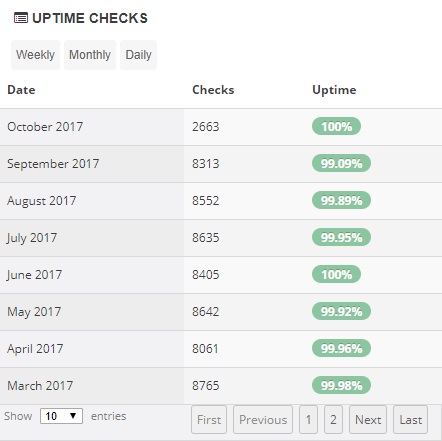 MDDHosting claims to provide great uptime performance but they have not claimed any specific uptime target. In order to test the uptime performance of MDDHosting, I took the industry standard uptime of 99.90%. First of all, I gathered their uptime stats from March 2017 to October 2017. MDDHosting came up with an excellent uptime performance of 100% in the month of October. Then in September and August, I received a poor uptime performance (below industry standard).
Again from March 2017 to July 2017, MDDHosting did well in accomplishing the industry standard uptime. Their average uptime for these 8 months is 99.85%, which is not up to the mark. No doubt, MDDHosting performed well in 6 out of 8 months therefore; we cannot conclude its uptime as bad on the basis of 2 bad performances.
Note: Visitors can also bookmark our website if they want to keep in touch with latest performances of MDDHosting uptime stats.
Server Response Speed Test
One of the most crucial things for choosing a web hosting company is the response speed of server. Whenever you visit a website, you try to get your desired information as quickly as possible. If that website takes a bit more time to load, then you will definitely leave it. Hence, a web hosting company with fast server response speed will be your first choice.
Keeping in view the importance of server speed, I decided to test it for MDDHosting. I obtained their server response speed from 8 different states. I got A+ rating that is excellent for a web hosting company.

Good and Bad of MDDHosting
Good
Support: Even though MDDHosting does not offer live chat option, but they are able to response quickly through their ticket system.
Reliable: Stable performance.
Dedication: Provide dedicated hosting service
Free Transfer: MDDHosting is perfect for those who want to relocate your website. You can do it for free.
Discount: Sometimes you might able to get the promotional price which is cheaper than $3.50 per month
Bad
Expensive: Besides a couple of pros, you will find that this hosting service is slightly expensive if compare to other renowned hosting companies like SiteGround and HostGator.
Summary of MDDHosting
MDDHosting is a good choice for all types of websites. They provide a couple of features, and the customer support system is impressive. If you are looking for a reliable web hosting company, then MDDHosting might be the one that you are looking for.
Compare MDDHosting With Our Top Ranked Web Hosts!
SiteGround vs HostGator vs MDDHosting

SiteGround

HostGator

MDDHosting
Rating

Rated 4.5 stars

Rated 4.5 stars

Rated 4 stars

Price

$3.95/month

$3.95/month

$6.38/month

Criteria