Editor Rating

Rated 4 stars

Excellent
---
Reviewed by:

Published on:

Last modified:
---
DISCLOSURE: This post may contain affiliate links, meaning when you click the links and make a purchase, we receive a commission.
Our Top Ranked #1 Web Host

Ideal for WordPress, Joomla, Drupal and eCommerce
What is Media Temple Web Hosting?
Media Temple or (mt) is one of the leading web hosting company that was founded in the year 1998 in Los Angeles. GoDaddy is the parent company of Media Temple. The company has a professional team of web developers, designers, innovators, and digital entrepreneurs who have innovated the world of web hosting and are devising new ways that can build successful relationships with the customers.
They have developed new and efficient web hosting and cloud services, which are extremely helpful for the entrepreneurs. Anyone, who is looking for effective and engaging internet presence, can rely upon Media Temple services in order to have a good experience. Media Temple INC. has hired web developers and internet technicians who can help the customers promptly.
Moreover, this Media Temple reviews can help you to have a fair idea of the company's overall performance. They offer a great number of services for their customers. Some of these services include excellent customer and technical supports. Media Temple UK offers a guaranteed uptime with fast speed, prompt customer services and all sorts of web hosting and web managing tools that can help to manage web hosting easily.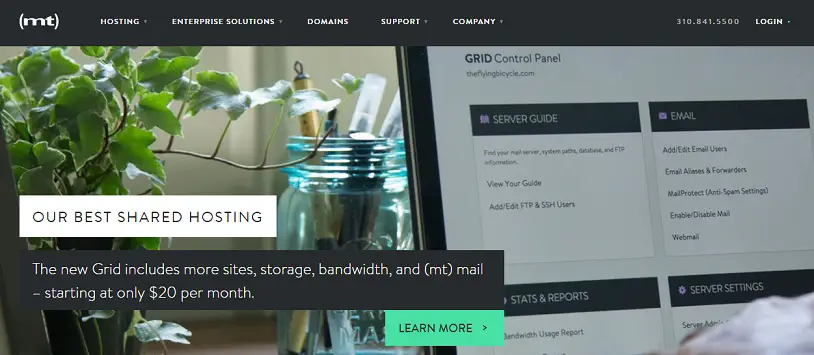 Details
 
Founded
1998
Server Location
Services

Shared Hosting
Managed WordPress Hosting
VPS Hosting
Dedicated Hosting
Website Builder
Cloud Hosting
G-Suite
Security Pack
SSL Certificates

Unlimited Website
No
Unlimited Storage and Bandwidth
No
Domain Hosting
Yes
Linux Hosting
Yes
Windows Hosting
No
WordPress
Optimized
Joomla
Optimized
Drupal
Optimized
Magento
Optimized
PHP Hosting
Optimized
e-Commerce Hosting
Optimized
Email Hosting
Yes
SSL Support
SSL Certificate Available Price Starting at $75/Yr
Dedicated IP
One Free IP For VPS Platform
Free Site Migration
$150 Per Site Migration
Free Domain
$15 Per Domain Per Year
Domain Privacy Protected

$2 for First Year
$8 for Second Year and So On

Money Back Guarantee
30 Days
24/7 Support

Live Chat
Telephone
Support Request

Control Panel

Customized Control Panel on Grid
cPanel (VPS)
Plesk (VPS)

One-Click Installation
Yes
Website Builder
Virb Site Builder at $10 Per Month
Automated Backup
30-DAY FILE BACKUP & RESTORE
Content Delivery Network (CDN)
SiteLock's TrueSpeed CDN available at $30/mo for 5 Domains
Security Features

Malware Detection and Removal
Secure SSH/SFTP
DDoS & Intrusion Protection
Automatic Cloud Backup

Payment Methods
Endurance International Group Network (EIG)
No
Social Profile
Media Temple Reviews on Plan Pricing and Domain Services
There are various plans that are offered by the Media Temple. The customers can take up any of the plans, which suits the business needs. Media Temple starts at medium level pricing, which is a bit higher than low-cost web hosting company like SiteGround.
This is one of the clustered internet services that they provide. Media Temple shared hosting plan provides the customers to host their websites on a server with the fast and reliable internet connection. The Media Temple Grid shared hosting plan is further divided into three categories, which depends on the type of the business.
Webmasters may choose between Personal, Pro or Elite hosting plan. Reading this Media Temple reviews can help you to figure out what type of plan you need. The most basic Personal shared hosting plan starts at $20 per month. Some may find the starting cost a bit higher, as they ignore the premium services included.
The Personal hosting plan allows you to host up to 100 websites, which is ideal for webmaster that wants to host many websites. Besides, premium features like 20GB SSD storage and 1TB Bandwidth are also included in the plan.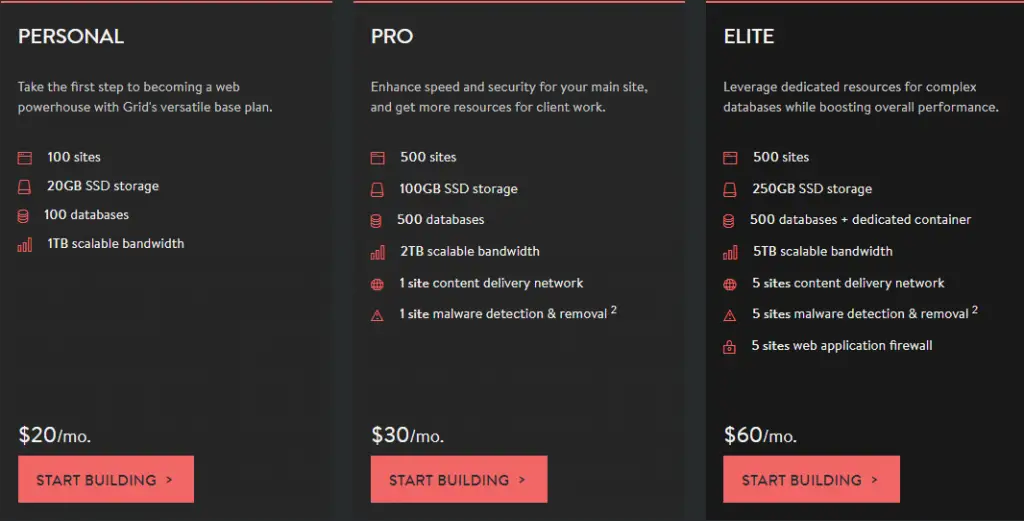 Media Temple Reviews on VPS Hosting Plan
VPS hosting relates to the virtual private server. This hosting plan provides webmaster with more server resources. Media Temple VPS provides good and guaranteed uptime, with more control over the server. Moreover, you can get instant scaling for any type of project of any size.
The Level 1 VPS plan starts at $30 per month, with the option to select your preferred operating system.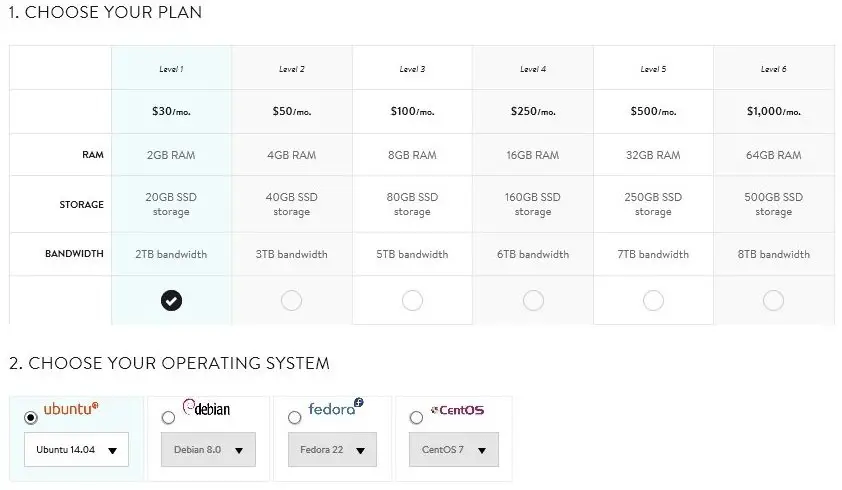 Media Temple Reviews on Managed VPS Hosting Plan
The managed VPS is a bit different from the typical VPS hosting plan as Media Temple helps you to manage your VPS. Effective and efficient customer service is provided 24/7, which can help you to resolve your issues promptly. The Level 1 managed VPS plan starts at $55 per month, which includes higher storage of 30GB web space and selection for the control panel.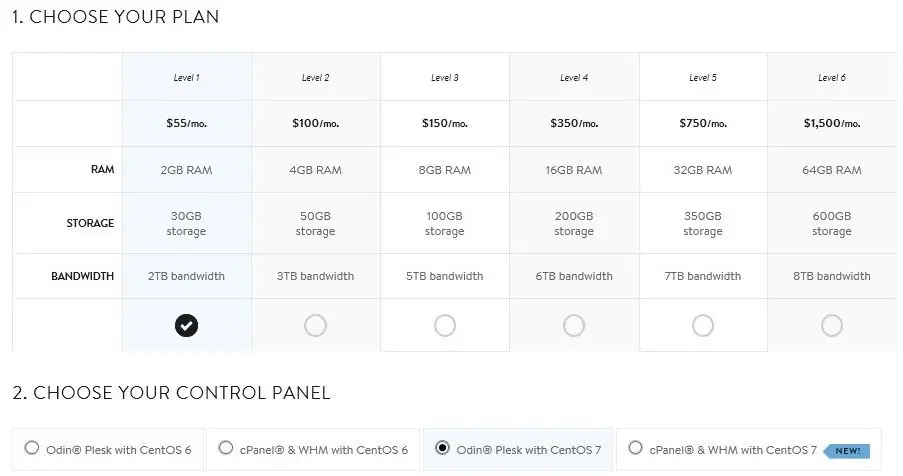 Media Temple Reviews on Dedicated Hosting Plan
Media Temple dedicated server helps you to attain guaranteed uptime, fast and stable server internet connections. The customers are free to select any type of managed services. They are provided with new and innovative high-powered hardware. The Media Temple DV (dedicated virtual) server allow you to install your own software on it as you have full control over it. A flash backed write cache is provided with every dedicated server.
Media Temple Reviews on Managed Cloud Hosting Plan
Cloud hosting plans are a great source of online storage. Agencies, businesses, content creators and web developers may rely on cloud hosting to fulfill their own needs. Media Temple cloud services start from $499 per month. The cloud technicians and system handlers are devoted to providing you with the best services.

Cloud Tech
The experts at the Media Temple can easily and effectively handle your web hosting needs. The managed services for cloud hosting are very useful. The cloud architects and system administrator are professional in managing your online storage and cloud systems.
Enterprise Plan
For large-scale enterprises, the web hosting, cloud systems or dedicated solutions are a basic necessity. Media Temple enterprise plan help the entrepreneurs to utilize the web hosting services effectively and efficiently. For more details on enterprise solutions, you may talk to Media Temple.
Media Temple Reviews on Domain Service
Domain and hosting services are essential for a website. Media Temple domain services will help you to manage your domain easily at one place quickly and precisely. You may host a perfect domain name through their domain service. Besides, domain privacy service is also offered by Media Temple.
With only $2 for the first year, you may protect your WHOIS information.
Media Temple Reviews on WordPress Hosting
WordPress is one of the best website management tool that helps millions of webmasters to own websites easily. They can easily make an eye-catching website with WordPress as no much technical knowledge needed. Media Temple WordPress tool is very useful for beginners. It can be used to install the WordPress on your server easily.
Besides, their cooperative customer support helps webmasters at every step of creating the website. The WordPress tutorial videos provided act as good guidance to all those who are still unfamiliar with the WordPress. The Media Temple managed WordPress hosting plan is optimized for WordPress hosting.
It is highly compatible and performed well on WordPress powered websites. 50GB and 200GB of SSD storage are included in Personal and Pro plan respectively. The SSD is ideal for fast performance hard disk which can raise the performance of website to the higher level.

In addition, Media Temple also provides enterprise WordPress solutions. The enterprise WordPress hosting plans are optimized for WordPress as well. These plans are specially designed for WordPress by utilizing aspects like speed, compatibility, SEO, stability, environment, plugins and WordPress core related updates.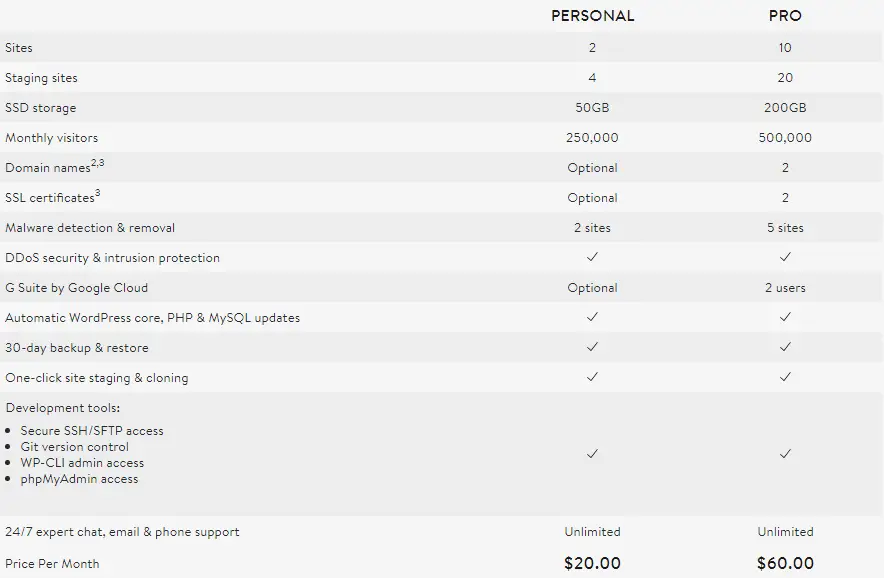 Media Temple Reviews on Email Hosting Services
Media Temple also offers Email hosting services. The Media Temple webmail and Google apps are very useful and convenient. Besides, customers can easily manage the Media Temple email settings to meet their needs.
Google Apps for Work
There are several office apps that can be used by the business organizers to make their work easier. These include Gmail, hangouts, google calendar and google drive. Media Temple utilizes these google apps to provide email services to their clients.
They usually provide a 30 GB cloud storage to their clients and protect their email accounts from every type of spams. Video conferencing is also made possible by utilizing the services of Media Temple.

Media Temple Reviews on Support and Customer Service
Co-operative and prompt customer services form the backbone of the web hosting companies. The Media Temple customer service offers a 24 x 7 support to its customers in order to resolve their queries in time.
#Trial 1 Professional Live Chat Support
Customer service of any hosting company plays a vital role in building a long term relationship with clients. Media Temple hosting promises to provide a fast and effective online support services to their own clients and others. I wanted to check whether this company says is true or not.
I contacted to their live chat support and I was amazed at their rapid response. Within 01.88 seconds, the customer support staff responded me. I asked some questions regarding his company's hosting and he replied me quickly without wasting my time. His name was Jake H and he provided me outstanding customer services. So I rated him 10/10.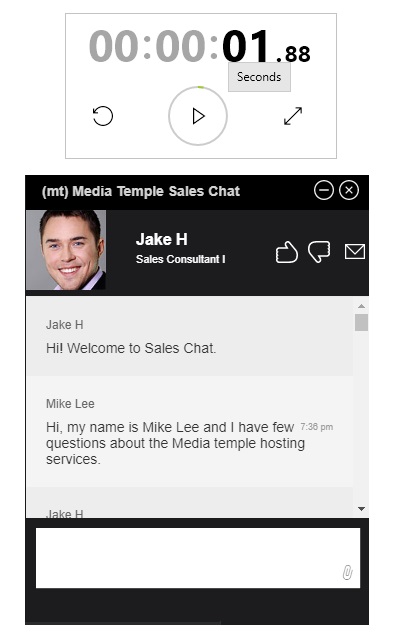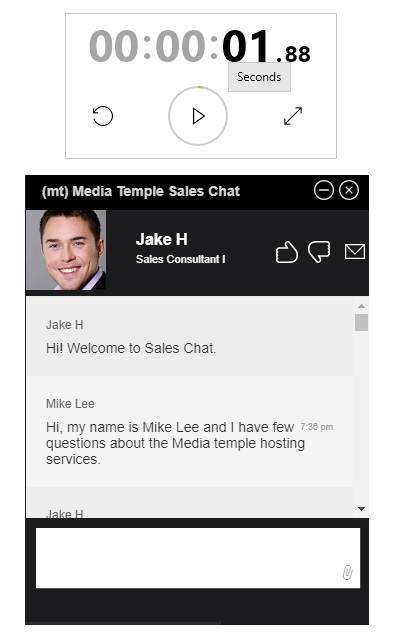 Here is the detailed conversation with Media Temple Live Chat Support:
Mike Lee: Hi, my name is Mike Lee and I have few questions about the Media temple hosting services.
Jake H: Sure, what can I do for you.
Mike Lee: Is Media Temple Hosting provides free SSL service? How about paid SSL solutions?
Jake H: Our SSL certificates don't come with our hosting, they're an additional cost of $75/yr
Mike Lee: How about Domain Privacy Protected Service? If yes then free or paid?
Jake H: $2 the first year and $8 years after.
Mike Lee: Noted. Is there any Free Site Migration Service?
Jake H: Our migration costs $150 per site, or our managed WordPress packages have options for auto migrations.
Mike Lee: Auto migration is paid or free?
Jake H: Auto migrations with our Managed WordPress plans would be free, but don't always work depending on who built the site and how custom.
Mike Lee: Is Media Temple Hosting offers Dedicated IP solution?
Jake H: We don't offer a dedicated IP unless you're using our VPS platform.
Mike Lee: If I use your VPS platform then your company will provide dedicated IP?
Jake H: Yes.
Mike Lee: Free or Paid?
Jake H: One free.
Mike Lee: Alright. Is Media Temple Hosting is a part of Endurance International Group (EIG)?
Jake H: No. Our parent company is GoDaddy though.
Mike Lee: Alright.
Jake H: But we are separate companies.
Mike Lee: Got it.
Jake H: Did you have any other questions today?
Mike Lee: Yes. What platform is the Media Temple hosting using to support One-Click installation? Softaculous?
Jake H: It is our own system. Our Media Temple control panel.
Mike Lee: That's mean you are providing your own 1-click installation system?
Jake H:https://mediatemple.…-the-1-click-applications-tool
Jake H: How do I install WordPress using the 1-Click Applications tool? – Media Temple. http://wordpress.tv/…f-wordpress-with-media-temple/
Jake H: 1-Click Self-Installation of WordPress with Media TempleMedia Temple are one of our recommended hosting providers. In this short video, we walk you through adding a self-hosted WordPress installation to your Media Temple account.
Jake H: We have instructions in our help database for WordPress installs.
Mike Lee: Thanks, I will check. Is Media Temple supports Windows Hosting, Linux Hosting or both?
Jake H: We are Linux only.
Mike Lee: What type of control panel is being used for Linux hosting plan?
Jake H: It is Media Temple's control panel on Grid, our VPS you can choose Plesk or cPanel.
Mike Lee: That's great Jake 🙂
Jake H: 🙂
Mike Lee: How many data centers Media Temple Hosting has? What locations are these data centers/servers located?
Jake H: 2, Los Angeles and Virginia.
Mike Lee: What payment methods does your company accept?
Jake H: Credit, Debit or PayPal.
Mike Lee: What are the security features that Media Temple offers?
Jake H: Well they would be different of course because our Grid Pro and Elite have security scanner built in, our VPS plans are self-managed but we offer managed support for security scans and stuff as well.
Jake H: So it depends on which plan you proceed with. Shared or VPS.
Mike Lee: Okay. Is free domain included in any of your hosting plans?
Jake H: Domains are $15/yr and are not included, I'm sorry.
Mike Lee: It's okay. Is space and bandwidth unlimited on Media Temple all hosting plans?
Jake H: https://mediatemple.net/webhosting/shared/
Jake H: Grid: Shared web and cloud hosting for small business – Media Temple
Jake H: It would be limited, that page has the limitations on the levels for our Grid Shared.
Mike Lee: Alright. Any shared hosting plan that supports unlimited website?
Jake H: On that page above it lists the limitations.
Jake H: Personal 100, Pro and Elite 500.
Mike Lee: Will Media Temple back up my website automatically?
Jake H: 30-DAY FILE BACKUP & RESTORE.
Jake H: Don't let a little problem become the end of the world. Easy, automatic backup and restore options ensure any mistakes are low stakes.
Mike Lee: Sounds good 🙂
Mike Lee: Thank you so much for your quick response 🙂
Jake H: Absolutely welcome 🙂
Media Temple Community
The Media Temple community page helps the customers to look for the FAQ's that can help them to solve their problems. The community is very helpful and effective for clients to find their answer.


Media Temple Help Center
The Media Temple Help Center is created to help the customers via videos and other tutorials. You can contact them at any time for help and assistance.
Media Temple Contact
For direct contact, the Media Temple contact services have been established. The customer support is available 24/7. The clients may call at any time and the customer cares are expected to resolve the issue promptly.
Featured Services of Media Temple DNS, SSL, SSH and Website Builder
Media Temple DNS
Media Temple provides clear guidance on their DNS information. If you have previously registered a domain name with other web hosting company, you may refer Media Temple DNS or Nameserver information to point your domain to Media Temple DNS. Besides, for the tutorial on changing DNS record, please refer how to change DNS record for my domain.
Media Temple SSL
The secure socket layer provided by the Media Temple is compatible with 99% of the internet browsers. Media Temple SSL provides you with a safe and secure connection to the internet. Moreover, automated connection provides you with higher security. The Media Temple SSL certificate starts at $75 per year, which is a good way to gain customer trust on your website.
Media Temple SSH
SSH stands for the Secure Shell. To keep the website from malicious hackers and other viruses, Media Temple SSH provides a full proof security of your website. Media Temple SSH encrypted the message and allows you to connect to your server securely. Connect to your server via SSH is a great move to increase the security.
Media Temple FTP
FTP stands for File Transfer Protocol. The Media Temple FTP is commonly used to download or upload files to the server. FileZilla and Cyberduck are the most popular FTP program. Consider reading using FileZilla for FTP or Cyberduck for FTP if you are new to these FTP program.
Media Temple Website Builder
Media Temple website builder Virb helps the webmasters to develop their websites in the way they want. Virb has easy to use interface and comes with the responsive theme. They offer 10 days free trial and will cost $10 per month after the trial. This plan includes unlimited pages, cloud hosting, mobile styling and customized themes.
Media Temple CDN
Media Temple CDN or Content Delivery Network service cost $30 per month, with a limit up to 5 sites. Media Temple partnered with SiteLock in providing CDN services. The TrueSpeed CDN uses static and dynamic caching, content optimization and a wide network of data centers to serve your website to be loaded faster.
It makes the pages being served directly from the memory and reduces the bandwidth and server resource usage at the same time.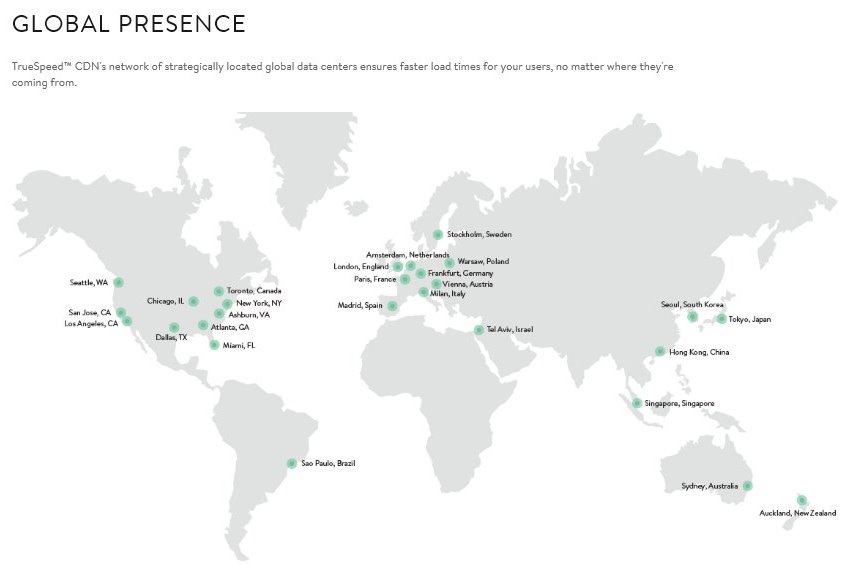 Media Temple Account Center
Media Temple account center help you to manage your account easily. You can review your account status, domain expiration date and more. Moreover, you can also view in detail the due bills and payments. If you already have a Media Temple account, you may login here.
Media Temple Reviews on Uptime and Online Status
Uptime Stats
The Media Temple uptime performance makes them extraordinary among the other web facilitating suppliers. They gave incomparable network administrations and dedicated to keeping a good record of server uptime. Media Temple claims an uptime of 99.9%, with quick and solid web network provided.
Websites hosted on Media Temple can enjoy the consistent speed and stable performance.


Uptime Stats – Target: 99.90%
July 2017 – 100%
June 2017 – 100%
May 2017 – 98.99%
April 2017 – 99.72%
March 2017 – 100%
February 2017 – 100%
January 2017 – 100%
December 2016 – 99.61%
November 2016 – 100%
October 2016 – 100%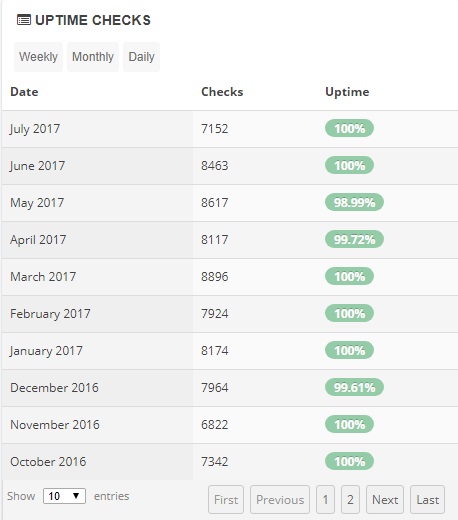 Media Temple always claims to provide 99.99% uptime to their all customers. So I wanted to check their uptime performance by myself. I observed their uptime stats from last 10 months which includes October 2016 to July 2017. The company achieved their target in 7 out of 10 months. I have also attached the image of Media Temple uptime performance.
The company has achieved their claim most of the times. Overall, uptime average of Media Temple is 99.83% which is good for all those individuals who want to start a small business.
Note: Visitors can also bookmark our website if they want to keep in touch with latest performances of uptime stats.
Server Response Speed Test
Especially for beginners, it is really hard to select a hosting for their own website. There are numerous of hosting companies that are providing their hosting services at different rates. Media Temple is an old company and it is providing its services since 1998. I decided to check their server speed whether they are providing fast server speed or not.
I pinged one of the website hosted on Media Temple server and tested their speed through different locations. From the results, I found that Media Temple is providing a good server response speed as anyone can see in the image given below. Overall rating of this company is A which is good.


Good and Bad of Media Temple
Good
Media Temple provides negligible chances of downtime. Fast server internet connectivity and 99.9% uptime makes Media Temple a good choice for web hosting. It faces minimal downtime problems.
Media Temple is one of the leading and trusted web hosting Company. It keeps the client data confidential and all the records are kept in full proof security.
Unusual transparency makes the Media Temple reliable and consistent.
Bad
Sometimes, the chat support provided is the lack of response, especially during weekends or peak timing.
The planned prices are a bit higher as compared to other web hosting companies. The $20 monthly shared hosting price is quite heavy for small blog hosting.
Summary of Media Temple
In short, the Media Temple administrations are one of the best web facilitating administrations that can help you to make your business thrive. These services give a proficient and compelling client bolster that helps the customers at the most punctual. They have a versatile support group that incorporates, questions group, software engineers, and designers that are prepared to help the clients day in and day out.
Using the Media Temple web hosting service can be a decent alternative for you since they provide quality services. They keep the private information safe and secure, making it simple for the clients to keep up a protected online database.
Compare Media Temple With Our Top Ranked Web Hosts!
SiteGround vs HostGator vs Media Temple

SiteGround

HostGator

Media Temple
Rating

Rated 4.5 stars

Rated 4.5 stars

Rated 4 stars

Price

$3.95/month

$3.95/month

$20/month

Criteria