Editor Rating

Rated 4.5 stars

Outstanding
---
Reviewed by:

Published on:

Last modified:
---
DISCLOSURE: This post may contain affiliate links, meaning when you click the links and make a purchase, we receive a commission.
Our Top Ranked #1 Web Host

Latest Uptime Stats (Real Records) - 99.98% (Last 12 Months)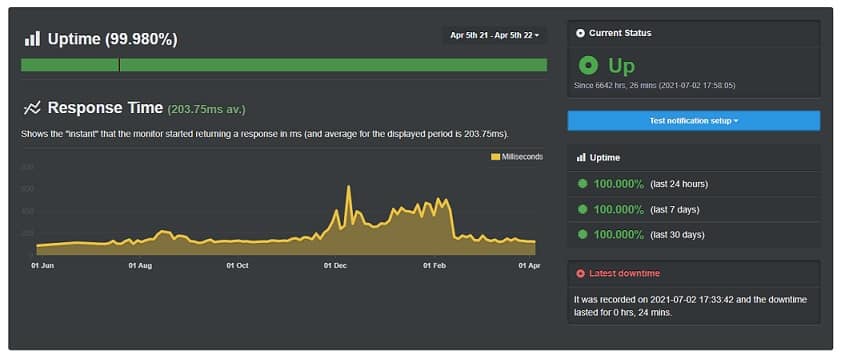 What is Midphase Hosting?
Every website owner faces an uphill task of selecting the best web host to provide efficient and reliable hosting for the website. Over the years, newbie or those who are just getting started with web creation make the mistake of choosing low-cost hosting over reliable hosting.
As much as price is important, the reliability of web host is more important when choosing a suitable web host for your website. Midphase is a web hosting company based in Chicago and founded in 1998 by Dan Ushman and Zak Boca. The company is now owned by UK2 Group, a group that is hosting over a million domains with more than 120,000 customers all over the world.
UK2 Group completed the purchase of Midphase brand in a mouth-watering deal in December 21st, 2007. Midphase is an "unlimited" type of web host that provides shared hosting plans, VPS, cloud, reseller and dedicated servers. In this Midphase reviews, we will take a close look at the Midphase hosting services.
Midphase General Information
Website: http://midphase.com
Address: Midphase Services, (Hosting Services, Inc), 517 W. 100 N.
Suite #225, Providence, UT 84332
Country: USA
General Fax Number: 435-755-3449
Email: [email protected]
Phone: 1-866-MIDPHASE (Toll Free), +1-435-787-7101 (International)
Hours for support: 24 / 7 / 365
Details
Founded
1998
Server Location
Around the Midwestern US
Services

Web Hosting
Domains Service
Server Hosting
Dedicated Servers
Shared Hosting
VPS Hosting
Cloud Hosting
Reseller Hosting
WordPress Hosting

Unlimited Website
Available with Business Web Hosting
Unlimited Storage and Bandwidth
Available with All Hosting Plans
Domain Hosting
Yes
Linux Hosting
Yes
Windows Hosting
Only for VPS and Dedicated Hosting Solution
WordPress
Optimized
Joomla
Optimized
Drupal
Optimized
Magento
Yes
PHP Hosting
Optimized
e-Commerce Hosting
Yes
Email Hosting
Yes
SSL Support

Free SSL Available with Business Hosting
Paid SSL Certificates Available at $29.99/Yr

Dedicated IP

Free Dedicated IP Available for Business Hosting
Paid IP Available at $24/Yr Per Domain

Free Site Migration
No
Free Domain
Available with All Website Hosting Plans
Domain Privacy Protected
WHOIS Domain Privacy Available at $9.95/Yr
Money Back Guarantee
30 Days
24/7 Support

Live Chat
Telephone
Email
Ticket Support

Control Panel
cPanel
One-Click Installation
Yes, Through Softaculous
Website Builder
Available Website Builder V7 Price Starting at $4.95/mo
Automated Backup
Available
Content Delivery Network (CDN)
Cloudflare
Security Features

Firewall Protection
ModSecurity
DDos Attack Protection

Payment Methods

Credit Card
PayPal
Bank Drafts

Endurance International Group Network (EIG)
No
Social Profile
Midphase Reviews on Hosting Plans and Services
Midphase offers standard hosting plans. They offer Linux shared hosting, VPS plans, cloud hosting plans, dedicated servers, and reseller solution. The web design services and VPS hosting are recently started by Midphase.
Midphase operates three shared web hosting plans called "Personal", "Professional" and "Business". These plans are designed for both the individual and small businesses needs. They come with specially designed cloud Linux to increase the security and stability of websites on their server.
Personal  Hosting Plan
Cost: $4.17/month
Unlimited web space and bandwidth
Free domain
1 website
1 database included
1 subdomain included
Unlimited emails
Professional Hosting Plan
Cost: $5.37/month
Unlimited web space and bandwidth
Free domain
3 websites
3 database included
5 subdomains included
Unlimited emails
Business Hosting Plan
$6.57/month
Unlimited web space and bandwidth
Free domain
Unlimited website
Unlimited database included
Unlimited sub domains included
Unlimited emails
Dedicated IP address
Dedicated secure certificate (SSL)
Stats2 web analytics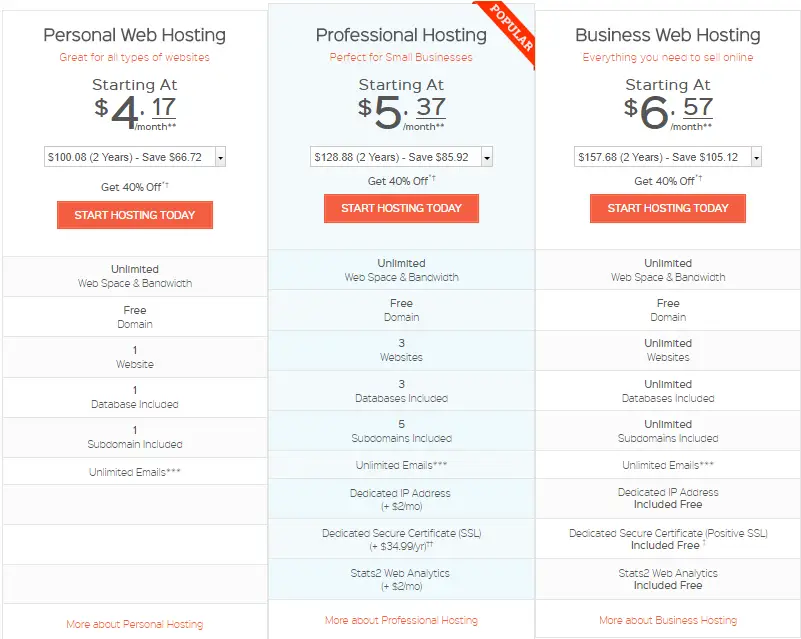 Midphase Reviews on VPS Hosting Plan
Midphase VPS hosting plan starts at $8 per month with 1 GB RAM, 25 GB disk space, and 3 TB bandwidth included. If you have greater needs, the VPS plan is scalable, and you can upgrade to VPS2GB, VPS4GB, etc…
Midphase Reviews on Cloud Hosting Plan
Midphase also offers the cloud hosting solution to its customers. The Midphase cloud technology is designed for websites that need greater performance. The Starter plan costs $49.99 per month which seems to be a good deal with its features.
Midphase Reviews on Dedicated Hosting Plan
For webmasters who want full control over their server, Midphase dedicated hosting is a good choice. With only $78 per month, you can get a dedicated server with E3-1230 CPU, 1TB disk space and up to 2TB of data transfer. Their most powerful D6 server plan cost $367 per month, which is good for a website that needs a powerful server.
Midphase Reviews on E-Commerce Store Hosting
Midphase "Online Store" hosting package is ideal for building a great e-commerce store. This package comes with the payment gateway like the debit card, credit card, and PayPal. For Online Store 10 and Online Store 50 hosting plan, there is a limit on the number of products available to sell.
If you would like to sell the unlimited product, the better choice is Midphase Online Store Unlimited plan.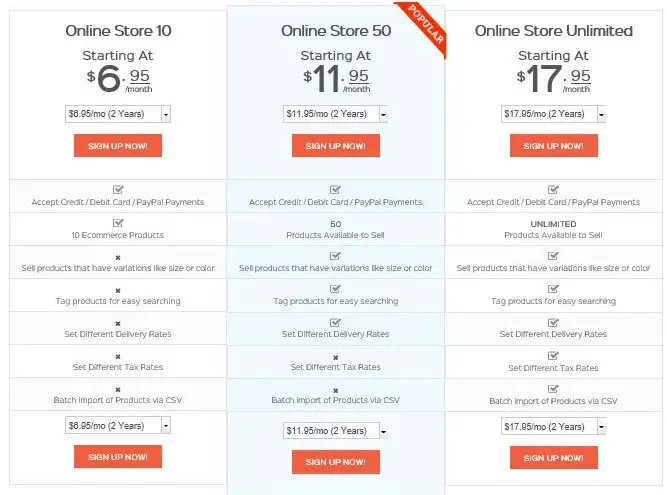 Midphase Cloud CDN
One unique thing about Midphase is that they add an extra layer of security to every plan with CloudFlare services. This comes free of charge with any plan you choose. CloudFlare is necessary to protect your website from DDoS attacks and serve as a good content delivery network.
Midphase Reviews on Domain Service
Midphase also provides great domain registration which starts from $7.99/year. Each domain registration comes with a free one-page website, free domain forwarding, free full DNS control, and 24/7 support. They recently added new TLDs such as .store
Midphase Reviews on WordPress Hosting
Midphase offers a top-notch WordPress hosting that allows you to choose from over 50 WordPress themes for every purpose. They offer two types of WordPress hosting plans. Midphase operates optimized WordPress Hosting servers which are built in a dedicated environment.
This package provides automatic updates and malware removal. You will also get a high-speed WordPress website with the inclusion of CloudFlare CDN. There are over 50 premium WordPress themes to choose from in order to customize your site. Midphase offers complete support for anyone who uses this plan.
Midphase Reviews on Email Hosting
Midphase provides almost unlimited emails for all their plans. All the shared hosting plans from this service come with unlimited emails. The WordPress hosting comes with 25 emails for the Primary plan and 50 emails for the Pro plan.
Midphase allows you to integrate the emails that come with your account to your existing email application such as Microsoft Outlook or Thunderbird so you can check your emails as soon as you receive them.
Midphase Reviews on Support and Customer Service
Midphase has accumulated more than ten years of web hosting experience. They know how to treat the needs of clients very well. Overall, Midphase is doing quite well with their customer support. They provide 24/7 support. They offer support through various means such as
• Email support (You can reach them at [email protected])
• Toll-free telephone technical support, they also provide sales and billing supports
• They provide international phone support on +1-435-787-7101
• Live chat features available for both existing and potential customers for instant communication with customer service agent
• Support ticket for any technical, sales or billing problem
• Broad knowledge base that contains answers to virtually all the questions you may have
• Social support from Facebook, Twitter, and Google+
• Company blog
• They also maintain a community forum
*Note: Another web host that is serving excellent customer support is SiteGround.
#Trial 1 Outstanding Live Chat Support
I heard that Midphase hosting has outstanding customer support personnel who always provide their services 24/7. So I decided to check their services by my own. I chose their live chat option and messaged them. Within 37.86 seconds, I received a response from their staff whose name was Josh M.
He gave answers to my all questions in detail and provided all information regarding their packages. The tone of their personnel was polite and he talked with me in a professional way throughout our discussion. They are providing good support services, I rated him 9 out of 10.
Here is the full conversation with Midphase Live Chat Support:
Mike Lee: Hi, my name is Mike Lee and I have few questions about the Midphase hosting services.
Josh M: How can I help?
Mike Lee: Is Midpase Hosting provides free SSL service? How about paid SSL solutions?
Josh M: Yes, we provide both. It's free with the Business hosting: https://www.midphase.com/website-hosting/
Mike Lee: And what about paid SSL? May I know the charges?
Josh M: It'll be $29.99 for a year, and you'd also need a dedicated IP address which would be $24 a year outside of the business hosting.
Mike Lee: How about Domain Privacy Protected Service? 
Josh M: Yes, but it's paid, $9.95/year.
Josh M: https://www.midphase.com/domain-registration/domain-privacy/
Mike Lee: Noted. Is there any Free Site Migration Service?
Josh M: Unfortunately not. We don't migrate sites at all, unless it's between our own servers and systems. If you're migrating into our system, we couldn't help much.
Mike Lee: Alright Josh. May I have more details about the Dedicated IP solution?
Josh M: A dedicated IP is $24 per year except for the Business hosting, where it's included for free.
Mike Lee: That means if I choose business hosting then dedicated IP is free 🙂
Josh M: Yes, and so is the SSL.
Mike Lee: Sounds good. What type of control panels being used in both Linux and Windows hosting plan?
Josh M: All the hosting services use cPanel by default and have Linux installed. If you get something more complex, such as a VPS or dedicated server, you can choose whether it's Linux or Windows, whether it has cPanel or another control panel, the resources have, etc.
Mike Lee: So, it means it totally depends on the user.
Josh M: Yes, but the shared hosting packages are only Linux and only cPanel.
Mike Lee: Does Midphase offer windows hosting?
Josh M: Yes, it is only available for VPS or Dedicated Servers but not for the shared server webhosting.
Mike Lee: Great! May I know what payment methods does Midphase accept?
Josh M: We do Credit Card, PayPal, or Bank Drafts.
Mike Lee: Okay
Mike Lee: Is Midphase Hosting a part of Endurance International Group (EIG)?
Josh M: No, we're actually a part of a different conglomerate, uk2group
Mike Lee: What are the security features that Midphase offers?
Josh M: We have a dedicated team of system admins, along with firewall configurations and relatively strict ModSecurity rules installed on all our shared hosting servers. We also have some programs running in the background to block things such as bot attacks or server DDoS attacks.
Mike Lee: Does Midphase offer a Content Delivery Network (CDN)?
Josh M: We have a partnership with CloudFlare, and there is a free version of their service.
Mike Lee: May I know which year Midphase started the hosting business?
Josh M: The company started in 1998.
Mike Lee: How many data centers Midphase has? What locations are these data centers/servers located?
Josh M: I'm not sure how many we have, but they are all located around the Midwestern US
Mike Lee: Is the shared hosting plans optimized for Content Management System like Joomla, Drupal, and Magento?
Josh M: Yes, in fact, there is a script installer called Softaculous in cPanel that we include for easy installation of the most popular CMSs
Mike Lee: Great 🙂
Mike Lee: Josh, it is really a nice talking with you and you solved my all queries.
Mike Lee: Have a good day 🙂
Josh M: You too! Thank you for contacting us today! Please let us know if we can be of any further assistance. Don't forget to close the chat and take the short survey; your feedback helps me improve and help better in the future.
Mike Lee: Sure 🙂
Midphase Reviews on Uptime Performance and Server Status
Uptime Stats
Midphase has gone over ten years of development and has been able to create an ideal environment and platform that guarantees high performance and excellent reliability for web hosting services. They located all their shared hosting servers in a Tier 3 data center which are situated in a designated disaster-safe zone as mentioned by FEMA's National Emergency Management Information System.
Moreover, Midphase provides a high level of security for websites hosted on their server. Midphase data center also has a primary and secondary connection to the Internet backbone providers such as Internap, Time Warner, Bell South, and others. They guarantee 99.9% of uptime. However, their real performance may slightly deviate from time to time (You can check the uptime stats below).
Their data center is located in Midwestern of the United States. Each of their servers is connected directly to a high speed cable – With traffic levels never exceeding the limit, you don't need to worry about a slow website or losing bandwidth. They provide full support for PHP, MySQL, CGI-Bin, Perl, SSH, SSI, SSL, JSP and a private .htaccess file.

Uptime Stats – Target: 99.9%
August 2017 – 99.90%
July 2017 – 99.67%
June 2017 – 99.98%
May 2017 – 99.90%
April 2017 – 99.99%
March 2017 – 99.99%
February 2017 – 100%
January 2017 –100%
December 2016 –100%
November 2016 – 100%
Midphase claims to offer 99.9% uptime performance to their all customers around the world. I wanted to check the uptime claim of this company and that is why I started observing the uptime stats from the past 10 months from November 2016 to August 2017.
Midphase accomplished their claimed target in 9 out of 10 months. Only in one month, this company didn't achieve the target. So far, it is proven that Midphase hosting is providing an amazing uptime as shown in the attached image above.
Note: Bookmark this website if you want to keep in touch with the latest uptime stats of Midphase
Server Response Test Speed
Server speed plays a significant role when anyone of you wants to buy a hosting for your own website for any purpose. I also checked the server response speed of Midphase in order to confirm at my end whether this company is providing fast server response speed. I pinged one of the websites hosted on Midphase and checked its server speed through different localities.
Midphase proves itself that they are providing fast server response speed as anyone can see in the given image below. Rating of Midphase comes out at A+ which is remarkable.

Good and Bad of Midphase
Good
Unlimited email accounts for every plan (Except WordPress Hosting Plan)
Unlimited disk space
24/7 Excellent customer support
Discount codes available monthly for new customers
Affordable plans
Web-design services
Excellent uptime performance
Bad
Lack of support in multiple languages
Summary and Conclusion: Is Midphase Worth The Money?
The popularity of Midphase web hosting services since the takeover by UK2 Group in 2007 has slightly changed. However, the company still offers good services, especially for shared hosting and E-Commerce store owners.
This web host is a springboard for anyone who wants to launch a professional website. It may lack in some features, but this is not a deal breaker for most users. We would say Midphase is still worth a try.
Compare MidPhase With Our Top Ranked Web Hosts!
MidPhase vs SiteGround vs HostGator

SiteGround

HostGator

Midphase
Rating

Rated 4.5 stars

Rated 4.5 stars

Rated 4.5 stars

Price

$3.95/month

$3.95/month

$1.98/month

Criteria