Editor Rating

Rated 2.5 stars

OK
---
Reviewed by:

Published on:

Last modified:
---
DISCLOSURE: This post may contain affiliate links, meaning when you click the links and make a purchase, we receive a commission.
Our Top Ranked #1 Web Host

Ideal for WordPress, Joomla, Drupal and eCommerce
What is MochaHost?
If you are a business owner or individual who has a website, you probably have it hosted in one of the many web hosting companies out there. It is very convenient (sometimes) as well as highly economical to have your site hosted since only huge businesses can afford to have their own servers with full IT support.
You must have spent quite some time looking for just the right web hosting company that will cater to you and your client's needs, and are here to check on what the MochaHost reviews have to say. Well congratulations, it makes your work much easier.
MochaHost Web Hosting
Let's start by taking a brief look at how it all began at MochaHost. In 2002, MochaHost was launched. Since then it has been owned by various persons or institutions and today, in 2017, it belonged to a company by the name Shared and Managed Hosting by MochaHost.
It is now 15 years since it started offering web hosting services. It provides services ranging from web hosting, domains, servers, marketing and building of websites.

Details
 
Founded
2002
Server Location
Illinois, Chicago
Services

Web Hosting
VPS Hosting
Dedicated/Cloud Servers
ASP.Net Web Hosting
WordPress Hosting
Java JSP Hosting
Application Hosting
Reseller Web Hosting
Domain Names
Website Building
Internet Marketing
SEO Tools
WordPress

Unlimited Website
Available with Business and Mocha Web Hosting Plan
Unlimited Storage and Bandwidth
Available
Domain Hosting
Yes
Linux Hosting
Yes
Windows Hosting
Yes
WordPress
Optimized
Joomla
Optimized
Drupal
Optimized
Magento
Optimized
PHP Hosting
Optimized
e-Commerce Hosting
Optimized
Email Hosting
Yes
SSL Support

Free SSL Certificates Available For All Hosting Plan
Let's Encrypt SSL Free Available For All Hosting Plan
256 bit SSL Available at $32.48/Yr
WildCard SSL Available at $64.50/Yr

Dedicated IP

Dedicated IPs Available For All Plans except SoHo
Paid IP Available at $24/Yr

Free Site Migration
Available with Web Hosting Plans
Free Domain
Yes
Domain Privacy Protected
Available at $9.95/Yr
Money Back Guarantee
180 Days
24/7 Support

Live Chat
Email
Ticket Support

Control Panel

Linux (cPanel)
Windows (Plesk)

One-Click Installation

Softaculous App Installer for Linux Based Packages
WebApp Gallery for Windows Based Packages

Website Builder

Easy Website Builder Available
Mocha Plan at $6.21/mo
Business Web Hosting Plan at $2.45/mo

Automated Backup
No Automatic Backup Available
Content Delivery Network (CDN)
No
Security Features

SSL Certificates
Never Reboot Protection
Let's Encrypt Support
Mocha Load Protection
Malware and Spam Checking

Payment Methods

Visa
MasterCard
Discover
PayPal
MoneyGram
Skrill
American Express

Endurance International Group Network (EIG)
No
Social Profile
MochaHost Reviews on Hosting Plans and Services
MochaHost offers different types of hosting plan. Now let's move on to the services offered by MochaHost.
Under this hosting plan, you get three types of plans to choose from: Soho (Small Office Home Office), Business and Mocha. The SOHO has features such as lifetime discounts, uptime guarantees up to 100% (bold claim), up to 180 days risk-free, as well as support for one website, unlimited disk space, and monthly traffic. This one goes for $1.95 per month.
The Business plan goes for $2.45 per month, with features that are similar to the Soho one, except that it supports an unlimited number of websites, works on a super server power, has free SEO tools and is optimized for WordPress.
The Mocha plan goes for $6.21 per month and has most of what the Business plan supports, with added turbo server power, and 2GB dedicated memory as well as trust seals, PCI scanning, and a merchant/Gateway account.
You also get three options with this one; Soho, Business, and Mocha plans. For the Business plan that cost $3.98 per month, you get unlimited website supported by a super server power. You also get 500 MB site allocation (memory), unlimited database size and databases such as MySQL and MS SQL.
The Mocha plan goes for $7.17 and features unlimited websites; MYSQL stored procedures, merchant/Gateway account, and MYSQL remote access.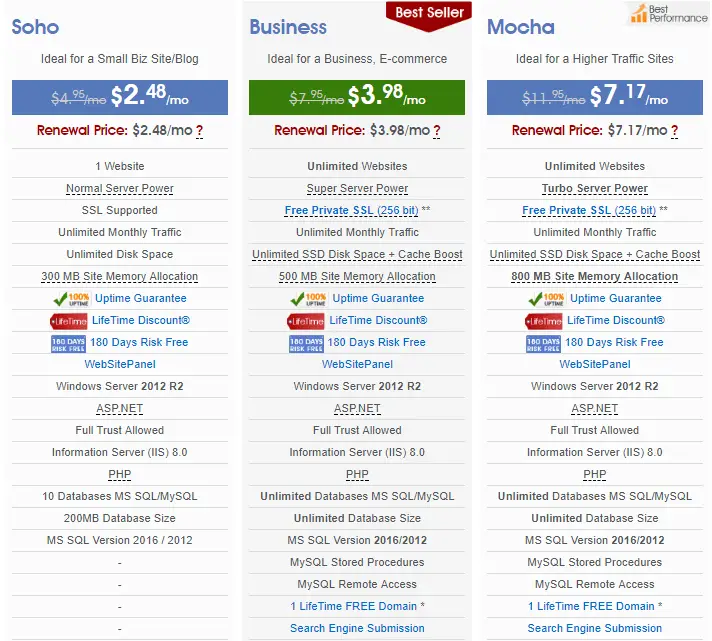 MochaHost Reviews on Linux VPS Hosting Plan
Here you get eight plans: Ristretto 4, Perfetto 1, Perfetto 2, Perfetto 3, Perfetto 4, Perfetto 5, Perfetto 6, and Perfetto 7.
Ristretto4 (looks like they love fancy Italian names) goes for $7.98 and has features such as 1GB burstable RAM, 1CPU core, 1.2 GHz CPU power and support for Android and Apple platforms.
Perfetto 1 goes for $9.98 and has features such as the 3GB burstable RAM, 100Mbps VPS network port, free SEO tools and free migration assistance.
Perfetto 2 goes for $14.98 and has features such as the 4GB burstable RAM, 4.8GHz CPU power, and 1000 Mbps VPS network port.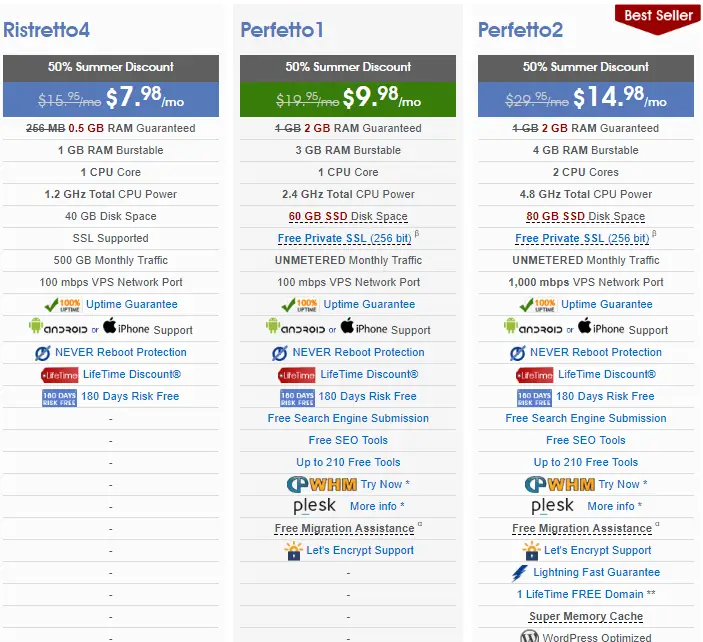 MochaHost Reviews Windows VPS Hosting Plan
You get seven plans to choose from, all of the Perfetto. The features included are very much similar to the ones offered for Linux, with an exception of having MS SQL Express and Tomcat/Java support. Prices also range, with the minimum starting at $9.08 and the maximum at $44.98.
MochaHost Reviews on Linux Dedicated Hosting Plan
Dedicated hosting is for those who want space just for themselves. With MochaHost, you get nine plans to choose from. They include the Altura 3, which is the lowest that goes for $19 per month, the Ankola 3, Barista 3, Barahona 3, Matari 3, Moshi 3, Moshi 4, Moshi 5 and Moshi 6 (they had to go to Africa for inspiration).
Most of the features offered include allocation of different spaces in RAM, cores, CPU powers, WordPress optimization and SSL for free.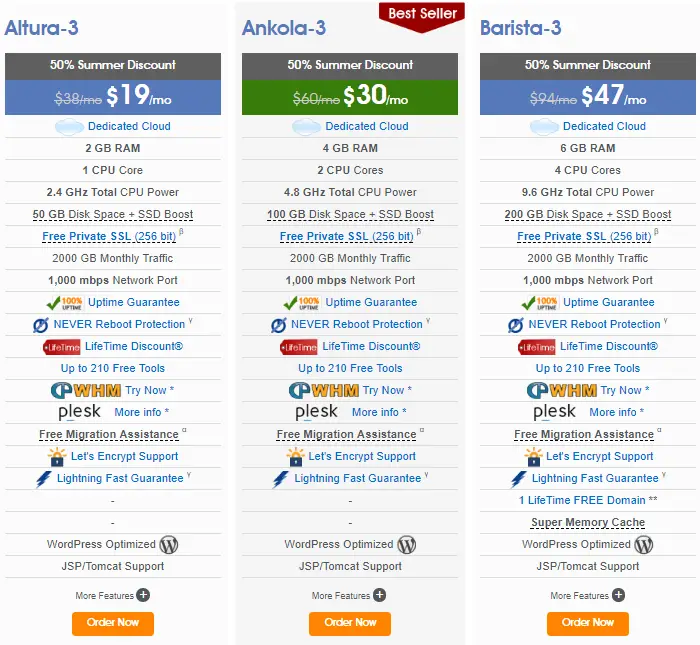 MochaHost Reviews on Windows Dedicated Hosting Plan
The plans have the same names as those for the Linux system. Features are also similar to those of Linux, except that Microsoft WebMatrix is supported, together with the Horde Webmail, website control panel, and Tomcat/Java support.
MochaHost Reviews on Linux Reseller Hosting Plan
Nine plans are included in the Linux reseller plan. These are Mocha 2 which is the cheapest for $9.87 per month, Espresso, Latte, Americano 2, Cappuccino 2, Macchiato 2, Altura 2, Barista 2 and Moshi 2. Features offered are much similar but will differ according to pricing. These include unlimited monthly traffic, users, and domains.
It also includes free domain reseller accounts, SVN support, and Remote MySQL access.
MochaHost Reviews on Windows Reseller Hosting Plan
You only get six plans with this one. They include the cheapest, Mocha2 that goes for $11.63 per month and Espresso, Latte, Americano, Cappuccino, and Macchiato. Features are similar to those of the Linux reseller hosting plans, except the inclusion of MySQL Express, Tomcat/Java, and a control panel.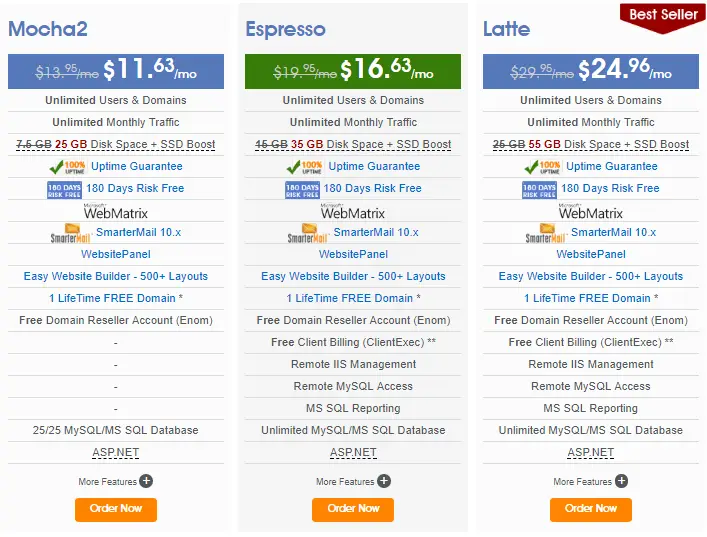 MochaHost Reviews on Domain Service
The services offered under MochaHost domain include a free domain name search, pricing for the domain name as well as an offer for a lifetime free domain that comes together with the plans mentioned above.
Other Features of MochaHost
Have a look at what other features MochaHost offers.
MochaHost Website Builder
Three packages with different pricing are offered here. The minimum package goes for $2.48 per month. Features included in these packages are the availability of design tools, website forms, videos (YouTube), Google maps and Social Media sharing among many others.
MochaHost SSL Certificate
If you wish to secure your data as well as your client's data on MochaHost, there is an SSL offer (discount) that goes for $32.48 per annum. You benefit not just from the security, but also for the availability of automated validation, 24/7 support, free installation and much more.
MochaHost Reviews on WordPress Hosting
Almost all of the web hosting companies offer support for WordPress. MochaHost offers three packages that support WordPress hosting; WP Starter, WP Premium, and WP Advanced. The fact it offers a minimum of 100,000 visits per month may make you quickly wish to move your site to MochaHost.
It supports scripts such as Joomla, AbanteCart, Prestashop, and Drupal. This makes it compatible with most of the WordPress Sites. However, caution should be taken on the plans, since you might be interested in hosting WordPress in the Soho plan. Unfortunately, you can only be hosted under the WordPress specific plans.
Looking at the great features offered with these plans, it can be said that it is average for WordPress support.
MochaHost Reviews on Support and Customer Service
Customer service and support are crucial for every website owner. In fact, if the client's service is down, you are highly likely to move out of that hosting company. MochaHost has some problems with its customer service and support. Support is offered, 24/7 through live chat, tickets and a search for some of the most commonly asked questions about their services.
A look at on-line reviews of MochaHost shows that the 24/7 support is mostly just a show. Some people have called, and no one answered their calls, while questions or queries raised have taken a long time to be worked on. This shows that the customer support at MochaHost is weak. This is the conclusion made from many feedbacks received.
However, from my own experience with their live chat support, they responsed well.
Is this just an individual case?
Is their support performance inconsistent?
I will continue to try their support service and update this review.
If you are looking for a web hosting service provider that is serving consistent excellent support, then we would recommend SiteGround.
#Trial 1 Good Live Chat Support
I contacted MochaHost Live Chat support as I have few questions in my mind regarding their hosting plans. I must say that these support staffs provides satisfactory live chat support even to their non-customers. I talked with two of their support representatives and they both were helpful and kind in solving my queries.
Steven replied my first query in just 01.42 seconds and then he transferred my chat to one of his colleagues because his shift time was over. Name of second support representative was Seth. He further gave the answer to my all remaining queries. Both of them were having complete knowledge about their plans and prices. Overall, I gave them 5 stars because of good customer live chat.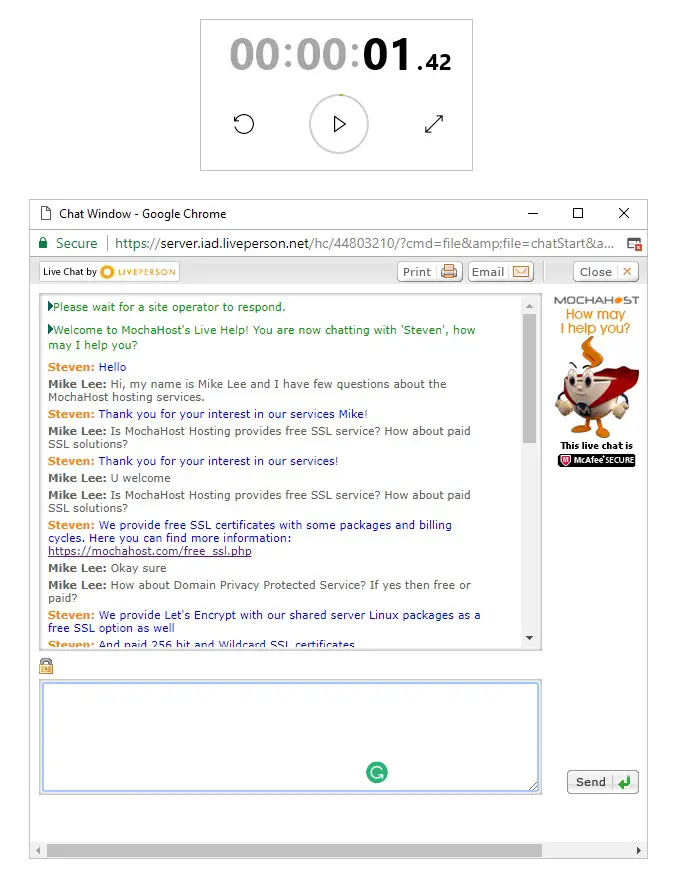 Here is the detailed conversation with MochaHost Live Chat Representative:
Chat Information Welcome to MochaHost's Live Help! You are now chatting with 'Steven', how may I help you?
Steven: Hello.
Mike Lee: Hi, my name is Mike Lee and I have few questions about MochaHost hosting services.
Steven: Thank you for your interest in our services, Mike!
Mike Lee: You are welcome. Is MochaHost Hosting provides free SSL service? How about paid SSL solutions?
Steven: We provide free SSL certificates with some packages and billing cycles. Here you can find more information: https://mochahost.com/free_ssl.php
Mike Lee: How about Domain Privacy Protected Service? 
Steven: We provide Let's Encrypt with our shared server Linux packages as a free SSL option as well. And paid 256 bit and Wildcard SSL Certificates.
Steven: The privacy protection service is paid.
Steven: Here you can find more about it: https://mochahost.com/idprotection.php
Steven: It costs between $6-12.
Mike Lee: Alright. Is MochaHost Hosting offers Dedicated IP solution?
Steven: Yes, we are offering dedicated IPs for all plans except SoHo.
Mike Lee: Free or paid?
Steven: It comes for free with some packages and we offer paid dedicated IPs as well.
Mike Lee: Can you please send me the link of your paid dedicated IPs
Steven: Are you looking for a shared server hosting package or VPS/Cloud hosting?
Mike Lee: Shared hosting package.
Steven: You can find it in the addon services here: https://mochahost.com/shared_addons.php
Mike Lee: Is there any Free Site Migration Service?
Steven: We offer free data migration service if you are using cPanel control panel with your current hosting company and are planning to purchase any of our cPanel packages (Linux Shared, VPS/Cloud with cPanel control panel).
Steven: For more information, please review this article:
Steven: http://www.mochasupport.com/kayako/index.php?_m=knowledgebase&_a=viewarticle&kbarticleid=685
Mike Lee: That's good 🙂
Mike Lee: May I know which year MochaHost started the hosting business?
Steven: Yes, we've started back in 2002.
Mike Lee: Is the there any hosting plan that supports email hosting?
Steven: Yes, all plans include email service!
Mike Lee: Is MochaHost is a part of Endurance International Group (EIG)?
Steven: We are an independent hosting company.
Mike Lee: What are the security features that MochaHost offers?
Steven: I apologize but I will need to transfer you to a colleague of mine as my shift has already finished.
Steven: I have already briefed him about your query and he will proceed attending this chat session for you.
Steven: Thank you for the understanding!
Chat Information Please wait while I transfer the chat to 'Seth'.
Chat Information Welcome to MochaHost's Live Help! You are now chatting with 'Seth', how may I help you?
Mike Lee: Sure 🙂
Seth: Hello
Seth: I apologize for the transfer.
Mike Lee: It is okay, Seth.
Seth: We monitor our servers 24/7, using the latest technologies available, and apply strict security policies to make sure that your information is always available to you and your clients while maintaining safety and confidentiality.
Seth: Due to safety reasons I am not able to provide much information on the security we offer.
Mike Lee: What platform is the MochaHost hosting using to support One-Click installation? Softaculous?
Seth: Our Linux based packages have Softaculous App Installer.
Seth: The Windows based packages have WebApp Gallery, which is included in the WebsitePanel, provided by default on them.
Mike Lee: Will MochaHost back up my website automatically? Or I have to pay any charges for this service?
Seth: The backup is managed by clients, we do not keep data backed up. It is your responsibility to keep your data backed up.
Mike Lee: Noted. Does MochaHost offer a Content Delivery Network (CDN)?
Seth: Please let me check this for you.
Mike Lee: Sure.
Seth: Unfortunately we do not offer a CDN, although we are fully compatible with CloudFlare, and recommend it as a CDN provider.
Mike Lee: It is really a nice talking with you.
Mike Lee: Thank you for answering all queries
Mike Lee: Have a good day
Seth: We are excited that you are interested in our services. Please notify us if you have any further questions.  We are looking forward to doing business with you in the future.
Seth: Have a nice day/night!
MochaHost Reviews on Uptime and Server Status
Uptime Stats
MochaHost has faced problems with its downtime. While for some other web hosting companies, the downtime runs for very short periods of time. However, MochaHost downtime can be a serious problem. This can be devastating for most sites since customers are likely to leave the site and look for service elsewhere.
There have been site owners who have complained of long downtime while they were making changes to their site, as well as long downtimes that led them to lose some of their customers and revenues in the process.
Server speed of a web hosting company is also crucial. At the time of writing this review, the server response speed is just average (check the speed test).

Uptime Stats – Target: 100%
August 2017 – 99.79%
July 2017 – 99.94%
June 2017 – 100%
May 2017 – 99.37%
April 2017 – 99.88%
March 2017 – 99.75%
February 2017 – 99.34%
January 2017 – 99.23%
December 2016 – 99.55%
November 2016 – 99.76%
MochaHost hosting company guarantees to provide 100% uptime performance to their all clients who are using their hosting services. We know it is nearly impossible to achieve the 100% uptime guarantee.
I tested their uptime performance by my own and gathered their uptime stats performance of last 10 months including August 2017.
I was really shocked to see their uptime stats performance as this company only achieved its target in just one month which is June 2017. In other 9 months, this company didn't achieve the claimed target. The overall average of all these months is 99.66% which is unsatisfactory.
Server Response Test Speed
For a newbie, it is crucial to find a good hosting for their website as numerous of companies are providing hosting services all around the globe. Server response speed plays an important role when it comes to buy a hosting for your website. If the hosting server speed is not good, it will affect your website as well as your visitors because they will not visit your website again.
Therefore, in order to assist those who are still in confusion to buy MochaHost hosting service, I decided to test their server response speed. I pinged one of the websites hosted on MochaHost. I tested their server speed from diverse locations and got average result from this company. MochaHost comes with a rating of B+ which is not up to the mark.

Good and Bad of MochaHost Web Hosting Company
Let's now take a look at what's good and bad about MochaHost.
Good
The prices are very affordable.
The plans offered are many. You can thus have a wide selection to choose from.
It offers a lifetime free domain use for their customers.
It also has many great features that come with most of the hosting plans.
Bad
The MochaHost reviews available online are very negative. Most of the people hosting their sites with MochaHost have not held back from complaining about poor services.
The Reliability of the web hosting company has been questioned, as the complaints raised show that the customer support is poor, and their representatives are often not aware of how to fix the problems encountered by the clients.
The speed of reaching the sites has also had a bad rap. Some site owners have complained to the point of leaving just because the speed was slow. This is very understandable since you can easily lose your clients if your site takes a long time to load.
Poor uptime performance
Summary of MochaHost
Well, after checking most of the customer reviews available online, as well as looking at what MochaHost has to offer, I can conclude that MochaHost should be your choice if you only have price as your main concern. If other factors such as the features and the free domain appeal to you, then you will find this web hosting company to be right for your needs.
However, a more critical look at the overall performance of MochaHost will help us guess whether we are making the right decision in having our site hosted by them. One area to consider is the customer service. We all know that poor customer service is a death bell to most businesses, and given that the inaccessibility of your site leads to losing customers.
You will want a web hosting company that pays attention to your complaints and works on them in the shortest time possible. The pricing may be good, but cheap can sometimes be expensive, especially if you have to lose customers due to the fault caused by your web hosting company.
There have also been many complaints of the clients getting blocked or their accounts getting suspended. I would therefore highly advise you to think carefully about both the benefits and drawbacks of using this company, as well as do a little digging to know of the terms and conditions that may affect your hosting plan.
This helps to avoid you getting caught off guard. Would I recommend you to use MochaHost for your website? Well, this is hard to do. I'm very much 50/50 about this, but taking into account your needs and your clients' needs might help you make the decision. It might not work for you, but it might also work for you.
Compare MochaHost With Our Top Ranked Web Hosts!
MochaHost vs SiteGround vs HostGator

SiteGround

HostGator

MochaHost
Rating

Rated 4.5 stars

Rated 4.5 stars

Rated 2.5 stars

Price

$3.95/month

$3.95/month

$1.95/month

Criteria