Editor Rating

Rated 4 stars

Excellent
---
Reviewed by:

Published on:

Last modified:
---
DISCLOSURE: This post may contain affiliate links, meaning when you click the links and make a purchase, we receive a commission.
Our Top Ranked #1 Web Host

Ideal for WordPress, Joomla, Drupal and eCommerce
What is MyHosting?
Many web hosting companies out there provide hosting services to websites that are coming up every day. Some of these companies are great, keeping up with their promises while others are not so good at keeping their word. This review of MyHosting web hosting services will help us know more about this company.
MyHosting History
MyHosting is a web hosting company that is based in Toronto, Canada. It was founded in the year 1997 for the purpose of hosting websites for many businesses around the world. Over the years, MyHosting has continually utilized the technology and services from reputable companies like Microsoft Corporation, Intel Corporation, and even Tucows Inc to help them in their web hosting business.
To date, the company boasts of 50,000 customers located in about 170 countries around the world. MyHosting.com is the website with which you can access MyHosting's services.
In fact, it is not a company on its own, but a brand name for the web hosting service provided by SoftCom. SoftCom provides not just web hosting services, but also business email services through its mail2web.com brand.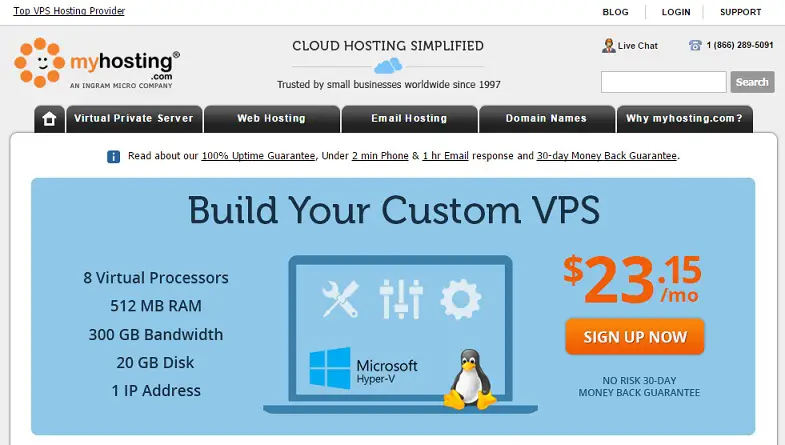 Details
 
Founded
1997
Server Location

Toronto
Canada
Rochester
New York
USA

Services

VPS Hosting
Web Hosting
Email Hosting
Domain Names
Hosted Exchange
Cloud Software Marketplace
Web Design
Website Templates
SharePoint Hosting
Hosted Exchange Email
Mobile + Outlook

Unlimited Website
No
Unlimited Storage and Bandwidth
Available With All Hosting Plans
Domain Hosting
Yes
Linux Hosting
Yes
Windows Hosting
Yes
WordPress
Optimized
Joomla
Optimized
Drupal
Optimized
Magento
Optimized
PHP Hosting
Yes
e-Commerce Hosting
Yes
Email Hosting
Yes
SSL Support

SSL Certificates
RapidSSL Available at $19.95/Yr
QuickSSL Available at $119.95/Yr
QuickSSL Premium Available at 199.95%

Dedicated IP
Available With Web Hosting (Business and E-commerce Plan)
Free Site Migration
No
Free Domain
Available With Any Shared Hosting Plan
Domain Privacy Protected
Yes, Available at $9.95/Yr
Money Back Guarantee
30 Days
24/7 Support

Telephone
Live Chat
Email Support

Control Panel
One-Click Installation
Yes, Available With VPS Hosting Plan
Website Builder

Site Builder Available at $5.95/mo
goMobi Mobile Website Builder Available at $4.95/mo

Automated Backup
Daily Backup Available With Web Hosting All Plans
Content Delivery Network (CDN)

Yes, Through CloudFlare (Free)
Available SiteLock True Speed CDN Price Starting From at $14.95/Yr

Security Features

DDos Protection
Anti-Spam Protection
SiteLock True Speed CDN

Payment Methods

PayPal
American Express
Visa
MasterCard

Endurance International Group Network (EIG)
No
Social Profile
MyHosting Reviews on Hosting Plans and Services
The hosting plans offered by MyHosting are similar to those offered by most other web hosting companies. They are grouped into plans and fees applied per month.
Under shared hosting, multiple websites share the same space and server, making it economical to most small web projects. This plan is often popular among many small sites such as blogs. It is packaged into three plans: Personal Website, Business Hosting, and eCommerce Hosting.
Personal Website– This plan features unlimited hosting space, domain hosting, file transfer, as well as a free domain name and outlook email. It operates on Linux operating system only. The plan goes for $9.94 per month. This plan is suitable for small websites such as personal websites, blogs or even web album.
Business Hosting – This plan is best suited for businesses with greater needs. It operates on both Linux and Windows operating system, supports up to 20 Outlook email accounts, has a dedicated IP address as well as supports all of the features available on the Personal Website. This plan charges a monthly fee of $18.69.
eCommerce Hosting – This plan is suitable for those who need more than what is offered in the Business Hosting. Apart from featuring all of what Business Hosting offers, it includes Rapid SSL encryption key, supports 50 Outlook email accounts, as well web based file manager and log analysis. This plan goes for $37.44 per month.
All of the plans above support WordPress, Joomla, Mediawiki, Drupal, and many other applications.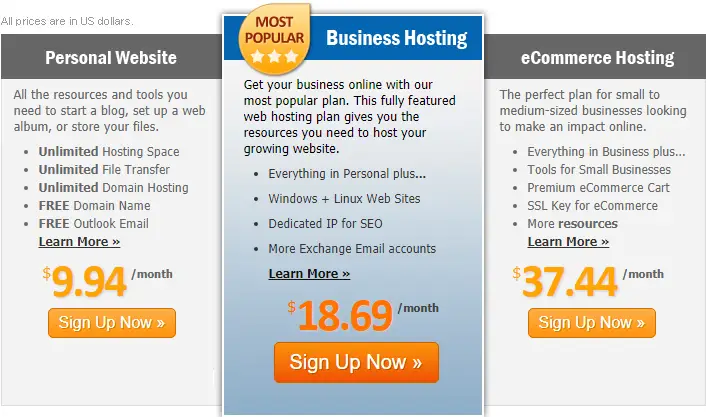 MyHosting Reviews on Linux VPS Hosting Plan
Just as the name suggests, the VPS hosting plan is offered on the Linux operating system. It is offered in four packages:
Custom Linux VPS – Offered on Ubuntu 12.04 or Cent-OS 6, it features a cPanel that is priced separately from the monthly fee. The plan costs $23.15 per month.
Developer VPS – Also offered on Ubuntu 12.04 or Cent-OS 6, it features similar tools offered on the Custom Linux VPS, except the cPanel, Plesk panel and Plesk powerpack are not included. The plan goes for $27.51 per month.
Business VPS + Plesk – Also going for $27.51 per month, it has features that are similar to Developer VPS, except that the Plesk powerpack is offered but at a $4 fee.
Linux Reseller VPS – This is the highest priced plan, going for $80.93 per month. cPanel is offered, but the Plesk panels are not.
All plans above support an open VPN for $3, Webmin, Java, and Silverlight.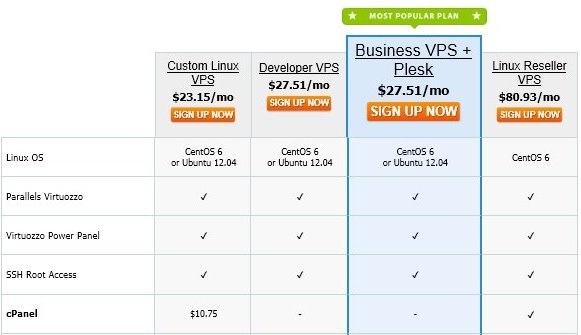 MyHosting Reviews on Windows VPS Hosting Plan
The Windows VPS hosting plan is packaged into the four plans similar to those of the Linux VPS. These are however priced differently, depending on whether they are running on Windows Server 2008 R2, or Windows Server 2012. Features included are sufficient disk space, the number of virtual processors, SQL tools and developer programs supported.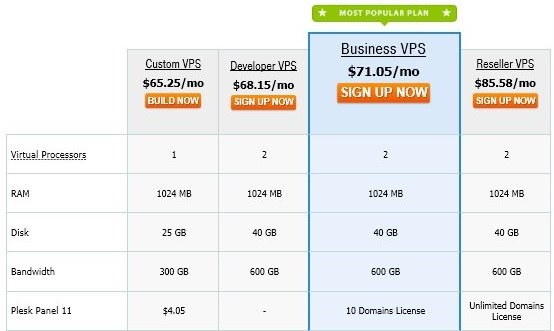 MyHosting Reviews on E-Commerce Hosting Plan
With E-Commerce hosting, you get ten basic Email packages, SMTP service, 2 MS SQL databases (2005) for free, Web log analysis, a file manager that is web based as well as 24/7 support on email, chat, and phone. The Medium E-Commerce plan goes for $24.95 per month. It is suitable for established businesses that want to have a presence online.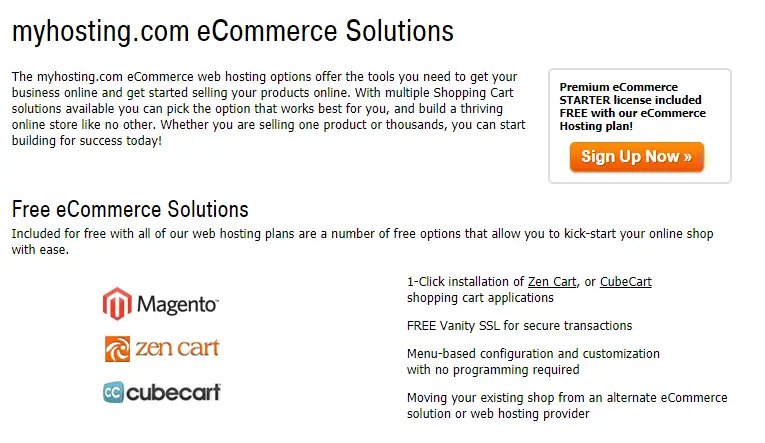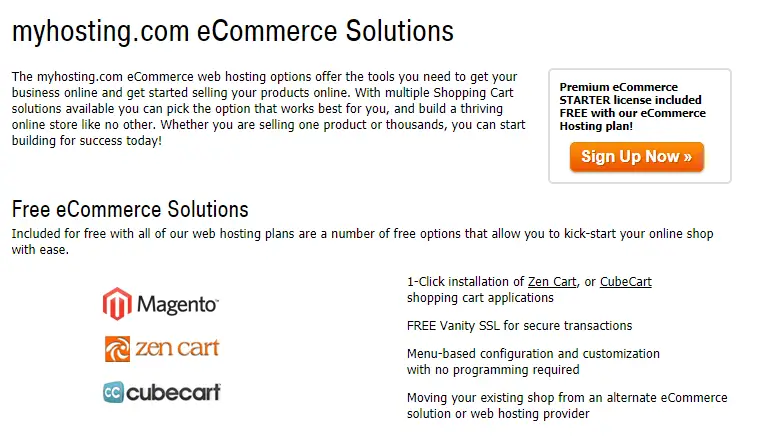 MyHosting Reviews on VPS Reseller Hosting Plan
The MyHosting reseller hosting made available through three packages: Windows Reseller, Linux Reseller, and a Custom Reseller that you can configure to fit your needs. The reseller plans go for $85.58, $80.93 and $23.15 respectively.
These plans have features such as Plesk panel, cPanel, SSL encryption keys, a site builder for the custom reseller plan as well as other great solutions designed to make the reseller plans as efficient as possible.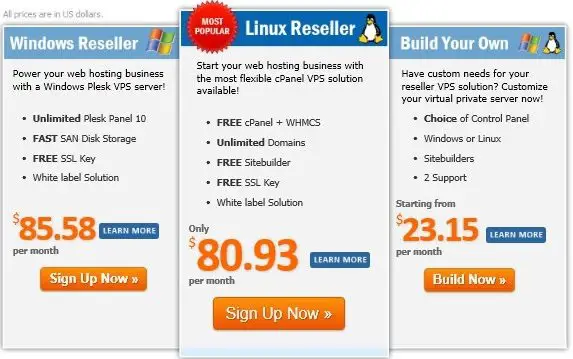 MyHosting Reviews on Domain Services
MyHosting offers many options in domain names with a price. Domain extensions such as .org, .net, .com, .es, .nl, .us go for $14.95 per year. The country based domain name extensions have restrictions, depending on the country the site owner originates from. For example, a US-based site can therefore not be given a UK-based domain name extension.
MyHosting SSL Certificate
MyHosting SSL certificates are offered in partnership with OpenSRS to provide GeoTrust QuickSSL and RapidSSL Certificates to websites. There are plenty of customers who want their information protected while dealing online. The SSL certificates are priced differently depending on the type you choose, as well as the number of years for it to active.
One SSL secures single domain, and they are compatible with most web browsers.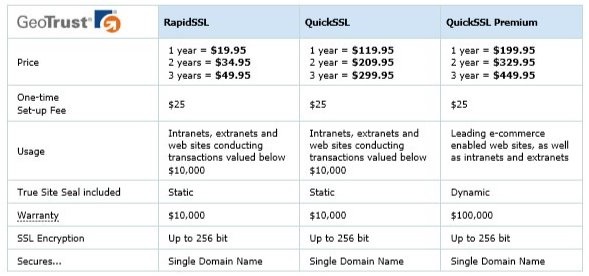 MyHosting Website Builder
MyHosting Website Builder is a great tool that most people would like to use. The website builder features some professional templates that make building your site as easy as possible. Whether you are building a personal website or a business website, the website builder will work fine.
The interface is user-friendly, such that even if you do not know how to code, you can still build your website easily.

MyHosting Reviews on WordPress Hosting

It will be of interest to know whether MyHosting.com is a good web host for WordPress sites. This is important, given that the majority of blogs and websites are powered by WordPress. All MyHosting plans provide support for WordPress. Therefore, sign up for any plan for the WordPress site would work fine. Apart from that, the features offered such as plugins make WordPress hosting easier. Therefore, it is a good host for WordPress.
MyHosting Reviews on Email Hosting
Dedicated email services are not very popular among web hosting companies. MyHosting has taken a step in offering Email hosting services through Microsoft Exchange, with three plans namely Basic Mail ($3.55), Mobile Email+Outlook ($9.95), and Mobile Email ($5.95). Outlook is the primary webmail account used here.
You can still access your email account that does not have Native Exchange through POP3, SMTP and IMAP 4. However, to successfully use the POP3 or IMAP, you will have to configure it through the email settings.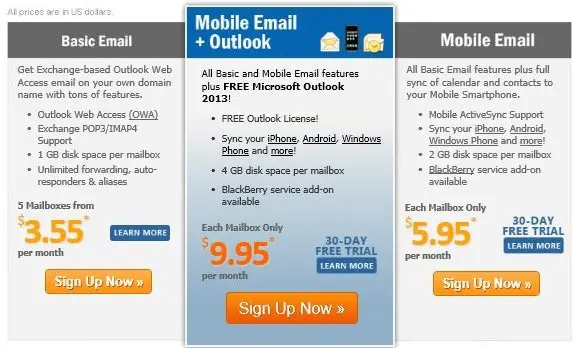 MyHosting Reviews on Customer Service and Support
Just like most web hosting companies, MyHosting offers support through live chat, telephone, and email services. The phone support is offered 24/7. There is also a knowledge base where you can find answers to some of the frequently asked questions (FAQs).
MyHosting support has shown that the company is lagging in this area, especially in the phone calls and live chat. Many clients have complained of poor support at MyHosting.com; either their technical team does not know how to handle the problems, or their questions and requests go unanswered.
Anyway, my personal experience with them was quite good. Read my conversation with them below. If you are looking for a web hosting company with consistent excellent support, I would recommend SiteGround.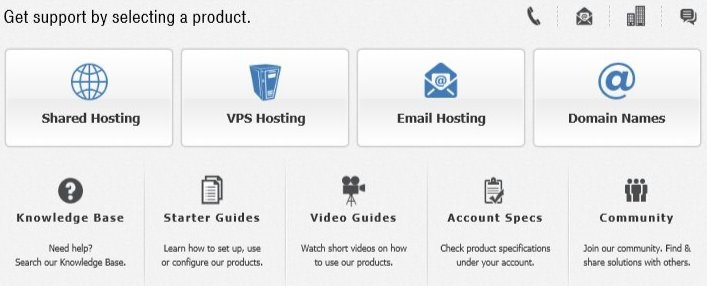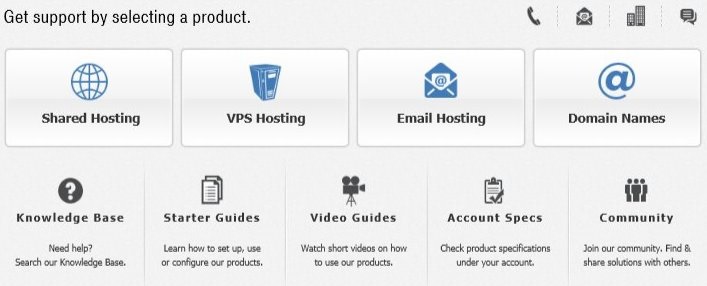 #Trial 1 Excellent Live Chat Support
From different sources, I have heard about the mixed reviews about customer service of MyHosting, especially their live chat support to non-customers. Hence, I planned to test their online live chat and contacted one of their support personnel. I got my first reply within 02.88 seconds which was quite impressive.
The name of the person who talked with me was Nikhil. He was attentive towards my all queries and having complete knowledge about their all hosting plans. His tone of communication was also polite so I rated him 8/10.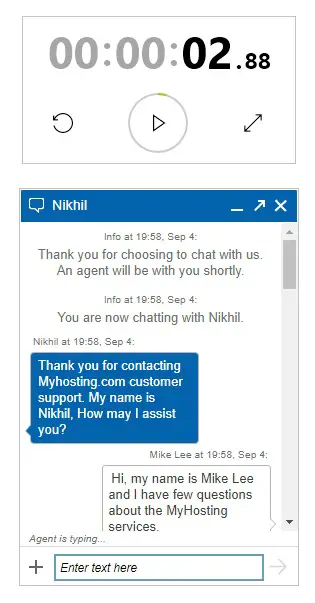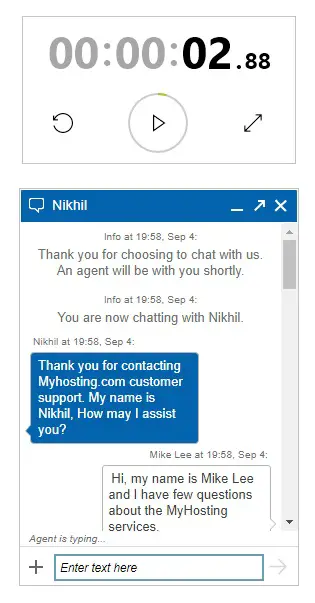 Here is the full conversation with MyHosting Live Chat Support:
You are now chatting with Nikhil.
Nikhil: Thank you for contacting Myhosting.com customer support. My name is Nikhil, How may I assist you?
Mike Lee: Hi, my name is Mike Lee and I have few questions about the MyHosting services. Is MyHosting offers Dedicated IP solution?
Nikhil: I can help you in a better way if I can access your account by walking you through the verification process, could you please answer a security question for safety and security of your account.
Mike Lee: I am not MyHosting existing customer. Interested to want to know if your company is providing dedicated IPs with any of your hosting plans.
Mike Lee: And I have few more questions to ask if you can assist me.
Nikhil: Okay, We provide static IP on our shared hosting plans and If you want dedicated IP you can go for VPS plan, which ever suits your requirements.
Nikhil: For hosting plans: https://myhosting.com/web-hosting/
Nikhil: For VPS plans: https://myhosting.com/virtual-private-server/
Nikhil: Is there anything else I can assist you today, Apart from this?
Mike Lee: Is there any Free Site Migration Service?
Nikhil: I am sorry, there is no such feature available as of now. Migration will be chargeable.
Mike Lee: Could you tell me the charges?
Nikhil: For migration, we have a different team who takes care of all such cases and for costing you will have to send your requirements to them and they will send you the charges.
Mike Lee: Alright. How about Domain Privacy Protected Service? 
Nikhil: That is also chargeable service. It's $9.95/year.t
Mike Lee: Is MyHosting provides free SSL service? How about paid SSL solutions?
Nikhil: Yes, we do have SSL services.
Nikhil: https://myhosting.com/web-hosting/ssl.aspx
Mike Lee: What type of control panels are being used for Linux and Windows hosting?
Nikhil: For details please check this link: https://myhosting.com/virtual-private-server/
Mike Lee: What platform is the MyHosting using to support One-Click installation? Softaculous?
Nikhil: Certainly, Plesk, WHM / cPanel on a VPS/dedicated server.
Mike Lee: I am asking about the platform for one click installation
Nikhil: The installation can be done via SSH on Linux platform.
Mike Lee: Is MyHosting is a part of Endurance International Group (EIG)?
Nikhil: We are associated with "Tucows" and "Network Solutions" as registrars.
Mike Lee: Any hosting plan that supports unlimited websites?
Nikhil: Please check this link: https://myhosting.com/linux-vps/
Mike Lee: What are the security features that MyHosting offers?
Nikhil: What sort of security you are looking for?
Mike Lee: Like Anti-spam protection, SiteLock true CDN, DDoS Protection and so on.
Nikhil: Yes we do give all these features in our VPS subscriptions.
Mike Lee: Noted. Thank you for your time
Mike Lee: Have a good day.
Nikhil: I'd really appreciate your feedback on our conversation today, and your suggestions make us even better!
Nikhil: I feel privileged assisting you today and thank you for being a valuable part of the Family.
Nikhil: Have a great day ahead Mike!
MyHosting Reviews on Uptime Performance and Server Status
Uptime Stats
MyHosting guarantees an uptime of 100%. Well, sometimes it is impossible to accomplish this as MyHosting cannot control everything including unforeseen natural occurrences.
Other MyHosting reviews show that there is a 99.9% uptime or more for sites hosted on MyHosting. My own records also show that they are doing quite well in maintaining high uptime performance. This is a good sign, as it indicates the sites are always accessible.
There have been cases where clients have complained of their sites being down. However, these cases are just rare. The company checked and rectified such problems. It guarantees a one-day free credit to sites that experience a downtime that lasts for an hour. This is good as it shows that they care about their customers.
If you run a speed test on the website hosted by MyHosting, you will be quite pleased with the speed. Many stay positively on the MyHosting's reliability when it comes to speed, and very little, or no complaints were seen.

Uptime Stats – Target: 100%
September 2017 – 100%
August 2017 – 99.99%
July 2017 – 100%
June 2017 – 100%
May 2017 – 99.99%
April 2017 – 99.99%
March 2017 – 100%
February 2017 – 100%
January 2017 – 100%
December 2016 – 99.94%
MyHosting company claims to offer 100% uptime SLA guarantee to their all clients around the globe. I collected their uptime stats of last 10 months including September as well. MyHosting achieved the given target in 6 months and other 4 months they didn't achieve their 100% uptime target. You can see the attached image above.
Uptime stats performance is important for a website and it is also crucial for hosting company to increase their clientage. The overall average of MyHosting was 99.99%, which is outstanding.
Note: Bookmark this website if you want to keep in touch with the latest uptime stats of  MyHosting.
Server Response Test Speed
When it comes to server speed of your website, then you have to consider this factor seriously. Server speed plays an important role and I decided to check the server response speed of MyHosting. I pinged one of the websites hosted on MyHosting to check the server response speed through eight diverse locations.
I got a positive result from this hosting company as you can see in the image below. The overall rating of MyHosting server response speed is A. Besides, this company also offers free CloudFlare CDN and paid SiteLock TrueSpeed CDN that assists in speeding up your website.

Good and Bad of MyHosting
Good
Excellent uptime performance.
Prices are affordable
Consistent loading speed
A reliable and reputable company
Bad
Customer support can be a headache sometimes although personally I had great experience with them. Mixed reviews about their customer support.
The version of Operating Systems supported do not have all capabilities to support some of the programmings that require you to use the kernel.
Lack of dedicated hosting solution.
Summary of MyHosting
After looking at the services offered, I would say the offered services are almost same as what other web hosting companies can offer. The features are great, and the pricing is also fair. The email services coupled with the e-commerce plans work pretty well with the security certificates offered. Overall, MyHosting is reliable and worth trying out.
Compare MyHosting With Our Top Ranked Web Hosts!
SiteGround vs HostGator vs MyHosting

SiteGround

HostGator

MyHosting
Rating

Rated 4.5 stars

Rated 4.5 stars

Rated 4 stars

Price

$3.95/month

$3.95/month

$4.95/month

Criteria