Editor Rating

Rated 4.5 stars

Outstanding
---
Reviewed by:

Published on:

Last modified:
---
DISCLOSURE: This post may contain affiliate links, meaning when you click the links and make a purchase, we receive a commission.
Our Top Ranked #1 Web Host

Latest Uptime Stats (Real Records) - 99.98% (Last 12 Months)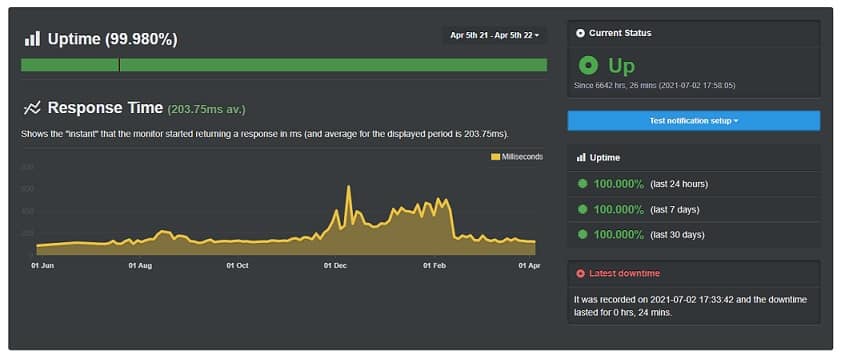 What is NameCheap Hosting?
NameCheap has been around since the year 2000 when it was founded by owner-CEO Richard Kirkendall. An ICANN-accredited domain registrar and hosting service, NameCheap has many customers and manages 5 million-plus domains. You can either purchase a domain just by itself or point it to another host, or you can buy both a domain and hosting right there.
There is even a private email hosting plan, which is separate from the regular shared hosting. NameCheap even offers reseller hosting plans, which is ideal for those who want to create their own hosting company. If you want to start a website and are keen to know more about NameCheap, this NameCheap reviews will give you the information to help you decide if this company and its services fit your needs.

Details
Founded
2000
Server Location
Services

Shared Hosting
WordPress Hosting
Reseller Hosting
VPS Hosting
Dedicated Servers
Private Email Hosting
Free DNS
Premium DNS
Whois Protection
SSL Certificates
Domain Names

Unlimited Website

Available with Shared Hosting Business SSD Plan

Unlimited Storage and Bandwidth

Unlimited Bandwidth Available with Shared Hosting All Plans
Unlimited Bandwidth Available with Reseller (3 & 4) Plan
Limited Space with All Hosting Plan

Domain Hosting
Yes
Linux Hosting
Yes
Windows Hosting
No
WordPress
Optimized
Joomla
Optimized
Drupal
Optimized
Magento
Optimized
PHP Hosting
Optimized
e-Commerce Hosting
Optimized
Email Hosting
Yes
SSL Support

PositiveSSL Available at $9.00/Yr
EssentialSSL Available at $29.00/Yr
PositiveSSL Available at $29.88/Yr
InstantSSL Available at $39.00/Yr
InstantSSL Pro Available at $59.00/Yr
PremiumSSL Available at $79.00/Yr
EV SSL Available at $88.88/Yr
Unified Communication Available at $89.88/Yr
Multi-Domain SSL Available at 89.88/Yr
PositiveSSL Wildcard Available at $94.00/Yr
EssentialSSL Wildcard Available at $99.90/Yr
EV Multi-Domain SSL Available at $168.88/Yr
PremiumSSL Wildcard Available at $169.00/Yr

Dedicated IP

Free Dedicated IP Available with VPS Hosting
Dedicated IP Available at $24/Yr

Free Site Migration
Available
Free Domain

Free Domain for One Year Available with Shared Hosting Plan
Premium DNS Available at $4.88/Yr

Domain Privacy Protected

WhoisGuard is Free for first Year
Renewal Price of WhoisGuard is $2.88/Yr

Money Back Guarantee
14 Days
24/7 Support
Control Panel
cPanel
One-Click Installation
Softaculous
Website Builder

Ghost Machine Site Builder Available at $4.99/mo
Weebly Website Builder Available at $6/mo
Strikingly Available at $10/mo
OnePager

Automated Backup
Every 3-7 Days
Content Delivery Network (CDN)
No
Security Features

SSL Certificates
Whois Protection

Payment Methods

Visa
PayPal
MasterCard
Dwolla
Bitcoin
American Express

Endurance International Group Network (EIG)
No
Social Profile
NameCheap Reviews on Hosting Plans and Services
NameCheap offers different types of hosting plan, website builder, SSL certificate and private email hosting.
The shared hosting plan has four levels, from "Value" to "Business SSD." The value package costs $9.88/year, which is around ~$0.83 per month. This plan has 20 GB of space, unlimited bandwidth and you can host up to three domains. That is good considering domains themselves cost around $11.99 on average.
If you need more space and more domain allowance, try the professional, ultimate or Business SSD levels. The Business SSD level gives you the same 20 GB of SSD space but allows you to host unlimited sites and include 5000 GB (5 Terabytes) of bandwidth. This level will cost you only $19.88/month ($238.56/year).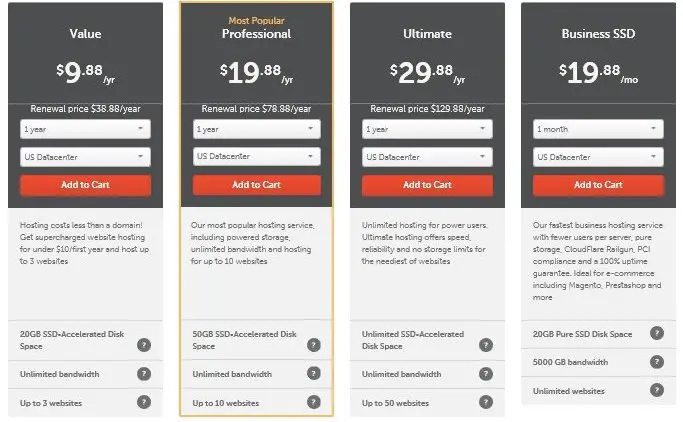 NameCheap Reviews on VPS Hosting Plan
The VPS hosting plans are a step up from shared hosting; you get quite a range of options to work with and choose from. There are a variety of open-source operating systems, including CentOS, Fedora and Ubuntu, type of management (self-managed, managed, fully managed) and much more.
Just like the shared hosting, four VPS packages are available. You can choose how much you pay per month. For instance, if you choose the cheapest VPS package for one year, you only pay $16.95/month as opposed to the regular month-to-month billing of $19.95. In short, the longer your service, the cheaper your rate per month, even if you choose the most expensive package.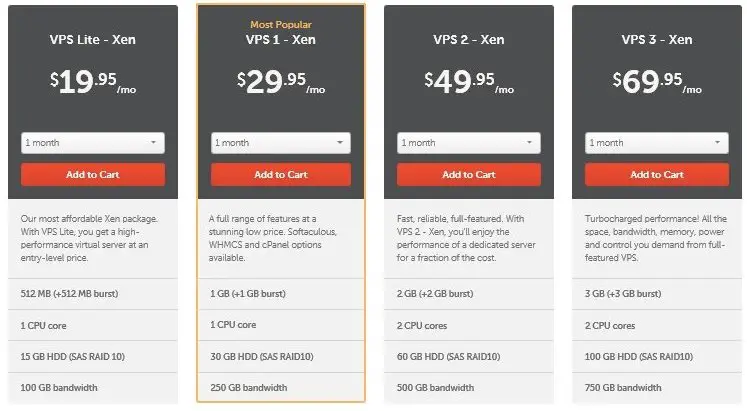 NameCheap Reviews on Dedicated Hosting Plan
NameCheap's dedicated server plan is a bit different than other web hosting companies' plans in this arena. You can choose from servers that have either single CPUs with multiple cores, or servers with multiple CPUs and multiple cores. Keep in mind that as you go up the ranks into the multi CPUs server levels, you're going to pay more per month.
The lowest you'll pay for a single CPU server is $58.88/month, and the lowest you'll pay for a multi CPUs server is $219.88/month—that's an octa-core (8 core) server.
As with the VPS plan, you can choose between self-managed, managed or fully managed dedicated servers. Keep in mind that for both dedicated and VPS plans, choosing fully managed servers means you get full support for WordPress, Magento, and other apps. So it might be worth the extra money to get that kind of help.
NameCheap Reviews on Reseller Hosting Plan
The reseller hosting plan options at NameCheap have some decent price variation to them, as you can arrange to pay for two years of reseller hosting. The longer the hosting plan, the less you pay monthly. That said, you won't automatically get the WHMCS license with all the packages.
If you get either one of the cheaper packages, you have to pay either $8/month for the branded WHMCS license or $11/month for the non-branded license. However, if you get the more expensive packages, you automatically get the branded license.
NameCheap SSL
The SSL certificate offered by NameCheap is rather unique, in that you can pay for and activate SSL certificates for your website(s) right there on the NameCheap. There are different types of certificates available, based on the type of encryption requirements you need. Once you purchase an SSL, you can activate the license via your control panel.
There are four different companies to choose from: Comodo, GeoTrust, Thawte, and Symantec. Also, NameCheap ensures what's known as "browser ubiquity" by hand-picking the SSL certificates. This way the most-used browsers will automatically recognize the certificates without throwing up any kind of exceptions or red flags.
Not many other web hosting services offer this, so this might give you something to consider in your own deliberations.

NameCheap Website Builder
Last but not least, NameCheap offers page-builder OnePager. This is great for people who only really need a website builder to put themselves on the web. This is also ideal for people who need a web presence quickly, but don't have a lot of money, time or expertise to either build the site themselves or to hire a designer.
The drag-and-drop functionality of the website builder makes it much easier to get a site up. You can use OnePager to make a quick "landing" or "under construction" page for your fledgling business without taking up a lot of hosting space or budget. Besides OnePager, there are other options like Weebly available for the user.
NameCheap Reviews on WordPress Hosting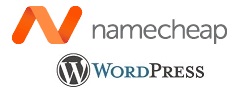 WordPress is one of the most popular site and blog-building scripts. For websites that are hailed for their association with WordPress, NameCheap seems to stay in the background with this script. You can install WordPress, but instead of having the WordPress right there in front of you, you have to click on the "Softaculous" script installer icon, which then takes you to the list of CMS (content management system) scripts.
As for whether WordPress is good to use with NameCheap, it likely depends on the hosting package you use—how much bandwidth you're paying for if you're using a VPS or dedicated server. WordPress is good if you want more than what the OnePager website builder gives you. NameCheap platform is optimized for WordPress, and it is compatible with most WordPress powered websites.
NameCheap Reviews on Email Hosting
The NameCheap email hosting is somewhat unique in that you don't just get the general email/webmail capabilities with the shared hosting. They have separate plans for privately hosted email, which is handy if that's all you want to do. There's even a particular page in the knowledge base about how to work with the private email system, which not only includes the POP3, IMAP, and SMTP technology, but also the collaboration software that the usual hosting packages don't have.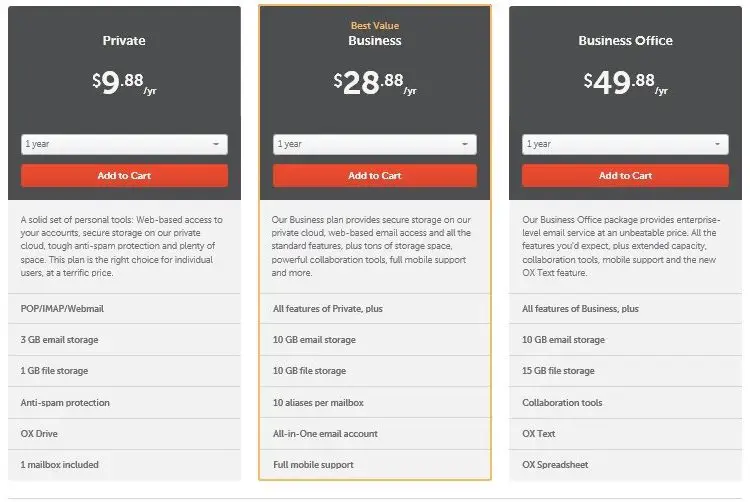 If you are keen on using the email/webmail services provided with your hosting package, you'll get the usual POP3, IMAP and SMTP technology for incoming and outgoing mail, including access to Horde, Roundcube, and Squirrelmail.
NameCheap Reviews on Support and Customer Service

When it comes to customer support, NameCheap has 24/7 availability. However, it has one major downside: they only have live chat and ticket support. They've been around since 2000, and they've never had telephone support. Not only inconvenience for the people who prefer the phone support, but it can also make the company seem a bit backward and technologically unhelpful, despite being in the business of domain registry and hosting. However, their live chat and ticket support system response speed is quite good.
Their searchable knowledge base, which is essentially an enormous FAQ is also good for those who don't require help from another person, or who simply need a quick question that can be answered quickly. If you are looking for a web hosting service provider with excellent customer support, we would suggest you have a look at SiteGround.
#Trial 1 Outstanding Live Chat Support
I have heard a lot about the fast and professional customer support of NameCheap hosting, not only to their own customers but also to non-customers. I wanted to assure myself so that's why I planned to test their customer services. I selected their live chat support and before connected with them, I prepared some questions which I wanted to ask.
Within 02.00 seconds I got a speedy response from their representative and I was surprised to have such a fast response. Maria Polischuk was the lady who talked with me and responded all my queries in a well professional way along with the helping links. Because of her outstanding behavior and complete knowledge about NameCheap hosting plans and prices, I rated her 10 out of 10.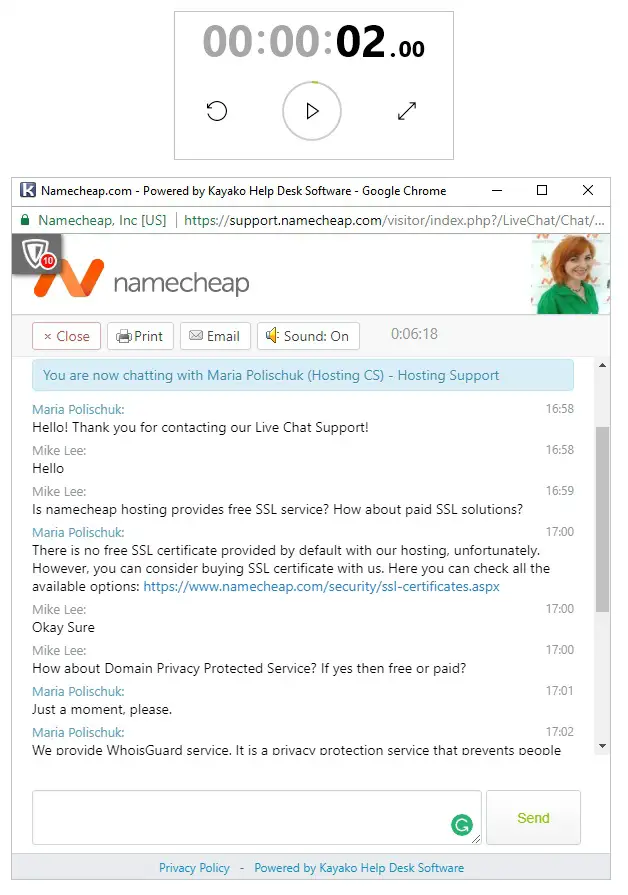 My full conversation with NameCheap customer support is given below:
Your Question: Hi, my name is Mike Lee and I have few questions about the NameCheap hosting services.
Maria Polischuk: Hello! Thank you for contacting our Live Chat Support!
Mike Lee: Hello. Is NameCheap hosting provides free SSL service? How about paid SSL solutions?
Maria Polischuk: There is no free SSL certificate provided by default with our hosting, unfortunately. However, you can consider buying SSL certificate with us. Here you can check all the available options: https://www.namecheap.com/security/ssl-certificates.aspx
Mike Lee: How about Domain Privacy Protected Service? 
Maria Polischuk: Just a moment, please.
Maria Polischuk: We provide WhoisGuard service. It is a privacy protection service that prevents people from seeing your name, address, phone number and email when they do a Whois search on your domain. It puts its address information to the public Whois instead of yours to protect you from potential spam and even identity theft. WhoisGuard is provided for free for the first year if you register a domain name with us. The renewal price for it is $2.88 /yr
Maria Polischuk: Please note that due to the registry restrictions, WhoisGuard cannot be used with .asia, .bz, .ca, .cn, .de, .eu, .li, .ch, .fr, .sg, .com.sg, .in, .uk .co.uk, .me.uk, .org.uk, .nu, .us, .es, .com.es, .nom.es, .org.es, .com.au, .net.au, .org.au, .nyc, .xn--3ds443g and .xn--6frz82g domains.
Mike Lee: Is there any Free Site Migration Service?
Maria Polischuk: Sure, if you would like to transfer your hosting account to us, there is no charge for it. However, please let me know if you would like to transfer one separate website or whole cPanel.
Mike Lee: How about if only the site?
Maria Polischuk: Thank you. Unfortunately, usually we provide assistance with the full cPanel transfers only. However, each case is specific, and sometimes our technicians can assist with the transfer of one separate website. However, I cannot guarantee it. Please let me know if you have cPanel with your current hosting provider.
Mike Lee: No problem
Mike Lee: Is Namecheap hosting offers Dedicated IP solution?
Maria Polischuk: Sure, a dedicated IP costs $24.00 per year ($2/month). The billing cycle for your dedicated IP will be automatically adjusted to match the current billing period of your hosting plan.
Mike Lee: Alright. Is Namecheap supports both Linux and Windows hosting? If yes then what type of control panel is being used?
Maria Polischuk: Currently we provide only Linux-based hosting with cPanel control panel. Here you can check how cPanel looks like: https://www.namecheap.com/support/knowledgebase/article.aspx/9797/29/cpanel-control-panel-overview
Maria Polischuk: If you are interested in Windows hosting, you can consider one of our dedicated servers.
Maria Polischuk: However, please note that if you decide to install Windows, we will not provide assistance with the server, unfortunately.
Mike Lee: Alright, got it.  🙂
Mike Lee: Is Namecheap part of Endurance International Group (EIG)?
Maria Polischuk: Please allow me a few minutes to check the information for you.
Mike Lee: Sure.
Maria Polischuk: Thank you for staying with me. Namecheap does not belong to Endurance International Group.
Mike Lee: Does Namecheap hosting offers a Content Delivery Network (CDN)?
Maria Polischuk: Unfortunately, we do not provide CDN services at the moment. However, you can use any third-party Content Delivery Network with our hosting.
Mike Lee: Will Namecheap back up my website automatically?
Maria Polischuk: Yes, each server's data is backed up once every 3-7 days depending on the account's type and server's specification. However, I would like to note that these backups are made for server restoration purposes only. It is your responsibility to maintain local copies of your sites' web content and information. Please note that server backups are made for internal purposes, there is only one backup kept for every hosting account on the server. Each old backup is being overwritten with the new one. That is why, unfortunately, there is no backup dated 1 week ago.
Mike Lee: Is free domain included in the hosting plans?
Maria Polischuk: There is website domain provided for free to the first year with the hosting plan.
Mike Lee: Noted, it is really nice talking with you. Have a good day.
Maria Polischuk: It is a pleasure to talk with you too, Mike. Thank you, have a great one too!
Maria Polischuk: Please do not hesitate to contact us again if you have questions or require any help.
Mike Lee: Sure 🙂
NameCheap Reviews on Uptime Performance and Server Status
Uptime Stats
While NameCheap has at least one or two points that can turn people off, their uptime and server status are among the truly high points. NameCheap has been ranked alongside other hosting company for having excellent consistency for their consistent uptime record. Besides, they have a status page where you can check for server status updates.
They're pretty much in tune with customers' demands, and they know how downtime can affect your business. So having that status page available keeps their credibility high. Another thing that keeps their credibility up is the implementation of SSD or solid state drives.
This technology is cutting edge for servers, and they also don't oversell the space. This helps to keep the "bottlenecking" and slow speeds to a minimum. They also use top-quality and cutting-edge hardware, which helps with server speed.

Uptime Stats – Target: 99.9%
August 2017 – 100%
July 2017 – 99.81%
June 2017 – 100%
May 2017 – 100%
April 2017 – 99.72%
March 2017 – 100%
February 2017 – 99.99%
January 2017 – 100%
December 2017 – 100%
November 2017 – 100%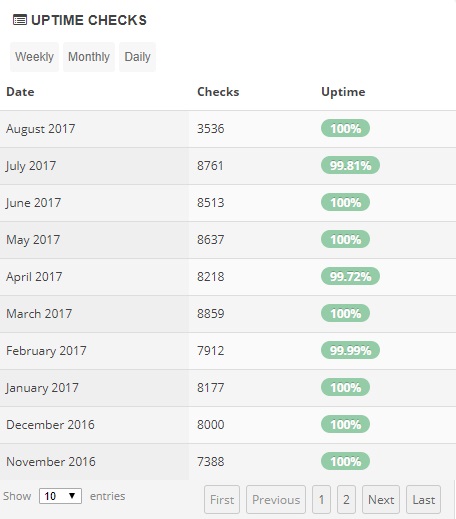 NameCheap always claim to provide 99.9% uptime guarantee to their all clients. So, I decided to check their uptime performance at my end. I gathered their uptime stats of 10 months including August 2017. NameCheap achieved the target in 8 months and I uploaded the picture of uptime stats and charts as well.
The images will help all those customers who are interested in buying the hosting of NameCheap. The average of NameCheap uptime is 99.95%, which is good.
Note: For latest and complete performance of NameCheap uptime stats, you can bookmark this page.
Server Response Test Speed
Before selecting the hosting for your own site, it is very important to check the server speed of that hosting company. If speed of your site is not fast, then it will affect your website visitors and they probably will avoid visiting your site in the future.
I decided to check the NameCheap server response speed. I chose one of the website which is hosted on the NameCheap server to conduct the experiment. NameCheap provides an extraordinary server response speed which comes with a rating of A+. The testing result image is also attached below.

Good and Bad of NameCheap
In a nutshell, here are some of the good and bad of using NameCheap:
Good
Good hosting prices, you can change the commitment times and get a better rate per month with most plans
Great uptime and server speed
Unique SSL certificate purchase and activation system with different companies and certificate levels to choose from
Separate private email hosting plans
Unique style of dedicated server plan: many levels with either single or multiple CPUs and multiple core options (up to 12-core)
Site is easy to navigate
Attractive reseller hosting plans, even for a site that's known best for domain registration and basic hosting
Popular and reputable brand
Bad
No telephone-based assistance in their customer support
No free SSL
Summary of NameCheap
NameCheap is widely known for its domain registration services. However, since it started hosting services back in 2007, it has some particularly decent packages available for all budget ranges and server needs. NameCheap also offers private email hosting, as well as specific SSL certificate choice and certificate activation.
They do offer WordPress hosting, but it is tucked away out of sight when it needs to be noticeable. Their customer service is good, but they lack of telephone help. So if you want to get your foot in the door with a domain registry and web hosting service provider that is easy to navigate and has its own SSL purchase plans, then NameCheap is a good place to get your feet wet with owning your site.
Compare NameCheap With Our Top Ranked Web Hosts!
NameCheap vs SiteGround vs HostGator

SiteGround

HostGator

NameCheap
Rating

Rated 4.5 stars

Rated 4.5 stars

Rated 4.5 stars

Price

$3.95/month

$3.95/month

$9.88/Year

Criteria