Editor Rating

Rated 2.5 stars

OK
---
Reviewed by:

Published on:

Last modified:
---
Our Top Ranked #1 Web Host

Ideal for WordPress, Joomla, Drupal and eCommerce
What is Network Solutions Hosting?
Networks Solutions Hosting is an online platform that allows adding lots of advanced tools and provides plenty of features, to begin with a snazzy web page. This Network Solutions review provides insight to readers who are new to Network Solutions and what services it provides. The company provides ideal web network solutions to the web designers all over the world.
The major pros of using network solutions web hosting are their competitive price. It is the actual reason due to which many websites designers choose this platform over others. There are advanced and custom options offered by Network Solutions along with site building software.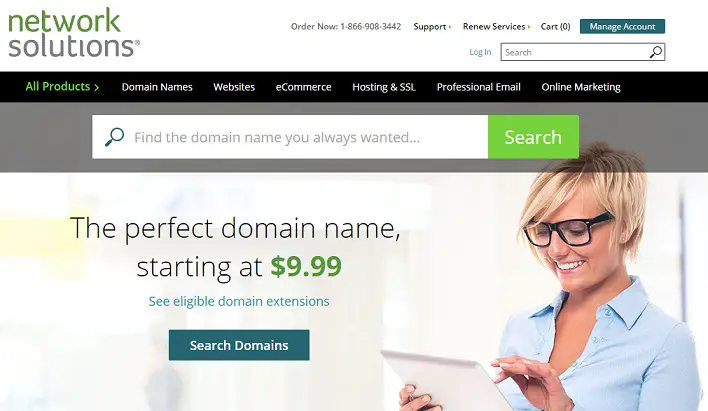 Details
 
Founded
1979
Server Location
North America
Services

Domain Names
WordPress Hosting
VPS Hosting
Shared Hosting
Email Hosting
E-commerce
Web Hosting
SSL Certificates
Online Marketing
Design Services
Mobile Services
Free Logo Design
Reseller Program

Unlimited Website
No
Unlimited Storage and Bandwidth

Limited Bandwidth
Unlimited Storage With Professional Hosting and Professional Plus

Domain Hosting
Yes
Linux Hosting
Yes
Windows Hosting
Yes
WordPress
Optimized
Joomla
Optimized
Drupal
Optimized
Magento
Optimized
PHP Hosting
Optimized
e-Commerce Hosting
Optimized
Email Hosting
Available Starting At $1.75/mo
SSL Support

Available Starting at $54.99/yr
Secure SSL certificate
SSL Advanced & Wildcard
nsProtectTM Secure Basic

Dedicated IP
Yes, Available With VPS Essential Hosting & VPS Professional Hosting
Free Site Migration
To Be Checked
Free Domain
Yes, For 1 Year
Domain Privacy Protected
Paid, $9.99/yr
Money Back Guarantee
30 Days
24/7 Support

Live Chat (Own Customers)
Telephone
Email
Forum

Control Panel
Plesk Panel software
One-Click Installation
Yes
Website Builder
Yes, Price Starting At $2.95$/mo
Automated Backup
Daily Backups
Content Delivery Network (CDN)
SiteLock, Starting At $4.99/mo
Security Features

Malware Protection
FTP Scan(SFTP)
Data Center Class Firewall
Secure SSL Certificate
Spam & Virus Protection
DDos Protection

Payment Methods

Visa
Master Card
Discover
American Express
JBC
PayPal
CARTE BLANCHE/DINER'S CLUB

Endurance International Group Network (EIG)
No
Social Profile
Network Solutions Reviews on Plan Pricing and Domain Services
DISCLOSURE: This post may contain affiliate links, meaning when you click the links and make a purchase, we receive a commission.
Network Solutions offer easier ways of registering the site with the desired domain name. The company has designed distinctive hosting plans. The network solutions pricing seems to be quite affordable. Secondly, the additional feature and technologies of network solutions domain transfer have grabbed lots of attention of the web designers. Have a look at these.
This hosting plan inbuilt security you need for every type of business. The most basic Web Hosting plan offers malware scanning, 1000 email boxes, one free domain name and 300 GB Disk Space with price $9.96 per month. You may choose to upgrade to Professional Hosting or Professional Plus plan if you need a more powerful server for your website.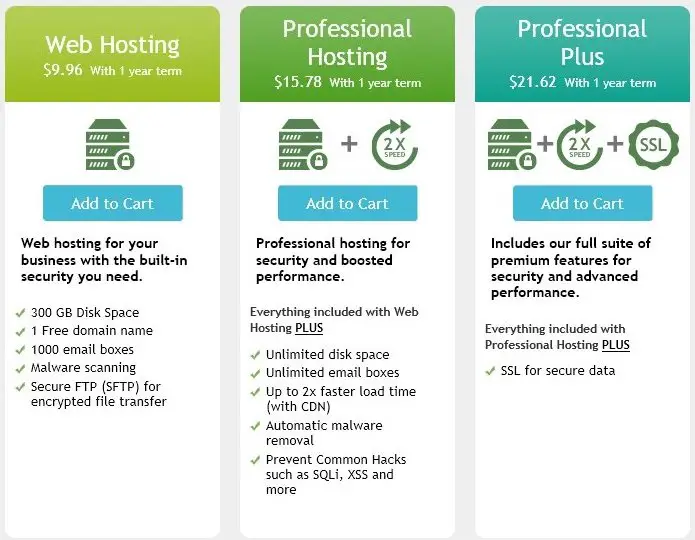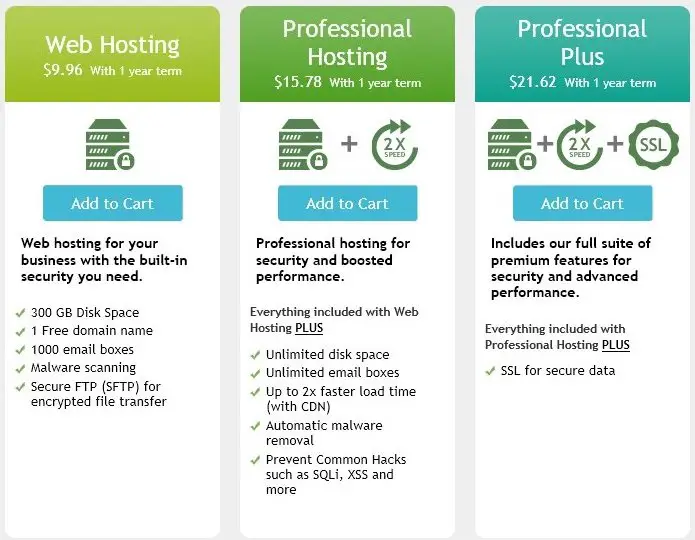 Network Solutions Reviews on VPS Hosting
The network solutions VPS provides 10 GB of storage and monthly bandwidth of 500 GB for their VPS Essential Hosting plan subscriber. The additional features are ten maximum managed domains with CentOS operating system. The upgraded plan is VPS Professional Hosting, which allows you to have up to 2000 GB monthly data transfer, 100 managed domains and 200 email accounts.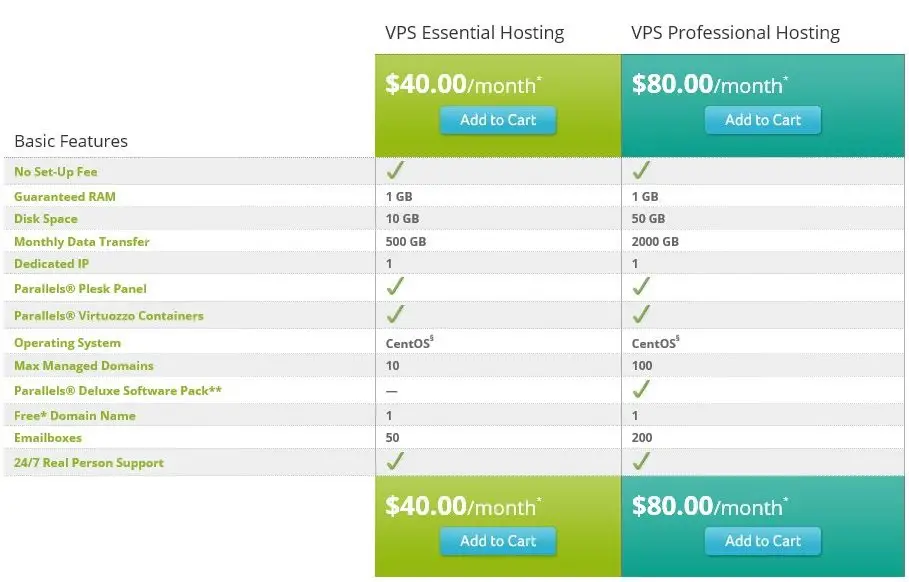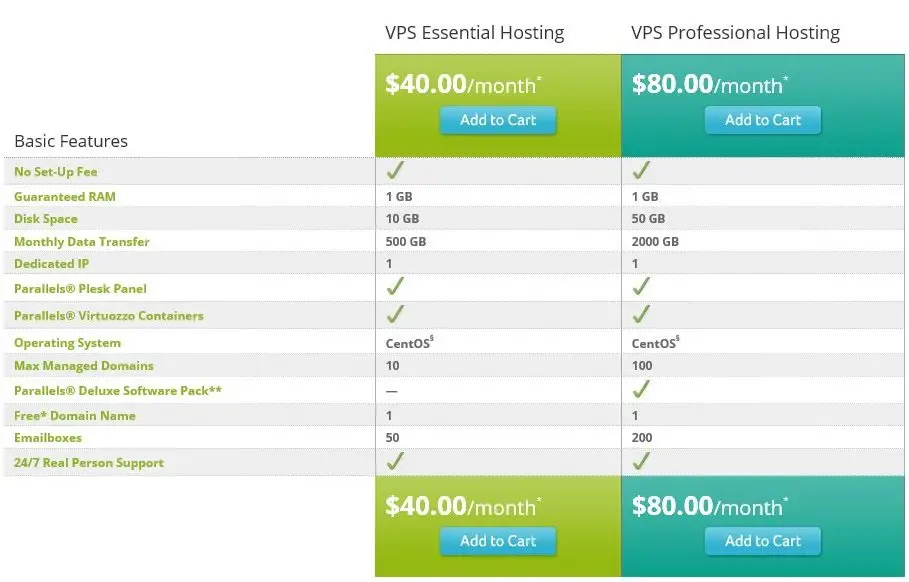 Network Solutions Reviews on Ecommerce Plan
The network solutions e-commerce plan is for those who are running an e-commerce store. It offers higher bandwidth limit along with the total storage. There are three unique eCommerce packages offered by Network Solutions. The Starter Package is being offered at $7.95 with 5 mailboxes, 1.25% transaction fee, Mobile Store, Free Domain Name and Add-a-store.
The Standard Package costs $9.95 per month with 300 products, 50 email boxes, and 1% transaction fee. You'd able to buy the premium package at $19.95 per month. It deducts 0.75% transaction fee.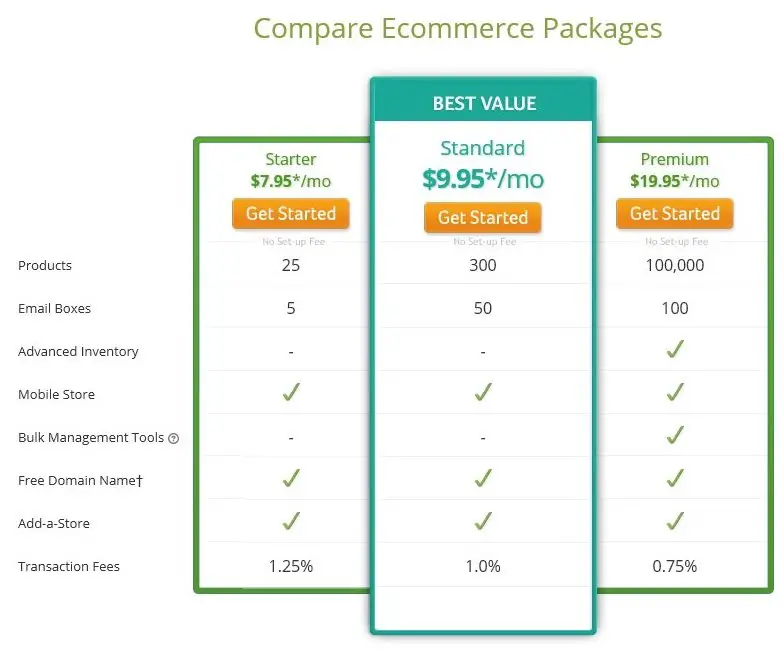 Domain Registration
The network solutions domain registration require 9.99 USD subscription charges for a year. However, if you sign up their hosting plan, you will get a free domain for one year. You will need to renew it with a certain charge.
Domain Transfer
Network solutions offer amazing features and packages for domain transfer. It costs $9.99 to transfer your domain to Network Solutions.

Domain Forwarding
The network solutions domain forwarding permits users to generate one web page address after redirecting from multiple domain names. The mere amount of 12.99 USD for annual registration is required by the company. It doesn't require technical expertise as it is simple to use for even the beginners.

Network Solutions Reviews on WordPress Hosting
The Network Solutions WordPress hosting is ideal and compatible to be used by the web developers. It provides a secure web hosting experience to every user. 
There is no doubt that WordPress is still a top choice of a majority of web designers. Network Solutions WordPress services are being offered at $15/month.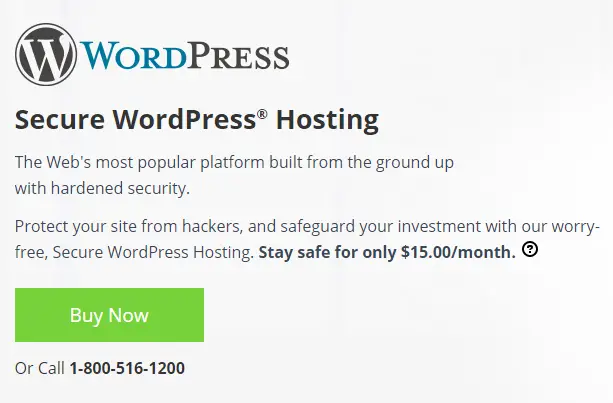 It provides the premium level of security to protect the site and prevent hacks with the web's most popular platform. However, your site can face numerous vulnerable attacks without providing proper protection. Any site can get serious threats with many threats i.e. Cross-Site Scripting(XSS), SQL injections and many others, etc.
The aim of Network Solutions is to drive hacker requirements to extremely higher level and reducing attack opportunities to minute level. The issues get resolved within few minutes in case of having suspicious viruses. This platform provides regular security updates to WordPress, creates daily backups and removes malware with the constant scans.
The Network Solutions has tools to prevent DDoS attacks, mitigating 0-day hacks, multi-layered servers, automatically update plugins, white list themes, and plugins. The unlimited storage and bandwidth are also provided to the users.
Network Solutions Reviews on Email Hosting Service
The network solutions email services provide customized emails for the websites. By using this feature, every business can get their professional email ids at just $1.75 per mailbox.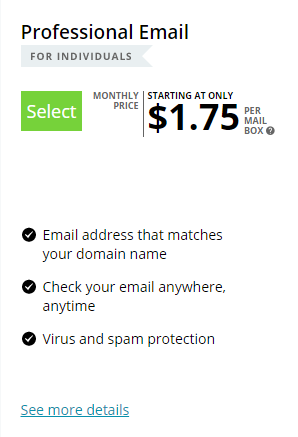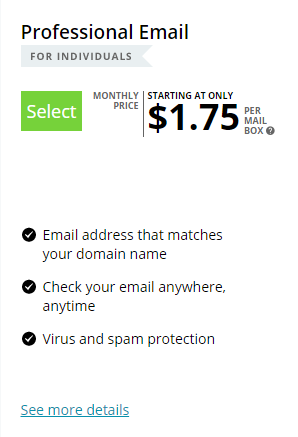 The network solutions webmail provide peace of mind to the web designers to create a unique impression in front of email receivers. This feature also allows users to get amazing tools. The network solutions email login procedure is quite simple and easier, please refer tutorial How to Access Network Solutions Email. The id and password are chosen by the user which can be used anytime and anywhere.
The network solutions email settings are also offered to the users who want to make changes in the settings of emails. These settings can be either related to sending or receiving of emails. The webmail network solutions login procedure allows users to check the confidential emails related to their business anytime and anywhere.
The network solutions mail services provide discounts for five email boxes to the users. The network solutions mail is easy to transfer and considered as beneficial for the senders as well. The network solutions email forwarding option allows users to forward any important message to multiple recipients at once.
By using network solutions SMTP, the senders get peace of mind and deliver numerous emails at once. The network solutions SMTP settings are quite easier to change for every user. The Professional Email Address Plus is also provided and is suitable for small businesses. It is available for $4.99 per mailbox.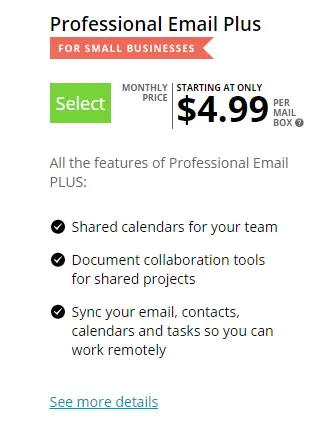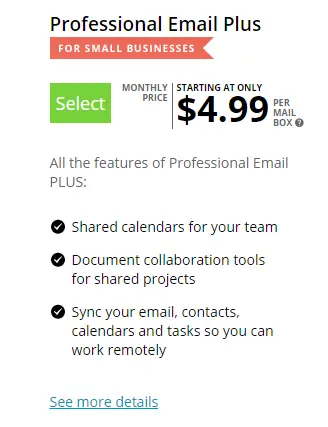 It allows managing group projects with documents collaboration, coordinating employee schedules, work with email programs and syncing the email contacts.
The Microsoft Hosted Exchange is available at $8.98 and this package provides productivity boost and Outlook experience. Mobile Email allows sending emails through mobile phones and Microsoft Hosted Exchange Account is ideal for a multinational corporation.
The network solutions outgoing mail server provides direct access to send all the emails in a certain time frame. The network solutions mail settings give possibilities to make any changes in the entire email settings. Similarly, the network solutions IMAP and network solutions IMAP settings come with the detailed process of changing methods.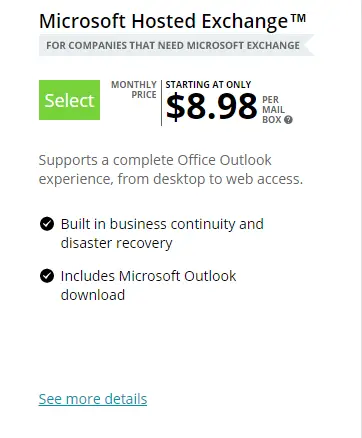 Network Solutions Reviews on Support and Customer Service
Network Solution isn't behind its predecessors in the provision of customer support. The network solutions support is based on Telephone services, Ticket System and Live Chat. The company doesn't leave any stone unturned to serve well to their customers. Many users rely on ticket system and live chat services to get quick responses.
The Customer Support staff entertain every complaint and try to solve all the problems before the expected time. However, there might still be some complaints blaming they have provided unsatisfied support. The customer satisfaction and retention are still the major goals of network solutions support department.
We hope to see major improvements in future. The customers also participate in online forums to get familiar with the personal experiences of the users with Network Solutions. All the advanced ways of communication are used by the company to stay linked with the customers.
The network solutions customer service is available for 24 hours a day with seven days per week as they have mentioned. However, please get yourself ready for some waiting times during weekends. They try to make the customers not facing any trouble by taking assistance from the customer service staff anytime and anywhere.
There is a simpler way to search network solutions contact support through online feedback and search engines. However, the direct search is best to get earlier access of connecting with the Customer Support Staff. There are different contact numbers for Sales and Support Departments for General Inquiries, Web Design Services, Online Marketing Services, SSL Certificates, Merchant Accounts, Ecommerce, Email, Web Hosting, Websites and Domain Names.
For the list of network solutions contact number, please check Network Solutions Contact Number. The network solutions forum also remains available to get valuable feedback from the customers. This forum also allows non-users of their services to be a part of discussions.
Apart from all these facilities of customer support, Network Solutions does not provide its live chat facility to the non-customers, which is a big drawback. No doubt, they provide 24/7 live chat support but only to their customers. If you have not purchased any services of Network Solutions, then you cannot get this facility.

Information Regarding Network Solutions, cPanel, DNS, SSL and Website Builder
Network Solutions cPanel
The Network Solutions use cPanel as the control panel for their Linux hosting. If you are big fan of cPanel, then this is a good news for you. cPanel makes the website management easier.
If you already own an account on Network Solutions, you may Manage Account and Login Network Solutions cPanel.
Network Solutions DNS
The network solutions DNS is linked to the private network or internet in the form of a hierarchical decentralized naming system for services, computers and many other resources. The network solution nameservers are specialized in query handling about the actual location of the web address.
For more information, please refer tutorials on how to Move DNS To a New Server and Managing Domain Name Servers.
Network Solutions SSL
The standard security technology for establishing a connection between browser and web server is network solutions SSL. The most basic SSL certificates offered by network solutions started with $54.99 per year. In additions, if you prefer more security protection, the "Extended" SSL certificate can be a good option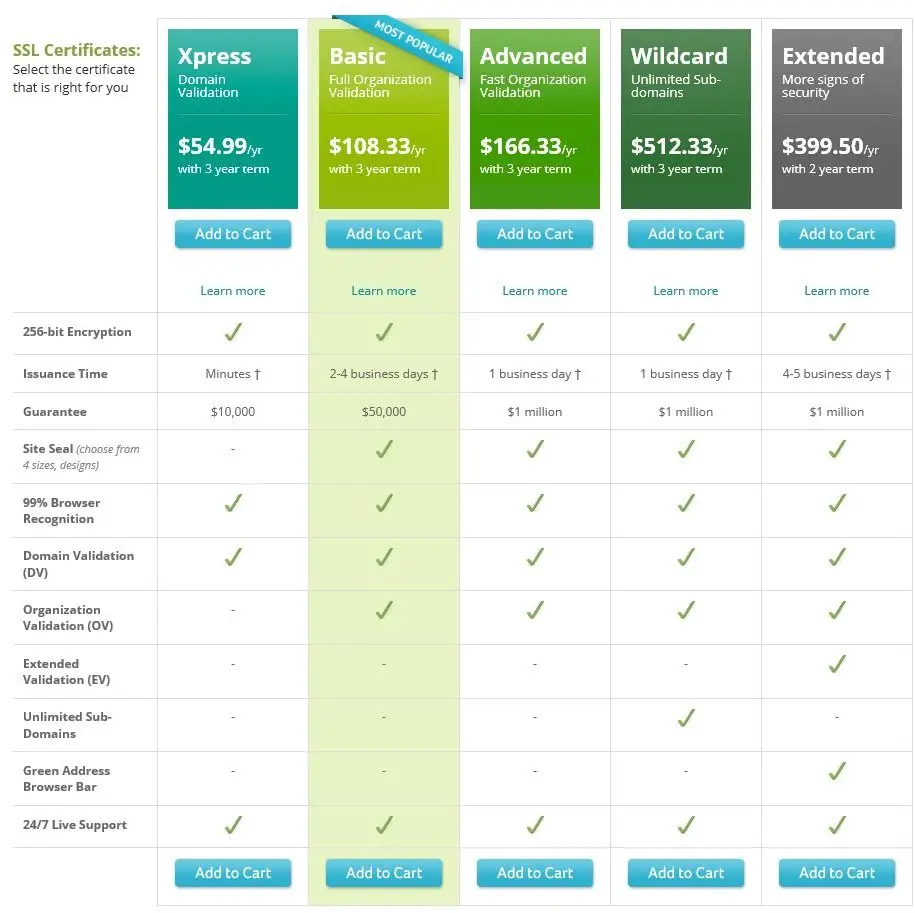 Network Solutions Website Builder
The network solutions website builder provides amazing features to the websites. There is also a reference provided by this feature of Network Solutions.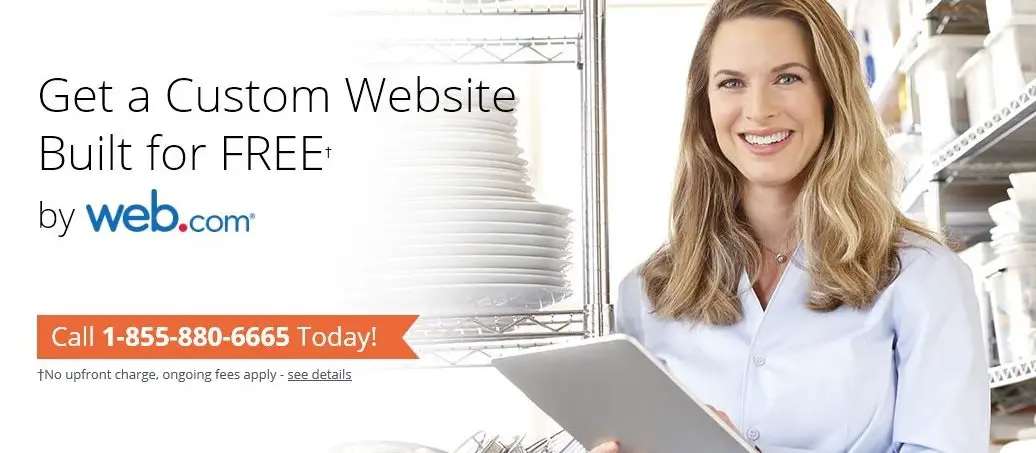 Since Network Solutions is now a Web.com company, it is using web.com website builder as their main tool to build a website for the client. You may choose to build the website by yourself, or the web.com may even build it for you!
Web.com offers various types of services, including website building, web hosting, email marketing, domain registration, SSL certificate and more. If you are new to website designing or building, web.com might be a good choice for you as it does not require much technical knowledge in setting up a website.
Network Solutions Reviews on Uptime and Status
Uptime Stats
The uptime for entire customer base across Network Solution's hosting systems is calculated and measured by the company. Network Solutions claim to provide 99.90% uptime guarantee, but they did not always achieve their target. There are events causing downtime that are outside of the control of network solutions.


Uptime Stats – Target: 99.9%
July 2017 – 100%
June 2017 – 99.96%
May 2017 – 99.82%
April 2017 – 99.59%
March 2017 – 98.87%
February 2017 – 99.03%
January 2017 – 99.58%
December 2016 – 99.96%
November 2016 – 99.40%
October 2016 – 97.40%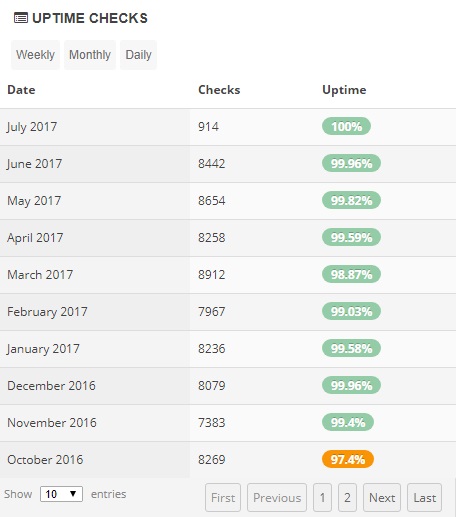 I have recently collected the uptime stats of Network Solutions from October 2016 to July 2017. Though the company claims to offer 99.90% uptime to their customers but their uptime stats show that they remained unsuccessful in accomplishing this target.
In these 10 months, the Network Solutions achieved its uptime target in July, June and December. Their performance is found to be unsatisfactory during the remaining 7 months and their average uptime is calculated as 99.36%, which is also less than their claimed target. Network Solutions needs to improve its uptime performance.
Server Response Test Speed
It is true that the server speed of a web hosting company plays an imperative role. If the server response speed of hosting provider is slow, then you will not select that company. Keeping in view the importance of server response speed, I decided to test the server speed of Network Solutions.
For this purpose, first of all, I pinged a site hosted on Network Solutions from eight different states. I found their server speed to be pretty fast and the company got A+ rating. Moreover, their SiteLock CDN is an amazing tool in speeding up the website.
Good and Bad of Network Solutions
Good
The site offers budget-friendly packages that provide with not any complex functionalities. The package add-ons for hosting blogs are considered cheap.
The customized options allow users to make multiple changes in different options.
The advanced features offered by Network Solutions are best for the trendy site designs.
It is a fairly good platform. Many users rely on their services without thinking twice. The major reason is the trust of millions of users from across the globe.
Bad
When it comes to shortcomings, the biggest disappointment is only one domain. The multiple domains within a single package are hard to find through this service.
There is a complex interface. The new webmasters would find it a bit hard platform to use due to some complex functionalities. There is still a need to get proper training for right use of their services.
Some complaints regarding their poor customer supports.
Live Chat support only available to the customer
Poor uptime performance
Summary for Network Solutions
Network Solutions is a web-hosting platform that offers plenty of features and tools for the web designers. The company offers eye-grabbing discounts and hosting plans for the beginners as well as webmasters. The shared hosting plan, VPS hosting plan, and e-commerce packages are available at different prices.
The Company has an online forum and a customer support services for the users. The budget-friendly packages outshine Network Solutions from rival companies. However, there is still a complex interface offered by the company for new web designers.
There is no doubt that Network Solutions can be a good choice for those who have been engaged in the web designing profession from past 5 to 10 years. All in all, it is a fair web-hosting platform for the global web designers.
Most of the reviews about this web hosting option show both positive and negative feedbacks of the people. In short, you may try to rely on this option. These Network Solutions reviews show that it is a not a perfect choice for complex and advanced site designs with improved traffic.
As a conclusion, personally, I would not recommend it as there are better web hosting service providers such as SiteGround and HostGator.
Compare Network Solutions With Our Top Ranked Web Hosts!
SiteGround vs HostGator vs Network Solutions

SiteGround

HostGator

Network Solutions
Rating

Rated 4.5 stars

Rated 4.5 stars

Rated 2.5 stars

Price

$3.95/month

$3.95/month

$9.96/month

Criteria