Editor Rating

Rated 3.5 stars

Very Good
---
Reviewed by:

Published on:

Last modified:
---
DISCLOSURE: This post may contain affiliate links, meaning when you click the links and make a purchase, we receive a commission.
Our Top Ranked #1 Web Host

Latest Uptime Stats (Real Records) - 99.98% (Last 12 Months)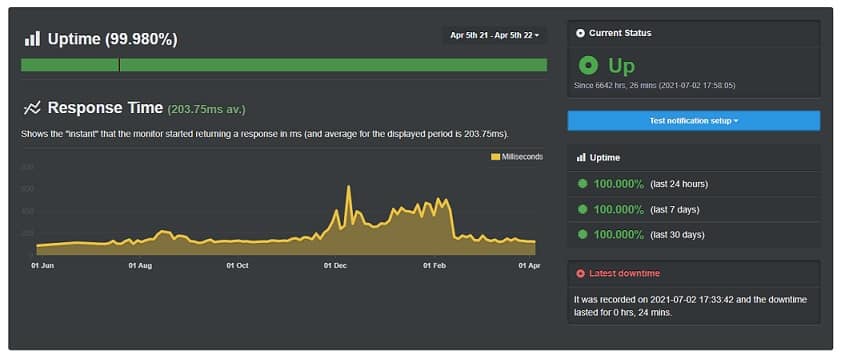 What is One.com Web Hosting?
One.com is an award-winning hosting provider that focuses on making web hosting easy, simple and affordable. It was established by Jacob Jensen in 2002 in Denmark and is hosting millions of customers in different parts of the world. One.com started up as a European provider but has so much expanded its services that today; it is regarded as a multinational web service provider.
It has customers in about 149 countries. It offers unique features to its customers. Some of the features their customers enjoy include money back guarantee, multilingual customer support, WordPress hosting, unlimited bandwidth and much more. It has data centers scattered worldwide.
With One.com, you are sure of building your websites with little or no technical knowledge. The hosting features are favorable to both beginners and web developers. One.com web hosting service is environmentally friendly as they run all their servers using renewable power. We will be doing a detailed analysis of One.com in this review.
Details
Founded
2002
Server Location
Services

Shared Hosting
Domains
Website Builder
WordPress Hosting
Email
Webshop
Office 365

Unlimited Website
No
Unlimited Storage and Bandwidth
Limited Storage and Unlimited Bandwidth Available with Hosting Plans
Domain Hosting
Yes
Linux Hosting
Yes
Windows Hosting
No
WordPress
Optimized
Joomla
Optimized
Drupal
Optimized
Magento
No
PHP Hosting
Yes
e-Commerce Hosting
Yes
Email Hosting
Yes
SSL Support
Free SSL Secure Available with all Plans
Dedicated IP
No
Free Site Migration
No
Free Domain
Free Domain for One Year
Domain Privacy Protected
No
Money Back Guarantee
15 Days
24/7 Support
Live Chat
Email
Control Panel
Customized Control Panel
One-Click Installation
Yes
Website Builder

Free Website Builder (Starter) for 1 Year
Website Builder (Premium) Available at $3.72/mo
Website Builder Webshop Available at $12.45/mo

Automated Backup
Daily Backups are Available
Content Delivery Network (CDN)
No
Security Features
Payment Methods

Visa
MasterCard
Visa Electron
PayPal

Endurance International Group Network (EIG)
No
Social Profile
One.com Reviews on Hosting Plans and Domain Service
One.com offers different types of web hosting plans. You might need to familiarize yourself with the type of hosting plan and know what makes each unique to choose the best package that suits your requirements. The hosting plans they offer are Starter, Professional, Professional Plus, and Business.
It has packages for beginners and website developers. Some of its hosting plans include:
Starter: Starter has a price of $2.45 per month and is recommended for newbies. It comes with 25 GB storage, 512 MB RAM, one database, single domain and also SSL certificate.
Professional: This hosting plan is for professional and has a startup price of $4.99. This web hosting plan offers single domain, multiple databases, and SSL certificate. It also comes with 100 GB storage and 1 GB RAM.
Professional Plus: Perfect for highly professional websites with lots of traffic and contents. It offers multiple domains and databases, backup services, and 4 x CPU. It also comes with 2 GB RAM and 200 GB storage to meet up with the demanding level of the website.The startup price for this hosting plan is $3.49. It also includes SSL and SSH.
Business: This plan is for the website that is used for large businesses and is bought for $11.99 per month. It is the most expensive of all the shared web hosting plans and has the best features. It offers 500 GB storage with 4 GB RAM. It also offers backup, multiple databases and multiple domains.
One.com Reviews on Domain Service
One.com also offers personalized domain registration service to their customers. Their Starter and Professional hosting plan offers their customers with a single domain while the Professional Plus and Business packages support multiple domains.
Hosting Plan Features and Technology
Below are some of the features and technology implemented in One.com.
Scripts and Databases
Websites need to work with different types of web components, scripts, and databases. One.com will provide you with essential scripts, web components and database support that are needed for your website.
Money Back Guarantee
They offer 15 days money back guarantee to their customers. One.com gives its customers 15 days free trial to test their reliability. If within the 15 days trial, you discover that their services are not satisfactory, then you can request for cancellation of which you will have a full refund of your payment.
When you compare their money back guarantee period with its competitors, it has the shortest. Besides, if you request for cancellation, you will have to pay your setup fee.
Green Web Hosting
One.com is environmental friendly. It runs its data centers using wind energy which is a type of renewable energy.
Security and Backup
One.com understands that it is necessary to secure the data of its customers. Its data centers are built to meet with the strongest level of security. They also do a daily backup of all their customers' data. They can recover any lost data in case you need this service.
Email Hosting
They offer email hosting. With one.com, you are sure of having your customized email on your own domain, have unlimited email addresses, use client email programs and solely manage your contacts.
One.com Reviews on WordPress Hosting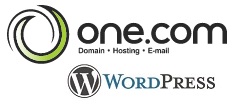 WordPress helps you create your website and blog. A lot of websites use WordPress because of its unique features. With one click installation, you can have WordPress installed on One.com platform. WordPress has thousands of plugins and it offers great security feature. For those who are not very familiar with the technical aspects of creating a website, you could probably use a content management system(CMS) to remain aware of your presence on the web. Creating a WordPress blog or website on One.com platform is easy. WordPress powered website requires a qualified hosting and One.com WordPress hosting can handle it well.
Consider These Facts When Selecting WordPress Hosting
What are your wishes?
Before you start hosting with WordPress, you should know what are your hosting needs. If you are unsure of your technical needs, it will be difficult to decide the ideal host for you. Some of the concerns are the amount of bandwidth and the storage space needed. These are just some of the requirements that affect your choice of WordPress hosting.
Once you have made an overview of your hosting needs, then you can consider whether One.com WordPress Hosting is suitable for your WordPress site.
One.com Reviews on Support and Customer Service
Customer support is one of the services that a good web hosting provider should not take for a joke. One.com offers its customers multi-lingual service. Their support is available in English, Italian, German, Dutch, Danish, Portuguese, Czech, Finnish and Polish. Their support team is available 24/7 to attend their cherished customers.
They can be reached through live chat and email but not through the telephone. The support extended by the One.com is not limited to email or live chat support, frequently asked questions (FAQs) are also provided. Overall, I would say the customer support provided by One.com is just average.
If you are looking for a web hosting service provider with excellent support, I would recommend SiteGround.
#Trial 1 Outstanding

Live Chat Support
It's crucial to test the customer support services of a web hosting company if you are planning to buy their hosting plan. Keeping in view the significance of customer support, I decided to contact the support representative of One.com through their live chat facility.
When I entered their live chat box, I received a message to wait for a customer support representative. One of their customer support staff Charles replied my first query in 5 minutes and 33 seconds. Though the initial response was much late but later on I received all replies on time. Charles was well aware with company's hosting plans and other information. Therefore, I rated him 9 out of 10.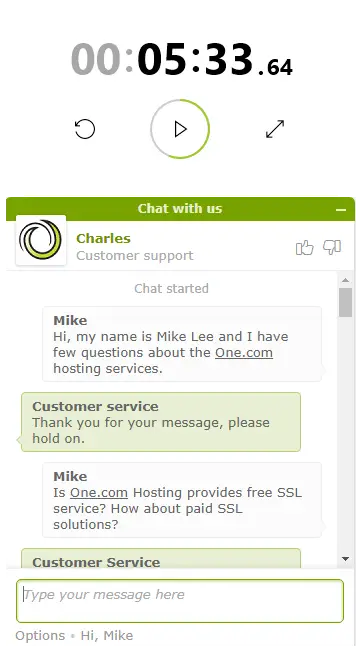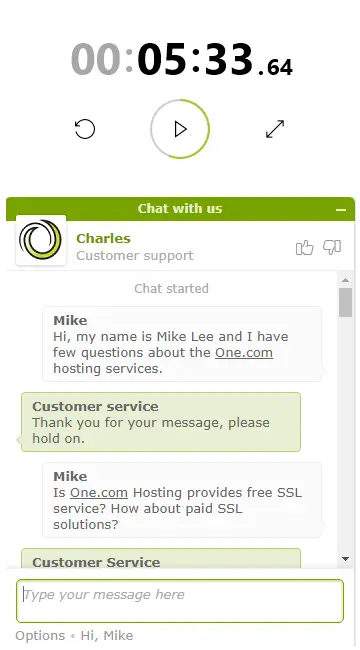 Here is my full conversation with One.com customer support:
Mike Lee: Hi, my name is Mike Lee and I have few questions about the One.com hosting services.
Customer service: Thank you for your message, please hold on.
Mike Lee: Is One.com Hosting provides free SSL service? How about paid SSL solutions?
Customer Service: We apologize for keeping you waiting. Our operators are busy right now, but somebody will be with you in a moment.
Mike Lee: Okay
Customer Service: Thank you for your patience, unfortunately, waiting times are currently longer than normal. You can also find answers to frequently asked questions here https://www.one.com/en/support/guides-faq , or you can hold on and we will be with you as soon as possible.
Mike Lee: Okay
Charles joined the chat
Charles: Thank you for using One.com 24/7 Interactive Online Support. My name is Charles.
Charles: Hello
Mike Lee: Hello
Mike Lee: Is One.com Hosting provides free SSL service? How about paid SSL solutions?
Charles: We do offer free SSL service for the hosting services which we offer and you have the option to activate that in the One.com Control Panel however we do not allow you to setup your own SSL certificate due to some DNS records required which we do not support.
Mike Lee: Alright.
Charles: Is there anything else I can help you with?
Mike Lee: Yes
Mike Lee: How about Domain Privacy Protected Service? If yes then free or paid?
Charles: We do have such service however it is limited to some TLD like .com, .net and .org. It is also a paid service and there is no free option for that
Mike Lee: Okay
Mike Lee: Is there any Free Site Migration Service?
Charles: Unfortunately not, we do not offer a migration services free nor paid
Mike Lee: Alright
Mike Lee: Is One.com Hosting offers Dedicated IP solution?
Charles: We unfortunately do not offer that. We currently only offer shared hosting services
Charles: which also does not offer dedicated IP services
Mike Lee: Okay
Charles: that is the case there unfortunately
Charles: Is there anything else I can help you with?
Mike Lee: Yes
Mike Lee: Is One.com supports both Linux Hosting and Windows Hosting?
Charles: We are currently offering Linux platform only. We do not offer Windows
Mike Lee: What type of control panels being used in Linux hosting plan?
Charles: We are currently only offering a control panel created by our technical personnel
Mike Lee: Okay
Mike Lee: Is any hosting plan optimized for Content Management System like Joomla, Drupal and Magento?
Charles: We do support and allow Joomla and drupal on any of our packages. However we do not support magento due to some requirements which are not met on our servers especially on PHP execution time
Mike Lee: Sounds good
Mike Lee: Is One.com Hosting is a part of Endurance International Group(EIG)?
Charles: I do not have the particulars for that but you can actually check this link for our profile page: https://www.one.com/en/info/profile
Charles: You can also check this link for our partners: https://www.one.com/en/info/partners
Mike Lee: Alright
Mike Lee: How many data centers One.com has? What locations are these data centers/servers located?
Charles: Currently, we have two, which are in Denmark and in the US
Mike Lee: Okay
Mike Lee: Any hosting plan that supports unlimited website?
Charles: We actually do not have such a limit however you will have to setup your websites on subdomains like blog,yourdomain.tld
Mike Lee: Okay
Charles: Alright
Charles: Is there anything else I can help you with?
Mike Lee: Yes
Mike Lee: Does One.com offer a Content Delivery Network (CDN)?
Charles: We do not offer CDN, unfortunately
Mike Lee: Okay
Mike Lee: What platform is the One.com hosting using to support One-Click installation? Softaculous?
Charles: No, it is not Softaculous. but as for the exact platform, let me check with our technical personnel
Mike Lee: Okay sure
Charles: The wordpress is being run through our own applications. The 1-click option which we offer actually already includes some of our own plugins
Mike Lee: Okay
Mike Lee: Thank you for answering my all queries.
Mike Lee: Have a good day Charles 🙂
Charles: You are most welcome! Feel free to contact us again should you need further assistance. Thank you and hope you have a good day as well! 🙂
Mike Lee: Sure
One.com Reviews on Uptime Performance and Server Status
Uptime Stats
Server uptime performance is one of the most important factors to consider when choosing a web host. Many point out that One.com is not doing very well in this aspect. Unlike other web hosting providers, it does not have a particular uptime guarantee. They also experience occasional downtime. Seems that they need to put more efforts in improving their servers' uptime performance.

Uptime Stats – Target: 99.90%
September 2017 – 100%
August 2017 – 99.99% 
July 2017 – 100%
June 2017 – 100%
May 2017 – 98.51%
April 2017 – 99.99%
March 2017 – 99.99%
February 2017 – 100%
January 2017 – 100%
December 2016 – 100%
No specific percentage is claimed by One.com regarding its uptime performance. It means this hosting company follows the industry standard of 99.90% uptime guarantee. Let's test the uptime performance of one.com by using this industry standard.
First of all, I collected the uptime stats of One.com for last 10 months i.e. December 2016 to September 2017. Before collecting this data, I learned from the customers' reviews that One.com is not offering excellent uptime performance. But, I was surprised to get such a superb response. The company achieved 99.90% uptime target in 9 out of 10 months and its average is 99.85%.
Note: Keep visiting our website to get regular updates about One.com uptime stats.
Server Response Test Speed
Nowadays, website performance plays a crucial role for long-term success. A slow loading website frustrates the visitors and they may simply leave your site. Thus, server response speed of a website becomes important. My website is hosted on One.com and it is easy for me to check its server response speed.
I pinged the same website from 8 locations i.e. US (West), US (East), London, Singapore, Sau Paulo, Bangalore, Sydney and Japan. I found their server speed satisfactory with overall A rating.
Good and Bad of One.com
Good
Simple web hosting service provider
No hidden charges
It is reliable
Offer multilingual customer support
It is affordable
It offers hosting plans that favor both starters and large businesses
Bad
Do not offer telephone support
Short money back guarantee period
Average uptime performance
No VPS and dedicated hosting solution
Summary of One.com
One.com is a web hosting service provider that offers varieties of shared hosting plans to accommodate both the starters and large businesses. It is reliable and also put the environment in consideration by making use of the natural resource as the source of energy to run their data centers. As a conclusion, although One.com is not perfect but it is still worth trying out.
Compare One.com With Our Top Ranked Web Hosts!
SiteGround vs HostGator vs One.com

HostGator

SiteGround

One.com
Rating

Rated 4.5 stars

Rated 4.5 stars

Rated 3.5 stars

Price

$3.95/month

$3.95/month

SGD2.74/month

Criteria