Editor Rating

Rated 4.5 stars

Outstanding
---
Reviewed by:

Published on:

Last modified:
---
DISCLOSURE: This post may contain affiliate links, meaning when you click the links and make a purchase, we receive a commission.
Our Top Ranked #1 Web Host

Ideal for WordPress, Joomla, Drupal and eCommerce
What is PlanetHoster Hosting?
Web hosting, SSL certificates, domain name registration along with various other web solutions are provided by PlanetHoster. The company has their own IP Network which makes sure that all the hosted services, as well as sites, are available at any point of time.
More than 40,000 customers are served by PlanetHoster using their very own hybrid cloud infrastructures. The infrastructure is distributed across the company's facilities located in France, Paris, and Canada. In Europe and North America, they serve around 100,000 websites by utilizing their state of the art technology which includes Anycast DNS as well as Anti-DDOS protection in case of redundancy.
Their infrastructures situated all across the globe are completely owned by PlanetHoster. The company has obtained accreditation with ICANN along with some other accreditations, such as CIRA, Switch, AFNIC, Eurid, and Dnslu.
The head office of the company is located in Laval (greater Montreal), Quebec, Canada. The company was founded in the year 2007 and they are responsible for providing full managerial support to their operations. Due to the accreditations obtained by the company, they have become a famous domain name registrar.
They specialize in turnkey solutions. Their team consists of the experienced individual who is professionals in the domain of web hosting and committed to providing high-quality services to their clients.
PlanetHoster Reviews on Hosting Plans and Services
In the case of any dispute with respect to the domain name, they help in making direct contact with respective authorities. By utilizing their state of art facilities, the company serves various types of customers and they provide in-house facilities.
The technical support service is offered by experienced as well as qualified technicians of the company. Therefore, quality service is ensured right from start till the end. This has been acknowledged in several PlanetHoster web hosting reviews.
Despite the fact that the lists are quite simple,  PlanetHoster Hosting features look pretty good. Advanced PlanetHoster web hosting packages offered by the company to advanced webmasters are also pretty affordable. You do not have to go through other PlanetHoster reviews for any other information. Read this PlanetHoster hosting review for the detailed description of their services.
You can select the version based on your preference: PHP, NodeJS, Python, and Ruby
Dynamic resources (CPU, disk I/O and RAM) that evolve with the needs of your business
The SSD Disk space is unlimited
Bandwidth is unlimited
Free SSL certificate provided by Let's Encrypt
Intelligent server environment which is capable of optimizing the site depending on CMS platform (WordPress, Prestashop, Drupal, and Joomla) or the platform of your choice
Free 24/7 support along with a professional as well as a dedicated support team. The team is trained in web hosting and will ensure high-quality services

PlanetHoster Reviews on VPS Hosting
With the help of the VPS solution provided by PlanetHoster, you are fully supplied with the power which is ready to be harnessed by you. The infrastructure of the company is Pure SSD RAID10 (100%). Therefore, you can obtain high-quality infrastructure at a very low cost by opting for PlanetHoster VPS services.
PlanetHoster Email Hosting
You can easily obtain email functionality at a very low cost with the Premium email account provided by PlanetHoster. This reinforces your brand and leads to the enhancement of your image in the professional world.
PlanetHoster Domain
The entire process is completely automated in PlanetHoster Domain services. You can immediately obtain the domain name and be online in just a few minutes. You can obtain your very own domain name for just a few euros per year.
You will also enjoy several tools which are absolutely free of any cost. You can even edit your WHOIS details and manage your DNS with the help of the control panel offered by the company. Furthermore, free 24/7 support is provided by the company.
The PlanetHoster shared hosting package begins with a disk space of 60 gigs along with unlimited domains and bandwidth. Solid state drives are offered by the company in case of VPS solutions. Even options for multiple CPU cores as well as unlimited bandwidth are available. The dedicated servers of the company provide you with 48 gigs of RAM along with 8 cores.  They offer 2 SAS drives and 2 SSD's drives.
PlanetHoster Reviews on WordPress Hosting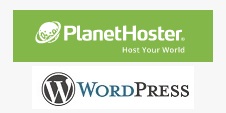 The World Platform service offered by the company covers WordPress detection in a certain environment. Optimization happens automatically when WordPress is detected by the platform.
PlanetHoster Reviews on Support and Customer Service
PlanetHoster support is considered to be reliable by most clients. The technical support provided by the company is extremely good. Contact information for help along with live chat options is offered by the company.
PlanetHoster customer service team works diligently to manage all the queries of the clients. The fundamental priority of PlanetHoster is providing full support to all clients. Therefore, 24/7 free support is provided by the company through live chat as well as email.
PlanetHoster contact details have been furnished on the site for the convenience of the clients. PlanetHoster help is something you would be happy about while availing services from the company.
PlanetHoster Reviews on Uptime and Server Status
Although no uptime guarantee is offered by the company, the hardware provided by them is extremely high-end.  Solid state drives are offered for a majority of their solutions, which contributes to the reliability of their sites. PlanetHoster uptime statistics is not something you need to worry about.
State-of-the-art facilities are available at the data centers of the company and they have several built-in layers of redundancy in order to avoid down time. This eliminates PlanetHoster down time issues. Hardly any complaints are available with respect to the downtime. PlanetHoster speed and PlanetHoster status details can be checked from the website.
Good and Bad of PlanetHoster
Good
The options are quite easy to understand
The servers are quite powerful
Customer support is available 24/7
Quality hosting services
Bad
The package options are quite limited
No guarantee for uptime
Summary of PlanetHoster
Choosing PlanetHoster is a very good option to avail quality hosting services. The support offered by the company is extremely good and has now built a very good reputation in the domain of web hosting. Your services are activated upon your completion and payment of the order, and you need not wait for a whole day for account activation.
The company will send an email along with your account's activation link. If you are unhappy with the plan, you can get the complete refund within a week of your purchase of the World plan.
Compare PlanetHoster With Our Top Ranked Web Hosts!
SiteGround vs HostGator vs PlanetHoster

SiteGround

HostGator

PlanetHoster
Rating

Rated 4.5 stars

Rated 4.5 stars

Rated 4.5 stars

Price

$3.95/month

$3.95/month

€5.99/month

Criteria