Editor Rating

Rated 4 stars

Excellent
---
Reviewed by:

Published on:

Last modified:
---
DISCLOSURE: This post may contain affiliate links, meaning when you click the links and make a purchase, we receive a commission.
Our Top Ranked #1 Web Host

Ideal for WordPress, Joomla, Drupal and eCommerce
What is Pressidium Hosting?
Pressidium Web Hosting is unlike any other hosting service provider in that it is geared towards offering premium services for WordPress. Rather than growing out of a business perspective, Pressidium Hosting comprises engineers and developers who were employed in their respective industries until they decided to come together and create a hosting services company.
Because service and functionality are focused exclusively on WordPress, Pressidium can offer a much higher quality of service than its competitors who must diversify their resources on a variety of different avenues. With servers in every major geographic region, including Southeast Asia and Oceania, it is clear that Pressidium has its eyes on the global market and will offer competitive service to customers from all over the world.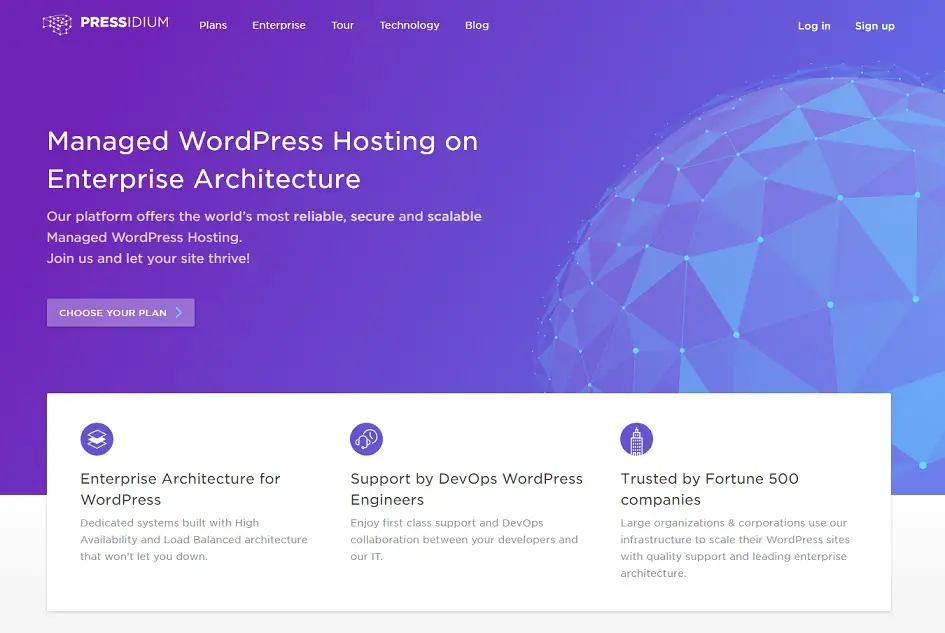 Details
 
Founded
1997
Server Location

Hawthorne, California
Irvine
Denver
Colorado
Chicago
Illinois
Ashburn
Virginia
Las Vegas
Los Angeles

Services

Web Hosting
VPS Hosting
Cloud Hosting
Reseller Hosting
Managed Shared Hosting
Linux Hosting
Dedicated Server Hosting
Email Hosting
Window Hosting
Website & Marketing
Domain Hosting
e-Commerce Hosting

Unlimited Website
Yes, For Basic, Windows and Business Enterprise Plan
Unlimited Storage and Bandwidth
Available For Basic Hosting, Window Hosting and Business Enterprise Hosting
Domain Hosting
Yes
Linux Hosting
Yes
Windows Hosting
Yes
WordPress
Optimized
Joomla
Optimized
Drupal
Optimized
Magento
Optimized
PHP Hosting
Optimized
e-Commerce Hosting
Optimized
Email Hosting
Optimized
SSL Support

Free SSL is Included in Business Plan
Other Plans are Paid Starting at $109.00/yr

Dedicated IP

Yes, Free In Business Plan
Other Plans Starting At $4.95 per month

Free Site Migration
No
Free Domain
Yes For One Year
Domain Privacy Protected
Yes, $7.95 Per Domain Per Year.
Money Back Guarantee
30 Days
24/7 Support

Submit Ticket
Live Chat
Telephone

Control Panel

Window Hosting (Plesk)
Linux Hosting (Customized LunarPanel)
cPanel Cost $2/month

One-Click Installation
Yes, Softaculous
Website Builder
Weebly Website Builder Starting at $8/mo
Automated Backup

Available Starting at $1.50/mo
R1Soft Managed Backups

Content Delivery Network (CDN)
CloudFlare
Security Features

SecureLive addon Service Cost is $9.95/mo
Anti-Spam Protection
Real Time Hacker Prevention
DDos Protection

Payment Methods

Check
Money Order
PayPal
AliPay
Credit Card

Endurance International Group Network (EIG)
No
Social Profile
Pressidium Reviews on Hosting Plans
Pressidium offers four standard tiered plans that users can choose from depending on their usage and requirements. Eschewing the practices of offering shared hosting plans, it offers Personal, Professional, Business, and Business Plus plans.
Support for integrated SSL and CDN are included by default, and the company offers complete SSD hosting, thereby increasing storage performance, reducing time delays and loading times. One weird idiosyncrasy about Pressidium is that the company does not restrict bandwidth usage and instead charges by the number of views.
The Personal plan costs USD 42 per month (Billed Annually), which gets you 3 WordPress installs and 30 thousand views with unlimited bandwidth. You also get 10 GB of storage, all on the company's proprietary Pressidium Pinnacle Platform architecture.
The Professional plan costs USD 125 per month, which includes 10 WordPress installs and 100 thousand views. 20 GB of storage is offered, and the plan supports both Standalone and Multisite implementations.
The Business plan costs USD 250 per month, includes 25 WordPress installs and 500 thousand page views. 30 GB of storage is offered. The most useful feature in this plan is that in addition to the best customer service and support, you are also assigned a dedicated account manager for all your service and support needs.
The Business Plus plan costs USD 500 per month and it includes 50 WordPress installs, 1 million page views, and 40 GB storage. Moreover, the dedicated account manager is also offered on this plan.
The pricing table below shows the price for those who billed annually. It costs more if you choose to pay every month.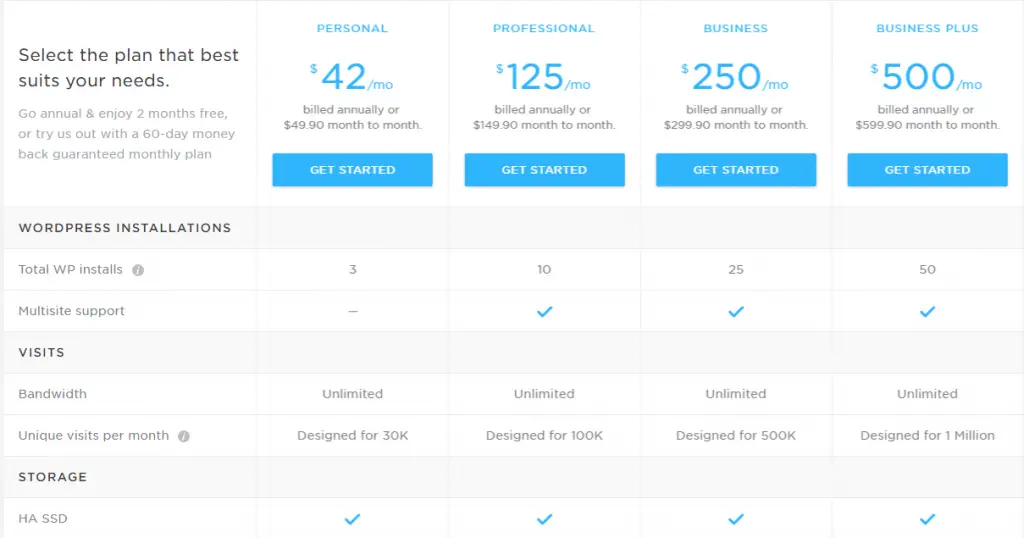 Being unable to scale your offerings to the needs of your customers can very well be the death knell for a services company. That is why Pressidium offers custom enterprise plans where you can negotiate the number of views or installs according to your needs.
Enterprise plans also come with dedicated on-call technical support as well as dedicated customer service for the best level of services.
While these plans might be sufficient for the vast majority of users, Pressidium does not provide domain registration service. You will need to register your domain with third party like GoDaddy and point it to the Pressidium server.
Pressidium Reviews on WordPress Hosting
According to the Pressidium website:
"Pressidium's vision is simple. It's to design and perfect an industry-leading managed hosting service for our favourite platform – WordPress. With unparalleled premium Enterprise Architecture Web Hosting, our systems provide lightning-fast, robust, scalable and secure hosting to anyone who owns or manages a professional WordPress site."
This description is quite accurate and reflects the nature and quality of services the company provides. Because Pressidium focuses exclusively on WordPress sites, it is able to tailor its services much better to the platform. Its technical support, as well as customer service, are able to perform much better.
They only focus on one platform to maintain and support. The company also offers "Real DevOps Support", which allows Pressidium staff and the customer to work together in a better way than before. Besides, Pressidium offers enterprise WordPress solution with an optimized architecture. You might need to request a quote if you are interested in this service.
Since other hosting plans of Pressidium do not support unlimited websites, this enterprise plan is the only hosting plan they offer that support unlimited websites. If you have many websites and want to host them with Pressidium, you need to contact them and ask for their approval.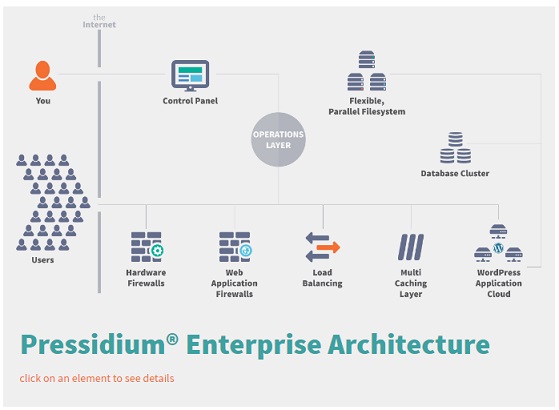 Pressidium Reviews on Support and Customer Service
24×7 support is available to customers across all plans via an automated email ticketing system. Professional and Business plans extend this to include telephone support as well as integrated support for CDN and SSL.
Customer service is very transparent.
One of the core advantages of choosing Pressidium; the company knows it caters to experienced WordPress veterans and treats them accordingly. However, my experience with their customer support shown that you might expect a certain delay from their customer support if you are not their customer.
Whenever you need any help on any of the company's products, you need only contact the support staff via email or telephone. For your information, another web hosting company that serving excellent customer service is SiteGround.
#Trial 1 Slow But Efficient Email Support
I had a few queries regarding the services of Pressidium and I decided to contact their customer services support. Pressidium claims to provide 24/7 customer support through telephone and email ticketing system. I opted for their ticketing system and initiated my ticket on 1st July at 12:31 PM. After waiting for their response for 39:00 hours, I received their reply on 3rd July.
I am not happy with their delayed response however; I am satisfied with the email reply as their customer support personnel answered each and every question which I asked from them. I rated their customer support service 8 out of 10.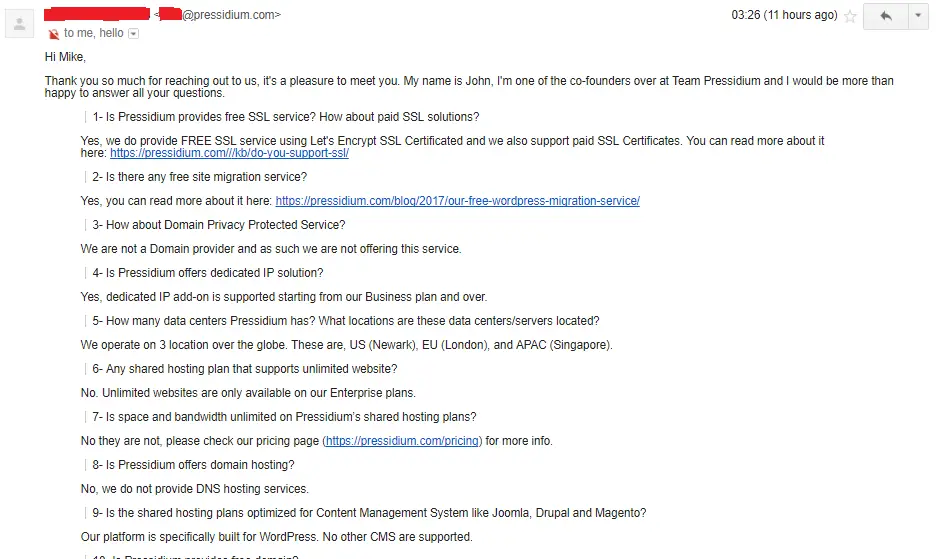 My full conversation with Pressidium's customer support is given below:
Hi Mike,
Thank you so much for reaching out to us; it's a pleasure to meet you. My name is John, I'm one of the co-founders over at Team Pressidium and I would be more than happy to answer all your questions.
Q: Is Pressidium provides free SSL service? How about paid SSL solutions?
A: Yes, we do provide FREE SSL service using Let's Encrypt SSL Certificated and we also support paid SSL Certificates. You can read more about it here: https://pressidium.com///kb/do-you-support-ssl/
Q: Is there any free site migration service?
A: Yes, you can read more about it here: https://pressidium.com/blog/2017/our-free-wordpress-migration-service/
Q: How about Domain Privacy Protected Service?
A: We are not a Domain provider and as such we are not offering this service.
Q: Is Pressidium offers dedicated IP solution?
A: Yes, dedicated IP add-on is supported starting from our Business plan and over.
Q: How many data centers Pressidium has? What locations are these data centers/servers located?
A: We operate on 3 location over the globe. These are, US (Newark), EU (London), and APAC (Singapore). 
Q: Any shared hosting plan that supports unlimited website?
A: No. Unlimited websites are only available on our Enterprise plans.
Q: Is space and bandwidth unlimited on Pressidium's shared hosting plans?
A: No they are not, please check our pricing page (https://pressidium.com/pricing) for more info.
Q: Is Pressidium offers domain hosting?
A: No, we do not provide DNS hosting services.
Q: Is the shared hosting plans optimized for Content Management System like Joomla, Drupal and Magento?
A: Our platform is specifically built for WordPress. No other CMSs are supported. 
Q: Is Pressidium supports Linux Hosting? If yes, then through which control panel?
A: We provide boutique Managed WordPress hosting services through our custom-built platform.
Q: Is Pressidium supports Windows Hosting? If yes, then through which control panel?
A: We provide boutique Managed WordPress hosting services through our custom-built platform.
Q: What platform is Pressidium using to support One-Click installation? Softaculous?
A: We provide boutique Managed WordPress hosting services through our custom-built platform.
Q: Any Website Builder tool offered?
A: Sure. WordPress. 
Q: Does Pressidium offer a Content Delivery Network (CDN)?
A: Yes.
Q: Is Pressidium part of Endurance International Group (EIG)? 
A: No.
Mike, if you have any more questions or need any further information at all, please feel free to contact me anytime, as we are always here to help!
Customer Support (Pressidium)
Pressidium Reviews on Uptime and Server Status
Uptime Stats
Pressidium offers some pretty impressive service uptime records. Its servers show stable status for a long time with barely any down time, and no major outages have happened. Because the company has data centers in various locations around the globe, you can choose where you want your site stored so as to attain minimum latency.
Overall server performance is impeccable since SSDs are used across the board. There are no storage bottlenecks anywhere. The company also offers unlimited bandwidth (while billing based on the number of views), thereby leading to some very good performance scores.
What is the more, the company also offers a service level agreement, guaranteeing service uptime to be always more than 99.95%. For every hour of service interruption, the company rebates 5% of the monthly rate to the customer in the form of SLA credits, subject to an upper bound of the monthly rate paid by the client.

Uptime Stats – Target: 99.95%
June 2017 – 99.95%
May 2017 – 100%
April 2017 – 100%
March 2017 – 100%
February 2017 – 100%
January 2017 – 99.96%
December 2016 – 100%
November 2016 – 100%
October 2016 – 99.92%
September 2016 – 99.95%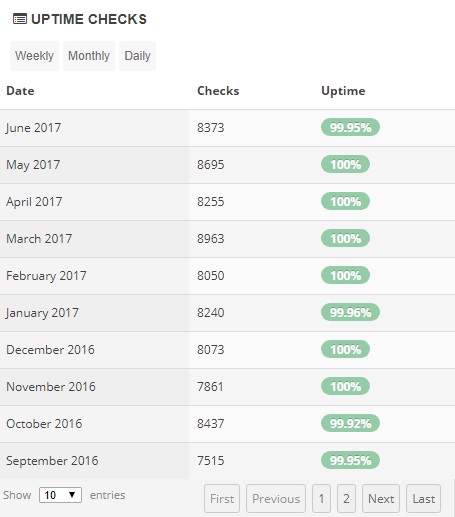 Pressidium guarantees to provide minimum 99.95% uptime to all of their clients no matter which hosting plan is used by them. The company is very well aware with the fact that uptime is very crucial in building good relationships with customers. I have collected their uptime data from September 2016 to June 2017. I got tremendous results as Pressidium succeeded in providing the guaranteed uptime.
The uptime stats of Pressidium was 100% in 6 out of 10 months and every time it has also attained the industry standard of 99.90% in all 10 months. I will definitely recommend this company because of its outstanding uptime performance.
Server Response Test Speed
Same like the excellent uptime performance, Pressidium also guarantees to provide speedy server response time. Their servers are located at different locations therefore I decided to test their server speed from eight diverse locations. I have shared their server response speed and it can be observed that Pressidium has fulfilled its guarantee.
The key reason behind the superb server response speed of Pressidium is the implication of SSDs and CDN. Rating of their response times comes out to be A. Overall their performance is impressive that's why I am recommending this hosting company.


Good and Bad of Pressidium
Good
Extremely high server performance
Service level agreement for over 99.95% availability
Custom built platform "Pinnacle" for advanced WordPress features
Value for money plans
Dedicated for WordPress hosting
Free Let's Encrypt SSL
Bad
Billing per view is not ideal
No email hosting offered
No domain registration service
Only support WordPress hosting, other types of hosting not supported
Delay in customer support
Summary of Pressidium
Pressidium sees the need for the WordPress service and directly addresses it. It targets advanced users who know what they want and are willing to pay for it. The company's services are well suited for large sites that attract large traffic and have good performance requirements.
While there are some little problems with the hosting other than WordPress, the company offers a surprisingly compelling WordPress hosting package at the end of the day. Pressidium is a good managed WordPress hosting service provider.
Compare Pressidium With Our Top Ranked Web Hosts!
SiteGround vs HostGator vs Pressidium

SiteGround

HostGator

Pressidium
Rating

Rated 4.5 stars

Rated 4.5 stars

Rated 4 stars

Price

$3.95/month

$3.95/month

$42/month

Criteria