Editor Rating

Rated 3.5 stars

Very Good
---
Reviewed by:

Published on:

Last modified:
---
DISCLOSURE: This post may contain affiliate links, meaning when you click the links and make a purchase, we receive a commission.
Our Top Ranked #1 Web Host

Ideal for WordPress, Joomla, Drupal and eCommerce
What is RackSpace Hosting?
Cloud computing is the newest chapter in internet hosting and RackSpace has become a leader in this field. RackSpace was founded back in 1998. In this RackSpace reviews, you'll see what RackSpace's services are in detail, allowing you to decide if this is the company you want to host your site. Services on RackSpace do not only include cloud sites and cloud servers, but also regular dedicated servers, web content management and much more.
RackSpace Reviews on Hosting Plans and Domain Service
RackSpace offers dedicated hosting, cloud hosting and reseller hosting solution. Have a look at the details below.
RackSpace Reviews on Dedicated Hosting Plan
Here's the one major thing you need to know about RackSpace's hosting plans: it is not for someone looking for an easy website host. They don't lay out the cost right in front of you like many hosts do, for example, HostGator or Bluehost. You use the site's dynamic cost estimators, based on what you feel you might need. The site's calculator will add it up and shows it to you onscreen or sends it via email or printable white paper. Dedicated hosting solutions include dedicated servers, VMWare, databases, storage and networking. They do offer fixed price for some of their dedicated hosting plan. The most essential 12G Single Processor Rapid Deploy Server will cost you $469 per month, which is quite expensive for many people.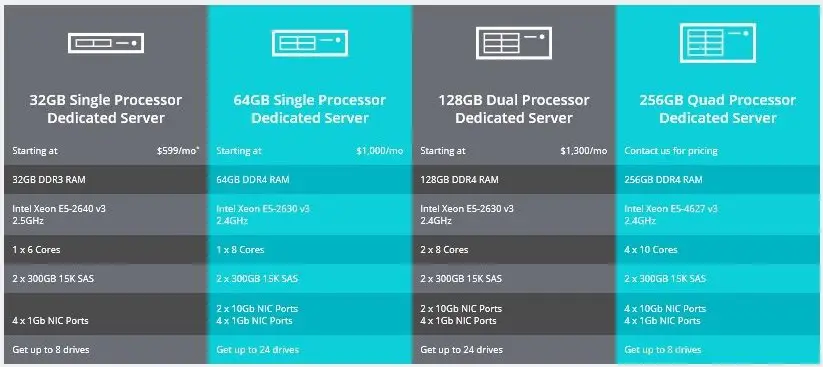 RackSpace Reviews on Cloud Hosting
Cloud hosting is RackSpace's specialty, so their features in this arena are extensive. They range from load balancers to Cloud DNS, cloud queues, cloud orchestration and everything in between. On the main cloud page, you can estimate how much you're going to spend every month on the service. Virtual Cloud Server hosting features include hybridization with public and private clouds, scalability on demand and many flexible options that are essential "custom-fit" to your specific needs.

RackSpace on Reseller Hosting Plan
As if all this weren't enough, RackSpace's reseller plan echoes the cloud hosting plan on the main website. It's not just any reseller plan, though. How it works is that you can incorporate and leverage RackSpace's worldwide brand and reputation to gain new opportunities for yourself. This is a bit of a step up from the other reseller opportunities out there. It's slightly more complicated since you're not just reselling the same old server space. It's cloud hosting, which can make it seem a bit more "big-time" and intimidating than the general reseller plans you've likely seen around the web if you've done any research before.
Moreover, RackSpace has "tiered" selling levels: Associate, Preferred, and Premier. Naturally, the higher you go, the bigger the discount and more support you get in the form of marketing plus sales to support whatever growing needs you have. This is definitely not reseller hosting for the inexperienced.
RackSpace Reviews on WordPress Hosting
If you come to RackSpace looking for WordPress hosting, do not expect their plans to be cheap. RackSpace has become king of cloud computing, but it is the one site where hosting solutions are geared towards larger enterprises with equally large budgets. Both cloud site and cloud-server WordPress solutions are optimized for the content management system and all its plugins, as well as making sure that there is zero downtime. There is also full support included for each of these plans to help you work through any issues.
These are plans for the serious WordPress developer and e-commerce site owner. If either of these solutions, priced at $128/month for cloud server hosting and $150/month for cloud site hosting are in your budget, then they are worth every penny.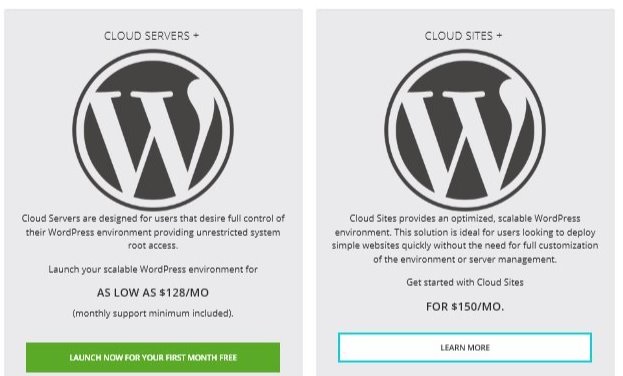 RackSpace Reviews on Email Hosting
When it comes to email hosting, RackSpace does it very well. RackSpace email hosting geared towards professionals and businesses, so it doesn't have the three well-known webmail clients: Roundcube, Horde or Squirrelmail. However, it has the IMAP and POP3 technology available for accessing other email accounts, retrieving and storing the emails.
The main RackSpace email hosting and  productivity services include:
RackSpace email
Outlook Exchange
Office 365
Google Apps For Work
These services charge each user per month and are ideal for whatever your business needs. You can also engage in email resell, something that's not featured too much on other hosting providers.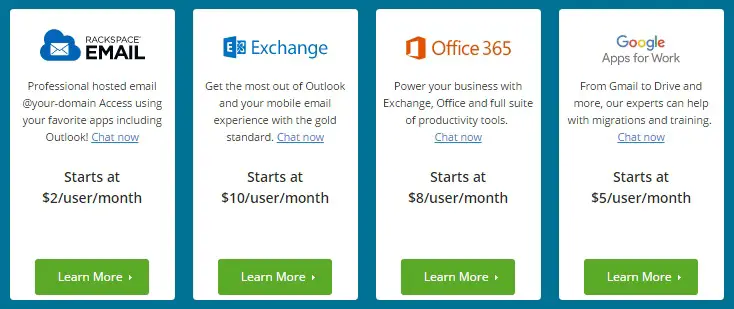 RackSpace Reviews on Support and Customer Service
RackSpace customer service is reputedly "fanatical" about their level of customer service. They have 24/7 support via phone, chat, and tickets as well as a large knowledge base that can assist with more minor "FAQ-like" questions. For sales help, you can call one number and for the support you call another. This being said, what people have been saying lately about RackSpace's customer support is mixed. Some people have had issues with them and some have not. So to call it bad would be unfair, but to call it good would be stretching the truth. It's somewhere in the middle, despite the high cost of doing business with them. You could say, though, that this could be true of just about any hosting service. Things do go wrong sometimes. On the other hand, if you're paying a lot of money for a server plan and you've got a person on the phone or on live chat that's not helping matters at all for whatever reason. It's natural enough to wonder if their claim of being "fanatical" about customer service is a bit of a stretch.
RackSpace Reviews on Uptime Performance and Server Status
While their customer service may be debatable, their uptime and server status is not. They truly do take uptime seriously to the point of taking a 5% credit off your monthly fee per 30 minutes of downtime and all the way to 100% of the fee for the server that's down. That is not something any other hosting company does. There are a lot of strong cloud-hosting competitors out there, SiteGround being one of them. RackSpace also provides a status page that you can bookmark and check back on as often as you please.
Good and Bad of RackSpace
Here are some of the major good and bad of RackSpace:
Good
Its website is easily navigable and lots of buttons to click for chatting live.
Uptime and status are consistently excellent across the board. If there is downtime, you get a discount off the next month's payment, clear up to 100% of the fee for every 30 minutes of downtime. That is how committed they are to making sure customers' sites stay online, and no one loses money.
RackSpace has specific hosting for WordPress.
Customer service is available 24/7/365 including chat, telephone and support ticket.
Has a professionally tiered reseller hosting program. It's for people who want to create a genuinely significant profit from a secondary venture.
Bad
This is not hosting for the everyone. If you go looking for hosting that fits a beginning business budget—as in an "I'm-starting-a-dogwalking-business" budget, then RackSpace is not for you.
Even the WordPress plans are pricey here when every other host out there is more reasonable with their business package plans.
Customer service is rather mixed. Yes, they may have 24/7 service, but quite a few people have cited slow responses, even on chat, on the phone, etc.
Email hosting here is not for those who want Horde, Roundcube or Squirrelmail, which are essentially free on other sites (apart from paying for the domain and hosting packages).
Summary of RackSpace
The ultimate story about this RackSpace reviews:
Good for the mid-to-large business owner with a decent-sized budget.
Not good for the "everyday Joe" who merely wants a simple WordPress blog, online photo album or even splash page for his fledgling affiliate income.
Compare RackSpace With Our Top Ranked Web Hosts!
RackSpace vs SiteGround vs HostGator

HostGator

SiteGround

RackSpace
Rating

Rated 4.5 stars

Rated 4.5 stars

Rated 3.5 stars

Price

$3.95/month

$3.95/month

Pay Per Use

Criteria