Editor Rating

Rated 4 stars

Excellent
---
Reviewed by:

Published on:

Last modified:
---
DISCLOSURE: This post may contain affiliate links, meaning when you click the links and make a purchase, we receive a commission.
Our Top Ranked #1 Web Host

Ideal for WordPress, Joomla, Drupal and eCommerce
What is RoseHosting?
One of the primary considerations when starting a website is the stability of your web host. Many so-called experts will be quick to suggest you go with the big-name web host. However, if you fail to do your research to find out which web host suits your need the most, you may end up losing money, time and most importantly customers. In this article, we will tell you important things you need to know about RoseHosting services to help you make a better decision when choosing a web host. RoseHosting was founded in 2001. It is a division of Rose Web Services LLC, a privately owned company based in St. Louis, Missouri. This company has a vision of becoming "a leading provider of business and personal web hosting solution through focusing on quality equipment, stability and customer support". RoseHosting claims they set themselves apart from their competition and offer unique, user-friendly solutions for both personal and business use. We will find out if this is true in this RoseHosting reviews.
RoseHosting General Information
Full Name: Rose Web Services LLC
Website: rosehosting.com
Address: 2977 Hwy K, STE 252, Ofallon, Missouri 63368
Country: United States
Email: [email protected]
Company name typos: rosehost, rosehosted
RoseHosting Reviews on Hosting Plans and Features
RoseHosting offers various web hosting options depending on your needs and budgets. They offer shared hosting, VPS hosting and dedicated hosting.  A look at RoseHosting "Shared Hosting Plan" shows they are Linux plans. You will notice that RoseHosting unlike so many other websites, did not just list all the resources as "unlimited," because the reality remains there is always a limit. However, most normal hosting account won't come close to utilizing the whole space, so they list it as unlimited and reveal the actual limit in a lengthy term and conditions. RoseHosting did not follow this false practice, which indicates that they may be transparent in their dealings.
RoseHosting has three shared hosting plans which offer SSD storage that ranges from 2 GB to 20 GB. One unique thing about RoseHosting is that they are transparent by revealing what the limits are upfront, thereby enabling them to avoid over-selling and as well maintain 99.99% uptime.  RoseHosting provides free setup for each plan. They also offer their client the choice of either using the cPanel or DirectAdmin control panel, the RVSiteBuilder and Softaculous script installer.
RoseHosting Reviews on VPS Hosting
VPS Hosting: RoseHosting offers SSD powered full-managed VPS hosting that is relatively cheap compared to other web hosts. Their plans start from $19.95 to $79.95 paid monthly for low-end plans while high-end plans start from $119.95/month to 319.95/month depending on your need.


RoseHosting Reviews on SSD VPS Hosting
SSD VPS Hosting: RoseHosting SSD VPS hosting starts from $25 and comes with a RAM of 512 MB, 10 GB SSD Disk Space, and 1 CPU cores. There are other attractive features you can add to this offer although you have to pay more to get it.
Features include:
High-performance SSD drives
Full root access
Dedicated IP and own DNS servers
VPS control panel and unlimited websites support
Free weekly backups and free website/data migration
24×7 US-based support
100% uptime guarantee

RoseHosting Reviews on Dedicated Hosting Plan
Dedicated Hosting: RoseHosting gives the option to either choose from one of their high-end Linux dedicated server hosting plans, or you can inform them to build a custom server that suits your specification. The price for their dedicated server starts from $299 to $449 per month.
Features include:
Multiple Linux distros
Dedicated IP and Free Migration
24×7 US-based support
DirectAdmin control panel
High-end features like high RAM memory and high data transfer rate

RoseHosting Reviews on WordPress Hosting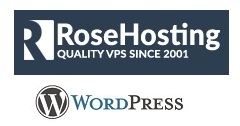 RoseHosting has been in the business of WordPress hosting for over 15 years. Currently, RoseHosting is a preferred hosting for thousands of WordPress users because of their virtual servers which are easy to manage. They also offer top-notch customer service for all their WordPress hosting packages. One unique thing about RoseHosting WordPress Hosting is that all their hosting are done on SSD servers making your hosting a bit on the high-side. You will receive high speed and high performance optimized platform in return. RoseHosting has 4 WordPress hosting plans for low-end users and another 4 WordPress plans for high-end users. The plan for low-end users starts with a plan called "SSD 1 VPS" which cost $19 per month and comes with 2 CUP cores, 1 GB RAM, 30 GB SSD storage, TB Data Transfer, 1 IP Address, fully managed 24×7 support, free website migration and free full weekly backup. Other plans cost higher but come with lots of perks and features that made them worth the price.
RoseHosting Reviews on Support and Customer Service
When researching RoseHosting, we did find many complaints against their customer service. RoseHosting claim they provide 24/7 customer service. It will only take few minutes to receive a direct response when you submit a support ticket or email them depending on their current queue and the severity of the problem. Note that RoseHosting does not offer support in developing web sites. If you order a self-managed VPS then their support is only limited to reboots, setting up firewall rules, OS reinstalls, setting up domains on their DNS server, control panel and other requests that do not require more than 15 minutes to complete. If you want to get full support you need to order for their fully-managed VPS, it comes with full support except third-party software installation, configuration, and maintenance. RoseHosting also offers full knowledgebase service where you can find answers to the most technical problem that you might be facing with their service. Besides RoseHosting, another web hosting service provider that having excellent customer support is SiteGround.
You can reach RoseHosting through the following contact:
RoseHosting Reviews on Uptime Performance and Server Status
RoseHosting offers an uptime assurance so that you won't need to worry about your site suffering from any recovery time. They reboot their physical servers on rare occasions only when necessary. For instance, if they are doing the kernel upgrade, a hardware upgrade or replacement. The downtime only happens a couple of times per year depending on the situation. The last year uptime performance was very stable. Overall, RoseHosting has been able to guarantee and maintain an average 99.9% uptime performance since 2003.
Good and Bad of RoseHosting
Good
100% free weekly back-ups
High uptime performance
Fully Managed
Free Website Migration
24x7x365 EPIC Support
100% Uptime Guarantee
7 Days Money-Back Guarantee
Free DirectAdmin Control Panel
Free Weekly Backup
Over 15 Years In The Industry
Bad
Some plans are a bit pricey
Summary and Conclusion: Is RoseHosting worth the money?
RoseHosting is definitely worth the money. One unique we love about them is that they are completely transparent with all their plans, what you see is what you get. Some companies will mask the areas they lack with technical jargons, but RoseHosting reveals everything as it is. Along with their fantastic prices, RoseHosting also offers great assistance and several functions with the entire web hosting service program. We would recommend you to try one of their hosting plans if you are looking for good web hosting service.
Compare RoseHosting With Our Top Ranked Web Hosts!
SiteGround vs HostGator vs RoseHosting

HostGator

SiteGround

RoseHosting
Rating

Rated 4.5 stars

Rated 4.5 stars

Rated 4 stars

Price

$3.95/month

$3.95/month

$4.95/month

Criteria