Editor Rating

Rated 4 stars

Excellent
---
Reviewed by:

Published on:

Last modified:
---
DISCLOSURE: This post may contain affiliate links, meaning when you click the links and make a purchase, we receive a commission.
Our Top Ranked #1 Web Host

Ideal for WordPress, Joomla, Drupal and eCommerce
What is ServerMania Hosting?
ServerMania is a server provider that offers the possibility for a user to create and manage a hosting environment. ServerMania is not really a "hosting" provider, they are more on server provider. To know more on this part, feel free to read my conversation with their support at the end of this post. However, to avoid confusion, I would still use the term "hosting" in this ServerMania review.
The company does not offer any options on shared hosting. On the other hand, they offer very good VPS hosting solution as well as cloud and dedicated servers. The servers of the company are located in New York, Georgia, Illinois, and California. This is to make sure that they can meet their customers' needs throughout North America.
ServerMania was founded in the year 2002. They are based in Canada (Toronto), and their servers are located in the US, as mentioned before. The company is extremely good at offering high-quality server which is stable at any given level. The services of the company are suitable for those who run a busy site.
The slogan of ServerMania is "Hosting Empowered" which in fact reflects the dedication of the company towards their clients' needs. The devotion of the company lies in equipping all of their clients with the resources in order to put their customers ahead of their competitions.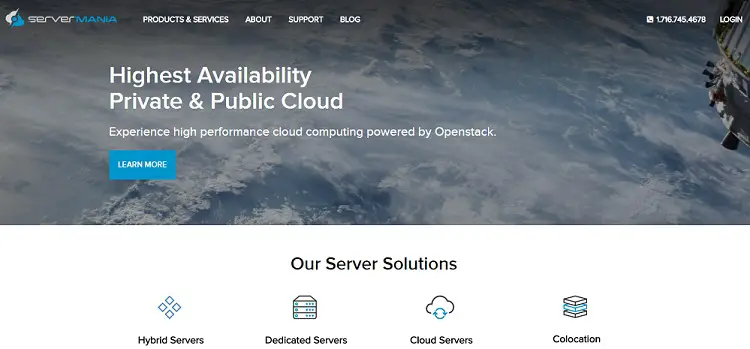 ServerMania Data Centers
The data centers of the company are located strategically in order to provide full coverage of services to their customers. The data centers of the company are located in Buffalo, New York; Atlanta, Georgia; Los Angeles, California, and Chicago, Illinois. All the four data centers are regularly serviced by the company's expert support team. Read this ServerMania hosting review for further information on the services offered by the company.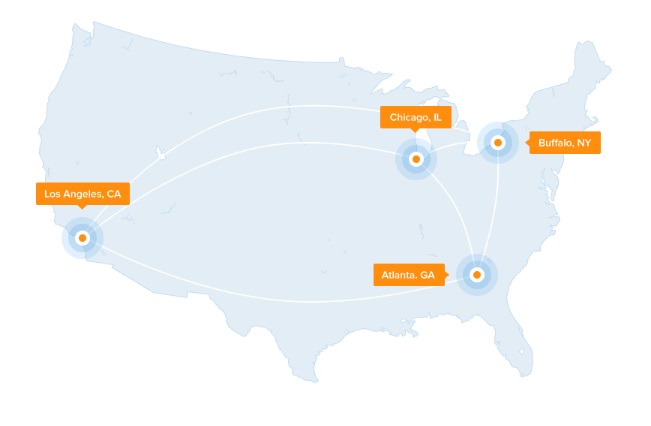 ServerMania Reviews on Hosting Plans and Services
ServerMania can provide you with a server irrespective of your needs. This makes ServerMania hosting services quite reliable. The infrastructure of the company is tailored to meet any requirement of an application irrespective of how intensive it is. The dynamic hosting product of the company is quite compatible with several special applications. Moreover, all the ServerMania packages offered by the company can be scaled easily so that the customers do not have to worry about the exhaustion of resources.
Their cloud, VPS as well as dedicated solutions can be rapidly deployed due to their extremely powerful surge platform. The ServerMania web hosting services are offered from their state-of-the-art data centers which are located at four different locations across the US. Most ServerMania reviews by the users imply that the services are good.
ServerMania Reviews on Hybrid Smart Server
The ServerMania Hybrid Smart Server can be deployed in order to avail remarkable ServerMania hybrid hosting services. This can be done with the aid of dedicated resources but you need to manage it by yourself. The price of single processor CPU plan starts at $29 per month.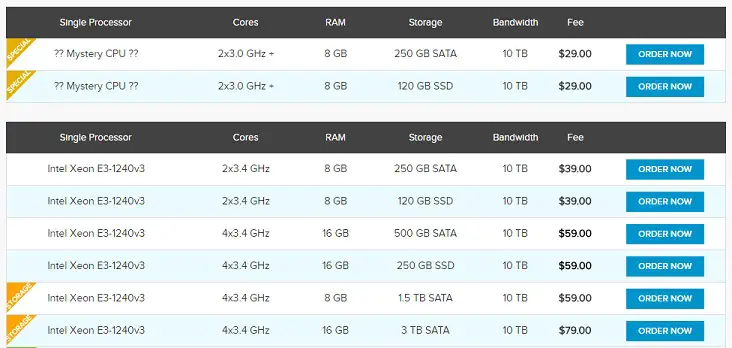 ServerMania Reviews on VPS Hosting
VPS Hosting is offered by ServerMania in order to host a website as well as a personal storage server. The systems of the company come standard with an RAID-configured disk along with a network port. ServerMania offers easy access to several features which is quite essential in case of high-end hosting. The VPS solutions offered by ServerMania are affordable.
Solid State Drives have been embedded in order to make them much more stable and faster. The entry level SSD Cached Linux VPS is available with 4GB RAM, raid storage of 150GB as well as with a bandwidth of 4TB. The SSD Linux VPS plan is available with 4GB RAM, 100GB storage along with a bandwidth of 4TB. Besides, ServerMania also offers Windows-based VPS solution. The SSD hosting starts at $10 per month.

ServerMania Reviews on Cloud Hosting
ServerMania offers scalable solutions with the help of their completely redundant cloud servers. The servers offer automatic backup of data and redundant power along with a scalability of up to 30 GB RAM. The ServerMania cloud hosting plan starts at $20 per month.

ServerMania Reviews on Dedicated Hosting
The dedicated servers of the company are quite affordable and powered by enterprise-grade hardware. They provide you with the ability to completely customize your add-ons, and they come standard with the DDoS Protection.
The dedicated servers offered by ServerMania can be deployed as well as configured as per your requirements. They are available at a bandwidth of up to 100TB for a month. The CPU ports are clocked up to 3.4 GHz. They are extremely fast and can easily handle a huge amount of traffic. ServerMania offers various RAM sizes depending on the package selected.
ServerMania Reviews on Support and Customer Support
The help offered by ServerMania is quite responsive. The ServerMania support team is located in North America and is comprised of highly certified and passionate experts. The entire ServerMania customer service team is dedicated to help your server running smoothly. ServerMania is known for having some of the quickest response times. They are also known as one of the best customer service providers in the industry. The responsiveness of the technical support team is quick. ServerMania contact details have been furnished on the site for the convenience of the users. And as you can guess, my personal experience with their support is good.
Trial#1 Excellent Live Chat Support from ServerMania
I contacted ServerMania support to understand more on the services provide. Through the conversation, the support staff has cleared my doubts. It only took 11.36 seconds for me to get entertained. This is amazing and I would say ServerMania support is good. Overall I was pleased with the quality of the support provided. Below is our full conversation:
Jose Velilla: Hello! If you have any questions about our products or require a custom solution, click here to chat with me. Be sure to ask about our bulk server discounts for large quantity orders!
Mike Lee: Hi, my name is Mike Lee and I have few questions about the ServerMania hosting services.
Jose Velilla: Sure, what would you like to know?
Mike Lee: I can see ServerMania offers Hybrid server, VPS, Cloud and dedicated hosting solution. However, I could not see any Shared hosting package available. Is ServerMania offers any shared hosting solution?
Jose Velilla: We do not. We are only a server provider. All of our servers are unmanaged. You are fully in charged of the management and setup for your server.
Mike Lee: How about control panel? What type of control panels being used in each hosting plan?
Jose Velilla: So each plan has the option of adding cPanel/WHM or you can SSH into the server. We do also include Free IPMI KVM Console on the dedicated servers.
Mike Lee: Just now you have mentioned "Setup your own server". What should I expect after purchasing the hosting server package?
Jose Velilla: We do not provide hosting. We give you a server where you can manage and create a hosting environment. After you purchase, we will send you the login details to the server so that you can set up and configure. Check out our Knowledgebase for some information too. I find it very helpful before buying sometimes.
Mike Lee: Okay, thanks for clarifying. That's mean ServerMania does not provide "hosting" for WordPress. Am I right?
Jose Velilla: Our servers can handle it. You would need to have knowledge on how to set it up. I do have multiple WordPress clients on our servers.
Mike Lee: Is the ServerMania server DDoS protected?
Jose Velilla: We include 1 Gbps – Enterprise DDoS Protection.
Mike Lee: In the case of email, how ServerMania handles email hosting?
Jose Velilla: Massive or marketing email?
Mike Lee: Marketing email and personal email.
Jose Velilla: How may emails would you say per hour?
Mike Lee: It is not for massive usage, just for normal usage. Around 100 emails per day.
Jose Velilla: That should be fine.
Mike Lee: How long does it take for the server to be ready?
Jose Velilla: What type of server are you looking to obtain? I will check the inventory.
Mike Lee: How about the VPS hosting? $10 per month with SSD-cached OpenVZ plan.
Jose Velilla: That should be ready in one hour. If you click on the order now, you will have the opportunity of configuring the server or reviewing the configuration before proceeding.
Mike Lee: Is ServerMania provides any domain registration service?
Jose Velilla: No. only the server. You can point the domain to the IP and we will provide you with the server from your registrar.
Mike Lee: Okay, that's great. Thanks for the support!
Jose Velilla: My pleasure. Let me know once you are ready to order and I will prioritize your deployment.


ServerMania Reviews on Uptime Performance and Server Status
The servers offered by the ServerMania are stable as they are built with highly redundant as well as custom-made networking hardware. ServerMania offers 100% uptime Service Level Agreement (SLA). ServerMania Uptime guarantee is something the company strives hard to live up to. Based on this agreement, clients can claim compensations in case an unlikely event contributes to the ServerMania downtime. The site of every customer gets hosted in a state-of-the-art data center which has complete redundant network connections as well as power supplies.
Good and Bad of ServerMania
Good
Wide range of options
Nice Features
Reliable services
24/7 customer support
Bad
No Shared Hosting
No domain registration service provided
Servers are unmanaged
Lack of Dedicated WordPress services
Summary of ServerMania
One need to manage their own server and it is users' responsibility to take care of the server. All the clients of ServerMania are equipped with a state-of-the-art platform which has been designed to provide easy management of the services. A user can easily analyze, resell, manage and deploy each and every server using their mobile devices or desktop computers. The services offered by the company are available at reasonable prices.
Compare ServerMania With Our Top Ranked Web Hosts!
SiteGround vs HostGator vs ServerMania

SiteGround

HostGator

ServerMania
Rating

Rated 4.5 stars

Rated 4.5 stars

Rated 4 stars

Price

$3.95/month

$3.95/month

$10/month

Criteria