Editor Rating

Rated 4 stars

Excellent
---
Reviewed by:

Published on:

Last modified:
---
What is SingleHop Hosting?
SingleHop provides serious web hosting services for users with serious needs. The company offer dedicated hosting solutions for resource hungry applications and has been in business since 2006. SingleHop provides reliable and robust hosting services to some of the biggest enterprises in the United States. It markets itself as providing "automated infrastructure as a service on demand."
With high-performance hardware operating 24 hours a day, it provides unlimited access to clients whenever needed around the clock. The company has distinguished itself by providing dedicated hosting solutions at affordable prices. Can it compete with the best in business, though? Read on for the full SingleHop review and find out.
SingleHop Reviews on Hosting Plans and Services
SingleHop is mainly focusing on providing the dedicated hosting solution. The services they provide include managed dedicated hosting, colocation, and managed servers.
SingleHop Reviews on Dedicated Hosting
SingleHop provides high-performance resources to demanding users with its dedicated hosting plans. Its preconfigured plans start with a single quad-core CPU with 8GB to 16 GB of high-performance RAM, 2 x 500 GB of storage and 10 TB of bandwidth starting at USD 129 per month. The dedicated hosting plan goes all the way up to a dual quad and hex core CPU configuration with 64 GB of memory, 8 TB of storage and 10 TB of bandwidth at USD 339 per month. For users preferring more granular control over their packages, SingleHop provides an opportunity to configure servers according to the user's requests, tailored to their exact specifications. All SingleHop plans come with no setup charges.
SingleHop Managed Server
SingleHop also provides fully managed dedicated server systems for users who require zero hassle from their online hosting ventures. With guaranteed fast server deployment and 24×7 dedicated management personnel and customer support, SingleHop provides one of the easiest and fastest ways to get your internet venture online with minimal hassle and complete peace of mind. You can also migrate pre-existing websites to SingleHop servers at absolutely no additional cost.
With preconfigured plans dedicated to the most common use cases such as disaster recovery, database storage, archival and backup facilities, as well as software sandboxing and development, you can simply choose a plan according to your requirements and get started. If you have the unique requirements, you can also choose to have your server system tailored made to your requirements with the configuration that gives you the best performance at the best price.
Features of SingleHop
SingleHop is one of the hosting service providers that offers a self-monitoring service level agreement system that goes into granular detail about the level of services they provide and their dedication to meet these guidelines at any cost, failing which reimbursements are provided to the customers. 100% network uptime is guaranteed with the SingleHop SLA, which comes as no surprise since SingleHop has won multiple awards for their level of service and quality of the same.
SingleHop also provides a custom-made LEAP platform where you can configure, deploy and manage your tailor made server plan. LEAP is a ground-breaking tool that allows you to fine-tune every aspect of your hosting plan and infrastructure needs in an easy fashion. With integrated support for automation and the ability to monitor and configure server systems across any cloud services provider, LEAP offers unparalleled functionality, ease of use and takes all the guesswork out of managing your dedicated hosting platform.
With SingleHop, you know exactly what you are getting along with the ability to change and fine tune your configurations on the fly as per your needs and requirements. Expecting a sudden increase in traffic? Increase your resource allocation from the LEAP platform with a single click or configure pre-set rules for increasing bandwidth and performance allowances if traffic crosses a certain threshold. There is only very less hosting service providers allow this level of versatility and functionality as SingleHop does.
SingleHop Reviews on WordPress Hosting
SingleHop has complete WordPress integration in all its hosting packages. WordPress is the most popular and widely used content management system or CMS on the internet. It is used by many from amateur bloggers to professional enterprise clients. With robust WordPress support and dedicated service personnel to help you in the scenario something goes wrong, SingleHop absolutely takes the cake when it comes to WordPress integration and functionality. With their custom designed control interface and some useful software tools, exerting granular control over your WordPress website is easier.
SingleHop Reviews on Support and Customer Service
SingleHop customer service should be always at your service 24 hours a day, 365 days of the year. However, this is not always the case for Live Chat support. The live chat support is not always available. Toll-free numbers to contact customer support are available for over 30 countries outside the United States. Customer support is available over the phone, email, and live chat. Whatever the nature of help or assistance you require, you can raise your issues and hopefully it will be solved at the earliest. For technical issues, you need only log in to your LEAP panel and submit a service ticket and your issue will be attended to in the least possible time.
Trial #1 Live Chat Support Is Not Always Available
I saw SingleHop offers live chat support on their website and I clicked the "Chat Live Now" button in order to initiate the chat. I was hoping to chat with their expert in order to clear my doubts.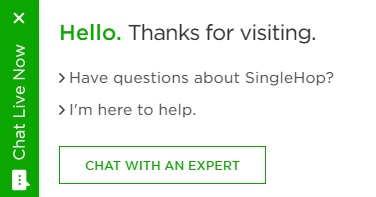 After providing all the required details, I was excited to chat with the SingleHop support staff. However, I noticed that there is no "Chat Now" button available. It is an "Email us" button instead. That's mean I was not able to chat with the support staff in real time and might expect some waiting time for them to get responded. I was a bit disappointed as the Live Chat feature is not always available.
Trial #2 Fast Email Support From SingleHop
Around 20 minutes after I sent out the email, I got their reply. This is a plus for the support staff as fast email support is provided by SingleHop. Although their support staff not able to answer all my questions, the support is still acceptable as SingleHop support always try to help you. In addition, they are polite and care about their customer. Below shows the questions I had and the answers provided.
1. I can see SingleHop offers dedicated hosting solution but no Shared hosting found. Is SingleHop offers any shared hosting solution?
Answer: We do offer some shared hosting options including a public cloud offering and a virtual private cloud offering depending on your particular needs.
2. Does SingleHop charge for server setup fee?
Answer: No, we do not charge a server setup fee.
3. Is SingleHop provides any dedicated WordPress Hosting Plan?
Answer: We do support WordPress in our hosting plans.
4. How many data centers SingleHop has? What locations are these data centers/servers located?
Answer: We have 5 data centers (Chicago, Phoenix, Amsterdam, New York City, and Danbury)
5. What type of control panels being used in the hosting plan?
Answer: I am not 100% on this.The only control panel we use is LEAP to my knowledge.
6. Is there any Demo for the control panel?
Answer: I do not believe we offer any demos for this.
7. Is the SingleHop server DDoS protected?
Answer: Yes, all of our servers offer DDoS protection.
8. How SingleHop handles email hosting?
Answer: I would need some more specifics to fully answer this, but we do support email hosting.
9. I can see SingleHop self-monitoring service level agreement system guarantee 100% uptime. How is this possible?
Answer: We make sure that you will receive 100% uptime and if you do not, then you will be discounted or refunded. There is much more information on this under the SLA section of our website as well.
10. How long it takes for the server to be deployed?
Answer: This would depend on which solution you are looking for (dedicated server, dedicated private cloud, public cloud, virtual private cloud).
11. What is the strong point of the LEAP platform?
Answer: I am not sure what you mean by this.
SingleHop Reviews on Uptime Performance and Server Status
SingleHop operates one of the most robust and reliable server systems in the industry. With their standard service level agreement specifying guaranteed network uptime of 100%, it comes as no surprise that SingleHop maintains its systems with multiple layers of contingencies and fail safes.
With its 5 data centers spread all over the globe, you can rest assured that service status is always at optimum in both performance and reliability. SingleHop servers have historically suffered little downtime. However, with its high-speed performance, the company is definitely a good choice when it comes to resource-heavy requirements.
Good and Bad of SingleHop
Good
Award winning service level agreement offers peace of mind to customers
Customizable hosting plans to suit every need
Robust and reliable server performance with guaranteed 100% uptime
Custom built LEAP platforms provides unparalleled versatility and customizability
Enterprise level hardware
Bad
No data centers in the Asia-Pacific region
WordPress offerings are sparse compared to the competition
Summary of SingleHop
SingleHop offers one of best dedicated hosting plans in the business. With unparalleled customizability and versatility, you are able to manage your hosting infrastructure to an unprecedented level. With its reliable services and strong performance, SingleHop is definitely a good choice for enterprise and other resource-heavy applications.
Compare SingleHop With Our Top Ranked Web Hosts!
SiteGround vs HostGator vs SingleHop

SiteGround

HostGator

SingleHop
Rating

Rated 5 stars

Rated 4.5 stars

Rated 4 stars

Price

$3.95/month

$3.95/month

$129/month

Criteria