Editor Rating

Rated 4.5 stars

Outstanding
---
Reviewed by:

Published on:

Last modified:
---
DISCLOSURE: This post may contain affiliate links, meaning when you click the links and make a purchase, we receive a commission.
Our Top Ranked #1 Web Host

Latest Uptime Stats (Real Records) - 99.98% (Last 12 Months)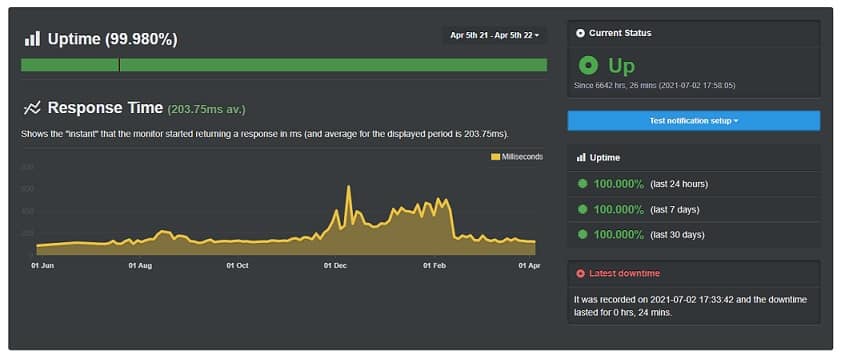 What is SoftLayer Hosting?
SoftLayer started hosting websites in the year 2005. It was later acquired by IBM in 2013 and is now known as an IBM company. It provides web hosting services that are mostly cloud based. Most of these cloud-based services include storage, servers, networking, security as well as management and development services.
Given the nature of cloud-based companies, SoftLayer is considered to be a serious company that mainly deals with enterprise rather than individual clients. The web hosting reviews available are quite favorable, meaning that the company is offering great services. A look at what the company offers will help us weigh this SoftLayer reviews.
Details
Founded
2005
Server Location

Australia
Japan
Korea
China
Singapore
India
Norway
Netherlands
Germany
Italy
France
England
Canada
USA
Mexico

Services

VPS Hosting
Cloud Hosting
Dedicated Hosting
WordPress Hosting
Reseller Hosting
Domain Services
Bare Metal Servers
Virtual Servers
Powers Servers
Storage
Networking
Security
Developers
Management
Digital Marketing
Online Games
Big Data

Unlimited Website
Available
Unlimited Storage and Bandwidth
Available Unlimited Storage and Bandwidth But Paid
Domain Hosting
Yes
Linux Hosting
Yes
Windows Hosting
Yes
WordPress
Optimized
Joomla
Optimized
Drupal
Optimized
Magento
Optimized
PHP Hosting
Yes
e-Commerce Hosting
Yes
Email Hosting
Available
SSL Support

Offer Paid SSL
RapidSSL Available at $19.00/Yr
QuickSSL Premium Available at $79.00/Yr
GeoTrust True BusinessID Available at $99.00/Yr
Symantec Secure Site Available at $399.00/Yr
GeoTrust True BusinessID with EV Available at $599.00/Yr
Symantec Secure Site with EV Available at $899.00/Yr

Dedicated IP
One Free Dedicated IP
Free Site Migration
No
Free Domain
No
Domain Privacy Protected
No
Money Back Guarantee
No Money Back Guarantee
24/7 Support

Telephone
Live Chat
Ticket Support

Control Panel
Either Use Plesk or cPanel
One-Click Installation
Yes, Through Softaculous
Website Builder
No
Automated Backup

Available
VEEAM Available at $18
EVault Backup Starting at $20/mo
R1Soft Server Backup Starting at $7/mo

Content Delivery Network (CDN)

Yes, Softlayer CDN
CDN Bandwidth Available at $0.12/GB
CDN SSL Bandwidth Available at $0.15/GB

Security Features

Anti-Virus & Spyware Protection
Intrusion Detection & Protection
SSL Certificates

Payment Methods
Endurance International Group Network (EIG)
No
Social Profile
SoftLayer Reviews on Hosting Plans and Services
The hosting and domain service plans are the two main plans offered by SoftLayer. They include the hosting plan as following.
SoftLayer Reviews on VPS Hosting Plan
The virtual private server hosting plan has much to offer. Usually, we expect virtual servers, though shared by other people, to perform at its best. SoftLayer has gone this far to ensure that the SoftLayer VPS is scalable, available on the go as well as have acceptable internet speeds.
Storage is offered in local SSD storage that guarantees high storage performance for your data. You get to choose between multi-tenant or single tenant as well as whether to store your data locally or on the San.
With VPS hosting, you get to enjoy features such as
• Network capabilities that support outbound and inbound public bandwidths, private VLAN that works through both public and private networks and dual stack IPv4 and IPv6 functionalities.
• Developer tools such as SoftLayer API, development network, notification and message queue services.
• Management tools such as Auto scale and rescue kernel.
• 24/7 support for the plan.
• Digital video security surveillance.
• Automated operating system reloads.

SoftLayer Reviews on Cloud Hosting Plan
To cater for the different workloads that most clients will have, SoftLayer has a single platform that seamlessly integrates the use of both bare metal servers and virtual servers. A bare metal server is a physical hardware that houses just one customer's data. It can thus be thought of a dedicated space.
It is highly suitable for high data workloads that require performance as well as reliability. Virtual servers are servers that are shared by individuals from the same physical space. They are much like living in an apartment complex that houses hundreds of people, all in the same building.
What you get is a great dedicated storage space at a much lower price for this type of plan. You thus get the best of both worlds with this plan. Its features include 24/7 support and free management network on all bandwidths (both public and private).
SoftLayer Reviews on Dedicated Hosting Plan
The dedicated hosting plan is offered under the bare metal server which can be said to be more like a dedicated server. With this plan, you gain the advantage of having to choose and configure your own server to the specifications that best suit your needs. The rates available are charged only per month.
Its features include the provision of network support, system management support as well as software necessary for the server. Payments are available on both hourly and monthly basis.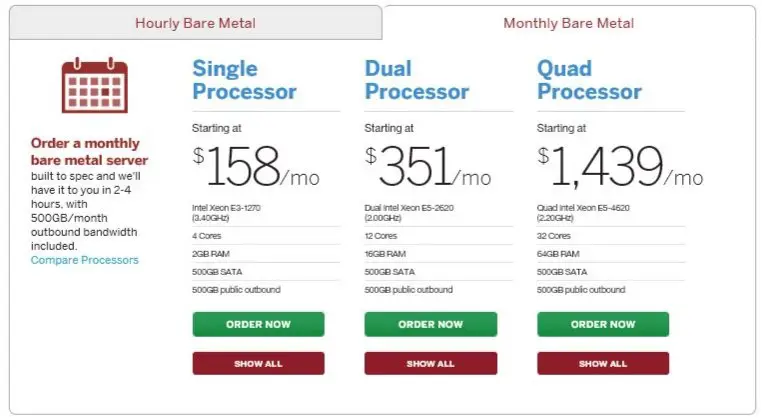 SoftLayer Reviews on Advanced Dedicated Hosting
This is a bare metal server at its best. The SoftLayer POWER8 bare metal servers are built around the OpenPOWER architecture of IBM, thus combining storage, I/O and power to cater for the very high data workloads. With this plan, you can create both a private and public, hybrid cloud and save costs in the end.
Pricing is done on a monthly basis. It features remote console access and reboot, advanced resolution systems, on-site security and Email delivery services.

SoftLayer Reviews on E-commerce Hosting
The e-commerce hosting offered by SoftLayer aims to help online businesses increase their uptime and thus keep their businesses open 24/7, as well as help the businesses scale when they need to. Customer details are also kept secure with this plan. The price is offered on a pay-as-you-go basis.
The plan comes with features such as public and private networks, database and web servers as well as load balancers.
SoftLayer Reviews on Reseller Hosting Plan
The SoftLayer Reseller hosting plans are offered under the reseller programs that seek to give resellers the most of selling the SoftLayer servers. The resellers are offered discounts in tiered programs, as well as a guide that helps them learn more about what is offered. It features education on SoftLayer servers through classrooms, webinars, and participation in the business partner community.
SoftLayer Reviews on Domain Service
The SoftLayer domain services offer domain name registration that made possible the use of some of the top notch domains such as .com, .us, .info and .org. This is backed with a complete support staff that is dedicated and knowledgeable on matters related to domains. It features an expiration registration recovery, reminders for registration renewals and some documentation to show your rights, agreements and dispute resolutions.
SoftLayer SSL Certificate
An SSL certificate is important when you need to secure your organization's information. This is especially necessary with web based businesses where customers provide their details such as credit cards numbers and passwords to their email accounts. There are four plans to choose from, which all share the same features but to varying degrees.
These include Norton secured site seals, warranty, and integration with mobile devices.
SoftLayer Reviews on WordPress Hosting
WordPress is perhaps one of the most popular web tools that website builders use to create their websites. It has around 75 million sites built from there. This sheer number of sites will have to be hosted somewhere for them to be available on the World Wide Web. Web hosting companies offer the service of hosting some of these sites at a particular price. SoftLayer is one of these web hosting companies. WordPress sites often differ in size and visitors frequenting the sites.
The majority of WordPress sites are mostly hosted on the shared servers, while few are hosted in dedicated servers. The dedicated servers often offer much more regarding what you can do with your site, as well as the speed of accessing it. SoftLayer offers VPS for WordPress sites as well as apps. These are all hosted on the IBM cloud.
Given the benefits that come not just with cloud computing but also with dedicated servers, I can say that SoftLayer is good and compatible with WordPress, though it supports larger sites.
SoftLayer Reviews on Support and Customer Service
There's actually no web hosting company that performs well without customer service. Customers will always need help whenever something goes wrong. SoftLayer provides support to its clients through phone, tickets, live chats and a SoftLayer contact form. For most of the plans offered by the company, 24/7 support is included.
Customers have reported great customer service and support over the last couple of years. More recent years have seen the support getting a little lukewarm. On some occasions, clients have had to go through forum links to get the help that they need, only that it is mostly absent.
Some have also suffered in the hands of bad reps that, maybe due to human nature, were having a bad day. Others have also had their emails bouncing back, thus leaving their problems unresolved. On the bright side, most users have experienced excellent customer service.
This has thus given the company a rating of 7/10 for the support offered to clients. This is not so bad for this company; they are above average.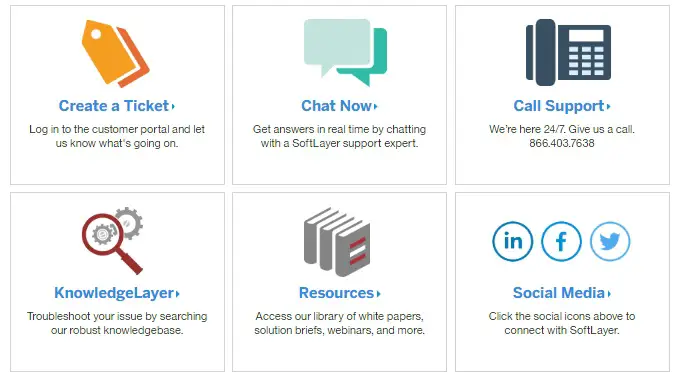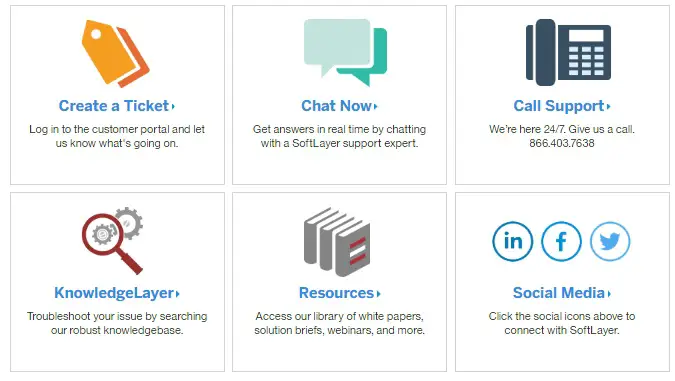 #Trial 1 Moderate Live Chat Support
I contacted the SoftLayer Live Chat support as I had some questions in mind and wanted to clarify with them. Their customer support was not really satisfactory as after every 2-3 questions, the representative use to ask me 'is there anything else to ask from me', which was really annoying for me. May be this is my own problem as I feel the support wanted to end the conversation quickly 🙂
From my own personal experience with them, I must say that overall conversation was average. Their support representative replied my first answer within 35.19 seconds. Though the response speed was acceptable, his tone was not really polite and that's why I rated him 7 out of 10.
Here is the complete conversation with Live Chat Support Representative:
Thank you for chatting with us. Your chat may be monitored and recorded for quality purposes. A representative will be with you shortly.
You are now chatting with (Live Chat Support).
Mike Lee: Hi, my name is Mike Lee and I have few questions about the Softlayer hosting services.
Representative: Hello, thank you for contacting IBM Bluemix. How can I help you today?
Representative: Sure Mike, I'd be happy to help. Are you an existing IBM Bluemix customer?
Mike Lee: Thank you for answering
Representative: Sure thing. Are you an existing IBM Bluemix customer?
Mike Lee: No, I'm non-customer. Is Softlayer Hosting provides free SSL service? How about paid SSL solutions?
Representative: Great to having you considering us. May I have your email in case we get disconnected?
Mike Lee: [email protected]
Representative: Thank you for the contact details. We do offer paid SSL. Here is a link with more info Mike: http://knowledgelayer.softlayer.com/topic/ssl-certificates
Mike Lee: Alright. How about Domain Privacy Protected Service? 
Representative: Unfortunately, we do not offer Domain Privacy Protected Service.
Representative: IBM Bluemix infrastructure is an infrastructure as a service – we offer bare metal and virtual servers; both are cloud instances As a service provider which handles the power, hardware, network, and other ancillary items, we are the innovative leader in the industry that gives you the freedom to build your own unique solution, and we pride ourselves on our superior performance, flexibility, and control. Additionally, our servers are available hourly or monthly and come with support that is free of charge, and available 24/7/365 via Live Chat, phones, or tickets.
Mike Lee: Great. Is there any Free Site Migration Service?
Representative: Great to hear you are considering us Mike. Let me ask you this, what's important to you in choosing a hosting provider?
Representative: The migration is done by the client, we do not offer that service either.
Representative: If you'd like, we can deploy a server in 15min- 4 hours. How about that Mike?
Mike Lee: I will consider it later. But before that, I have to clear few questions. Is Softlayer Hosting offers Dedicated IP solution?
Representative: IBM Bluemix infrastructure is an infrastructure as a service. IaaS- Infrastructure as a service, is the hardware, where we offer virtual and dedicated servers along with a complete line of ancillary services (Back up, firewall, monitoring, load balancer) for a complete IT infrastructure in the cloud.
Representative: Apologies Mike, I am having a hard time understating what you are looking for. We offer hardware, virtual or bare metal servers in the cloud. So you do not have to have servers in your office. We do not do the migration, transfer domain or so forth.
Mike Lee: Is dedicated IP available with any plan of your company?
Representative: Basically, we give you a box, and you do whatever. Is this what you are looking for?
Mike Lee: Many other hosting companies offer dedicated IPs, free domains, free SSL, unlimited storage & bandwidth and so on. I would like to know whether Softlayer offers any of these services.
Representative: With Softlayer, you have: · Awesome free 24/7 support · 25 and growing in data centers to build your whole global solution · Private network – Only company with a global private network · 100% uptime SLA guarantee, on the portal, network, and power (redundant) – SLA link: http://www.softlayer.com/LEGAL · Fully customizable solutions to meet almost any workload need, on month to month contracts. · Hybrid solution – Only company where you can build a virtual and bare metal server integrated solution · DNS – extremely robust, globally load balanced DNS service (free!) · Time to Market – matter of minutes for virtual servers, 2-4 hours for bare metal servers · Scalability – for both virtual and bare metal – Free auto scale service
Representative: Is there any other question I may assist you today Mike?
Mike Lee: Yes.
Representative: Sure, what other questions I may answer today?
Mike Lee: So tell me about the dedicated IPs? Is Softlayer offers it?
Representative: Yes, you will be assigned 1 free dedicated IP.
Representative: Is there any other question I may answer today Mike?
Mike Lee: What platform is the Softlayer hosting using to support One-Click installation? Softaculous?
Representative: We offer: cPanel/WHM with Softaculous and RVskin $25.00 & cPanel/WHM with Fantastico and RVskin $25.00
Mike Lee: Noted. Does Softlayer offer a Content Delivery Network (CDN)?
Representative: Of course. You can use ours. More information can be found here: http://www.softlayer.com/content-delivery-network%20
Mike Lee: Great
Representative: Is there any other question may assist you, differently from previously?
Mike Lee: Is Joomla, Drupal and Magneto are optimized in your hosting services?
Representative: As long as it is compatible with the OS chosen and it meets min requirements, that will be not an issue.
Mike Lee: Is there any Money Back Guarantee for your hosting service?
Representative: There is no money back guarantee.
Mike Lee: Noted. Thank you for your time.
Representative: Thank you for considering us, Mike. Have a great day ahead.
SoftLayer Reviews on Uptime and Server Status
Uptime Stats
The uptime and downtime of your web hosting company's servers is a great determining factor in your website's success. When the uptime is always above average or near the 100% mark, you are sure that there is no particular time when your website is down.
However, if the uptime is only at 50%, half of the time your website is always down hence unreachable to your clients. SoftLayer has an uptime average of about 99.99% based on my records. It can thus be said that it is one of the best web host companies around.
The reliability of hosting your site at SoftLayer also has superb ratings from other SoftLayer reviews. It has an average upload speed of 7.4 Mbps and an average download speed of 18.6 Mbps. This speed is quite favorable to most websites.

Uptime Stats – Target: 100%
August 2017 – 99.97%
July 2017 – 100%
June 2017 – 100%
May 2017 – 99.99%
April 2017 – 99.99%
March 2017 – 99.99%
February 2017 – 99.99%
January 2017 – 100%
December 2016 – 99.97%
November 2016 – 100%
I wanted to check the uptime performance of this company as SoftLayer claims to provide 100% uptime to their all clients. I also attached the uptime chart and the real performance stats of Softlayer.
Although SoftLayer didn't achieve their 100% uptime target in 6 months, they are still performed really well. They achieved the 100% SLA in 4  months. Overall this company's uptime performance was great as compared to many other hosting companies. Its uptime rating comes out with an average of 99.99% which is outstanding.
Note: I update this SoftLayer uptime stats regularly, do bookmark this page if you are interested in checking their uptime performance again.
Server Response Speed Test
Like their uptime performance, the overall server response speed for SoftLayer is also outstanding. When selecting a new hosting company, the main thing that comes in mind is the server speed and the hosting solutions offered.
I decided to check the SoftLayer's server response speed by pinging one of the websites hosted on SoftLayer from eight diverse localities. Their server response speed was found to be outstanding as overall it scored A+.


Good and Bad of SoftLayer
All web hosting companies have their advantages as well as disadvantages. For SoftLayer, the following apply:
Good
• They offer a monthly and hourly plan which relieves you the burden of dealing with year-long contracts. You can thus opt out if it does not suit your needs.
• You can customize a plan to suit your business's needs.
• You get excellent performance regarding bandwidth, speeds, and uptime.
• The features are great for all the plans they support.
Bad
It is quite expensive for smaller businesses.
Some of the pricing details are vague.
The plans are not well bundled together.
Extra features like the cPanel will have to be paid for separately from the plan payments.
Summary of SoftLayer
A look at both the pros and cons of hosting your site with SoftLayer shows that the benefits outweigh the drawbacks. Given that the company mostly works with large organizations or individuals owning large websites, we expect that SoftLayer must be a large company. Indeed, it has numerous data centers around the world.
This goes to show the seriousness the company puts in its cloud hosting services. The speed of internet connectivity, as well as the provision of bare metal and VPS, makes it possible to have your large data stored and retrieved in the shortest time possible. This is a plus for those organizations that have very large data that needs both storage and availability.
The hourly and monthly pricing are very suitable to the client. Long contracts that go for years can be hard to walk away from. The parting process can be very strenuous if you wish to leave a particular web hosting company due to poor performance. SoftLayer payment plan offers flexibility in that you can leave or stop paying without worrying about long periods of time waiting for the termination to complete.
The plans may be a little bit lacking in how they are bundled, but you can still find what you are looking for.
Can I recommend SoftLayer for your WordPress site?
Yes, it is highly recommendable. The above-mentioned points are, I believe, strong enough to make you think of moving your website from company A to SoftLayer.
However, the biggest challenge lies in the pricing. Though it is said that about 2000 of the top notch WordPress websites are hosted at SoftLayer, you will find that these are probably those of big to medium companies. If you are a budget website owner, it will just not work for you, and you may consider SiteGround as it is a budget web hosting service provider.
Compare SoftLayer With Our Top Ranked Web Hosts!
SoftLayer vs SiteGround vs HostGator

SiteGround

HostGator

SoftLayer
Rating

Rated 4.5 stars

Rated 4.5 stars

Rated 4.5 stars

Price

$3.95/month

$3.95/month

$25/month

Criteria