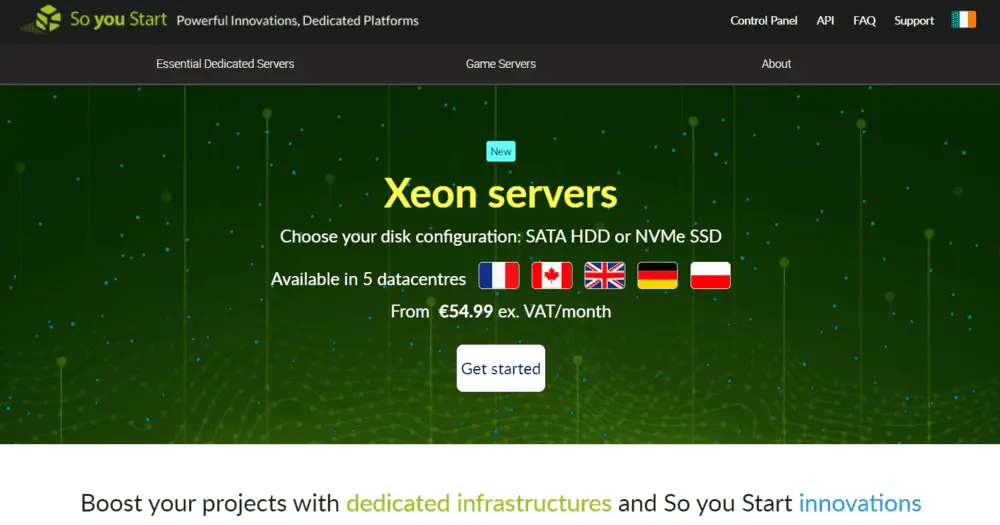 DISCLOSURE: This post may contain affiliate links, meaning when you click the links and make a purchase, we receive a commission.
Servers and Datacenters are an essential need for most businesses today.
Not only businesses require to have personal or dedicated servers, but they are being used for a wide range of applications, including hosting the websites, gaming servers and multiple other projects as well that require more computing power and storage space that is fast and efficient at the same time.
These servers allow you to enjoy the perfect edge of better computing, faster data transfer rates and better security for all the data that you are going to store with them.
So You Start is one such platform that is offering a wide range of dedicated server needs for multiple applications. That makes them the right choice for everyone to enjoy the better and much faster servers.
So You Start is a multi-national organization with their servers located in multiple destinations, so you can have the perfect experience, no matter where you are located, or what your needs might be.
You also get to enjoy the right security and a handful of value-added services along with some of the best add-ons to enhance the server experience for you that you are getting. A few things that one must know about them are:
Soyoustart Review
Performance
It goes without saying that So You Start is one of the leading brands offering such dedicated services for all sorts of needs, and they are best at performance as well. They have the best possible equipment and you can be assured that you are never going to have any sort of problems with their servers.
There are multiple options being offered by them, including SATA, HDD or SSD drives, so you can make a learned decision about the hard drives you are going to need depending on the applications you have planned to use their services for.
You get to enjoy DDOS security and better speed with 250 Mbps bandwidth allowed, on all their data centers and servers that you might want to use.
Server Locations
Soyoustart.com is the best place for you to enjoy better speeds and networking, and they have over 28 data centers located in four continents. That allows you to enjoy the perfect stability, data transfer speed and storage capacity.
Their data centers are connected with 15 Tbps connection on a dedicated global network so, you will never have to worry about transferring the data between their servers or to access it on any of the servers that you want.
They are also offering Xeon Servers that are cutting-edge technology and it is not easy to get your hands on Xeon servers since there are a handful of servers and data centers that are offering such services for you.
These servers are also widespread and you get to enjoy the best possible speeds wherever you need. With that being said, you can enjoy the best possible coverage, no matter where you are located in the world, and you will be enjoying the perfect experience with them.
Utility
You also get to enjoy the perfect utility with their easy-to-use interface and a stable API, allowing you to control the server you are using from them, and all the data that you want to manage with that server pretty efficiently.
Not only that, but the control panel makes it easy for you to configure the server according to the needs you might have.
So You Start is perfect for all sorts of utilities that you might have planned for your data hosting needs, including gaming servers, hosting your business data on an external server, or simply making sure that you can save large chunks of data for any of your website or downloading servers.
They are also offering gaming servers for dedicated gaming needs and hosting the events as well.
Pricing
With such services being offered by So You Start Servers, you are guaranteed to enjoy the perfect edge of affordability as well. However, these services might be a bit on the higher side if you are concerned with the pricing for personal needs.
These are some of the best servers and data centers out there, and are being used for commercial needs mostly, and they are worth each penny that is being paid for them.