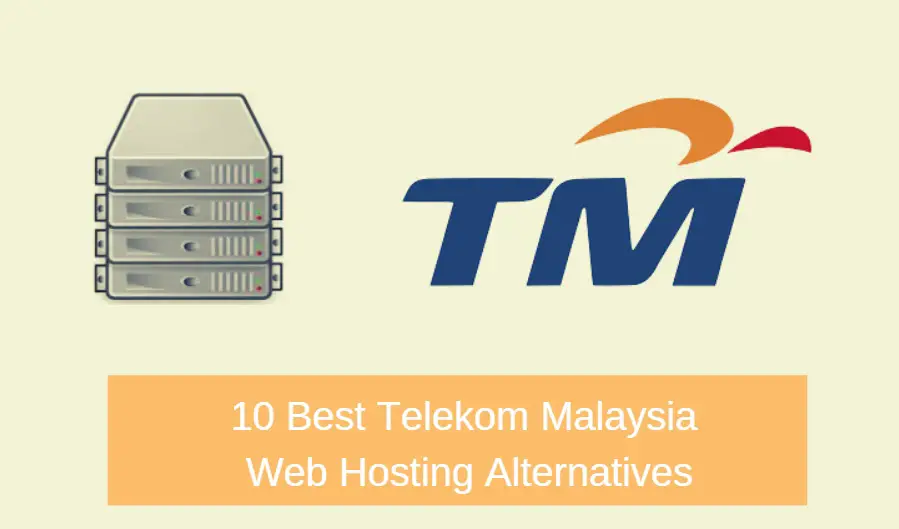 Telekom Malaysia is a well-known telecommunications company in Malaysia. They are offering different types of telecommunication services within and outside of Malaysia. Among them, the web hosting service is a noteworthy one. However, it seems that most of the users are not content with their service.
If you are one of them, then chances are you are in search of an alternative. Lucky for you, we are here to save you from the hassle. We have already compiled 10 of the best alternative web hosting services to Telekom Malaysia. And, in this post, we will be sharing all the necessary details about these web hosting services.
So, let's dive right in…
Telekom Malaysia Web Hosting Alternative
Even if you are new to web hosting, you would be familiar with SiteGround. They are one of the most popular international web hosting providers. They have all types of web hosting services. You can get shared, dedicated, cloud, reseller, and even enterprise hosting. Added to that, they have special WordPress, eCommerce hosting plans as well.
For Malaysian users, SiteGround can be a great option. Because they have one of their data centers in Singapore. That is very close to Malaysia. You should know that the data center plays a great role in the performance of your website.
If the data center of your website is closer to your website visitors, then they will experience a faster and smoother website browsing session. It is because the time to travel the data from your website's data center to the visitor will take less time.
They actually have 4 datacenters situated in the USA, Netherlands, UK, and Singapore respectively. So, if your website receives visitors from other location than Malaysia, you can choose those data centers to host your website. SiteGround is also famous for its uptime record. They have 99.99% uptime on a regular basis. This is not a hoax, it is definitely a fact.
As we are using SiteGround for a long time to host our website ReviewPlan.com, we have been keeping a track record of the uptime of our website. In the image below, you can see the uptime stat of our website which represents the uptime of SiteGround. So, you can put your trust on them.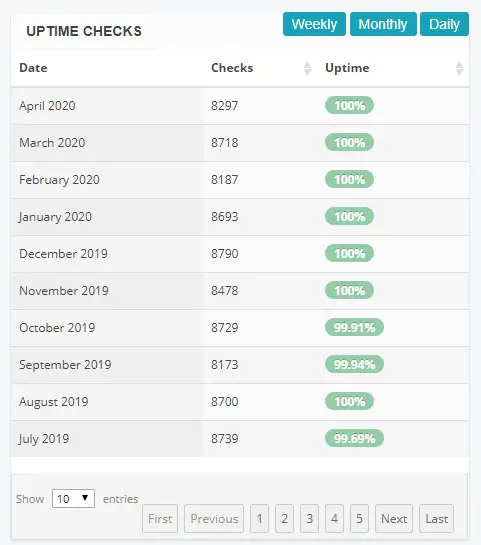 Their customer service team is also very helpful. They have 24/7 customer support service. You can contact them using live chat, phone call, email, and ticket. There are a lot of support staffs of SiteGround. So, you won't have to wait for a long time to get a response from them.
Also, as they are available 24/7, you can easily contact them anytime from Malaysia. There will be no problem because of the time difference. All in all, we believe SiteGround would be a great alternative to Telekom Malaysia web hosting service.
Some additional features:
Free drag and drop website builder

Free Website Migration

Ironclad security on the servers and the datacenters

Officially recommended by the WordPress team

Free SSL certificates
If you are from Malaysia then you would know Exabytes. They are a Malaysia based web hosting service. Exabytes offers several types of web hosting with a lot of awesome extra features. You can even register domains with them. They offer free domain name with some of their particular web hosting plans. Other than that, you can even buy '.MY' domain names from Exabytes. This can be a very helpful feature for our readers from Malaysia.
Exabytes begin serving in the web hosting industry since 2001. And, now they have over 100,000 customers all over the world despite being a local web hosting provider. Their customer support team is also available 24/7. There is no problem in communicating with them anytime you need to. They also have a 99.5% server uptime record, which is an indication of their reliability.
As Exabytes is from Malaysia, they have their data center in Malaysia. Along with that, you can pay using Malaysian currency to buy the services from Exabytes. This is also a good reason to use Exabytes for our Malaysian readers. It comes with a lot of other cool features.
Some additional features:
Free Daily backup

Better SEO ranking in Malaysia with the help of '.MY' domain name extensions

SSD storage

Free Domain and Domain Privacy Protection

Free Drag and drop website builder

100 days of money back guarantee
A2 Hosting is also another good alternative to Telekom Malaysia Web hosting. They are from the USA. In the beginning, they have started as 'Iniquinet'. It was 2001. But after that. They have changed their name into A2 Hosting. Since then, they have been serving millions of website owners all around the world consistently.
One thing A2 Hosting is famous for is the variation they offer on their web hosting plans. You will have every kind of web hosting plans from them. On top of that, you can also choose between Windows and Linux web hosting. This option is typically not available on most of the other web hosting services.
They also commit to offer 99.9% uptime. Their data centers are located in the Netherlands, Michigan (USA), Arizona (USA), and Singapore. So, you can host your site on the Singapore data center, if you receive the majority of the visitors from Malaysia or even Asia.
The customer care team is also available 24/7/365. They are very professional and highly skilled. So, every time, they will solve your problems as fast as possible. They also offer a lot of other helpful features.
Some additional features:
Free SSL

Free SSD Storage

Free Site transfer

Free CDN

Free Auto daily website backup

Anytime money back guarantee

Optional Turbo server

Developer friendly hosting
HostGator is famous for providing users with industry standard services. They have started as a private company. But after their immense success, HostGator was acquired by EIG (Endurance International Group). Still, they are offering a similar type of high-class services.
You can get most of the popular web hosting plans from them including shared, dedicated, VPS, cloud and even reseller web hosting services. If you are a WordPress fan, then you are lucky. Because they have exclusive WordPress web hosting plans. If you want full control over your dedicated servers, then you can get their dedicated web hosting plans. They offer full root access.
With excellent uptime record and professional customer support, HostGator has established them as a world-known company. So, you can undoubtedly go with them if you want an alternative to Telekom Malaysia web hosting.
Some additional features:
45 days money back guarantee

Free Website migration

Comes with drag and drop website builder

Free SSL
Bluehost is another EIG owned web hosting company. They are based in the USA. Now, they are powering over 2 million websites worldwide. WordPress also officially recommends Bluehost as one of the best web hosting companies. With Bluehost, you will get a lot of additional services such as free domains, 1-click WordPress install, Data backup etc.
Primarily, they offer three types of web hosting services which are shared, VPS and dedicated. However, there are also a couple of special web hosting plans as well. They are WordPress Pro and eCommerce hosting plans. They also use SSD to host your website's data on their servers. For this, they don't charge anything extra. Their uptime record is also above par. And, their customer support is also very well reputed for their fast and helpful response.
Some additional features:
Free Domain for the first year

Free SSL Certificate Included

30-day money back guarantee

Special WordPress plans
If you want a cheap option which is a local web hosting service then the ServerFreak is a great alternative. There are a lot of various web hosting plans from them. For instance, there are shared, WordPress, dedicated, reseller, windows enterprise, eCommerce, semi-dedicated hosting available.
The prices of the plans are very reasonable as well. They also provide free customer support both in English and Malaysian native language. So, it will be better for you if you are from Malaysia. They also have their data centers in Malaysia, which is another cause to choose them.
On top that, they also have a pre-sale customer support facility. If you have any type of confusions or queries about their web hosting services then you can ask them through that service. If you are an active customer of them, you are free to contact them via multiple ways which include live chat, submitting tickets, and email. You will love their service.
Some additional features:
Free Unlimited SSL certificates

1-month money back guarantee

Litespeed server hosting

Optional whois guard protection

Server Co-location
If you are searching for a local web hosting provider, then Shinjiru is there for you. It was 1998 when Shinjiru began their journey as a web hosting provider. So, you can see that they have enough experience to serve their customers. As a result, they are serving more than 50,000 customers all around the world.
They don't outsource for their work. Rather, they own and operate all of their servers and tasks themselves. So, they know really well about the ins and outs of web hosting. Besides, web hosting plans, they also offer myriad of website related services. You can buy domain names from them. They also have partnered with Microsoft to offer Microsoft Office 365 services.
For their dedicated servers, they have teamed up with Intel and Dell. They use Intel's XEON processors. They also offer SSL and SiteLock services. So, if you are concerned about the security of your websites, you should give Shinjiru a go. Added to that, their uptime record is also good. They have two of their data centers within Malaysia. This is a great plus for Malaysian readers.
Some additional features:
Free Data Backup

Free SSL certificate

SSD drive storage for specific hosting plans

3-month money back guarantee

Can buy domain names from them as well

Can transfer domain names as well
If you are confused with all the thousands of various web hosting plans, then you will love IP ServerOne. Because they offer only 2 types of web hosting plans. They are cloud and dedicated hosting. The cloud hosting is perfect for a small website. On the other hand, for larger websites, the dedicated hosting option would be perfect. So, you won't have to be in a dilemma about choosing your preferred web hosting solution.
They have two data centers which are situated in Malaysia and Singapore. You can select either of these while buying any plans from them. The web hosting plans will vary depending on the location you choose. Both of their data centers are well secured with all the necessary precautions. So, you won't have to worry about any type of cyber-attacks or downtime.
They also offer Pay-As-You-Go Billing for their cloud hosting plans. This is a unique method of paying your bills. In this method, you will have to pay on an hourly basis. First, you have to pre-pay. Then you will use your account as much as you need it. And your usage will be deducted from your credit that you pre-paid. And, anytime you can terminate your account without any problem. There will be no termination fee or any extra fee. In this way, you can save a lot of money as you pay what you use.
Some additional features:
First-grade DDoS Protection

Hardware RAID technology

Multiple Network Uplinks

Hourly vs. Monthly payment

Web hosting plans based on the location of the data center you choose
They are in the web hosting industry since 1999. They are also another local web hosting provider. They have their customers in over 70 countries. Along with web hosting plans, they also offer other web related services. You can register domains from them. You can also get email marketing, Microsoft office 365 services from them.
They offer various types of web hosting service. For example, you can get VPS, Dedicated, shared, special WordPress hosting from them. They also provide SSL certificate, SiteGuard, CDN, Cloudbric services. They also offer 24/7 customer support. So, you can get help from them anytime you face a difficulty with your account.
Some additional features:
A free domain name for the first year with specific plans

Backup and disaster recovery feature available

No Setup fee on any web hosting plans

Powerful dedicated servers
This might not be a well-known web hosting provider. But we can say that they are one of the best in the business within Malaysia. They have 3 data centers which are located in Texas (USA), Cyberjaya (Malaysia), and Aims (Malaysia). So, it will be better for our Malaysian readers to go with a hosting provider which has data centers in Malaysia.
They offer shared hosting, WordPress hosting, dedicated server, VPS hosting, reseller hosting, SiteBuilder services etc. Besides that, you can look for website design, eCommerce site building, and domain registration services as well.
They also provide 24/7 live customer support. You can rely on them. Their servers have high uptime record. And those servers are kept under constant monitoring. So, you are safe from any type of vulnerabilities. Honestly, they are a good alternative to the Telekom Malaysia web hosting service.
Some additional features:
Server Co-location

24/7 constant server monitor

SSD storage

Extra web hosting related services
The Last Words:
If you are not happy with your current web hosting service, then you must do away with them. Because a bad web hosting service can be pretty catastrophic for your websites and online presence. So, our suggestion would be to get rid of them as soon as possible.
It is all the same even in the case of Telekom Malaysia. Thus, we have provided you with 10 alternatives to this web hosting service. If you have read the article then we believe that you have already found the perfect web hosting service for you.
Yet, if you are in a pickle here. We have a little tip for you. Here it is — if you want an international web hosting service then go with SiteGround. On the contrary, if you want to go with a local one then your best bet would be the Exabytes. Better luck with your next web hosting provider!